The Virtual Assistant with Her Head in the Clouds
When I started my online business I was full of hormones and one fairly large baby boy. Yup, I was pregnant—and laid off. If you haven't experienced this before, I can tell you, it doesn't make for a fabulous combination. However, I'm that girl who always finds a silver lining to every cloud.
The Beginning
My husband and I never intended to live with just one income when we decided to start a family and the layoff was not something we had planned on either. I didn't have much success finding work so I turned to the internet.
My background was in social work and business management. I wanted very badly to find something I could do successfully online that would allow me to stay at home with our son while earning the income we needed.
The Virtual Life
That is when I found the awesome virtual assistant industry. You've probably heard of virtual assistants by now, but if not, let me give you a brief overview.
A virtual assistant can support businesses in an online setting and can do pretty much everything an in-house assistant can do.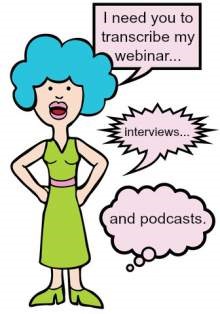 For example, virtual assistants can help with call answering, appointment scheduling, data entry, transcription, blogging, management, web design, sales funnel creation and social media. The list is exhaustive.
After tons more research I settled on transcription and I've never looked back! I created a website, blog and newsletter for my business. I'm good at what I do and I have some fabulous clients.
I've created a niche for myself working with business and life coaches, podcasters, authors and those in the health and fitness industry. I transcribe their tele-seminars, webinars, podcasts and interviews so that they can leverage their content.
One of my biggest struggles when starting out online was knowing who to trust and what was a scam. For this reason, I created another blog MoneyConnexion with the help of my husband where I help people who are thinking of becoming a virtual assistant & other online career.
I know how it felt to be all alone in a big online world and not know who I could turn to for advice or help. I learned a lot the hard way and had to do a lot of time-consuming research on my own.
I don't want other people to go through that so my goal is to give them reliable resources and information along with a little inspiration to keep them going.
Is Being A Work at Home Mom Right For You?
If you're thinking of an online career, there are a few things you should keep in mind. People tell me all the time that they don't know how I have the discipline to work for myself at home.
They tell me that if they were home they would procrastinate, watch TV, surf the internet and never get anything done. It takes a certain kind of person to work from home and you have to keep yourself in check and create a schedule.
The other ingredients are passion and drive. If you really love doing something, it inspires you, and doing it doesn't really feel like work, then you know you're headed in the right direction.
Don't let that go. Too many people work a job that they hate only to make a paycheck to support a family that they don't see as often as they'd like.
So, if you're considering becoming a virtual assistant, or any other work at home career, think about what you already know how to do and what you really enjoy doing.
Then research how to make that a viable online career. And when you start to doubt yourself or your relatives ask why you're wasting your time "playing around on the computer", drop me a line and I'll show you a silver lining.