Marketing is a fascinating industry, with careers ranging from art directors to researchers. Defined as the business of promoting and selling products or services, marketing jobs rely on a professional's ability to match the market perceptions with action. What else does a career in marketing entail? Let's talk about it.
Marketing is everywhere. Whether it is television, or magazines, or newspapers or the web, you will see different ads and campaigns everywhere.
Professionals in marketing are responsible for bringing products and services in public consciousness.
It's their brain that churns out compelling ad lines which leads to people buying those products, endorsing them, liking them, and favoring them.
A typical marketing career has all the thrills of an adventurous ride as one is constantly on the edge. It is indeed very demanding, but the experience is totally worth it. Best for self-starters and those who are good at multi-tasking, marketing career path is best for creative and driven individuals.
The best thing about a career in marketing is that you will find all sorts of people here, from average Joes to modern day Einstein.
There are times when marketing blends business with creativity, while at other times purely analytical application of mind is required to research, analyze and make sense of hordes of data.
All types of businesses, small or large, need essential marketing strategic plans to succeed. Depending on the type of business and chosen career path, people in marketing engage in a wide variety of job responsibilities:
Communicating with vendors and clients, advertising media and products to be advertised
Researching, strategizing and planning advertising campaigns
Creating and examining elements and layouts
Studying market research reports and analyzing their findings
Meeting clients to present campaigns and offering advice and strategies
A marketing professional accomplishes all these tasks keeping in light the current trends.
Creativity is arguably the most important trait that is required for marketing professionals. As put by Debra Murphy, marketing coach and founder of Masterful Marketing, "Creativity is needed to develop the messages, and determine the right set of strategies to implement for achieving your goals".
Jonathan Goldhill, CEO and head marketing coach at The Goldhill Group adds, "People with wild, fresh and new imaginations will also succeed in this industry."
The different career tracks
There are five important marketing tracks professionals take:
Advertising: The big money spinner of the marketing industry. Advertising offers opportunity to work with all aspects of marketing right from devising strategy to concept to the execution of the strategy.
As an advertising professional you will be constantly coming up with creative concepts and interact with designers, film producers and all the big stars. A glamorous job by most standards, advertising also pays big time.
The average median salary of an advertising manager is around $108,260, the maximum amongst all marketing tracks.
Roles that you will be working in include sales directors, account coordinators, account executives, media coordinators, media directors and others.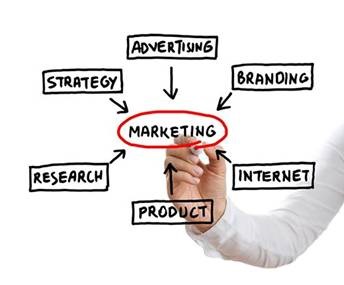 Brand Management: Brand management is an important element of consumer products industry.
These professionals take on the responsibility of the brand and focus on making it the consumer's favorite.
They study every competitor, map out their moves, anticipate market dynamics, analyze consumer reaction and behavior and pour all that information to make bold moves for their growing their own brand.
Roles in brand management often lead to higher job opportunities such as VP Marketing managers provided the candidate in question has credible experience, high potential and excellent communication ability.
Market Research: Market research executives are of two types, quantitative and qualitative. Quantitative marketing research is performed statistically, by considering large samples.
It employs various techniques such as telephonic interviews, mail, door-to-door and web surveys. Qualitative research typically focuses on small sample size and features longer forms of interviews, which are subjective in nature.
For any company to capture a market it is necessary to understand it first, where market research plays an indispensable role.
Digital Marketing: Internet has spun many new careers and fields and digital marketing is one of the most prominent.
Digital Marketing managers are involved in managing the online elements of marketing, with the help of various professionals such as search engine optimizers, social media managers, and pay per click experts.
They work with traditional marketing experts to devise and integrate a single successful marketing strategy.
Public Relations: These are professionals who prepare the press releases, and other communication material.
Also known as spokesperson for the company, public relation individuals maintain a fluid communication with the media, consumers, investors, employees and the general public.
PR specialists, Corporate Communication managers, and PR directors are the various roles that an individual assumes in Public Relations department.
A career in marketing is definitely one of the most exciting ones. However, the point is not to just get attracted by the glamour and money but also be prepared to face stiff deadlines, erratic work schedules, and continuous failures.
By: Saurabh Tyagi