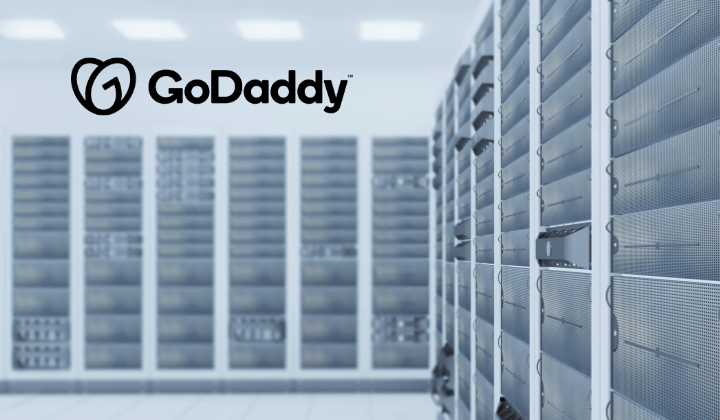 Everything, from the individual to a business, needs an online presence. Being on social media is okay, but having a website is what really matters if you want to establish credibility and offer services to your customers.
Making a website is quite easy if you know all the essential components you need. Apart from a domain name, a website also requires a web host, a Content Management System, and an SSL certificate.
Where can you find them? Well, to begin with, GoDaddy is one of the most reliable and affordable platforms for such services. In this article, we will compare the different GoDaddy web hosting plans offers to its customers.
GoDaddy is a web hosting and an internet registrar company that provides small businesses and bloggers all the web services they need for their website. Let's begin the drill, shall we?
Web hosting
Before actually comparing all the types of web hosting, it would be better if you clearly understand the meaning of web hosting. According to GoDaddy, web hosting is just like the land on which people build a mansion.
Every website has some data and it needs to be stored somewhere. A web host will provide you the storage where you can store your website's data in exchange for a monthly fee.
Why should you choose a web hosting plan?
Buying a domain name and finding the right web host for it go hand in hand. If you buy a domain name, but don't purchase the right web hosting, it means you have an address but nothing to show to your visitors.
What is the use of a website if you can't show it to your visitors? Therefore, the right web hosting is crucial for any website, be it for a portfolio or an eCommerce website.
Types of Web Hosting Plans by GoDaddy
Broadly speaking, each website has a purpose to fulfill. It isn't necessary to be all fancy and spend lots of money buying services that might not need it. First things first, define your website and its purpose.
Now, go through the types of web hosting available on the internet mentioned below. You will get a rough idea about the right type of hosting. In this way, you can save some money. All of the hosting plans are paid.
Keep in mind that you can also find free hosting plans on the internet, but they aren't worth it. To ensure proper website speed and availability, always go for the paid ones as they offer quality to your website.
1. Shared Web Hosting
This is the ultimate entry-level hosting for beginners with a low budget. Here, your website data is stored together with other websites that opt for shared web hosting.
It is super easy for beginners to use, as well as to understand what shared web hosting is. The hosting plan also comes with efficient tools like an email generator, website builder, etc.
Shared web hosting is really simple and has numerous advantages that can help beginners. However, the shared RAM and storage will most likely affect your website's optimization.
It is an ideal web hosting for low traffic websites.
2. Virtual Private Server (VPS) Hosting
VPS hosting is for serious people who want to have more control over their website and get services similar to that of a dedicated server. Here, each website has its own virtual private space.
Although, the website shares the same server with other websites. It offers more speed, optimization, and storage space to the website. It is costlier than shared web hosting but is quite affordable. VPS hosting is perfect for those who want more features and better services for their websites.
3. Dedicated server hosting
Here, websites rent a server exclusively for their website. It implies that you have full access to the server and its storage space. It offers a high level of security and the best performance.
All of the services aren't easily available, you have to spend more money to have your own dedicated server. This type of web hosting is the best for websites with high traffic. To install and manage a dedicated web server, you need skilled people who can operate it for you.
4. Cloud Hosting
Cloud hosting has become quite popular in recent times. Cloud hosting doesn't need a physical server to store data. Instead, its data can be stored in a network of virtually connected servers that offer variety and more flexibility.
The infrastructure is no longer needed in this type of hosting, in this way, it reduces any malfunctioning in the physical server.
One more good thing about cloud hosting is that it is scalable. As the website grows, it can use resources according to the requirements and that's how people only pay for what they use.
5. Managed hosting
It is a common hosting type for most websites on the internet. The hosting company gives access to various services like hardware, software maintenance, etc. In managed hosting, the company operates and works on the website daily.
Since a third party maintains the website daily, it can be customized according to your needs and requirements.
6. Colocation hosting
Colocation hosting is another type of web hosting for websites with high-traffic. Instead of wasting thousands of bucks on getting a private space for keeping data, you can rent a co-located space and get all the services. In a co-located center, each website has its own cabinets for data storage.
You will get better bandwidth at an affordable cost plus all the other privileges that come with it.
Also read- How to Earn Bitcoins?
Why GoDaddy?
GoDaddy has been in the hosting business since 1999. Over 21 years, the brand has established its presence on the internet. You can find a variety of web services on GoDaddy, out of which, web hosting and domain are most popular.
You can get a variety of web hosting plans that are affordable as well. The 24×7 customer support is a cherry on top.
GoDaddy Web Hosting Plans
GoDaddy offers six different types of hosting and all of them are elaborated below.
1. Basic Web hosting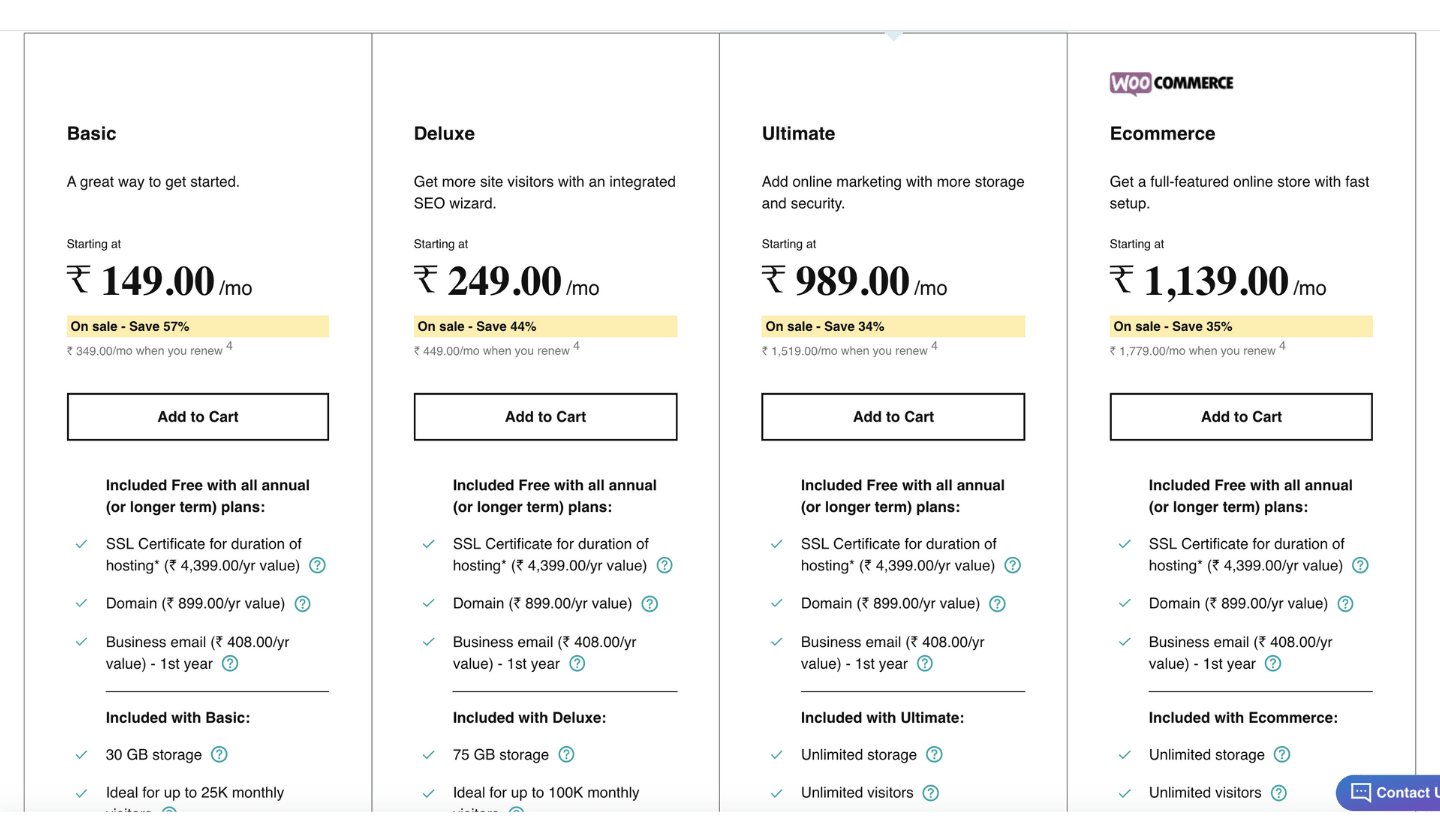 Starting price- Rs.99/mo
Highlights
Shared web hosting.
99.9% uptime and fast loading speed.
Handy technical support.
Web hosting comes in four different packages, each having its own pros and cons. Starting from the lowest price, here are the packages offered in web hosting.
Starter: It is the cheapest plan, starting at Rs.99/mo. You can host only one website here. It offers 
30 GB storage capacity
256MB RAM
Easy WordPress installation
Unmetered bandwidth
Economy: It starts at Rs.199/mo. You can host only one website with this plan and it is better than the basic starter hosting. Here, you get-
100GB storage space
Easy WordPress install
10 database
Unmetered bandwidth
Deluxe: Deluxe web hosting offers more space and flexibility. Here, you can host multiple websites. The offers start at Rs.239/mo. Some features of the deluxe web hosting are-
Unlimited website and unlimited storage
Unmetered bandwidth
25 databases
Easy WordPress installation
Ultimate: It is the best plan for heavy traffic websites. The plan starts at Rs.399/mo. Some of the basic features of this plan are-
Host unlimited websites
Unlimited storage and unmetered bandwidth
Double processing power
Easy WordPress installation
Know more about Web Hosting.
2. WordPress hosting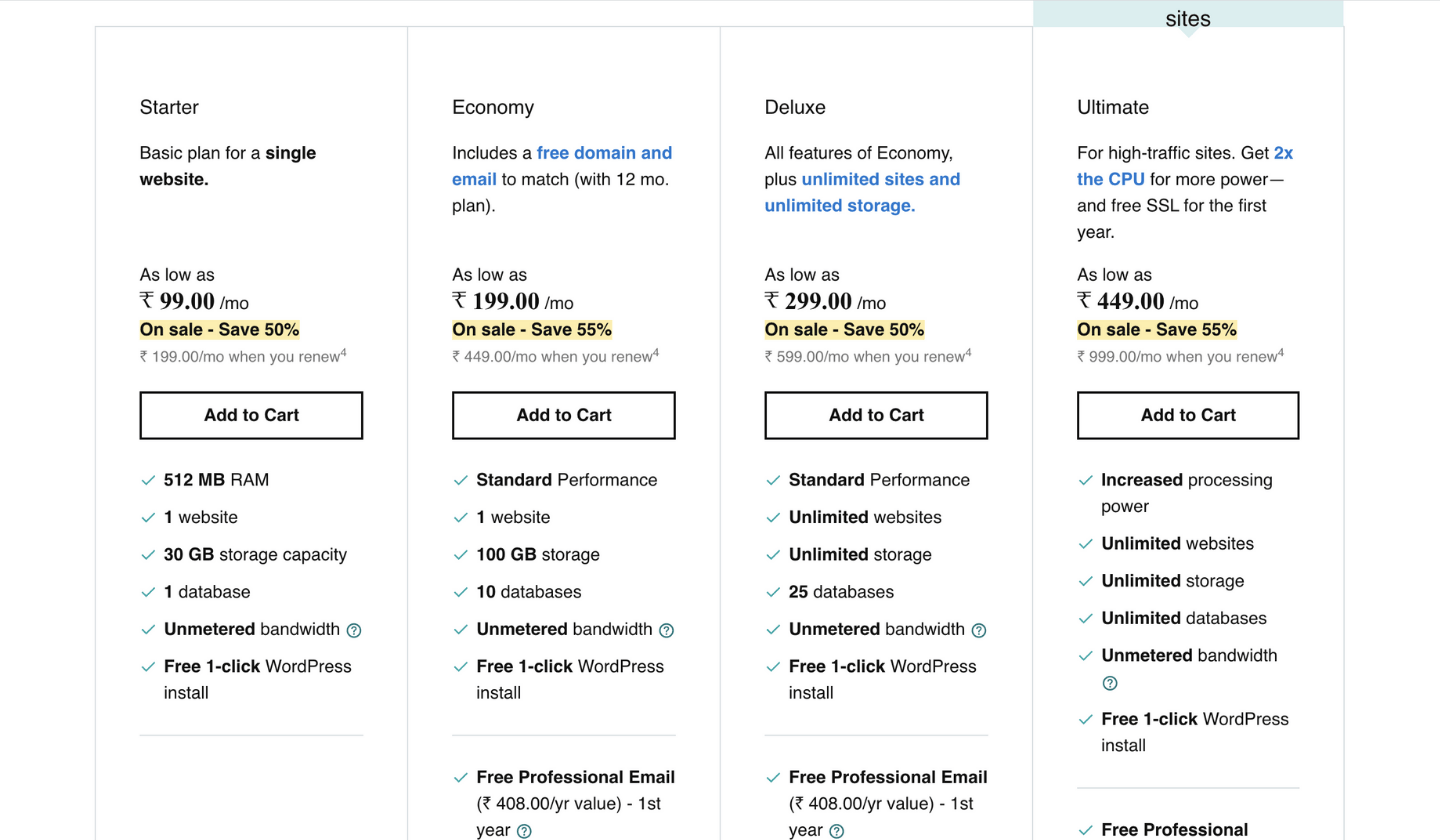 Starting price- Rs.99/mo
Highlights
WordPress web hosting is exclusively for those websites that use/want to use WordPress as their content management system(CRM). WordPress hosting plans start from Rs.99/mo and offer a variety of features. There are four packages in this hosting type.
Basic: It is the cheapest plan starting at Rs.99/mo. You can only host one website with this web hosting. Some other features are-
The storage limit is 30GB
It is ideal for 25k visitors per month.
Free domain available and business email
Malware scan and backup protection
Deluxe: The deluxe hosting plan starts at Rs.229/mo. It is ideal for websites with 100k monthly visitors. Here, you will get a larger storage size and other perks like-
75GB storage
Free business email for a year
Data backup and protection
SEO optimizer and daily malware scan
Ultimate: The ultimate hosting plan starts at Rs.449/mo. At this price, you will get-
Free SSL certificate(it makes your website more secure)
Unlimited storage and a free business email
Ideal for unlimited visitors
The free domain name and malware protection
eCommerce: This hosting plan is ideal for eCommerce websites and it starts at Rs.1,139/mo. Some unique features of this plan are-
Free business email and SSL certificate
Unlimited storage and ideal for unlimited visitors
SEO optimization
Zero transaction charges
Unlimited access to WooCommerce extensions
Try out the WordPress hosting now.
3. WordPress eCommerce hosting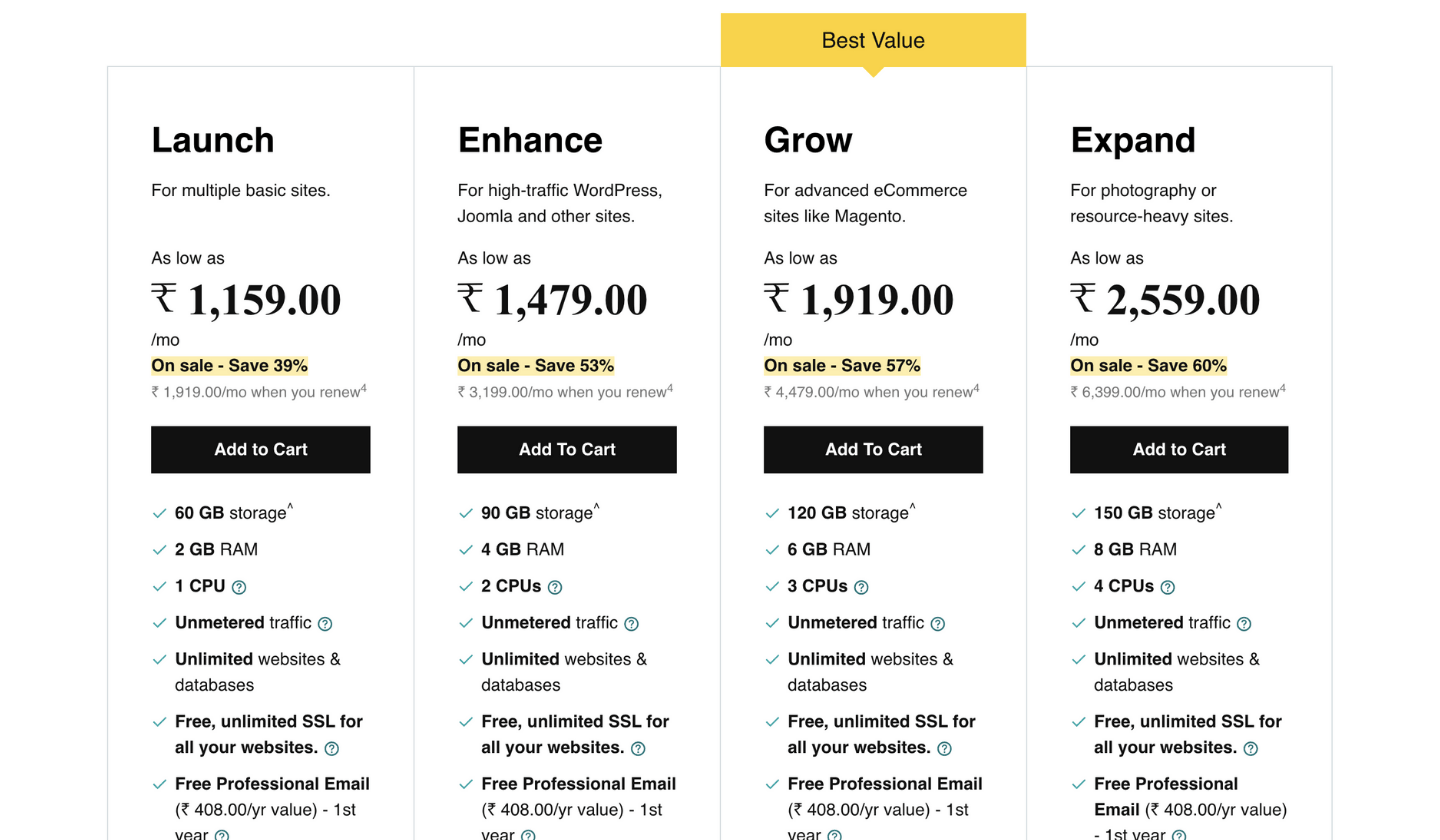 Starting price: Rs.1,139/month: WordPress eCommerce hosting is a great choice for eCommerce websites that want comprehensive features and hassle-free support. Some of the features of this web hosting are-
Hassle-free store setup: You get automatically installed WordPress, WooCommerce, and other extensions that give a better experience to the user. Apart from that, you get a free SSL certificate, website backup, malware removal, etc.
High speed and low load-time: This feature offers optimized speed and takes less time to load even during significant traffic spikes.
WooCommerce extension access: You will get more than 40 premium extensions that will add more quality and convenience to your eCommerce website. For eg, easy bookings, order tracking, etc.
To know more about this hosting plan, visit here.
4. Business hosting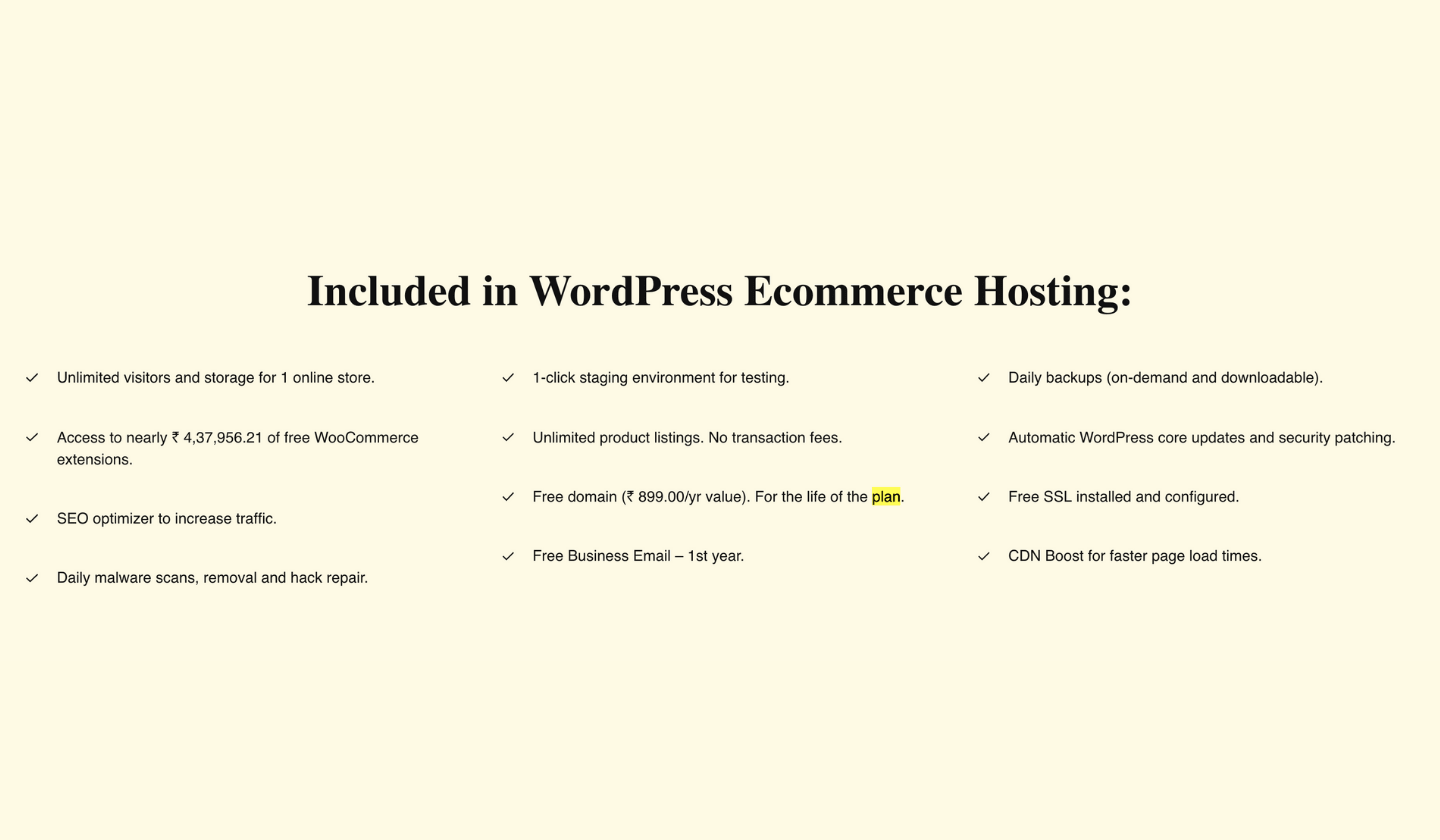 Starting Price: Rs.1,159/month
Business hosting is a type of Virtual Private Server hosting except it doesn't require technical knowledge. Business hosting is perfect for established businesses who want personalized features. Some features offered by the business hosting are-
Faster page loading
More than 50% of people quit using your website if it takes more than 2 seconds to load. Therefore, high loading speed is a must in today's world, and business hosting gives you that.
Suitable for high traffic
A surge in the number of visitors will cause problems if you don't have a suitable hosting plan.
When you opt for business hosting. You will get-
Unlimited and free SSL certificate. It will save your website from potential hackers and build trust in your visitors.
Exceptional speed and RAM. This is crucial as it saves your customers' time and provides them a better user experience than the other plans.
You can have access to more than 150 apps on the go.
Find out more about business web hosting here. 
5. VPS hosting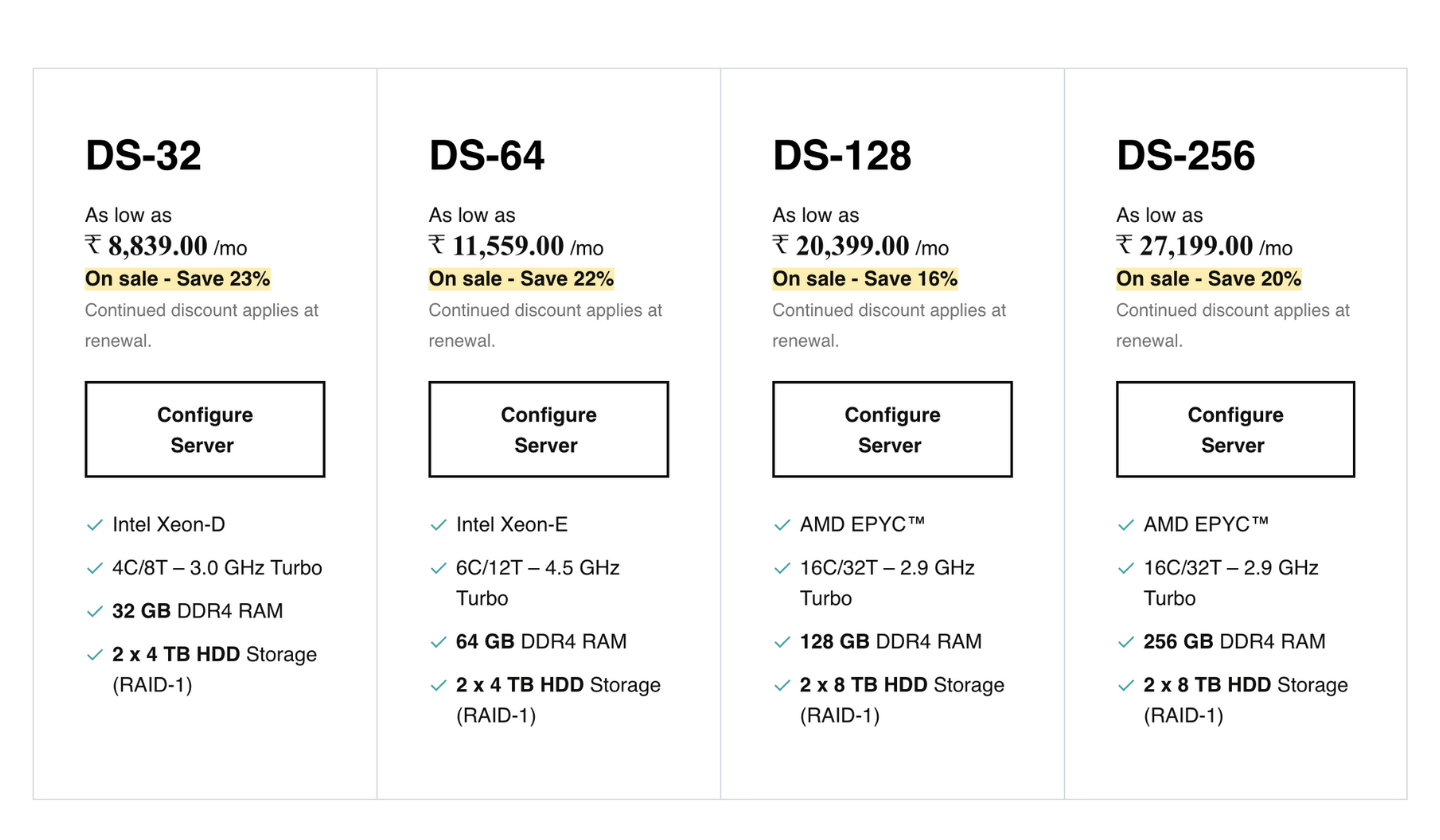 Starting Price: Rs.439/mo
Virtual private server hosting is ideal for web developers and designers who want to handle multiple projects. VPS gives you full control of your website and is suitable for unlimited traffic. There are four packages in this web hosting-
1 vCPU
Starts at Rs.437/mo. Here, you will get-
40GB storage
2GB RAM
One Central Processing Unit
2 vCPU
Starts at- Rs.1,999/mo. Here, you will get-
100GB storage
8GB RAM
2 Central Processing Unit cores
4 vCPU
Starts at- Rs.3,749/mo. Here, you will get-
200GB storage
16GB RAM
4 CPU, at maximum
8 vCPU
Starts at- Rs.7,549/mo. Here, you will get-
400GB storage
32GB RAM
8 CPU, at maximum
To choose this hosting, click here.
6. Dedicated Server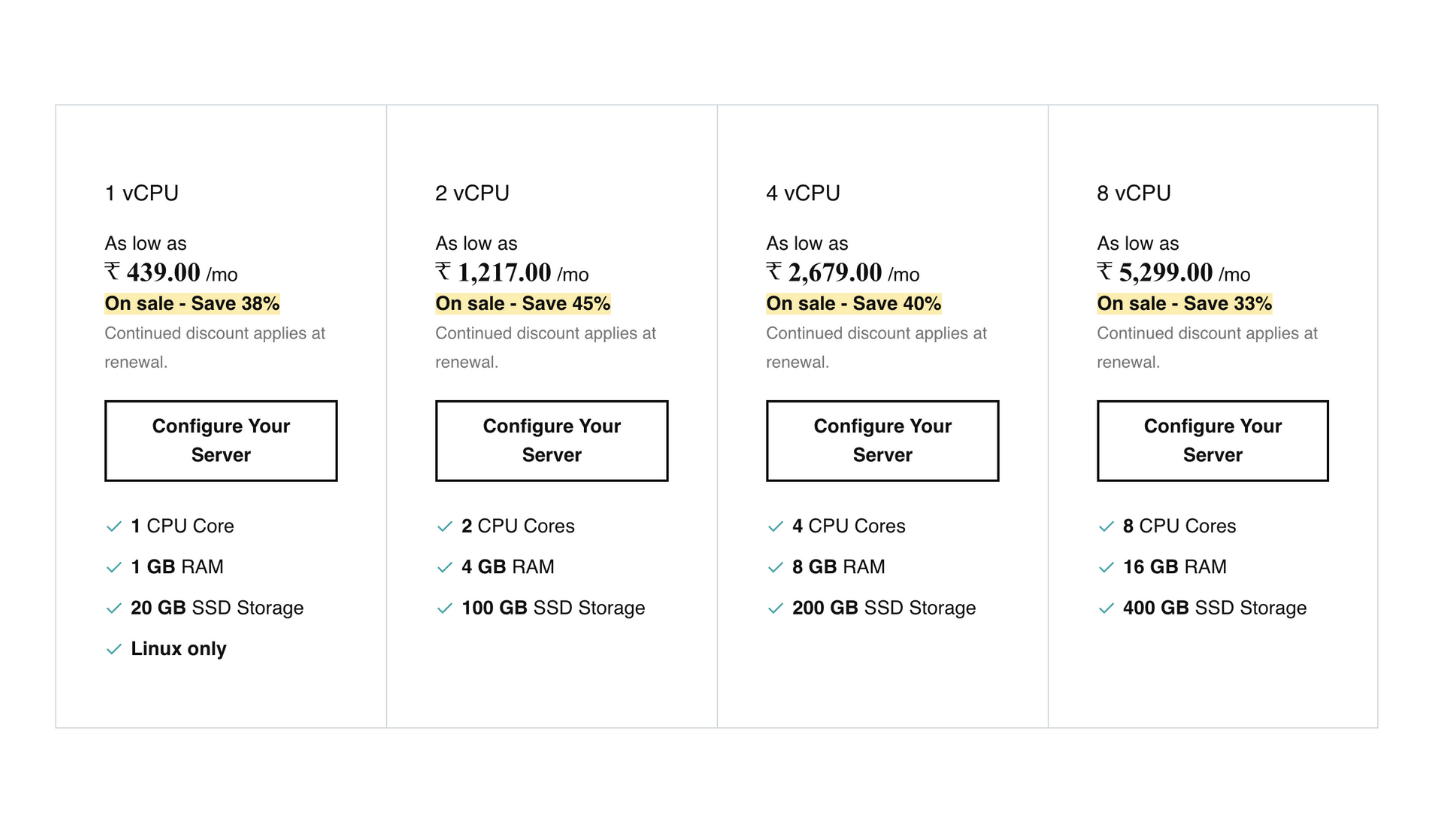 Starting Price: Rs.8.839/mo.
Dedicated server hosting is for the websites that want their private serves that can only be used by the website. It is the most expensive hosting out of all mentioned here. This is further available in four different packages that offer features according to the price you pay.
DS-32 
Average cost- Rs.8,839/mo. You will get-
2×4 Terabyte HDD storage
32GB DDR4 RAM
Built-in security
Free SSL and dedicated IP
DS-64
Average cost- Rs.11,559/mo
2×4 Terabyte HDD storage
64GB DDR4 RAM
Built-in security
Free SSL and dedicated IP
DS-128
Average cost- Rs.20,339/mo
2×8 Terabyte HDD storage
128GB DDR4 RAM
Built-in security
Free SSL and dedicated IP
DS-256
Average cost- Rs.27,119/mo
2×8 Terabyte HDD storage
256GB DDR4 RAM
Built-in security
Free SSL and dedicated IP
Find out more about the different dedicated server plans here.
How to choose the best GoDaddy hosting plans
Budget
The budget will affect the web hosting you will buy. Most people want to get the services of a five-star hotel but want to pay for a meal only. In such cases, expecting good performance isn't possible.
Don't worry, if you are on a budget, you can still find better options. In such cases, it is best to go for shared web hosting. You will get all the facilities and you can always upgrade it.
In a nutshell, if you are on a budget or you are just a beginner, try out Web hosting (shared) or WordPress hosting.
Type of business
If you are into eCommerce or you have an established business, you should choose a business website or a WordPress eCommerce website. Both of them boost your website's processing speed and provide various features for optimum user experience.
If you are a blogger, shared web hosting will work fine for your website. If the website is dedicated to gaming or programming, it would be best to purchase dedicated servers. Last but not least, if you are into eCommerce, you should go for business hosting.
Conclusion
Now that you have read the article till the end, I congratulate you for coming this far. You are now aware of the types of hosting and which one is the best for you. As a beginner, you shouldn't waste your money on buying/renting expensive servers. As your business increases and so the traffic, you can upgrade your hosting plans.