Japanese brands are extremely popular in India. Almost every make of Japanese automobiles, electronics and home appliances, wrist watches and other consumer durables are sold in India.
Look around and you will find some Japanese brand product at your home, office, shops, streets and almost everywhere.
Further, economic cooperation between India and Japan is on the rise. Japan India Cooperation Agency (JICA), an organization founded jointly by the Indian and Japanese governments is very active in infrastructure development and other major products in this country.
Hence, there is a high demand for people that can speak, read and write Japanese fluently.
Additionally, Japanese language is also a very popular language in the world. Japan ranks ninth on a number of top 10 languages of the world.
According to 2017 figures released by Etymologue.com, over 125 million people around the world speak Japanese language. This includes native speakers as well as high profile executives and engineers engaged with Japanese companies.
Should you wish to learn Japanese language, one of the most technologically advanced countries of the world, here are some simple steps.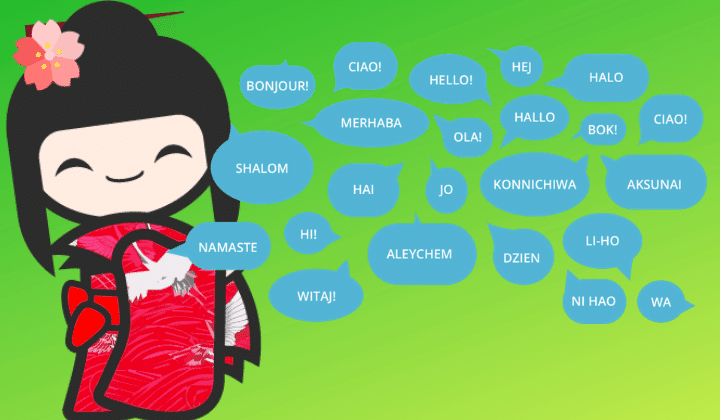 Free Online Courses
The best, free online course is available from Duolingo where you can learn Japanese online. These Japanese language courses are created by native Japanese speakers.
Hence, you can be assured of professional level training- free of cost. You can register on Duolingo to avail these free courses or signup with your Facebook or Google account.
Popularity of Duolingo's free online Japanese language course can be gauged from the fact, it has 5.02 million active learners.
Even as you read this article, someone somewhere in the world is taking a free lesson offered by Duolingo.
Upon registration, you will be asked to select the level of learning. Duolingo offers courses spanning from five to 20 minutes daily.
Casual: Five minutes per day.
Regular: 10 minutes per day.
Serious: 15 minutes per day.
Insane: 20 minutes per day.
Opt for the Casual course. The website will offer two options. One is called 'Hiragana'. Now the term 'Hiragana' sounds rather scary.
Hiragana is a Japanese alphabet. Since Japan has its unique alphabet, learning it is very important.
Before embarking on Hiragana lessons, keep a superior quality headset or earphones ready. Duolingo's Japanese lessons begin with Hiragana or the Japanese alphabet and their pronunciation.
Duolingo will display various Japanese alphabets during the course. You have to memorize how they sound and their pronunciation.
Once you have mastered Hiragana, move to the next level, where you will be shown graphics with words in Japanese.
You have to figure what people in the graphic are speaking and have to select the right answer in Hiragana, from options given below.
The next step is to learn Katakana, also a Japanese form of alphabets. Hiragana and Katakana are both used commonly in Japan.
Hence, it makes sense in learning them together. They are no very dissimilar. Hence, learning them together has several inherent advantages.
Hiragana and Katakana both contain 46 letters. The other style of writing Japanese is using the ancient Kanji alphabet. But a foreigner, you need not worry about Kanji.
YouTube Videos
For classroom like coaching in Japanese, subscribe to JapanesePod 101TV, a free channel on YouTube. This channel has close to one million subscribers worldwide.
On JapanesePod 101 TV channel, you will find videos that teach Hiragana, Katakana, Japanese language, grammar, pronunciation as well as great insights into the Japanese culture, heritage and traditions.
Tutorials on JapanesePod 101TV are created by professional instructors in this popular Oriental language.
Hence, you are assured of getting the highest quality training through this channel. All you need do is subscribe to the channel. JapanesePod 101TV channel. This channel has live classes regularly.
Upon subscribing, you will receive alerts whenever a live class is on. You can watch it live or the recorded version, depending upon your free time.
Here I recommend using Duolingo and JapanesePod 101TV channel videos. Because learning Japanese can be very difficult.
It requires excellent pronunciation and understanding of grammar. Using both these free online resources, you can learn Japanese to a great extent.
The Japan Foundation
The Japan Foundation is an organization operated at three locations in Japan and 22 foreign cities, including New Delhi in India. It is an organization that functions under Japan's Ministry of Foreign Affairs.
The Japan Foundation offers a choice of 12 different online Japanese language course for beginners to advanced level as well as one in Manga and Anime.
These courses are very professional and provided free of cost by the Japanese government.
A salient feature of Japanese language course from The Japan Foundation is the free online tutor support. Should you find something difficult or have questions, it is possible to chat with the tutor online and seek support.
Courses conducted by The Japan Foundation are of six-month duration. Only one course has a three-month duration. You can sign-up for these courses online, at The Japan Foundation.
For every course, The Japan Foundation provides study material free. All you need to buy is a couple of notebooks and pens.
Admissions to these free courses are open almost round the year. To ensure each student gets personal attention from online tutors, The Japan Foundation can restrict admissions for a specific period.
Remember, The Japan Foundation implements very high standards in teaching Japanese language, including the Katakana and Hiragana script and vocabulary.
It offers Japanese certification if you successfully complete the course. A minimum 60 percent marks have to be scored in all exams. The Japan Foundation self-study courses are not easy by any standard.
Instead, they are very professional and aim at imparting proper skills in Japanese language to students. Upon completing the basic and advanced course successfully, your fluency will be on par with native Japanese speakers.
Hence, extra efforts are needed to complete these courses.
Learn Japanese at Reputed Universities
Keeping in mind the importance of Japanese language, various reputed government-run universities in India offer courses on their campus or through accredited centres.
The Mumbai University for example, offers a choice of six different courses in Japanese language for students.
Japanese language courses offered at the Mumbai University include Certificate in Japanese, Diploma in Japanese, Advanced Diploma in Japanese-I and Advanced Diploma in Japanese-II.
Additionally, the varsity also has two specialized courses: Diploma in Business Japanese and Diploma in Conversational Japanese.
These are classroom courses of one year duration. You can register for any Japanese language course that suits your need.
However, you have to start with the course for beginners, if opting for the Advanced Diploma.
Certificate issued by Mumbai University in Japanese language are recognized in Japan and other countries of the world.
Self-Study Books
To learn Japanese language at home, you can also use books that come with a CD or DVD. There is a wide selection of books available at stores and online for every level of learners- beginner to advanced level.
These books are authored by experienced and trained Japanese language instructors. Hence, they are of a very high standard.
Opt for Japanese language study books only if you are genuinely interested in learning. The flipside of such books is, they often get relegated to the bookshelf if you lose interest.
Learning any language requires dedication and sustained effort.
Generally, home study books are bought when your interest is high. But when you encounter difficulties, learning is abandoned in favour of other pursuits.
Private Classes
Nowadays, lots of private language institutes offer Japanese language course. You will find them in almost every nook and cranny of the country.
You can enrol with one of these to learn Japanese. However, I suggest you do some homework before registering for a course to learn Japanese from a private institute.
Since it is very complex to learn Japanese language, you will need tutors that are extremely proficient and experienced.
This can prove a problem for many private institutes: Japanese language coaches are not easy to find. Those fluent in the language are working in very lucrative jobs with major corporations of India.
The first step therefore is to find whether the private institute you intend to join has faculty that possesses skills to teach Japanese language.
Verify credentials of such tutors before rushing to sign-up for any course.
Complexities in Learning Japanese
It is not possible to learn Japanese language without understanding that country's culture, heritage and traditions.
The use of words and etiquette in Japan depends upon multitude of factors including situations, customs, gender of the person you will converse with, location and many others.
I recommend you utilize several free resources to learn Japanese language. This will ensure you are fluent in written and spoken Japanese.
When you begin learning Japanese, read some good books that provide insights into history, language and culture of the country.
It is a tradition to emphasize something said in Japanese with appropriate hand gestures. Learning about the cultures and traditions of Japan will help you develop this vital skill.
Using an innocuous Japanese word can offend someone inadvertently, since you are unaware of their culture.
In Conclusion
Women and men that are fluent in Japanese language and know the cultures and traditions of that country are in high demand in India and other parts of the world.
Japanese citizens do not work abroad, unless merited by a situation. Hence, non-Japanese companies, governments and other organizations hire people of other nationalities that are proficient in this language.
Learning Japanese may be difficult when compared over other languages. However, knowing this language gives you an edge in career by fetching excellent, lucrative jobs.
Opening a business that offers translations between Japanese and other languages is also one of the great businesses in India.