General knowledge features among the syllabus of all major entrance exams in India. Whether you are appearing for the complex Indian Administrative Services (IAS) exam or a coveted executive position at any nationalized bank in India, excellent general knowledge is an absolute must.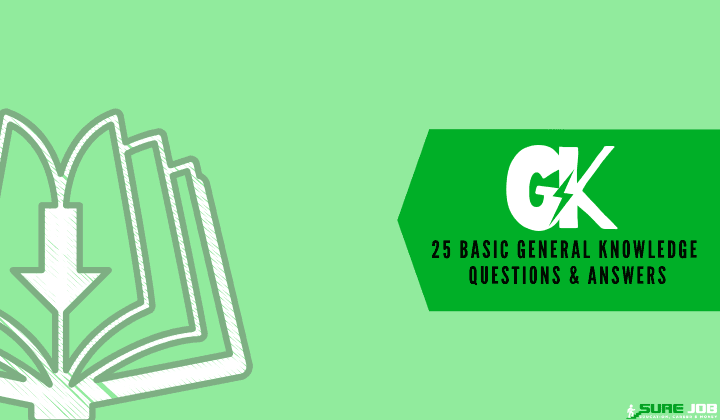 To assist you in preparing for these exams or win a general knowledge quiz contest at your school, college, or recreation club, we provide 25 basic general knowledge questions and answers for 2022.
25 Basic General Knowledge Questions
Here is a list of 25 basic general knowledge questions with brief answers and their explanations.
1-Who was the only Sikh President of India?
A: Giani Zail Singh.
Giani Zail Singh was the seventh President of India. He was sworn in on July 25, 1982, and completed his term on July 25, 1987.
2- Which city hosted the first ever Asian Games?
A: New Delhi.
India hosted the first Asian Games in 1951, with New Delhi as the venue. In 1982, again, India hosted Asian Games, also in New Delhi.
3- Which Indian Prime Minister held the shortest term in office?
A: Gulzarilal Nanda.
Gulzarilal Nanda acted as Indian Prime Minister for a total of 16 days only. He became India's second Prime Minister after the death of Pandit Jawaharlal Nehru and held office till Lal Bahadur Shastri was sworn in a few days later. He was again the Prime Minister of India following the death of Lal Bahadur Shastri.
4- When and where did India win the first Cricket World Cup?
A: 1983 at The Lords stadium in London.
India won its first-ever cricket World Cup in 1993. The Indian team led by Kapil Dev defeated two-times world champions West Indies to win the Prudential Cup by 43 runs.
5- In which year was Rashtrapati Bhavan built?
A: 1929.
Construction on Rashtrapati Bhavan began in 1912 and was completed in 1929. It was called the Viceroy's House since it was meant as residence for the British Viceroy during colonial occupation of India.
6- Who was India's first female playback singer?
A: Rajkumari Dubey.
Rajkumari Dubey was India's first female playback singer. Born in 1924, she recorded her first playback song for the Hindi movie 'Radhe Shyam aur Zulmi Hans' for HMV records in 1934 at the age of 10.
7- Who is the only spiritual personality to be awarded the Bharat Ratna, the highest civilian award in India?
A: Mother Teresa (also called Saint Mother Teresa of Kolkata).
Mother Teresa is the only spiritual personality to be awarded the Bharat Ratna by the Indian government. She was conferred Bharat Ratna in 1980 after winning the Nobel Award for Peace in 1979.
8-Where is the largest Hindu Temple in the world?
A: Angkor Vat, Cambodia.
Angkor Vat is the largest Hindu temple in the world and is located near the city Siem Riep in Cambodia. It is located over 500 acres of land. The temple was built by Hindu emperor Suryavarman II, who reigned over Cambodia during the 12th century.
9-Which are the two newest ministries of the Indian government?
A: Ministry of Skills Development & Entrepreneurship and Ministry of AYUSH
Both these new and independent ministries were formed on November 9, 2014, to train over 40 million Indians in various skills needed for the country's various sectors.
Ministry of Ayurveda, Yoga, Unani, Siddha & Homeopathy (AYUSH) was established to develop indigenous Indian forms of medicine and promote them within India and abroad.
10- How many times has India won the Hockey World Cup?
A: Once.
India won the Hockey World Cup only once, in 1975 in Kuala Lumpur. However, India has won eight Gold medals at the Olympics and won three Gold medals each at the Asian Games and Asia Cup.
11- When is the International Day of Yoga celebrated?
A: June 21 every year.
The United Nations General Assembly declared in 2015 that June 21 every year will be celebrated worldwide as International Day of Yoga. The announcement came after Indian Prime Minister Narendra Modi proposed that international events be held to mark Yoga since it held fantastic fitness and health benefits at a speech in September 2014.
12- By what name was the country Russia know as before 1991?
A: Union of Soviet Socialist Republics.
Russia and other countries, including Ukraine, Belarus, Georgia, Estonia, Latvia, Lithuania, and several others, were collectively part of the Union of Soviet Socialist Republics or USSR. The country was also called the Soviet Union. On December 26, 1991, the country's government formally dissolved USSR with each country becoming independent.
13- Which countries have no airports?
A: Monaco, Lichtenstein, Andorra, San Marino, and Vatican City.
These five independent countries in Europe do not have any airports. Instead, they are connected to the rest of Europe and the world by rail and road networks from neighboring countries.
14- Which country has the world's largest railway network?
A: USA.
The USA has over 250,000km rail network that crisscrosses the country. The USA is served by several public and private railway networks that cover the length and breadth of the country.
15- Which country has the largest number of volcanoes?
A: Indonesia.
Indonesia has 139 volcanoes, most of which are active. Indonesia is situated on the Pacific Ring of Fire, which has dangerous tectonic plates leading to frequent earthquakes and volcanic explosions. The last major volcanic eruption in Indonesia happened in 2010 when Mount Merapi began emitting lava and smoke.
16- Which is the National Vegetable of India?
A: Pumpkin
Also called 'Meetha Kaddoo,' the humble pumpkin is the National Vegetable of India. The pumpkin is a versatile vegetable that grows easily in any part of India. Also, it is used in every Indian cuisine for making side dishes, curry, sweets, soups, and types of bread.
17- What was Air India called before the airline was nationalized?
A: Tata Airlines.
It began in 1935 as Tata Air Services and later assumed the name Tata Airlines. It was launched by noted Indian industrialist JRD Tata. Though Tata Airlines started by carrying mail, it launched commercial air services between Mumbai and Trivandrum in 1939. In 1948, Tata Airlines was nationalized and renamed Air India.
18- Whom did national hero Shaheed Bhagat Singh kill?
A: John Saunders, a junior police officer.
Bhagat Singh, Shivram Rajguru, and Sukhdev Thapar wanted to kill James A. Scott, Police Superintendent of Lahore, for an assault on revolutionary leader Lala Lajpat Rai and a group of peaceful protestors on October 30, 1928. However, the trio killed John Saunders, a 21-year old junior police officer in a case of mistaken identity.
19- Where did Netaji Subhash Chandra Bose establish Indian National Army?
A: Singapore.
The first Indian National Army was founded in Malacca (Malaysia and Singapore) by various Indian revolutionaries but disbanded in 1942. Netaji Subhash Chandra Bose revived the Indian National Army in 1943 by enlisting over 12,000 Indian soldiers that were captured by Japan and its allies or defected from British service to join India's independence struggle. It was formally established in Singapore and operated from there for several years.
20- What is the difference between Embassy or India and High Commission of India?
A: Nothing.
Indian diplomatic missions of the rank of an embassy and located in Commonwealth states are called High Commissions. In other countries, they are called the Embassy of India. For example, India has a High Commission in the UK, a Commonwealth country. In the USA, it has the Embassy of India since the US is not part of the Commonwealth.
21- In 2G, 3G and 4G Mobile Internet & Phone, what does 'G' stand for?
A: 'G' stands for 'Generation.
2G means Second Generation, 3G means Third Generation, and 4G means Fourth Generation of mobile Internet and phone services. This classification is made by International Telecommunications Union (ITU), an organization under the United Nations which operates from Geneva, Switzerland.
22- Which is the highest battlefield in the world?
A: Siachen Glacier.
Located about 5,400 meters Above Sea Level between India and Pakistan, the Siachen Glacier is the world's highest battlefield. In 1984, a brief battle between the armed forces of India and Pakistan was fought for Siachen and its adjoining areas. Indian Armed Forces won the war and now control Siachen Glacier.
23- From where does India's currency, the Rupee, get its name?
A: Silver Coin.
In the Sanskrit language, silver is called Rupay. The Indian Rupee borrows its name from the ancient silver coin, Rupay or Rupya that was made with 11.83 grams of silver and used as common currency in various kingdoms and territories. Since, Rupee is also the currency of various other countries including Sri Lanka, Nepal, Pakistan, Mauritius, and Seychelles. Its variants, Rupiah is used in Indonesia while Rufiah is used in the Maldives.
24- Which is the largest seaport in India?
A: Jawaharlal Nehru Port.
Jawaharlal Nehru Port also called Nhava Sheva due to the two towns where it is located, is India's largest seaport. JNP is located near Mumbai. However, Kandla Port in Gujarat handles the highest volume of an incoming and outbound carats.
25- Who was the only Indian to hold military rank Field Marshal?
A: SAM Maneckshaw.
Sam Hormusjee Framjee Jamshedjee Maneckshaw was a senior general in the Indian Army. His meticulous planning and execution of military strategies led Indian Armed Forces to win several victories.
SAM Maneckshaw played a major role in India's victory in the 1971 war with Pakistan, which saw the creation of Bangladesh.
For his role, erstwhile Prime Minister Indira Gandhi promoted him as Chief of Defense Staff while conferring the rank Field Marshal. No other Indian has ever again held this military rank.
In Conclusion
There are countless basic general knowledge questions that can feature in any major exam or general knowledge quiz contest. Gaining general knowledge is fairly simple.
All you need do is read newspapers daily and keep a good yearbook handy for ready reference. Listening to the radio and watching non-fiction documentaries on TV are also fantastic ways to increase your general knowledge.