Do you want to win millions of Rupees by competing in 'Kaun Banega Crorepati' show hosted by Amitabh Bachchan, the Bollywood superstar?
Or do you wish to get government and banking jobs by cracking those tough entrance exams?
If so, you need to have excellent general knowledge.
Since decades, general knowledge has been very important for success. As a student, I was never a topper. But when it came to general knowledge, there was no student in my class- or even those above- who could beat me.
Therefore, I was chosen to represent my school at several general knowledge quiz contests. As usual, we won a few, lost a few. Yet, I was happy with the certificates that are given away to all participants.
General knowledge or GK is something I always find interesting. And it is easy to get. I was no genius at studies. Yet I got general knowledge from my daily activities, without exerting any extra effort.
Nowadays, general knowledge is very important. Especially if you are looking at cracking tough entrance exams and apply for government jobs.
Therefore, I will tell you simple ways to improve your GK. But let us first understand what is general knowledge.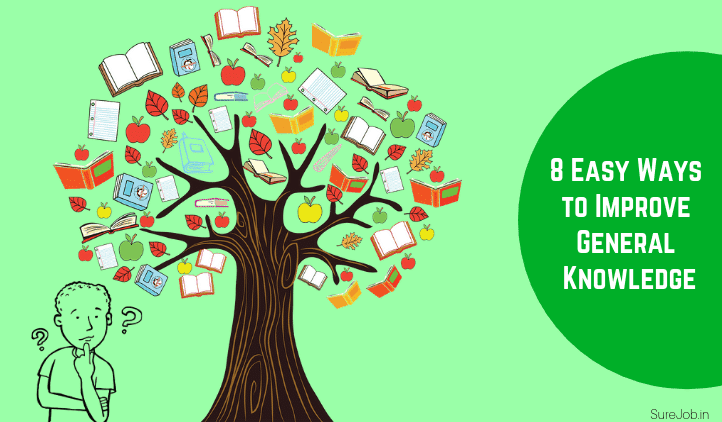 Defining General Knowledge
General knowledge is knowledge of many different things as opposed to detailed knowledge of a particular subject, says Collins Dictionary of English Language.
Rightly so. Because you could be an expert in some subject and yet have no knowledge about things around you, their importance and significance to our life.
Of course, all of us has some general knowledge. Only the degree of our knowledge differs: some have more general knowledge, others have less.
So if you want to increase your general knowledge, here are the most simple and inexpensive ways.
Ways to Improve General Knowledge
I found it impossible to increase general knowledge by reading books at the last moment, just before a major GK quiz contest. Instead, general knowledge has to be learned daily from various sources.
1. Watching TV
Surely you watch TV for a few hours daily. Tune into a good news channel for a daily bulletin. Watch a popular Indian news channel as well as major foreign ones, especially CNN and BBC.
Thanks to cable TV and Direct-To-Home satellite systems, major India and foreign channels will come along with your movies and entertainment channel packages.
News bulletins are the single best source of increasing general knowledge. They keep you abreast with whatever is happening in your city, state, country and the world.
If you miss news bulletins for a day, watch weekly news roundups and news reviews. They provide excellent insights into what is happening.
Also remember to watch interesting channels such as Discovery, National Geographic and History. They are a goldmine of information and serve to increase your basic general knowledge, in an interesting way.
The popular TV program, 'Kaun Banega Crorepati' hosted by Bollywood is all about GK. You can watch this show to increase your GK too.
The next time you cannot find a good movie or television serial or are simply bored- watch a news channel, Discovery, National Geographic and History channels.
2. Listen to the Radio
Listening to the radio is a habit that is dying fast. Smartphones are spelling the doom for several great habits of yesteryear's like tuning in the radio for news and news summaries.
Maybe you are unaware, but a lot of radio stations host short GK quiz contests for their listeners. You can dial the host and provide an answer to win prizes. Or simply tune in to them to increase general knowledge.
You can listen to the radio even while doing household work or travelling between home and office or school. Radio listening is an excellent pastime activity.
I found tuning in to foreign radio stations very thrilling. And unknowingly, they were helping to improve my general knowledge.
3. Read Newspapers & Magazines
Reading newspapers is another best way to improve general knowledge. Unfortunately, reading newspapers is a habit that can barely be seen among younger people.
Your family must be buying a daily newspaper. Spend a few minutes every day reading important news and current affairs in India and around the world.
Also read a couple of good magazines every week. Here I will add that it is not important to buy the latest magazines to increase your general knowledge.
Even back issues that can be bought from paper scrap dealers around the corner will provide enough knowledge about various issues and topics.
Newspapers have two distinct advantage: they are cheap and are available in all languages. You can carry them anywhere. Other than improving your GK, newspapers also help you to get better language skills.
4. General Knowledge Websites
We live in the Internet age. This makes it easy to increase basic general knowledge. Understandably, there are countless websites where you can get information of all sorts for free.
There is only one danger: all information on various websites may not be genuine or proven. Therefore, it is essential to visit only those websites that carry genuine information.
Here I will list some great websites where you can access general knowledge for free.
Britannica is the world's most famous brand of an encyclopedia and the most expensive one too. But you can access some of their GK articles through their website. Britannica.com carries general knowledge in simple and easy to understand language.
This is a free online encyclopedia. You can get information on millions of subjects through Encyclopedia.com. General knowledge topics on this website are also easy to read and understand. They come with pictures and illustrations for good learning experience and improve GK.
The website is part of the world famous History Channel. You may have the channel on your cable TV or DTH package. Regardless, you can also access their website, History.com and access information to increase general knowledge. This is a very reliable source of GK.
I had never heard of this website till a few months ago. Now, I am hooked to InstaNerd.Me. The InstaNerd.Me website displays short information about a subject. If you want to learn more, click on the link. If satisfied, you can proceed to the next short slide.
There is a general feeling that Wikipedia does not provide accurate information. That anyone can post or edit a topic. This is not entirely true. Information on Wikipedia is largely accurate. It provides links and references for every important piece of information on any subject.
If you are a parent and want to increase general knowledge of your children, take them to Academic Kids. This is a wonderful website specially made for young children. It contains various general knowledge topics presented in a style that kids will love instantly.
There are countless channels on YouTube that provide general knowledge. Try TED-Ed. This channel has close to eight million subscribers worldwide. TED-Ed videos are made by a group of 15 professional educators that are proficient in general knowledge.
5. GK Apps
Have a good smartphone? Download any good app that will help increase your general knowledge. Since you may face some difficulties in finding the right app, I will list a few.
Encyclopedia by Farlex: This app is presented by TheFreeDictionary.com, a very famous free Internet dictionary. Encyclopedia by Farlex contains over 330,000 entries on various topics and over 44,000 pictures and illustrations.
General Knowledge – World GK: Reviews posted by users of this app indicate it is fairly good. The app is free and provides information on some 15,000 topics that are common during various entrance exams in India.
General Knowledge (2019): Understandably, this app is updated every year. General Knowledge (201) contains a goldmine of information you would require to crack some of those toughest entrance exams in India for government and banking jobs, among others.
History Channel (Documentaries): This app comes from History Channel. You can view free documentaries that are screened on this premium channel. Most content is free, unless you opt to watch paid ones.
Hindi & Regional Language Apps: If you prefer getting information on myriad GK topics, opt for those available in Hindi and other regional languages of India.
6. General Knowledge Books
You would definitely have heard about encyclopedias and year books. They help increase your general knowledge.
But increasing general knowledge through books can often prove a slow and sometimes futile pursuit. Majority of folks nowadays are averse to reading.
Further, encyclopedias contain information on myriad topics. Unless you search for something specifically, it would be similar to the proverbial searching for a needle in haystack.
Another major drawback with encyclopedias and year books are the intrinsic inability of humans to recall everything they read. Hence, you might forget answers to some pertinent general knowledge questions that feature in an entrance exam.
However, this need not be a disappointment. I encourage you to go ahead and buy that encyclopedia or year book to improve your general knowledge.
But remember to watch TV, read newspapers and GK websites too. Encyclopedias are only force multipliers that will fine-tune general knowledge you already possess.
Here are some excellent encyclopedias, reference books and year-books you can use.
7. Attend Quiz Contests
A great way to improve your basic general knowledge is by attending quiz contests. You will definitely find schools in your area conducting quiz contests as part of their annual day celebrations.
Quiz contests are very entertaining. You will learn and enjoy.
Interschool quiz competitions will also be held in your area. These are generally announced in local newspapers.
Sometimes, schools charge a small fee from the audience to raise funds for a charity. Otherwise, they are free. Attend these inter-school quiz contests to increase your general knowledge.
8. Participate in Quiz Contests
This is the surest way to increase your general knowledge. It also allows you to put information you have collected from various sources to test.
Nowadays, you can also take quiz contests online. There are excellent quiz contests online that give cash prizes and certificates of participation. Questions are on a wide range of subjects or potpourri of general knowledge topics.
Wrap Up
I have shown you eight excellent ways to increase your general knowledge. It is better to acquire GK from several sources instead of depending upon just one or two.
I would say, the most important thing to do to increase your general knowledge is get off the smartphone. There are scientific studies proving that longer use of smartphones has a very bad impact on your brain and its learning abilities.
Before concluding, I will add that improving your general knowledge is not an overnight exercise. It needs years of patience and effort.