Getting a chance to study at a prestigious top universities in the world abroad is a dream come true for many Indian students.
However, once you have made a decision to study abroad there are a host of factors and things that you need to actively consider.
This normally ranges from the reputation of the university, fees & other expenses, quality of faculty, research opportunities and the availability of accommodation facilities, among others.
This often makes the task of finding the right university (that ticks all the right boxes), an arduous one which can be as complicated as it is time consuming for a student/parent who doesn't know where to look.
So to make matters simple for you, we have listed below a checklist of the 10 leading international top universities in the world preferred by Indian students seeking an advanced, quality education abroad.
Top 10 Universities in the World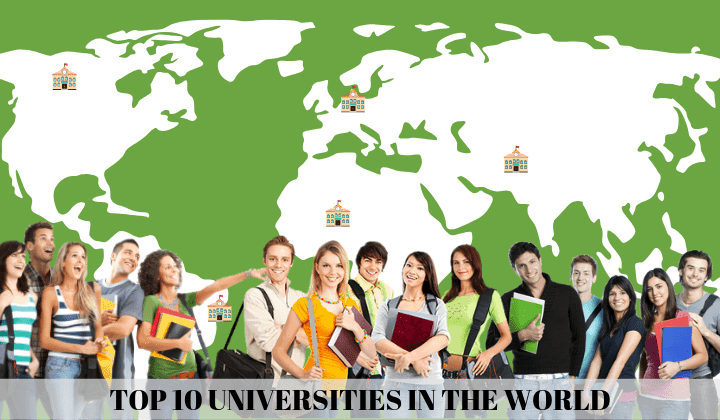 Take a look…
About: One of the world's oldest universities and the first university of the English-speaking world. 41% of its students and 48% of its academic staff hail from countries other than the UK. The university holds a student-teacher ratio of 10.9 and a male-female student ratio of 46:54.
Courses on Offer: Undergraduate (UG), post graduate (PG), diploma, PG diploma, and doctoral programs.
Academic Faculties: Business Administration, Computer Science, Medicine, Economics & Management, Financial Economics, Computer Science, Fine Arts, Financial Strategy, Engineering Science, Law, Psychology, Biochemistry and Materials Science.
Admission Criteria: For UG courses, Class 12 passed from CBSE or ISC boards. For CBSE students, a CGPA of 9.8 with grade A1 in any subject relevant to the course applied for is required. For ISC board students, an overall grade of minimum 90% is needed. Some courses require aspirants to appear for a written test.
Course Fees: Between£24,750 and £32,715 p.a (INR 23,00,000 – 32,00,000). Fees and charges usually increase annually.
Deadline for Applications: 15 October.

Scholarships:

There are several scholarships available to deserving Indian students who want to study at Oxford University. These include:

The Oxford and Cambridge Society of India Scholarships of INR 40,000,000 for pursuing a course in Science, Business or Computers.
The Rhodes Scholarship of approx. INR 62,50,000 (per student/ up to 5 students) for doing a MBA course.
The Reach Oxford Scholarship- BA Eco & Management/ Experimental Psychology of approx INR 32,00,000 (per student/ up to 3 students) for pursuing a course in Business, Science & Humanities.

Accommodation: Colleges affiliated to the University provide accommodation for all undergraduate students during their first year of study and for at least one other year of their course. On-campus accommodation is also provided to its postgraduate students.
About: Caltech's students come from all over the US and the globe. They share an extraordinary aptitude for science, engineering, technology and mathematics. 45% of its 2017–2018 graduate population are foreign students from countries like China, India, Canada, South Korea and Taiwan.
Courses on Offer: UG and PG courses with a choice of 27 options (majors) across 6 academic divisions.
Academic Faculties: Biology and Biological Engineering, Chemistry and Chemical Engineering, Engineering and Applied Science, Geological and Planetary Sciences Humanities and Social Sciences, Physics, Mathematics and Astronomy.
Admission Criteria: Caltech accepts only about 230 new freshmen and 10 to 15 new transfer students to campus each fall. There is no minimum grade point average, GRE score, or other quantitative metric used in the evaluation of student applications. Instead the university relies on a student's statement of purpose, transcripts, letters of recommendation, and test scores to accept/reject his/her application.
Course Fees: Between INR 40-60 lakhs p.a depending on the choice of course.
Scholarships: No specific scholarships are offered by this university to Indian students, but you can consider applying to generic scholarships applicable for studying in the USA.
Accommodation: Caltech provides guaranteed on-campus housing to all first-year undergraduate students and all first-year graduate students, which includes an on-campus meal plan.
About: It is one of the world's leading research universities. Located in California's Bay Area, it boasts of about 30 current billionaires, 17 astronauts, 18 Turing Award recipients and two Fields medalists as its alumni. It hosts close to 16,000 full time students, of which approx. 22% are from other countries.
Courses on Offer: Stanford offers three undergraduate degrees: Bachelor of Arts, Bachelor of Sciences and Bachelor of Arts and Sciences. It also offers 15 distinct post-baccalaureate degrees in nearly 200 graduate programs in all seven of its schools.
Academic Faculties: Business; Earth, Energy & Environmental Sciences; Education; Engineering; Humanities and Sciences; Law; and Medicine.
Admission Criteria: Foreign students need to hold the equivalent of a U.S. bachelor's degree from a college or university of recognized standing. TOEFL (Test of English as a Foreign Language) scores are required of all applicants whose first language is not English. Admission is offered only to students who are fully prepared in English or who have advanced intermediate proficiency in English
Course Fees: From INR 40,00,000 – 100,00,000 p.a depending on the choice of course.
Scholarships: The Stanford Reliance Dhirubhai Fellowship worth INR 64, 72, 617 is available for deserving Indian students wanting to pursue a business course at Stanford University. The only restriction. The student needs to return to India post the completion of his course.
Accommodation: Stanford University has 13 residence halls and apartments for UG students and 12 apartments for PG students. An estimated 97% UG and 66% PG students live on campus.
About: One of the leading universities in the world with over more than 18,000 students from all walks of life and all corners of the world, over 11,000 staff, 31 Colleges and 150 Departments, Faculties, Schools and other institutions.
Courses on Offer: Cambridge offers students a choice between 30 undergraduate courses at Cambridge covering more than 65 subject areas.
Academic Faculties: It has six schools which includes Arts and Humanities, Biological Sciences, Clinical Medicine, Humanities and Social Sciences, Physical Sciences and Technology.
Admission Criteria: All applicants must submit an application to UCAS (the Universities and Colleges Admissions Service) by the said deadline, in addition to their Cambridge Online Preliminary Application (COPA). Shortlisted candidates are then asked to appear for an interview and required to take a subject-specific written admission assessment.
Course Fees: Range from £20,157- £52,638 p.a (INR 19-50 Lakhs) depending on the choice of course.
Scholarships: There are several scholarship opportunities available for Indian students wanting to study at the University of Cambridge. These include;

The Oxford and Cambridge Society of India Scholarships – INR 40, 00, 000 (one student) – pursuing a course in Science, Computers, Engineering.
Graduate Research Scholarship (MBA) – INR 61, 00, 000 approx (two students) pursuing a course in Business.
Commonwealth Shared Cambridge Scholarship – INR 23,00,000 approx – for student pursuing a course in engineering.

Accommodations: 29 colleges attached to the university provide students with on-campus housing options with meal plans.
About: MIT is profoundly global. This famed Institute has long worked with organizations, communities, and industries across the globe to push the limits of what science and technology can accomplish. It has to its credit 89 Nobel Laureates, 58 National Medal of Science winners and 29 National Medal of Technology and Innovation winners.
Courses on Offer: MIT offers a range of UG, PG and doctoral programs across major streams for students from 120 countries.
Academic Faculties: Science, Engineering, Arts, Architecture, Humanities, Social Sciences, Management, Interdisciplinary programs like MITx, which offers flexible access to MIT-rigorous content for learners of all ages.
Admission Criteria: A bachelor's degree is required for admission to UG courses in addition to high scores in SAT exams. All students apply to MIT for general admission are required to select a major at the end of their first year.
Course Fees: $70,240.01 (INR 51,73,176 approx.) is the average annual full price for students who want to attend MIT. However, this can be reduced to approx. $23,000 (INR 16, 94,525 approx) for deserving students who opt for financial aid (scholarships, work and loans) from the institute.
Scholarships: As above. In the 2016–17 academic year, 35% of MIT undergraduates received scholarships and grants equal to or greater than their tuition fees.
Accommodation: MIT provides on-campus accommodation to all students including Undergraduates, postgraduates and to their families also. It has 11 residence hall for UG students and 6 halls for PG students
About: Established in 1636, it's the oldest institution for higher education in the US. This well respected institution also boasts of having more than 371,000 living alumni – which includes over 279,000 in the U.S alone and over 59,000 in some 202 other countries. It's a list which also includes 48 Nobel Laureates, 32 heads of state and 48 Pulitzer Prize winners.
Courses on Offer: it offers a host of UG, PG and doctoral programs across major streams.
Academic Faculty: Arts, Science, Design, Education, Law, Medicine, Dentistry, Engineering, Applied Sciences and Public Health.
Admission Criteria: All freshman applicants—including international aspirants – need to submit their completed Common Application, Universal College Application, with the required supplements. This is in addition to a $75 fee, ACT or SAT scores, 2 SAT subject tests and other relevant documents.
Course Fees: The estimated cost of securing education at Harvard works out to approx. $71,000 -$77,000 (INR 52,00,000 – 57,00,000) which includes the tuition, fees, room, board and estimated personal expenses and travel costs.
Scholarships: Harvard offers financial aid for students with a demonstrated financial need. However foreign students need to submit their proof of income in the form of an Income Tax certificate or a letter from their employer to avail of the same.
Accommodation: Freshmen students can live in one of the many dormitories in Harvard Yard and dine at the picturesque Annenberg dining hall. Other students are placed at any of the 12 houses on campus for the remainder of their term.
About: The fourth oldest university in the US, this Ivy-league research university has been led by 20 presidents – from the colonial times to the 21st Its illustrious alumni include 17 winners of the prestigious National Medal of Science, 40 Nobel Prize winners and 5 National Humanities medal winners. An estimated 23% of its student population is made up of foreign students.
Courses on Offer: Undergraduate degree/certificate, graduate degree/certificate courses and doctoral programs across all major streams.
Academic Faculty: Electrical/ Chemical/ Biological/ Financial/ Environmental/ Structural Engineering, Computer Science, Economics, Architecture, Public Affairs, Arts and Mathematics among others.
Admission Criteria: For admission to its UG courses, foreign students need to submit their SAT/ ACT scores, with their application online. Applicants for its Graduate programs need to hold a bachelor's degree or its foreign equivalent from an accredited college or university. Every applicant is allowed to submit one application per year only.
Course Fees: The standard tuition rate for an academic year is $51,250 (INR 38,00,000 approx). It is the same for all regularly enrolled graduate students and includes the mandatory $1800 (INR 1,33,000 approx) Student Health Plan (SHP) fee. Ph.D. candidates are eligible for an annual stipend amount, based on estimated costs to support a single student.
Scholarships: Princeton has a financial aid program for needy students. However it does not offer academic or athletic merit scholarships.
Accommodation: This University provides all students – undergraduates and postgraduates – with on campus accommodation facilities. An estimated 98% of its UG students are said to be residents on its campus.
About: Said to be one of UK most international universities, an estimated 60% of Imperial's students hail from foreign countries, including 20% from other European nations. It has been regularly ranked among the top 10 universities in the world, thanks largely to the new ideas and fresh approaches contributed by its global academic community from more than 130 countries.
Courses on Offer: Undergraduate, Postgraduate and doctoral programs across all major streams.
Academic Faculties: Business Administration, Medicine, Computing (AI & Machine Learning), Mechanical Engineering, Business Analytics, Finance, Economics, Physics, Business Strategy, Biotechnology, Risk Management, Financial Engineering, Chemical Engineering and Electronics Engineering among others.
Admission Criteria: Applicants for full time courses at Imperial have to make an online application using the Universities and Colleges Admissions Service – UCAS.
Course Fees: Tuition Fees range from INR 25-60 lakhs per annum (depending on the course) and are charged by year of entry to the College and not year of study.
Scholarships: Imperial offers up to 112 President's Undergraduate Scholarships to reward students of any nationality who demonstrate the highest academic excellence and potential. Selected scholars receive £1,000 for each undergraduate year of study and the money does not have to be repaid. This is in addition to several external agencies which offer funding to Imperial students to help them complete their studies.
Accommodation: From premium suites to pocket-friendly twin rooms, Imperial has student accommodation to suit every budget, across locations – most of which are within walking distance to the college campus.
About: Said to be one of the best institutes in the world for the advanced studies of Computer Sciences, the Zurich-based Swiss Federal Institute of Technology (ETH), has more than 20,000 students, including 4000 doctoral students, from over 120 different countries, who are guided by 530 professors.
Courses on Offer: Bachelors and Master's degree courses, doctoral programs, teaching diplomas and certificate courses and non-degree courses & certifications across major streams.
Academic Faculties: It has 16 departments that conduct academic interdisciplinary research in subjects ranging from architecture and technology to chemistry and physics. Most of the UG courses are conducted in German, while English is the medium of instruction used in PG and doctoral programs here.
Admission Criteria: Applicants from foreign countries are required to take either the reduced entrance exam or the comprehensive entrance exam.
Course fees: CHF 580.00 (INR 43,000 approx) is payable each semester by students in Bachelor/Master/diploma programs.
Scholarships: ETH Zurich does offer students a scholarship if they/their family cannot afford the costs – provided the student is able to demonstrate adequate progress in his/her academics. However these scholarships do not completely cover the cost of living and studies. The Swiss Federal Commission for Scholarships for Foreign Students (FCS) also awards scholarships for postgraduate studies to deserving foreign students with a university degree.
Accommodation: The Housing Office of ETH Zurich is responsible for arranging accommodation for its students with private individuals. It also provides students with useful information about living in Zurich. Two building complexes on the campus, HWW and HWO, also provide accommodation for around 900 students.
About: Founded in 1868 at San Francisco, the University of California, offers 289 degree programs with an impressive 17.8 to 1 student-faculty ratio. This university also boasts of 4 Pulitzer Prize and 7 Nobel Prize winners among its current faculty and counts 31 Nobel Prize winners among its alumni.
Courses on offer: Undergraduate, Post graduate degree courses and doctoral programs across all major streams.
Academic Faculties: Business Administration, Electrical/Mechanical/Civil Engineering, Journalism, Information Management, Public Health, Psychology, Computer Science, Mathematics and Statistics among others.
Admission Criteria: Foreign students seeking admission to UC Berkeley, are required to finish secondary school (for UG courses) or a Bachelor's degree (for PG courses) with a certificate of completion. Students are also required to demonstrate their proficiency in English language by successfully passing the TOEFL or IELTS exams. All admitted foreign students have to complete a Non-immigrant Information Form (NIF), guaranteeing sufficient funds to complete the first term of study.
Course Fees: Tuition fees are $14, 184 (for UG courses), with room and board costing an additional $16,398 (living in a campus residence hall) and $12,822 (living in an on-campus apartment).
Scholarships: Foreign students are ineligible for federal financial or institutional aid managed by the Financial Aid and Scholarships Office at UC Berkeley. However, the Financial Aid and Scholarships Office website provides information about other available options.
Accommodation: All new students get housing priority. From traditional high-rise residence halls to suite environments, there are plenty of options to choose from. The campus also hosts more than 1,000 apartments for students who are married/single parents/domestic partners.
In Conclusion:
Choosing to study at reputed universities in the world can be one of the most rewarding decision you will make in your entire life.
It will give you an opportunity to discover new cultures, make lifelong friendships and above all enable access to quality education for you.
So take your pick from any of the top universities in the world we have mentioned in this article – which best matches your academic interests and career aspirations – and give wings to your dreams.