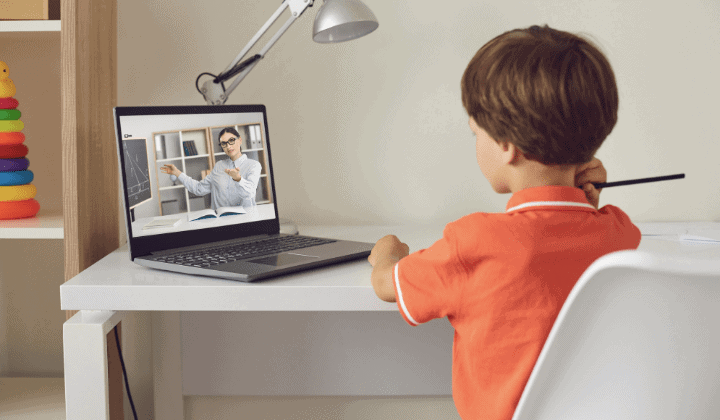 The pandemic has popularized online learning and it has become quite a normal thing for school kids to sit in front of a laptop and take math and science lessons daily.
At present, the market is saturated with all sorts of educational apps and websites that boast of improving a child's learning ability. It becomes a tough job to select the best online classes for kids when you have lots of choices but you don't know what to choose. 
In this article, I have compiled a list of the most popular and student-friendly learning platforms that offer world-class distance learning.
15 Best Online Classes for Kids In India
Here is a list of 15 best online classes for kids platforms in India
1. BYJU'S
Everyone has heard about BYJU's. It is the first Edtech unicorn from India. Established in 2011, BYJU's has become the topmost platform when it comes to online learning. It is a paid membership plan.
However, students can also access various lessons for free to get an idea. The process is simple, students have to log with email id and phone number. To unlock premium lessons, students have to purchase a monthly membership.
2. Whitehat Jr
Whitehat Jr is an e-Learning for kids platform where they learn to code through live classes. It was acquired by BYJU's recently for a whopping $300 million. What makes Whitehat Jr special is the approach of teaching kids how to code.
Starting from a small age, children will get a good grasp of programming languages like Java, C++, Python, and more. Lessons are given on a paid membership basis, however, free demo lessons are also offered.
3. Diksha App- e-Learning for kids by the government of India
After the pandemic restrained school students from studying in schools, the government of India launched an app for all the students. It is called DIKSHA which stands for Digital Infrastructure for Knowledge Sharing.
Here, students can access all study materials and NCERT books for free. This app is available in more than 15 regional languages. Students can also get the state course material as well as the CBSE course material on the go.
DIKSHA first came into existence in 2017, and during the pandemic, it became one of the most widely used apps among Indian students.
Students with an Android 5.1 or above can get it on Google Play.
4. Ted Ed@home 
Ted Ed@home is an initiative by Ted to help kids all around the world learn during the pandemic. It is a free initiative that involves video lessons, fun activities, challenges, etc., to help parents as well as their kids.
All the course content is categorized into four main categories- elementary school, middle school, high school, and university.
There is a weekly newsletter too. All the course material covers subjects like arts, health, mathematics, philosophy, religion, social studies, science, technology, etc.
It is a great initiate by Ted and indeed a must-try.
5. Vedantu
Vedantu is an Indian education platform that aims to provide live video lectures to school students. It utilizes the WAVE technology and uses the internet as a virtual medium to teach students in-person or in small groups.
Students can get a free demonstration and they provide free lessons on YouTube as well.
6. Toppr
Toppr is another online classes for kids for school going kids. It was founded in 2013 and the app provides an interactive platform helping students all over India. Here, students can look for doubts and video lectures. Kids can even find some of the most complicated problems and their solutions.  
7. Khan Academy kids
Khan Academy is a non-profit organization that provides all sorts of free course material, especially videos, to school students around the world. More than 120 million students use Khan Academy worldwide. It was founded in 2008 and became one of the most trusted websites for online education.
Kids can learn with the help of interactive videos and utilize their time. It is best online classes for kids with intermediate to above-average intelligence.
8. Unacademy
Unacademy is an Indian learning app launched in 2015. The app is primarily for higher classes and exam preparations. However, students can also find interactive and free/paid classes too. Students from 6th standard onwards can use Unacademy to get access to online lectures and course material.
It is great for students who want to get an in-depth knowledge of various subjects. It lays a great foundation for those who want to appear for competitive exams in the future.
9. YouTube Kids
YouTube Kids has been specially made for kids below 13 years. It was essentially made to create a safer environment for kids and prevent them from getting access to videos with strong content.
YouTube Kids is an amazing platform for kids who want to learn and study. Here, little kids can find a plethora of channels that provide free lessons on all sorts of topics. One such channel is Crash Course Kids which teaches students about animals, facts, food chains, etc. 
10. Doubtnut
Doubtnut is also an Indian educational platform, established in 2016. It has become one of the most popular platforms that offer lectures and solutions to various problems.
Doubtnut is perfectly tailored to solve a student's doubt in all kinds of subjects like maths, science, and others. Students can also ask difficult questions and they will get answers in video lectures. It is a great platform for curious kids who want detailed solutions for complicated problems.
11. National Geographic Kids
National Geographic Kids started off as a magazine in 1975. Soon it became the personal favorite adventure magazine for kids.
At present, it has become a popular platform for kids to learn by playing games, watching videos, identifying new countries, knowing about wildlife, and a lot more. It is an amazing platform for kids who want to learn about their surroundings and geography.
12. Duolingo
Duolingo is an amazing language learning platform that provides access to over 500 foreign languages. Language learning is not theoretical; it is interactive and makes language learning an easy process.
It was launched in 2012, and today, over 40 million users of all age groups use Duolingo to learn popular languages like Spanish, French, German, etc.
Kids have a great language learning ability. It is the perfect time to start a new language and Duolingo is hands down the best free platform to learn a new language.
To learn lessons, students have to-
Log in with a Gmail account or any other email account.
Select the language(es) they want to learn.
Start taking lessons. After each week, based on the scores, participants are promoted to different leagues.
The lessons consist of interactive pictures, audio lessons, multiple-choice questions, hints, etc., to help kids learn on the go.
13. Quizlet
Quizlet is a really popular American interactive learning platform. It is established in 2005. The best part of Quizlet is that both teachers and students can use it for teaching and learning respectively.
Various topics like languages science, arts and humanities, maths, social sciences, etc., are covered. Learning is made easy with the help of live classes, diagrams, flashcards, etc.
14. Funbrain
Funbrain is one of the oldest learning platforms for kids. It is more of a fun/learn website that has interesting games and activities for kids, and they can learn simultaneously. The fun games improve problem-solving, reading, and coordination in kids. It is an amazing start for pre-school kids as well as the kids up to 10 years old.
15. Sololearn
Sololearn is an amazing online learning platform for kids who want to learn to code. There are over 2056 video lessons and 15,331 quizzes that help kids learn the basics of coding. There are more than 40 million learners that trust Soloearn.
You will get-
Real-time learning.
Simple and enjoyable lessons.
It offers three distinct courses focuses on three different programming languages-
Conclusion
All the online classes for kids mentioned in this article have improved the lives of so many students. If you are a parent, you can go through these platforms and choose the best ones for your child. It is crucial to develop a learning habit from an early age. All these platforms will indeed solve the doubts of your kid from a distance and make learning interactive and easier than ever.