If I talk about the best career option in India, Engineering continues to stay one of the most popular career choices for students in India.
I am sure that many of you are already thinking of this option to achieve your dream of becoming an engineer and working in a good organization.
Out of the estimated 15 lacs Engineering students each year, thousands of students have to withhold their dream of working as an engineer.
One of the important reasons is they are unable to afford the exorbitant fees; they need to pay for a degree in engineering from a reputed college.
The cost of seeking an Engineering degree from a top engineering college or university generally varies from INR 7 lakhs to 20 lakhs. Many deserving students coming from lower-income families and other backward communities can't afford this fee.
This is where scholarships for engineering students play an important role – by offering them the much-needed financial aid they require to complete an engineering course from leading institutions.
Below we have compiled and listed – scholarships offered to engineering students by many corporates, organizations, and top universities to assist them in achieving their aspirations.
List of Top Scholarships for Engineering Students in India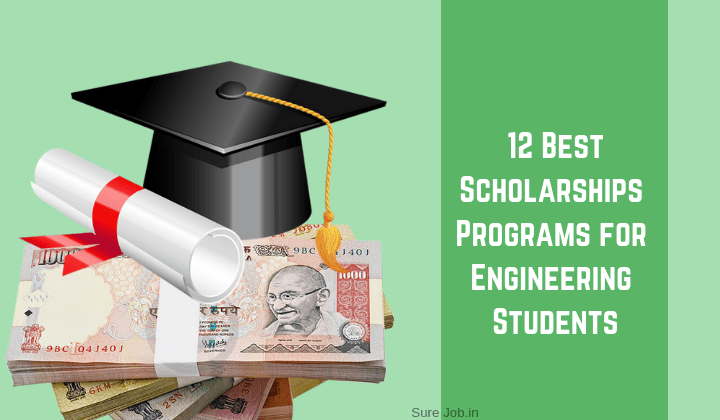 The Life Insurance Corporation of India (LIC) supports these merit scholarships for Engineering students and targets meritorious students from economically backward sections of society.
Awarded for studies in India in a government or private college/university, this scholarship for general students also covers vocational and technical courses in ITI centers and those affiliated with the National Council for Vocational Training.
Eligibility criteria include a minimum of 60% marks in the Class XII examination and a family income not exceeding INR 1,00,000 per year. Successful candidates receive a monthly allowance of INR 1,000 per month paid directly into their saving account via NEFT.
Also Read: How to Choose an Engineering Course & Branch
2. NTPC Scholarship Scheme
This scholarship for Engineering was started by the National Thermal Power Corporation (NTPC) and is meant for deserving candidates from the Scheduled Caste/Scheduled Tribe and physically challenged students.
It was started with the objective of providing them with financial aid to help shape their careers. 2nd year Engineering students falling in these categories are eligible for this particular scholarship.
However, they need to be pursuing a full-time Engineering degree from a government-recognized institution to qualify and receive financial support.
3. VIT University Ignite Scholarships
Considered as one of India's top universities, the Vellore Institute of Technology offers the Ignite scholarship for Engineering students.
However, only those students who secure a high rank under the – GV School Development Programme – are eligible for this Engineering scholarship. Successful students do not have to pay any tuition fees but have to bear other costs like external training fees and placement fees.
VIT also offers a 100% fee waiver for all four years of graduation for students who have topped the central or state boards. An estimated 2.33 lakh students annually appear for the VITEEE examination to gain admission to VIT's prestigious undergraduate Engineering courses.
Also Read: The Different Career Options in Banks for Engineering Students
4. Indian Oil Corporation Scholarships
IOCL is yet another well-known company that provides 300 scholarships to deserving engineering students in India under the aegis of their Indian Oil Educational Scholarship scheme.
Successful candidates are selected purely on a merit-cum-means basis and are awarded scholarships amounting to INR 3,000 per month for a period of four months.
To be eligible, candidates need to secure admission to the first year of the current academic year of a full-time Engineering course – with a government/UGC-recognized college/institution.
The scheme gives particular importance to physically challenged students, girls, and students from Jammu & Kashmir and North-East states.
Backed by the world-renowned Tata Group, the Tata Education and Development Trust has scholarships for Engineering students in India who thoroughly deserve to pursue Engineering.
The trust has initiated a $25-mn endowment fund with the world-renowned New-York based Cornell University to provide undergraduate Indian graduate students with financial aid.
The endowment supports 20 scholars from India at any given time. It has been instituted to ensure that deserving Indian students have access to Cornell's College of Engineering – purely on merit and irrespective of their financial capability.
To be eligible, a student must be an Indian student and should have attended secondary school in India. They also need to qualify for financial aid and should be offered admission by Cornell to their undergraduate course in Engineering.
Also Read: Railways: A Dynamic Career for Engineering Graduates
This is a merit-based scholarship for Engineering students provided by the central government in India (Ministry of Minority Affairs)
It targets explicitly poor but meritorious students from minority communities (Parsis, Jains, Muslims, Christians) who want to pursue advanced professional and technical courses.
About 20,000 Engineering scholarships are available for distribution to students who qualify in this category every year.
After clearing a competitive examination, students who secure admission to a recognised college/university are eligible to apply. Course fees of successful candidates are paid directly to the institute concerned by the respective state department.
Also Read: Aircraft Maintenance Engineering – Salary, Qualification, Requirement & Colleges
The principal objective of this scholarship scheme by the central government and the Ministry of Human Resources Development (Department of Higher Education) is to help deserving students with limited means meet a part of their fixed expenses while completing their graduate and postgraduate degrees.
The total number of scholarships on offer for the year is divided amongst various states' Education Boards. 50% of the scholarship is reserved for female students. Students pursuing a diploma course in Engineering do not qualify under this scheme.
Students who have scored 80% and above in their Class XII examinations conducted by respective state boards and those pursuing full-time professional courses from recognised institutions are eligible to apply.
Offered by the central government's Department of Science and Technology, this scheme provides scholarships for Engineering students and students looking to build a fruitful career in the field of science or medicine.
Any student currently studying in XI standard to 1st year of any undergraduate program in Basic Sciences (B.Sc/B.S/B.Stat/M.Sc) with a strong aptitude for scientific research is eligible to apply for this scholarship.
Other eligibility criteria include passing an aptitude test. Only shortlisted candidates who clear the test are called for a personal interview. A student's final selection depends on the marks scored in both the test and the interview round.
Successful candidates are eligible for a host of generous fellowships right up to their pre-Ph.D. level.
Also Read: The Top Engineering Colleges in Chennai
Introduced by the government of West Bengal, this scholarship scheme targets needy but deserving students studying for their Higher Secondary, Diploma (Polytechnic), undergraduate degree, postgraduate degree, or M. Phil/ Doctoral level.
This scholarship also includes all eligible recipients of the Kanyashree (K-2) scheme as well. However, the total income of interested candidates should not exceed INR 2, 50,000 per year, in addition to meeting the other stated academic requirements.
This renowned scholarship in India was revamped in 2016 in terms of the scholarship amounts to offer a broader coverage to a significantly higher number of poor students.
This scholarship for Engineering was founded to reward excellence among deserving 2nd and 3rd Year undergraduate students of Engineering by the Institution of Engineering and Technology (IET).
First announced in 2013, this scholarship program has attracted wholehearted participation from over 32,000 undergraduate Engineering students till last year. Candidates have to go through multiple selection rounds, including an online test.
Winners are eventually selected based on their performance across various parameters, including their range of outreach activities, academic achievement, extracurricular activities, and ability to deliver viable solutions to social Engineering issues.
The Siemens Scholarship for Engineering students is based on the German dual education pedagogy – over 50% of Germans prefer joining dual vocational and educational training programs (VET) to get jobs. Through this program, Siemens India offers scholarships to meritorious Engineering students from economically-disadvantaged families across four years.
First-year students from government Engineering colleges aged not more than 20 years with an annual family income not exceeding INR 2,00,000 are eligible to apply. This scholarship supports Engineering students from various streams, including; Electrical, Mechanical, Instrumentation, Electronics, and Information Technology, among others.
As per the company website, students who have graduated with this scholarship have been successfully placed in Siemens and other leading companies in the FMCG, IT services, Infra, automobile, and Engineering sectors.
Also Read: Post Matric & Pre-Matric Scholarship Scheme – How to Apply
The country's top-ranked energy company, the Oil Natural Gas Commission, offers this scholarship to fund needy but deserving Indian students hailing from the SC/ST & OBC categories. 50% of the scholarship is reserved for girl students.
Students from the general category hailing economically weaker backgrounds are also eligible for this scholarship. Distributed zone-wise, students qualifying for this scholarship are eligible to receive INR 48,000 per year across the four-year term of their Engineering course.
Eligibility criteria include a maximum age limit of 30 years with a minimum of 60% marks or equivalent tally in CGPA/OGPA in their 12th examinations for Engineering aspirants.
In Conclusion
These are some of the top scholarships for Engineering students, which are made available to all the well-deserving and financially unstable candidates in India.
Engineers are a crucial part of any country's progress, and India is no exception to this rule. Hence, it becomes vital to ensure that financial limitations do not hinder the supply of young, talented engineers that our country desperately needs.
By providing deserving Engineering aspirants with financial assistance, companies and organizations are ensuring that India's underprivileged youth get an equal opportunity for quality education and build a firm foundation for the future of our country.