Aircraft engineering could be an exciting career if you are looking for something other than medicine and regular engineering courses.
Although aircraft engineering is just another branch of engineering but it is very new field. Students who are anxious about aircraft engineering can read this article and find out everything that they need to know.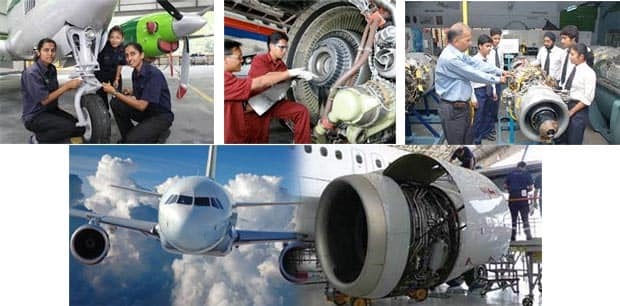 Scope of Aircraft Engineering In India
To put it simply scope of aircraft engineering as a career is really great in India.
The reason is quite simple. The aviation sector in India is expanding rapidly. Every year airline companies are buying new planes and adding more air routes to the sky.
Last year Indigo airline signed a deal worth $26.6 billion with Airbus. Indigo will buy at least 250 planes in coming years.
Similarly other airline companies are buying planes and upgrading their fleet.
I gave the example to just give you an idea how the industry is expanding and they are in a need of skilled Aircraft Engineers.
Moreover there are many other international airline companies operating in the country.
So the scope is really great for an aircraft engineer in coming years.
Aircraft Engineering & Aircraft Maintenance Engineer
Here you have to know the difference between aircraft engineer and aircraft maintenance engineering.
Aircraft engineering is a four year degree course in engineering. The branch that you choose is normally called aerospace engineering.
On the other hand Aircraft Maintenance Engineering or AME is a three year course where upon completion you get a license rather a degree.
So you have to decide which one you are going to choose.
Job Profile of a General Aircraft Engineer & an Aircraft Maintenance Engineer (AME)
You will like to know job profile of an aircraft engineer as well as an aircraft maintenance engineer (AME).
Upon completion of 4 years degree course you are expected to design and test aircrafts and related equipments.
In other words you will be working as a designer or an engineer for a new aircraft.
While aircraft maintenance engineer (AME) is a low profile (blue collar job) compared to an aircraft engineer.
Here you will be responsible for the air worthiness of an aircraft in accordance with local as well as international aviation standards.
Basically you have to get your hands dirty if there is a need.
Eligibility and Requirement
Eligibility for aircraft engineering is you have to complete 10+2 with PCM (Physics, Chemistry and Math) and appear for an entrance exam.
You can choose aerospace engineering course in a given college. You complete the course in 4 years and enter the job market.
To get an entry level jobs just BE degree is good enough however for higher job posts you need masters or a doctorate degree.
Here are eligibility criteria for three years AME course.
Must have passed 10+2 with 50% marks in aggregate in Physics, Chemistry and Math.
Or Three Year Diploma in any branch of Engineering
B.Sc. after 10+2 with math, physics and chemistry.
In order to get a job you have to get a license from the Director General of Civil Aviation (DGCA).
We shall talk more about this in next paragraph.
Aircraft Maintenance Engineering License
Getting the license is very important if you want to become an AME.
You have to appear for Associate Membership Exam certification conducted by Aeronautical Society of India.
In order to successfully clear the exam you have to enroll in only those institutes which are approved by DGCA.
It is because only they can impart training which is necessary for clearing the membership exam and no one else can.
Once you have cleared internal exams Section A & B DGCA will issue you an AME license.
The age limit is 23 years however it is relaxed for engineering and science graduates. Even students with matriculation can join the AME course.
Course and Admission Fees Structure for AME
Let us see 3 years AME course in great details.
Total course duration is 3 years long and you have to take 4 papers.
Upon completion of first year (two semesters) you are allowed to take part in basic Paper 1 of the AME license Exam.
Then you have to take Paper 2 at the end of second year and finally Paper 3 in the third year.
After clearing these 3 papers you can get Basic Aircraft Maintenance Engineer Certificate (BAMEC) from the DGCA.
You will be eligible for the job in the industry.
However you will only get the full AME license once you clear Paper 4 in your specific area of competence.
The issued license will be equivalent to a BE degree in aerospace engineering from any given college.
An AME degree can cost you up to Rs 1.5 lacs to Rs 2 Lacs in total.
If you are going for a BE degree then it can cost even more.
Best AME Colleges in India
Here are some of the colleges for getting AME license.
Rajiv Gandhi Aviation Academy, Bowenpally, Secundrabad – 500011 (AP)
Hyderabad (AP) Institute of Aircraft Maintenance Engineering, Old Airport Road, Gautam Nagar, Secunderabad (AP)
Bangalore Hindustan Aviation Academy, Chinnappanahally, Bangalore – 560037
Hindustan Institute of Engineering Technology, GST Road, St. Thomas Mount, Chennai – 600016
Aeronautical Training Institute, Lucknow
Skills and Salary Expectations
Skills for AME licensee you must have if you want a job in the aviation industry.
All the technical details of an Aircraft.
You have to get your hands dirty and work hard.
Willing to travel and work in shifts
If you are a BE graduate then you have to have passion for designing and innovating new ideas.
Finally how much do you expect after getting a license or completing the BE course.
Starting salary for an AME license holder can be Rs 15,000 per month and it can go up to Rs 1 lakh to Rs 1.5 lakhs also.
So this was all you need to know about aircraft engineering. Find latest jobs for AME here.