Every year, June 12 is observed by countries across the globe as 'World Day Against Child Labour.' India has the highest number of child labourers in the world.
Concerted effort by Indian government and judiciary to stem child labour has met limited success. As Indian economy booms, dependence upon child labour in India has also grown exponentially.
Burning shame for India:
Global Slavery Index (GSI) estimates, a shameful 18.36 million people in India live in slave-like conditions. Most modern-day slaves are underage children, research by various global organizations, say.
The Indian government's 2011 census records about 4.3 million children between age of five and 14 years are working in hazardous and non-hazardous jobs. A damning report by International Labour Organization is claiming a much higher number.
ILO claims India has 10.3 million child labourers. Of these, whopping 70 percent are girls. Over 150 million children worldwide qualify in this definition as child labourers, says UNICEF.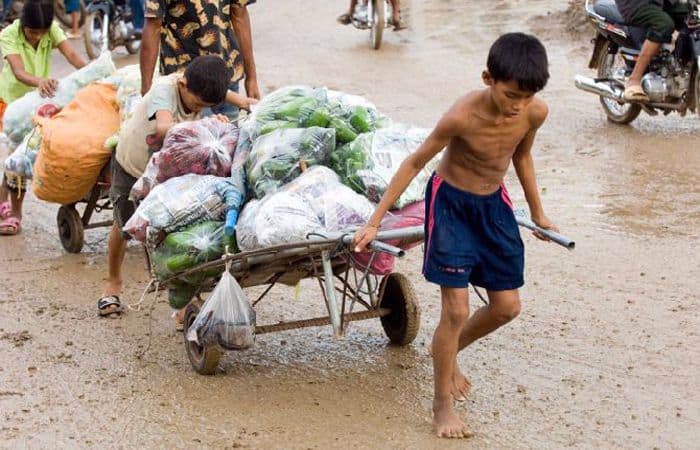 Defining child labour in India:
ILO's definition of child labour is: "Work that deprives children of their childhood, their potential and their dignity, and that is harmful to physical and mental development. It refers to work that mentally, physically, socially or morally dangerous and harmful to children and interferes with their schooling by- depriving them of the opportunity to attend school; obliging them to leave school prematurely; or requiring them to attempt to combine school attendance with excessively long and heavy work."
Generally, working children in the five to 14 years age group are classified as child labourers. Underage children are employed in hazardous and non-hazardous industries.
In May 2015, the Indian government passed a controversial bill regarding child labour. The Amended 'Child Labour Act' permits children to work in family owned non-hazardous enterprises.
In July 2016, India again amended the Child Labour (Prohibition and Regulation) Act 1986, paving way for juveniles aged below 14 years to work in specific jobs only.
Prevalence of child labour in India:
Child labour exists in India for several reasons. The biggest cause of child labour has been identified as poverty. Families with scant resources force underage children to work.
In fact, birth control remains taboo among many Indian cultures. Sadly, some families believe, more children means higher income. A Human Rights Watch report claims, children work to pay family debts.
Ironically, these communities consider it normal for teenagers to marry and procreate at puberty. Lack of education is yet another cause of child labour. Parents cannot afford to educate children and force them to work.
Child labour in India is rising, a recent Reuters report says. Sectors where child labour is prevalent in India are identified by ILO, WSI and UNICEF.
Five Indian states are the biggest employers of child labour. These are Bihar, Uttar Pradesh, Rajasthan, Madhya Pradesh and Maharashtra. These states account for some 20 percent of India's child labourers.
Bonded labour: Inherited curse
Sadly, bonded labour is greatest contributor to child labour in India. Though bonded labour is outlawed in India since 1976, the system however continues. Parents send their children to work with landlords and moneylenders, in lieu of unpaid debts.
These children are seldom paid. They are prone to rampant exploitation.This includes working long hours in sun, deprivation of water and food or lifting heavy loads. The system continues for generations.
Creditors enforcing bonded labour can be prosecuted under Indian laws. They face very stiff cash fines and long jail terms. Yet, there are few complainants.
Domestic help: Turning a blind eye
Very often, underage children are sent to work as live-in or visiting domestic helpers. This horrific system prevails in modern Indian cities too.
Educated families welcome such child workers, turning a blind eye to existing laws. Such families falsely believe they are protecting a child against anti-social elements and vices.
Often, these children are sent as domestic workers by parents hoping to fork in extra cash for the family. Child domestic workers are sent to cities from villages under the false pretext of 'better prospects.'
Child sex workers: Lust for virgins
Thousands of young girls who attain puberty are pushed into India's flesh trade every year. Indian laws define carnal relations with any girl below 18 years age as 'Statutory Rape'.
It is a criminal offense and attracts extremely harsh punishment.Despite, there is no dearth of criminals who lure village families into sending their young girls to cities.
They are promised Bollywood and other glamorous jobs. Instead, they are pushed into prostitution.The demand for underage, post-puberty girls is very high in flesh trade due to myths surrounding virginity.
Forced begging: Getting maimed
Families unable to sustain themselves force their underage kids to beg. Law enforcement authorities in India continue to uncover large begging rackets. Criminals tempt urchins to join these begging chains.
They are housed in sub-human conditions and fed poorly.Often, their eyes are gouged and limbs maimed to attract sympathy from people. Underage girls are raped, impregnated and forced to beg.
These child labourers are condemned to a life of penury and servitude unless rescued by some charity organization.
Child marriage: Banned tradition
Indian laws explicitly ban child marriage. Yet, this system flourishes among various uneducated communities on sly. Young girls married off into impoverished families end up as slave, child labour.
They are forced to work in kitchen. Such girls are chided into performing physically taxing household and domestic chores.Peer and family pressures prevent them from seeking recourse to law.
These girls bear children despite their poor physical condition. Most of them are unaware about travails of being a mother at tender age.
Child delinquency: Bane of poor and rich
Kids committing crimes is fairly common in India. The infamous 'Nirbhaya' rape case on December 16, 2012 aptly highlights this. One of the alleged rapists was juvenile and escaped harsh punishment meted to adults convicted of similar crime.
Children become delinquent for many reasons. Main among them is flight from poverty. They want to escape dithering poverty of their households. Among the rich, children flee home to escape restrictions enforced by parents.
Such kids end up as child labourers. Fearing reprisals, they are scared to return home. Often they get trapped by criminals who lure them into drug peddling, pick pocketing and other illegal activities.
Steps to Stop child labour:
The Indian government, in recent years, is winning kudos worldwide for its efforts to eradicate child labour. Amendments made to the Scheduled Castes and Scheduled Tribes (Prevention of Atrocities) Act prescribes severe punishment for people found guilty of retaining bonded labour.
The amendment stipulates rigorous imprisonment for those who force children to beg, handle or carry human waste and animal carcasses.
The draft National Policy for Domestic Workers, when goes into force, will ensure minimum Rs.9,000 salary for household helpers.
Military and police join the war:
Ministry of Home Affairs ensures that every police station in the country has a separate cell for juvenile, women and child protection. Extremely severe punishment awaits those found guilty of trafficking in minors.
Ministry of Social Welfare and Justice, Ministry of Women and Child Development has launched 'Khoya-Paya' a dedicated portal to track missing children.
Ministry of Defence is taking appropriate measures to ensure children are not recruited by terror outfits and indigenous armed movements such as Naxals.
India's unique situation:
India continues to suffer economically due to its inability to eradicate child labour. Goods including hand-woven carpets and ready made garments from India are banned for imports by several countries.
Foreign governments suspect child labour was involved in their manufacture. The Indian government is also unable to fully abolish child labour for other reasons.
Often, children are the only bread winners of a family that consists of sick parents. Banning child labour completely is tantamount to death sentence for such families.
Newer rules for employers:
The Indian government now implements new rules for employers of child labourers. These employers can deploy children only in non-hazardous work. They have to ensure all underage workers are sent to night schools.
Workplaces where child labour is allowed are regularly inspected by officials of various ministries for safety compliance. Violators face jail terms and closure of business.
On the anvil:
The archaic Bombay Anti-Beggary Law 1958 and its variants are being abrogated. Instead, the Indian government will introduce a new modern law.
The draft law stipulates all beggars to be rounded up by cops. They will be fed, clothed and sheltered at state expense.These beggars will be taught vocational skills.
Resources to earn respectably will be provided by the government. However, those found begging again will face fines and jail. Parents who allow kids to beg will face harsher punishments.
"The 2030 Sustainable Development Agenda reaffirms the goal of ending child labour. Acting together, it is within our means to make the future of work a future without child labour." – Guy Ryder, ILO Director-General.