Medical coding dates back to the 18th century when public mortality bills were posted in London. It was used to boost overall health. Learn everything about medical coding.
Medical coding converts medical diagnoses, procedures, services, and equipment into universal medical alphanumeric codes. Diagnoses and procedure codes are generated using medical record evidence such as transcriptions of physician's notes, laboratory and radiologic results, and so on.
Medical coding professionals ensure that the codes are accurately applied during the medical billing process, including abstracting information from paperwork, assigning the relevant regulations, and preparing a claim to be paid by insurance companies.
Every time you visit a healthcare professional, medical coding takes place. The healthcare expert examines your complaint and medical history before informing you of what's wrong and how to treat you and documenting your appointment.
That paperwork is not just the patient's permanent record but also the means through which the healthcare provider is compensated.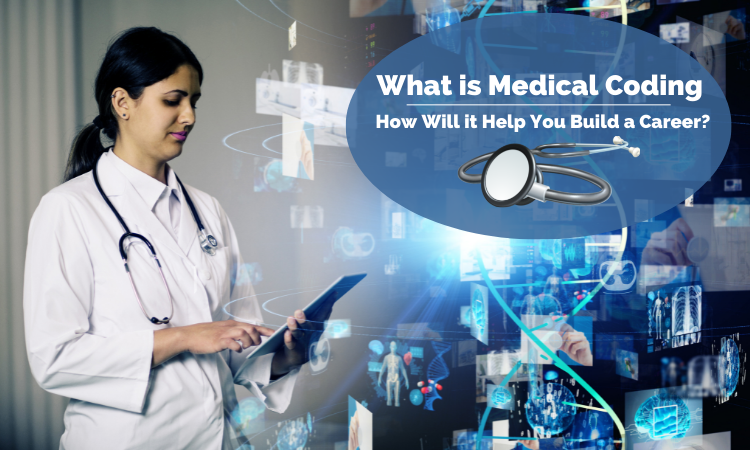 Medical codes convert the information included in the documents into standardised principles that inform payers of the following:
Diagnosis of the patient
Medical necessity for the patient's treatments, services, or supplies
Medicines, services, and supplies that the patient receives
Any unforeseen situations or medical conditions that had an impact on those treatments and services
What Do Medical Coders Do on a Day-to-Day Basis?
Medical coders and billers process a variety of services and claims daily, and medical codes must accurately reflect the patient's visit to the doctor. It must be as specific as possible to secure reimbursement for delivered services. A medical coder's primary responsibility is to examine clinical statements and assigning standard codes.
To illustrate the work performed, the coder also reviews the patient's medical record, such as the transcription of doctor's notes, requested image studies, ordered laboratory tests, and so on.
What is the Purpose of Medical Coding?
Documenting what was learned, agreed upon, and done is the foundation of the healthcare income stream.
Not only for compensation but also to ensure high-quality care in future visits, a patient's diagnosis, test findings, and treatment must be documented.
Personal health information about a patient accompanies them through subsequent complaints and medicines, which must be easy to understand. This is critical given the hundreds of millions of visits, treatments, and hospitalisations annually.
There are thousands of ailments, diseases, and causes of mortality. Medical coding categorises these items to make reporting and monitoring easier. Each disease, process, and tool has various descriptions, acronyms, names, and eponyms.
Medical coding standardises the language and presentation of these components, making them easier to comprehend, maintain, and modify.
The Health Insurance Portability and Accountability Act, i.e. (HIPAA) requires hospitals, providers, and payers to use a single language to communicate effectively and consistently. Almost all private health information is stored digitally based on the codes.
What is the Process of Medical Coding?
A qualified medical coder begins by examining and coding the previous day's batch of patient notes. They also summarise other essential details from the documents, such as physician names, procedure dates, and further information.
After that, the coder finishes the chart and moves on to the next patient's record. Most coders' days are spent reading, taking notes, and assigning codes.
Also Read: Top 12 Medical Courses After 12th Without NEET in 2022 (Eligibility, Duration, Scope)
What Are the Steps to Becoming a Medical Coder?
You must enrol in a coding-specific training programme or institution to become a Medical Coder. After that, you have a professional credential that makes obtaining work in the sector easier.
Depending on which part of the revenue cycle you want to work in, there are a variety of Medical Coding certificates to choose from. The Certified Professional Coder (CPC), which validates a coder's ability to operate in outpatient settings, is the starting point for most.
Here is an infographic to assist you in selecting the appropriate hospital credential. There are a variety of medical coding and coding training programmes available online.
Professional coders are primarily self-employed. Facility coders should get the credentials of Certified Inpatient Coder, i.e. (CIC) for inpatient coding and Certified Outpatient Coder, i.e. (COC) for hospital patients receiving in-and-out treatments.
Medical coders are frequently put on strict production timetables to complete a certain number of notes per day or keep their lag days within a specific range. Interaction with coding personnel, medical billers, physicians, and other auxiliary office personnel, on the other hand, is essential.
Internal or external auditors regularly check the coding and documentation for accuracy and completeness, depending on the clinical context. The compliance department or the department supervisor keeps track of the outcomes of these code audits, and they play an essential role in job evaluations.
Medical Coding's Scope and Growth in the Face of the Pandemic
With the onset of the pandemic in 2020, the healthcare industry was thrust into the spotlight globally, bringing with it both hidden and visible difficulties that required rapid response.
As healthcare providers struggle to cope with the growing problem, there is a greater demand for labour across departments, resulting in increased healthcare offshore across borders.
The healthcare outsourcing industry in India has grown in popularity. India is the world's second-largest outsourcing destination for healthcare. Roughly 80% of the healthcare business in the United States is outsourced to India. There is a growing demand for expert medical coders.
Medical coding will continue to be in high demand thanks to the recent advancement of computer-assisted coding (CAC), which has made the job of medical coders worldwide much easier.
What Does a Medical Coder Make on Average?
Medical coders are classified as "Medical Records and Health Information Technicians" by the Bureau of Labor Statistics (BLS). Everyone who evaluates patient files, organises patient data and assigns clinical codes for insurance reimbursement is a coder (among other things).
Between 2018 and 2028, this total job category, including medical coders, is expected to rise by 11%. This is "far quicker than usual" compared to other occupations, partly attributable to the ageing population.
What do medical coders get paid? Medical coders make different amounts of money based on where they work. A medical coder's median compensation in 2018 was between $35,520 and $43,470.
Why Should You Learn Medical Coding?
According to previous surveys, India is the second-largest destination for healthcare outsourcing, thanks to the Indian players' ability to analyse Big Data, uncover hidden patterns, and discover new correlations.
Nearly 80% of hospitals, healthcare providers, and other industries in the United States outsource to India. As a result, the demand for experts, exceptionally trained medical coders, is growing. In the healthcare delivery system, medical coders play a critical role.
They take medical records and code them for billing and insurance purposes, having a thorough awareness of medical codes, payment policies, and government requirements. Medical coding has recently been one of the most in-demand professions, with multiple work prospects and exciting career advancements.
5 Reasons Why Medical Coding Can Be Learned in 2021:
1. Medical Coding is a High-Demand Profession
The demand for licenced medical coders is about 40% higher than the supply, and the disparity has widened dramatically in the last year.
Medical coding is expected to rise at a far quicker rate than the rest of the economy, with the employment of medical coders scheduled to increase by 15% by 2024.
The demand for professional medical coders is only expected to rise, as they are critical to the proper operation of the healthcare revenue cycle.
2. Lucrative Career in Healthcare
The demand for medical coding expertise is likely to rise as technology, and data usage in the healthcare sector become more integrated.
Medical coding is a profession that can be a very lucrative one in the healthcare industry.
3. The Demand for Coders With Analytic Skills is High
With automation making inroads into medical coding, medical coders need to be more analytical and make decisions.
Their prompt action can result in significant revenue cycle optimisation, benefiting providers and patients in the long run.
4. There are Numerous Prospects for Progress in Your Work
Professionals who work as medical coders can gain functional abilities in various healthcare industry professions. Practice management, audits, documentation enhancement, and compliance are just a few examples.
Candidates will be able to develop in their professions and take on larger tasks due to the new abilities they have acquired during their professional path.
5. Get a Head Start in Your Career
Most medical coding programmes take less than a year to complete, allowing candidates to begin their careers quickly. This is especially important for professionals considering a job transition in their forties or fifties.
Some academies offer intensive full-time education that takes roughly two months to complete. Omega Medical Coding Academy (OMCA) provides a 35-day in-person and online course and includes real-life case studies.
The course prepares students to begin working on charts of all types on day one, grasping the codes and recognising them deftly, whether they are ICD-10 or HCPCS codes.
Read: Understanding Different Medical Assistant Jobs
How Does One Go About Becoming a Medical Coder?
A bachelor's or master's degree, particularly in the biological sciences, is required to pursue a career in medical coding. Reading and analysing medical records and patient details while using the appropriate codes for billing procedures requires analytical abilities.
Medical Coding Schools That Provide a Degree
Medical coding courses are offered by institutes such as IGMPI, CIGMA Medical Coding Academy, and the National Institute of Medical Coding, as well as various online platforms that offer short-term certification courses on the topic.
Conclusion
Medical coders' success in the field combines technical knowledge and soft skills such as language acquisition, imaginative thinking, analytical abilities, perseverance, and continual learning to create domain competence throughout their coding careers.
Understanding anatomy, physiology, and medical terminology will help you become a professional in this field. Professionals can also improve their expertise by keeping up with industry news, current events, and theory developments.