As a country, Canada needs no formal introduction. Blessed with nature's bounty Canada is one of the most beautiful countries on the face of this earth.
Majestic mountains, pristine lakes, lush green valleys, glistening snow-capped mountain peaks and some of the friendliest people on the face if this planet – Canada has it all.
So it comes as no surprise how Canada has managed to rank consistently amongst the top 10 countries since 2004 in the Quality of Life Index by the United Nations.
But did you know that this beautiful country is also home to some of the world's top universities?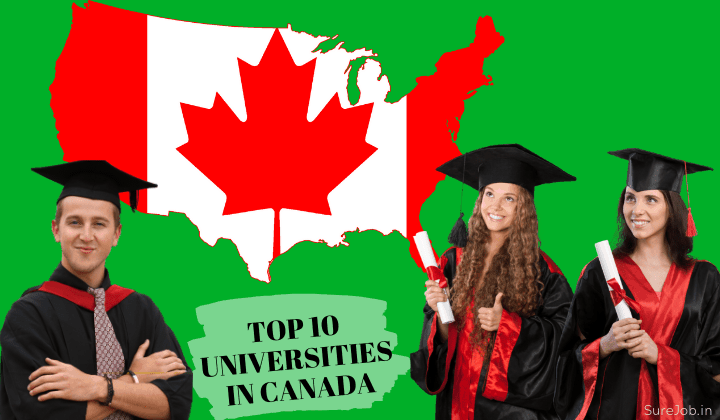 In fact, Canada provides a world of opportunity for students seeking a world-class education, backed by a multiplicity of top quality education programs hosted by some of the world's leading university across various faculties.
And given its cheaper study options, simpler application process and liberal outlook towards foreign students wanting to opt for permanent residency, it's giving the US and other popular destination a run for their money as the preferred global destination for a quality education.
Top 10 Universities in Canada
In this article we will tell you a lot more about some of the top universities in Canada – which have a global reputation for providing top-quality education backed by a brilliant faculty, excellent infrastructure facilities and a welcoming attitude towards students from India and other countries.
About: Founded in 1827, University of Toronto ranks among the world's most top universities in Canada. It hosts close to 60,000 students enrolled for 700 undergraduate and 200 postgraduate programs across its three campuses at George, Scarborough and Mississauga. Its alumni include five former Canadian prime ministers, popular Hollywood actor Donald Sutherland and famed writers – Margaret Atwood and Michael Ondaatje.
Programs/Subject Areas: Undergraduate, post graduate and doctoral programs in Actuarial Science, Accounting, Aerospace Science & Engineering, Applied Computing, Architecture, Biomedical Engineering and Urban Design & Visual Studies.
Admission Criteria: All India Senior School Certificate (awarded by CBSE) or Indian School Certificate (awarded by CISCE). Class 12 State Board Exams results with high scores are also considered on an individual basis. All applicants to the Faculty of Applied Science & Engineering are required to present Senior Level courses in: Mathematics (including Calculus), Physics and Chemistry. Additionally proof of English facility may also be required.
Course Fees: The tuition (plus incidental fees) for a foreign student enrolled for an undergraduate program (Arts & Science) was CDN$47,109 approx (about INR 27,00,000).
Scholarships: Being a publically-funded institution, the University does not offer financial aid to foreign students. However it does offer a work-study program available to foreign undergraduate and graduate students studying on a full time basis.
Accommodation: the university provides accommodation to all new full-time UG students. Students opting for off-campus housing are assisted by the university's housing department to find the best fit.
About: Ranked consistently among the Top 20 Public Universities of Canada in the world, University of British Columbia is also recognized as North America's most international university. It's known for encouraging the entrepreneurial perspective among its 60,000+ students and faculty at its twin campuses located at Vancouver and Okanagan.
Programs/Subject Areas: It offers UG, PG and doctoral programs across all major streams including business & economics, engineering & technology, media & fine arts, education, health & life sciences and history, law and politics to name a few.
Admission Criteria: HSC Certificate awarded on completion of Standard 12 for admission to UG course, a Bachelor's degree from a recognized university for admission to a PG program. Grades required for admission vary by program, but the average needed percentage is approx.85%. All prospective students must demonstrate English-language competency prior to admission.
Course Fees: Tuition fees payable by foreign students for admission to a UG program range from $30,000-$50,000 p.a (INR 17,00,000 – 29,00,000). For a PG course, the tuition fee ranges from $5,000-$75,000 p.a. (INR 3,00,000 – 43,00,000) for foreign students.
Scholarships: There are merit-based and need-based awards and scholarships available to local and international students. Foreign UG students in the top 5% off their class are also eligible for an award of $4,000 (INR 2,30,000) from the Trek Excellence Scholarships every year. Others in the top 10% are given awards of up to $1,000 (INR 57,000).
Accommodation: New students choosing to live on-campus are provided with accommodation (studio, 1-4BHk), with dining facilities at both its campuses. Off-campus options are also available for students at both campuses.
About: McGill University has one of the highest percentages of international students among top research universities in Canada. Graduate students make up roughly 23% of McGill's 36,500 students and hail from 150+ countries. 38% of its graduate students are non-Canadian citizens and approx. 49% doctoral students are from other countries.
Programs/Subject Areas: It offers more than 300 programs of study (undergraduate, graduate, diplomas and post-doctoral studies), across its twin campuses in downtown Montreal and Milton Park.
Admission Criteria: For admission to a UG course, a Higher Secondary School Certificate / All India Senior School Certificate / Indian School Certificate. For PG courses, a bachelor's degree from a recognized university. The admission process also requires foreign applicants to demonstrate required level of English proficiency prior to admission.
Course Fees: Tuition fees range from $16,815 – $45,263 (INR 9,62,000 – 26,00,000) for foreign students depending on their program of study. Students can expect a 7.7% increase to international tuition rates for the 2019-20 academic year.
Scholarships: McGill University has an aid program for students from modest-to-low income families who demonstrate financial need. However eligible students need to submit their CSS profile application (which includes details about their family's income, assets and expenses) in addition to filling an online application form.
Accommodation: McGill guarantees a place for every eligible first-year student who applies for a residence spot by the deadline. Options range from living in vibrant dormitories to quieter apartment-styled living.
About: Named after a prominent Canadian senator, William McMaster, this leading university is spread across a huge 121 acre campus near the Hamilton Botanical gardens. It includes a world-renowned medical school while its students and faculty hail from over 90 different countries. The University itself holds some 70 global exchange agreements with universities in Canada and also around the world.
Programs/Subject Areas: It offers UG, PG, diploma and doctoral programs across all major streams which include, business, engineering, health sciences, humanities, science and social sciences to name a few.
Admission Criteria: For admission to a UG course, a Class 12 examination certificate from a recognized school/board is needed. For PG programs, a Bachelor's degree in the field of study from a recognized University/College is required. Valid results from English language proficiency tests like TOEFL, IELTS are also needed.
Course Fees: For UG courses, tuition fees range from $25,000-35,000 p.a. (INR 15,00,000 – 20,00,000). For PG courses, from $15,000-30,000 per term (INR 8,60,000 – 17,50,000), depending on the choice of subjects & program.
Scholarships: MMU offers travel & exchange scholarships, in-course scholarships, academic grants and community contribution awards strictly based on need and merit.
Accommodation: Students who need academic accommodation have to register with the university's Student Accessibility Services (SAS) and meet with a Program Coordinator.
About: One of the world's leading research universities, the University of Montreal was founded in 1878 with three faculties namely, law, medicine and theology. Considered to be one of Canada's most cosmopolitan universities, it enrolls close to 7,000 foreign students every year.
Programs/Subject Areas: It offers PG (Masters) and doctoral programs covering subjects like Economics. Law, Microbiology & Immunology, biomedical engineering, psychology, chemistry, sociology, history and neuroscience among others.
Admission Criteria: Admission to graduate programs require a Bachelor's degree or equivalent from a recognized college/university. A Master's degree or equivalent is usually required to be eligible for advanced doctoral (Ph.D.) courses.
Course Fees: Tuition fees for a PG course, $8,186 (INR 4,68,000) per session, plus $425 (INR 24,000) per thesis session. For PhD. Programs, $7,348 (INR 4,70,000) per session plus $425 per thesis session.
Scholarships: Foreign graduate students with excellent academic performance are eligible for scholarships offered by UdeM and other agencies. Deserving PhD. students may also eligible for an additional tuition fee waiver.
Accommodation: Students can choose from 1,120 studio apartments in the heart of the Montreal campus. Additionally there is a housing bank to help students looking to rent a room/apartment outside the campus.
About: With a rich history of over 100 years of academic excellence, this university is often rated among the list of top five universities in Canada. It was founded in 1908 by Alexander Cameron Rutherford and Henry Tory, Alberta's first premier and president respectively. It is spread across four massive campuses in Edmonton, the Augustan Campus (Camrose) and a staff centre in Calgary.
Programs/Subject Areas: UoA offers students more than 500 graduate programs, 250 specializations, and 300 research areas. Subject specializations include, Finance, Public Health, Computer Science, Mechanical Engineering, Engineering Management, Commerce, Dental Surgery, Pharmacy & Pharmaceutical Science and International Business among others.
Admission Criteria: It's based on a candidate's complete academic history and achievement in three main areas: grades, English proficiency and completion of required subjects. 10+2 students must show that they have successfully completed five academic subjects – which will vary by program and faculty.
Course Fees: Tuition fees range between $21,000-43,000 (INR 12,00,000 – 25,00,000) for a full time UG/PG course.
Scholarships: Plenty of options for deserving foreign students. For starters they are eligible for more than one scholarship. Top students can receive over $29,000 CAD (INR 16,60,000). Those achieving an admission average of 90% or higher, are eligible for at least $9,000 CAD (INR 5,15,000).
Accommodations: Foreign UG students are guaranteed on-campus housing for their first year, if they apply for a residence by April 30. Living off-campus is another easy option available for students here.
About: Known for its world-class education, academic excellence and flexible learning methods, the University of Ottawa allows students to follow their own academic path. It offers them access to state-of-the-art facilities, a rich cultural experience and the highest quality of education across several programs and subjects.
Programs/Subject Areas: Options include a choice between several UG, PG, diploma and doctoral programs covering subject areas including, Arts, Civil Law, Common Law. Education, Engineering, Health Science, Medicine, Social Science and Management.
Admission Criteria: For a PG course, an applicant needs to have a prior Bachelors/Masters/PG Diploma with a minimum 50% marks. For doctorate programs a minimum 60-65% is required.
Course Fee: Tuition fees are based on the total number of units a student has completed by the end of the term. For example a fulltime UG Arts student with 33 or fewer units will pay approx. $16,000 (tuition + incidentals + U-Pass), while a student with 165 units or more to his credit will have to pay only $14,000 (tuition + incidentals + U-Pass).
Scholarships: Newly admitted fulltime UG and PG foreign students automatically receive a scholarship of $1,250 (INR 71,500) and $800 (INR 46,000) per term respectively for the normal duration of their studies.
Accommodations: Living on-campus facility is available to students. Choices range from traditional dorms, studio apartments to bigger apartment-styled residences.
About: Founded on March 7, 1878, WU welcomed students through its doors for the first time in 1881 with just four faculties – Arts, Divinity, Law and Medicine. Through 12 faculties and three affiliated university colleges, Western today offers its 36,000-plus students more than 400 specializations, majors and minors.
Programs/Subject Areas: It offers a host of UG, PG and post-doctoral study programs across Arts & Humanities, Education, Engineering, Health Sciences, Law, Information & Media Studies, Medicine & Dentistry and Social Science among others.
Admission Criteria: For UG courses, Class 12 results (CBSE/ISC/State Boards) with results of Class 10. For PG and PhD. courses, a Bachelor's/Master's degree in the field of study from a recognized University/College is required.
Course Fees: The tuition and fees for most programs here range between $30,000- 40,000 (INR 17,15,000 – 23,00,000). Estimated living costs (tuition, food, accommodation, travel, entertainment etc) for a foreign student works out to approx. $47,000-$63,000 (on campus) (INR 27,00,000 – 36,00,000) and $43,000-$60,000 (INR 24,60,000-34,30,000) for off-campus accommodation.
Scholarships: 3 scholarships worth $50,000 (INR 29,60,000) each are available to exceptional international students. Selection is based on outstanding academic performance, creative and innovative thought, and significant achievement in extracurricular activities. The application is available in mid-November. A number of other bursaries and awards have also been designated specifically for international students.
Accommodation: WU offers its students a choice between nine residences with three different room styles: traditional-style with single or double rooms and shared common washrooms on each floor, with shared cooking facilities and a common living area.
About: Located in Calgary, Alberta, the University of Calgary started as the Calgary branch of the University of Alberta. It is composed of 14 faculties and over 85 research institutes and centers. It was ranked no. 1 as a young university among both universities of Canada as well as North America by the QS World Universities Ranking (Top 50 under 50) and the Times Higher Education Rankings (Top 150 under 50) in 2016.
Programs/Subject Areas: It offers, UG, PG, diploma and doctoral programs across 11 faculties which include; Business, Law, Nursing, Social Work, Science, Education, Arts, Environmental Design, Kinesiology and Veterinary Medicine.
Admission Criteria: For UG courses, certificates from All India Senior School Certificate/ Higher Secondary School Certificate; Intermediate Certificate; Indian School Certificate (Class 12) are required. For PG applicants, a bachelor's degree from a recognized university/college is a must. All applicants are required to demonstrate English language proficiency to be considered for admission.
Course Fees: For students applying to a thesis-based degree (master's or doctoral) program, the annual tuition fees range from $15,000-30,000 (INR 8,60,000 – 17,15, 000), pro-rated over four terms. Students in course-based programs are assessed tuition fees ($3,000-5,000) by course. In addition to the tuition fee, an audit fee of $811.32 (INR 46,500) is also applicable for certain programs.
Scholarships: The University offers scholarships and bursaries to students who are applying for admission to the university. Access to the application is given only after submitting an application for admission.
Accommodations: On-campus accommodation facilities are available for students. Options include UG student dormitories, studio and 2/3 bedroom suite-style apartments with shared facilities for senior students.
About: Located deep inside the picturesque Waterloo region, the University of Waterloo is at the forefront of innovation, inspired teaching and world-changing research. It is also home to an estimated 33,230 undergraduate and 5,860 graduate students engaged in the study of wide-ranging subjects from quantum computing to nanotechnology. About 20% UG and 40% of graduate students studying at the University are from outside Canada.
Programs/Subject Areas: It offers a huge selection of UG and PG programs across six major faculties which include; Arts, Engineering, Math, Science, Applied Health Sciences and Environment.
Admission Criteria: For UG courses, applicants must have a First or Second Division standing in one of the following: All India Senior School Certificate awarded by CBSE/Indian School Certificate awarded by CISCE or any other pre-university certificate awarded after 12 years of academic studies. Applicants will be evaluated for admission based on their 10th board examination results, final 11th school grades, and predicted Grade 12 board results from their school. For admission to PG courses, an undergraduate degree from a recognized Indian college/university is required.
Course Fees: For UG courses, the approx. tuition fees (and incidentals) ranges from $ 30,000-48,000, plus $2,000-4,000 (INR 1,15,000 – 2,27,000) for books.
Scholarships: It has multiple International Student entrance scholarships ($10,000 each/INR 5,72,000) which are open to foreign students admitted to the first year of a full-time, UG degree program with a minimum 90% admission average.
Accommodation: The University provides guaranteed residence for first-year and transfer students. On-campus options range from traditional dormitories to single/double rooms and suite/apartment styled residences.
In Conclusion:
As the second largest country in the world with among the highest per capita immigration rates in the world, Canada makes for an ideal destination for students seeking an advanced education abroad.
With its list of world-class universities in Canada, renowned faculty and excellent infrastructure and support facilities for foreign students, Canada is perfectly positioned to offer you the dual benefits of top-quality education and the opportunity to forge a successful career in one of the friendliest countries in the world today.