Today there are lots of career opportunities in biosciences and bioinformatics meeting the demand of education, research and excellence sector. Bioscience has scope in field of development and research.
Bioscience has huge market potential with US$100 billion. Under bioinformatics the subject areas are healthy food, personalized medicine, genomics, applied biology and agriculture.
Today's worst and difficult problems can be solved with the help of Bioscience.
Bioscience can solve lots of today's worst and difficult problems like industrial material development to combat climate change, abundable source of energy, feeding today's population in billions, can help people to stay healthy with long life span and data visualization.
All elements of Biosciences combining tools of IT solutions can sort out the biological research problems as well.
As a field of science with biology it includes subjects like mathematics, chemistry, physics, engineering and many more. It involves disciples like molecular biology, embryology, genetics, cell biology and biochemistry, all this directly linked to the practical disciplines like information technology, robotics and chemical engineering.
Bioscience is also a combination of various technologies applied to living cells in raising the human desire quality or a particular product production. It is applied in various fields like nutrition, animal science, pharmaceutical, agriculture, food, industries, chemical, environmental conservation etc.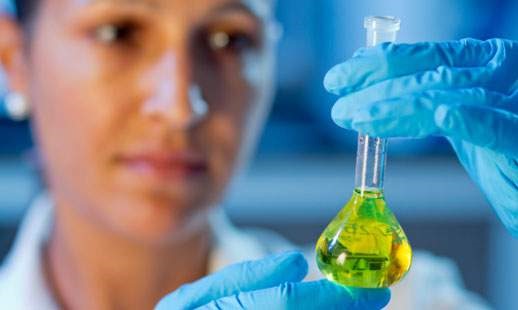 In this area high qualified persons are required to understand the molecular biology issues counterpart software tools and application of computer.
In this field the major research contains protein structure alignment, protein structure prediction, genome-wide association studies, prediction of gene expression and protein –protein interactions, gene finding, genome-wide association studies, modelling of evolution and sequence alignment.
Genomic rapid development and the other molecular research technologies and information technology development containing molecular biologist in mapping and analyzing DNA and protein sequences, alignment of different DNA and sequences of protein to compare and form and view 3-D models of protein structures.
To increase the understanding and awareness of biological processes focused on creating and applying well defined intensive technique is important for research career in bioscience.
Biotechnology Information System (BTIS) is one of the world's most recognized and major scientific network providing the education, manpower, state-of-the-art infrastructure and tools in bio informatics.
In India under BTIS leadership the bioinformatics programme emanates as a key international player to perform advanced research in frontier areas of bioinformatics and computational biology, develop human resource in bioinformatics, to learn and market international cooperation with leading institutes.
Developed countries and network organizations are trying hard to create world class platform for transfer, technology development and commercialization.
The Department of Biotechnology established Biotech Information System (BTIS) , a National Bioinformatics Network by combining advanced biology and new techniques to produce high quality data on genome sequencing projects like human genome.
BTIS was established in India in year 1987 to generate an infrastructure to enable the harness, biotechnology through the application of Bioinformatics.
Career in Bioinformatics and Biotechnology
1. To become bioinformatics a degree in Bioinformatics with subjects like computer science, mathematics and related subject like biophysics are required.
2. Good communication skills required to represent scientific database and to grasp the knowledge of recent genetic research with detail knowledge in different computer languages.
3. Good data visualization skills required to interpret into models and other ways to make understandable the bioinformatics tools to biologist and other team members.
4. To start career in Bioinformatics the main subject at 10+2 should be biology later on one can peruse B.Sc in Bioinformatics. After graduation, post graduation available in M.Sc in Bioinformatics and M.Sc in Bioinformatics in Applied Biology from Indian University or Foreign University.
5. Post graduation also available in fields like Pharmaceutical Sciences, Medicine, Engineering and Technology with bioinformatic background.
6. Those interested in bioinformatics need to have aptitude for computer programming and also interest in research.
7. Candidates having excellent background of analytical skills have opportunity of getting appointed as a Data Scientist and Predictive Modellers by biotechnology companies and bioinformatics.
Pay Scale
After post graduation in Bioinformatics students can earn pay package of 4-5 lakhs in Private and Government Pharmaceuticals and also by serving biotech companies.
Bioinformatics have good career opportunities with good salary and perks in genome based companies in the world of globalization to protect the company's invention through IPR and patenting and to run profitable bio-business.
There are lots of opportunities for bioinformatics graduates and post graduates in life sciences, pharmaceuticals, contract research, human genome project and animal and plant bio-diversity and bio conservation projects.
Bioinformatics has lots of scope in understanding genomics and sequence assembly of biotechnology, maintenance and designing database of gene sequences and other biological and chemical information, sequence gene analysis of DNA fragment with the studies on genes of interest, pharmacogenomics, proteomics etc.
Complete tools for Researchers / Scientists
Bioinformatics has been used as an important tool to solve the biological problems and to help bio-scientist to use the gaming technology to capture 3D shapes of carbohydrates based medicines. It helps to create genome database and to develop new algorithmic approaches which deals with large biological data sets.
Bioinformatics has also contribution in drug design, vaccine development, chemical engineering etc. Bioinformatics help scientists and researchers to determine the structure of cells and proteins for studying their biological behaviour and chemical composition.
By studying on tiny particle like virus and designing drug capable of killing the viruses and encouraging its effectiveness on the computer.Researchers are now capable to try vaccines variation and combinations of genetic code.
One of the interesting fields in Bioinformatics in fusion of biology and computer science with specialization in Computer software enables in-depth research into the secret of the human body.
The researchers are provided with help of data access and the range of online analysis tools to help both computational biologist and experimentalist. Bioinformatics is generating benefits for community in gathering and sharing scientific data.
To advance in field of biotechnology and bioinformatics IBB was established in year 2002 at Pune University by University Grants Commission to promote quality research and generate technically skilled human resource in area of bioinformatics and biotechnology.
Biotechnology helps in combining basic research with industrial application in modern biology in cutting edge of science and technology, imparting high quality education and conducting research in various areas.
Lots of institutes are promoting the career in Bioinformatics and Biotechnology.
The National Centre for Biotechnology Information is updating on websites the details of database and analysis tools to help the scientific community who works in various fields of biosciences like biotechnology and bioinformatics.
Bio Informatics institutes and their websites.
Institute of Bioinformatics & Biotechnology (IBB), University of Pune http://www.unipune.ac.in/snc/institute_of_bioinformatics_and_biotechnology
Indian Institute of Bioinformatics and Applied Biotechnology, Bangalore, http://www.ibab.ac.in/
Institute of Bioinformatics http://www.ibioinformatics.org
National Centre for Biotechnology Information http://www.ncbi.nlm.nih.gov/
Birla Institute of Scientific Research, Jaipur http://www.bisr.res.in
Chhatrapati Shahu Ji Maharaj University, Kanpur http://www.kanpuruniversity.org/engineering_technology.htm
Bioinformatics Institute of India, Noida http://www.bii.in
Bioinformatics Centre (BIC), Bose Institute, Kolkata http://www.boseinst.ernet.in/bic/
IIIT-Allahabad http://bi.iiita.ac.in
Vellore Institute of Technology, Vellore www.vit.ac.in
Dr. D.Y. Patil Biotechnology & Bioinformatics Institute, Pune http://biotech.dpu.edu.in
Biotechnology Information System Network, New Delhi http://www.btisnet.nic.in/
National Informatics Centre, New Delhi http://www.nic.in/
Life Sciences World LSW http://www.lifescienceworld.in/biotech/biotechnology_industry_in_india.html