Digital marketing is a relatively new profession. It first appeared worldwide in mid-1990s. Several other high density professions such as sales staff will be overshadowed as digital marketing gains momentum.
The smallest start-up to oldest multi-national company, all require various digital marketers to showcase their products and services.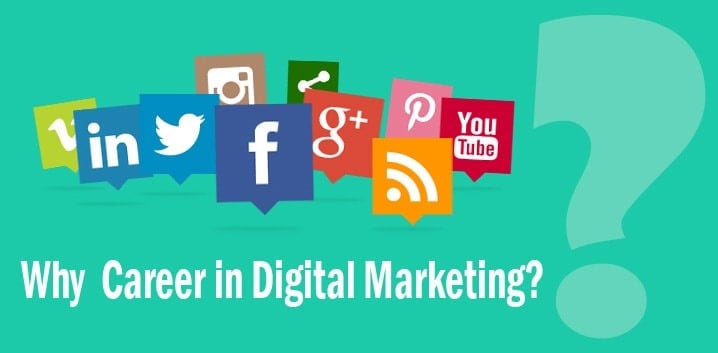 What is Digital Marketing?
Digital marketing means creating a need for your product, service and attracting people to your company. It means getting money for your company on the Internet.
In recent years, digital marketing involves selling anything and everything anywhere through the Internet. The concept now also covers marketing on mobile phones.
Digital Marketing as Career
In 2016, some 1.7 billion people shopped online. By 2019, digital marketing will attract 2.07 billion people to buy stuff on the internet, says a report by Statista.
A study on retail buying by Price Waterhouse Coopers highlights the growing significance of digital marketing. The Internet is the world's largest cross border marketplace which allows immense flexibility to shoppers and sellers.
People can buy anything from anywhere. Technology will change but online shopping is here to stay. Hence the great demand for digital marketing professionals.
Deciding Winners and Losers
Fierce competition will force many companies out of online business. Only digital marketing will decide who stays in race, reports Harvard Business School. Great digital marketing strategies build brands.
This is not restricted to ads or posts on e-retailer websites. It means creating videos that are sought, visual or still ads that appear while browsing, ads between popular shows.
Digital marketing involves sending appropriate content including Short Messaging System (SMS) text and Multimedia Messaging System (MMS) messages, emails and every form of marketing done using the electronic/ digital platform.
Big Bucks are Involved
Statistics released by Internet Advertising Bureau found, Internet advertising revenues reached a landmark US$ 72.5 billion in 2016 in the US alone. Price Waterhouse Coopers forecasts digital marketing spend to boom to whopping US$ 260.4 billion by 2020 worldwide.
Global demand for digital marketing experts and companies offering this service are also predicted to grow exponentially over the next few years. Median salaries for digital marketing experts anywhere in the world currently hover at US$ 60,000 per annum.
Based on qualifications, experience, digital marketers draw salaries between US$ 50,000 to US$ 90,000 per annum. Upward swings will occur due to fierce competition.
Careers in Digital Marketing
Becoming a digital marketer is a great career option. It involves outstanding academic performance combined excellent creativity and acumen for marketing. Possessing IT skills is considered entry level prerequisite to qualify as digital marketer worldwide.
Hundreds of specialized courses are available if you wish to make a career as digital marketer.
IT and non-IT based digital marketers
Options are available on the type of digital marketing courses:
Visualizer: People who visualize the type of advertisement or content as it should appear on the digital platform.
Concept writers/ creators: Those who develop an idea into digital content. This involves creating content for video, pop-up ads, blogs, SMS/MMS messages, social media such as Facebook, Twitter, Instagram and other platforms.
Producers:  Experts who will finally make the video or advertisement for digital marketing.
SEO expert: One of the hottest career in digital marketing. You need to use techniques that will bring a company website on the first page of search engines like Google & Bing with the targeted keywords.
Pay Per Click Managers: Your role is same as SEO but here you need to pay to search engines to display your company ads on the first page of search engine. A good PPC manager can bring a good ROI for the company.
User Experience Designers: UX designers are creative folk who plan the look, feel and other features of a website or digital content. They aim at providing the ultimate user experience to Internet and mobile users.
Social Media Experts: More video and audio has gone viral on Facebook and other social media platforms than via TV and other modes. Companies are fast waking to benefits of presence of the social media.
Experts in this field use social media sites like Facebook, YouTube,  to market a product, service or company. In many countries, political battles are won by help of social media.
Digital Strategy Executives: Another key function of digital marketers, these folk develop short, medium and long term strategies for presence on the Internet and other digital platforms. Digital strategy is important because it can build or break a brand, concept, service, company or any other entity.
Reviewers/ Critics: These are backbone of successful digital marketing. Reviewers and critics keep tabs on all digital marketing content while assessing impact. They compare digital marketing strategies and content of rivals to provide vital clues to companies.
E-Commerce specialists: Or the moneybags. E-commerce specialists are as important to any digital marketing strategy as water is to Earth. These specialists ensure a smooth flow of money into the company by monitoring payment gateways while staying informed about taxation and freight policies, among others.
Payment options they develop will decide whether a digital marketing campaign succeeds or flops.
IPR Experts: Intellectual Property Rights (IPR) or copyright is of major concern worldwide. No company worth its salt will tolerate its designs, digital marketing campaigns or service offerings to be pirated and used by competition.
Nor does any marketing firm relish the prospects of using somebody else's ideas to further own causes. IPR experts prevent companies from treading on one-another's corns.
Nobody wants a copyright violations charge on their digital marketing campaigns as it causes undue shame and exorbitant expenses on long drawn legal battles.
Several online colleges and universities offer specialized courses in each topic to become a successful digital marketer.
Launching Your Digital Marketing Career
Basic requirements include a creative mind, flair for interpersonal relations, advanced analytical skills, fairly good proficiency in maths, love for social media activities and sound knowledge about the Internet.
Assorted courses in various streams are offered online and on-campus. A Diploma/ Bachelor or Master degree from a reputed university helps boost career prospects.
Note: A great degree is not sufficient to beg a whopping digital marketer job: You need certification and course from any globally recognized authority.
Greatest digital marketer certifications and courses
Digital marketing is all about searches and social media. Topmost websites of the world, Google, Bing, Facebook and topmost online retailers offer free and paid certifications and courses that qualify you as digital marketer.
Online course material, study resources and testing is offered. Good working knowledge about the Internet and marketing strategies is required to take these courses. Some require hands-on experience too.
Understanding global trends for digital marketing
Practically every industry requires digital marketing experts. According to Statista, in 2016, 58 percent of online shoppers bought readymade garments, fashion wear and dress accessories online.
Travel products and services ranked second at 55 percent followed by books and stationery at 50 percent. Mobile handsets and accessories ranked only fourth at 43 percent with online tickets for shows and events trailing at 41 percent.
The last in line of 18 sectors surveyed stood alcohol and wine at 14 percent and pet food, which accounted for only 13 percent of online sales.
Underserviced sectors will propel growth
Several major sectors are yet to witness a boom in online sales. These include online shopping for banking products and services, buying insurance policies, education and higher studies and industrial products, among others.
Sectors such as fashion wear and travel services that are faring well today are also looking at expanding business. Hence, every business that buys, sells and trades online will need digital marketing experts.
NOTE-1: Geneva-based World Economic Forum predicts digital marketing job vacancies to surge by the year 2020. Various organizations forecast, the world will require at least 150,000 to 200,000 digital marketing experts by 2020. Hence, this is the best time to launch your digital marketing career at any stage.
NOTE-2 : Geneva-based International Telecommunications Union predicts the number of Internet users to surge from 3.5 billion to grow by at least 10- 15 percent by end 2020 due to anticipated drop of 40 percent in usage costs. This will further fuel digital marketing to spur online shopping in countries hitherto lagging in Internet use.
Now, a look at the dark side
Every profession/ career is rife with pros and cons. A career in digital marketing is not without dark sides too.
Jumping on the bandwagon: The world is witness to fact that people leap in numbers on any developing trend. There are possibilities of an exceeding number of IT experts being lured into making careers in digital marketing, creating more supply over demand.
New technology: Advances in technology are warmly welcomed. But technology is known to reduce manpower dependence. Even as you read this article, newer digital marketing technologies are being developed. These may render fresh graduates redundant.
Geographic limitations: Digital marketing has advanced in countries with developed IT infrastructure. Several areas of the world remain grey areas for IT. This limits movement of digital marketing experts since their skills will remain confined to specific countries only.
Global economic recession: Economic downturns for any reason hit the world with alarming alacrity. They lead to decreased spending by consumers. Regional conflicts, swings in stock markets and several other factors affect purchases. Such scenarios can strike anytime due to increase in white-collar crime, conflicts and terrorism worldwide.
Internet security: E-commerce worldwide remains threatened by frauds and scams. This calls for upgrading security for online transactions. Major scams tend to shake consumer confidence leading to decreased online spending and buying, adversely impacting digital marketing.
Security concerns have to be addressed alongside boom in digital marketing.