When there are many students in India, who wish to get admission to prestigious colleges immediately after completion of their higher secondary education, there are also students, who wish to begin their career right after completion of their higher secondary course.
This may be because of their financial situation or because of their lesser interest towards education.
Even though, this is something easy to say, many students think that it is hard to find a job without a college degree.
In addition, they think that even if they manage to find such a job, they cannot get good salary. But, the fact is that there are some professional fields that employ competent personnel without the requirement of any college degree and also pamper them with good pay.
Top 10 High Salary Jobs without a Degree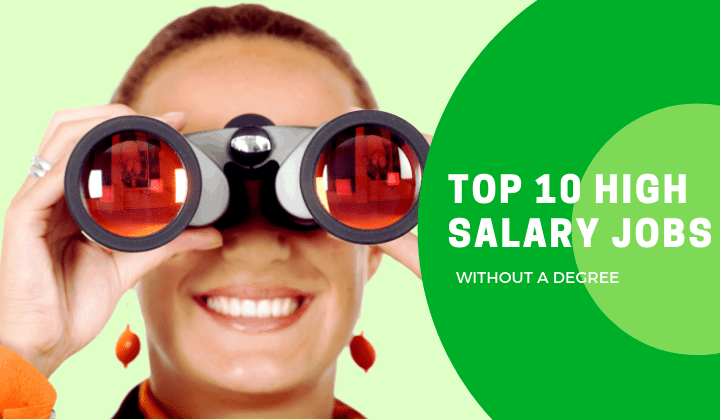 Here are the details about the top 10 high salary jobs that does not require a college degree:
1. Real estate agent
Even though, this is a profession that was considered something bad earlier, it is gaining more and more popularity these days.
As these professionals act as the mediators between the buyers and sellers in the process of purchasing a property, they are in great demand.
This profession does not require a degree and all that is to be done by the interested students is to complete a certificate course from a recognized institution and they will have to get the license for practicing as real estate brokers.
2. Freelance photographer
Nowadays, digital photography has reached new heights and anybody can capture attractive photographs.
This is just a hobby for some people and they can just turn their hobby to be their profession and can earn well.
Even though, this is a profession that needs a lot of traveling to capture the requirements of employers, it does not require any degree for practicing.
3. Carpenter
In India, there is a great demand for carpenters these days. Earlier, people were seeking the help of carpenters for creating tables and chairs for their houses.
But, nowadays, most of them look for the help of interior designing companies to get complete wood work done in their houses.
So, the demand for carpenters among interior designing companies has increased considerably in India. In addition, carpenters can work for more than a single employer and they can earn well.
Without any degree, people interested in this profession can just attend an apprenticeship program in a technical college to get started.
4. Sales representative
Selling is actually an art. Those with the ability to talk well and can grab the attention of the intended audience does not require any degree to get employment as sales representatives.
5. Personal trainer
Nowadays, more and more people are concerned about their health and fitness. So, fitness experts and personal trainers are in great demand these days.
Those with appropriate training in this field can become fitness trainers and can either set up their own fitness gym or can work for others.
6. Modeling
Those with good physic can choose modeling as their profession. A good look and some acting skills are needed for this profession and there is no requirement for a degree to take up modeling as the profession.
Even though, there will be some initial struggle in finding the right opportunities, once an individual succeeds, he/she can earn well.
There is no fixed salary for this profession and the models will be paid on contract basis.
7. Event manager
Corporate firms and even individual families look for someone with appropriate skill to manage their event in a successful manner.
Nowadays, weddings are celebrated in a grand manner and being an event manager will help individuals to keep on toes and people will have to execute and plan different ceremonies and events on this profession.
On the basis of the contract, a creative mindset will help people to reach new heights in this profession.
8. Registered Nurse
There is no need to have a particular degree to practice as a nurse. Even though, in India there is a degree called B. Sc in Nursing, there are also certificate courses offered by accredited institution.
After taking the appropriate certificate courses, individuals will have to get the license from the Indian Nursing Council for practicing.
People with this qualification can find job in hospitals and clinics and depending on the place in which they find employment, they can earn well. They also have great opportunities in govt. jobs.
9. Makeup artist
To practice as a makeup artist, all that is needed is some natural skill and practice. These people can initially work under skilled makeup artists and can learn from experience and they do not require any college degree.
10. Media and communication equipment worker:
For this position, individuals will have to set up, operate and will have to monitor the audio, visual and digital equipment.
More than educational qualification, it is the experience that counts in this field and people can earn well.
Bonus: Online Jobs
Online jobs are rapidly gaining the popularity because of number of benefits other than high income potential. Although it takes sometime to understand & start an internet job but if you work hard then you can earn better income from this.
We have listed number of online jobs here with step by step guidelines. If you want to earn online income then you just refer this link.
So, young higher education pass-outs looking for a job opportunity can choose any of the above-mentioned professions and can start earning immediately after their higher secondary.