Losing your focus while working? Well, that happens to a lot of people. Back in the late 1980s, people devised a solution, "the Pomodoro technique." This technique was developed by a university student, Francesco Cirillo, who was struggling to focus on his studies.
This guy challenged himself and committed to his studies for just 10 minutes. He then found a tomato-shaped kitchen timer; thus, the Pomodoro technique was invented.
What is This Pomodoro?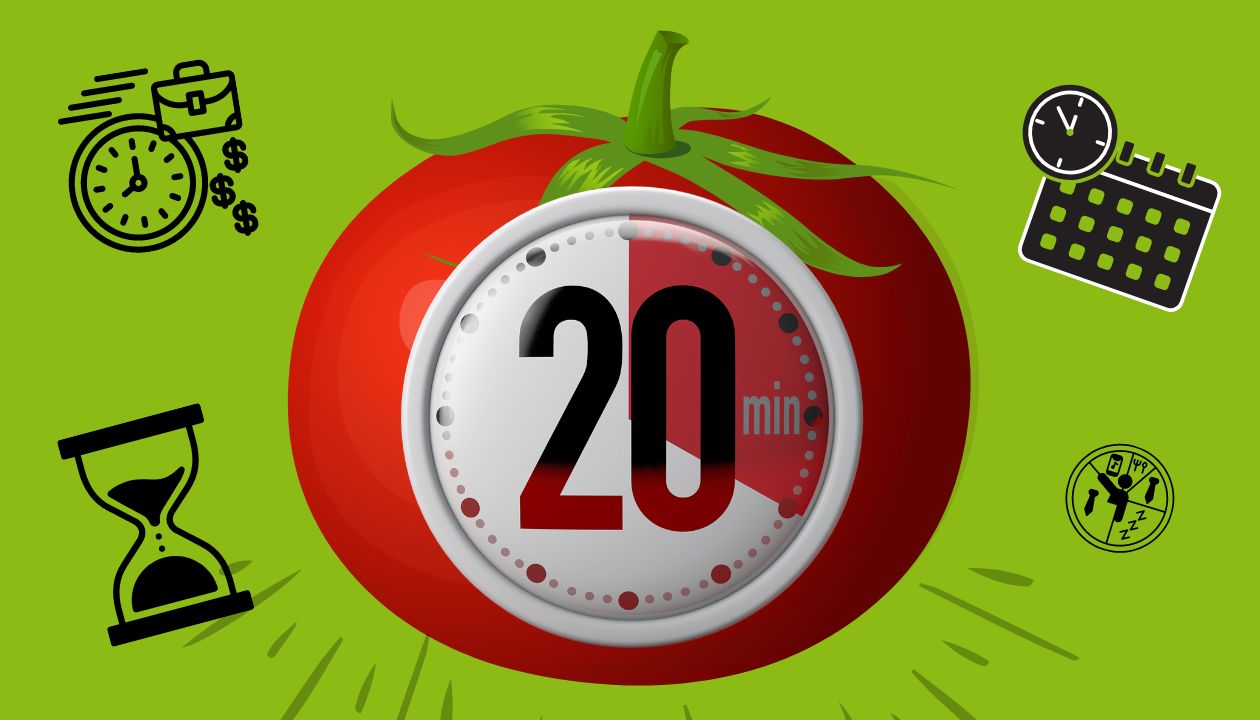 Pomodoro is nothing but an Italian word for tomato. Francesco had the tomato-shaped timer and named his technique after that.
Let's talk about the technique now. The Pomodoro technique divides your work hours into tomatoes (pomodori; singular- Pomodoro). Sounds stupid? Well, it does at first, but the population around the world testifies that it works.
Why Does This Technique Work?
In the Pomodoro technique, you manage your time by breaking your working time into chunks of 25-minute sessions, followed by 5 minutes of a break. Each of these sessions is called a Pomodoro. The scheduled breaks help you maintain your concentration levels and prevent mental wear-out.
Other reasons this technique is so successful include; being easy to get started because the task seems like a big one, helps avoid distractions, instills a sense of urgency, and gives you an idea of future steps.
Five Steps in the Pomodoro Technique:
Choose the tasks, make a to-do list and get a timer
Set the timer for 25 minutes and start working on tasks until the alarm rings
Check the task from your list and take a 5-minute break
Work for another 25 minutes and repeat the 5 min break
After completing 3-4 Pomodoros of 25 minutes, take a long break of 20-30 minutes
Well, these steps are easy, but they can be way easier with the invention of Pomodoro apps. In this article, I have listed the ten best Pomodoro timer apps (Pomodoro technique timer) to increase productivity at work in 2023. Let's begin:
10 Best Pomodoro Timer Apps To Increase Productivity in 2023
1. Focus-To-Do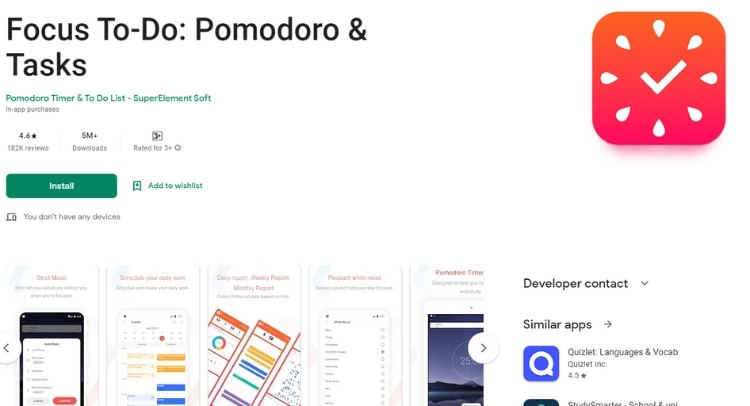 Focus-to-do has over 5 million downloads to date, and its users have focused on the app for more than 200 million hours. People prefer it for its versatility, smoothness, and easy functioning. Most importantly, it helps you focus better on your work while keeping track of your work hours.
Here is how you work on it:
Step 1: Decide on a task you want to complete
Step 2: Set a timer in-app for 25 min and work with complete focus
Step 3: After the Pomodoro ring, take a 5 min break.
Key Features:
You can pause and resume Pomodoro as per your need
Customize the length of your breaks
Option to skip the break after the end of a Pomodoro
Task organizer, schedule planner, reminder, habit tracker, and time tracker.
You can divide a task into sub-tasks
Daily/weekly/monthly report
Detailed stats of your time distribution
Highlight the day's most important to do with color-coded priority levels.
| | |
| --- | --- |
| Google Rating | 4.6 |
| Total Number of App Downloads | 5M+ |
2. Pomodoro Timer
This app also stands amongst the most popular ones on the play store. It has over 1 million downloads to date and is rated with an average of 4.7 stars by more than 52 thousand people.
It describes the study method as the time-blocking method, which helps you in multiple ways. You get help with focusing on one task at a time, limiting your distractions, and avoiding procrastination.
Key Features:
Adjustable work and break duration
Clean and minimalist design for user-friendliness
Set your daily goals
Adjust your goals to suit your routine
No external features
| | |
| --- | --- |
| Google Rating | 4.7 |
| Total Number of App Downloads | 1M+ |
3. Goodtime Pomodoro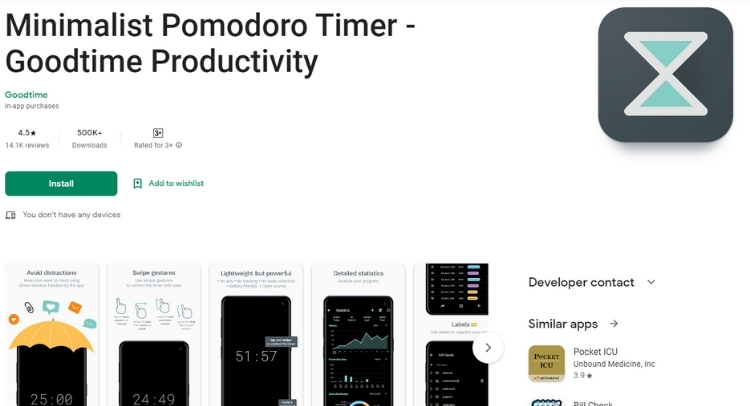 It is known as a minimalist Pomodoro timer. Though this is halfway to its one million downloads goal, it is one of the most popular ones. It has been given a 4.5-star rating by more than 14 thousand people on the play store.
This Pomodoro app has several features so you can focus better on your work and manage your time wisely. If you like the free version, you can go ahead and upgrade to its paid version.
Key Features:
No ads
They don't track your data or collect it.
Battery friendly
Configurable timer
Pause, skip, or even add 60 seconds.
Long and short breaks
Detailed statistics
Auto start work and break without user interaction
Edit completed sessions
Backup export and import
| | |
| --- | --- |
| Google Rating | 4.5 |
| Total Number of App Downloads | 500k+ |
4. Brain Focus Productivity Timer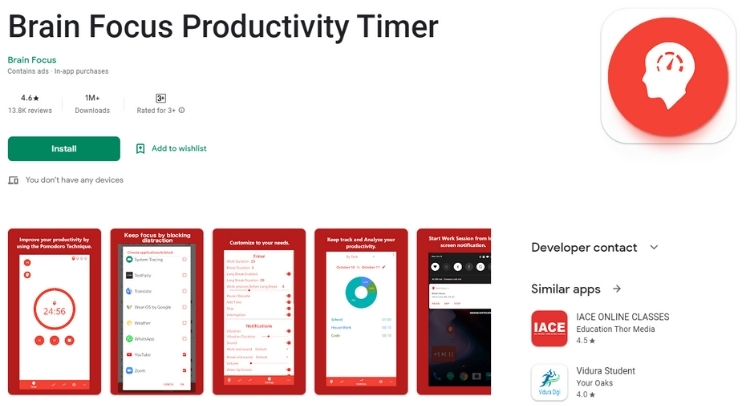 Brain focus is an app with more than a million downloads and a 4.6-star rating on the google play store. This app is based on Pomodoro or 52/17 techniques, so you can adjust the work sessions.
Also, after you're done with several short breaks, you can also set the timer for a longer break. You can group your tasks by categories, configure different settings for each task, and track your time.
Key Features:
Pause and resume the work sessions
Limit distractions by disabling wi-fi and sound during work
Add some time to a session if needed
Skip a break so you can continue the work
Get notified before the end of a session
Supports more than 30 languages
| | |
| --- | --- |
| Google Rating | 4.6 |
| Total Number of App Downloads | 1M+ |
5. Pomodoro Timer Lite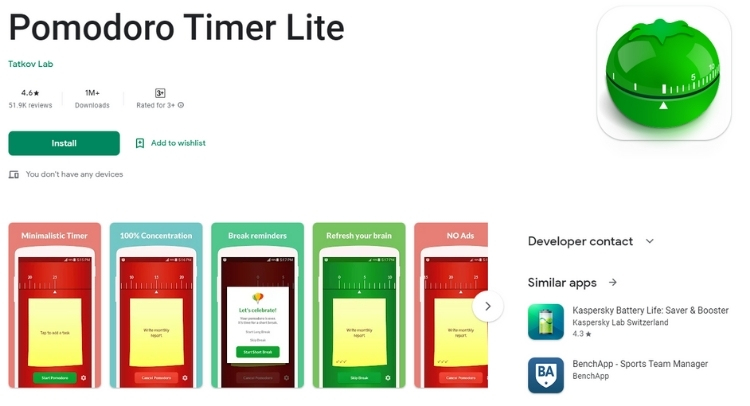 Pomodoro timer lite is loved by its users for its minimalistic, productive, and distraction-free app design. They have over a million downloads, and 4.6 stars google play ratings. This app is entirely ad-free; therefore, you can avoid getting annoyed and concentrate well.
They also have a Pomodoro Timer pro version for which you have to pay. This version gives you access to various features, such as task history and statistics.
Key Feature:
Distraction-free minimalistic design
No ads
Permits short and long breaks
Simple pomodoro timer
Customizable
| | |
| --- | --- |
| Google Rating | 4.6 |
| Total Number of App Downloads | 1M+ |
6. Clockwork Tomato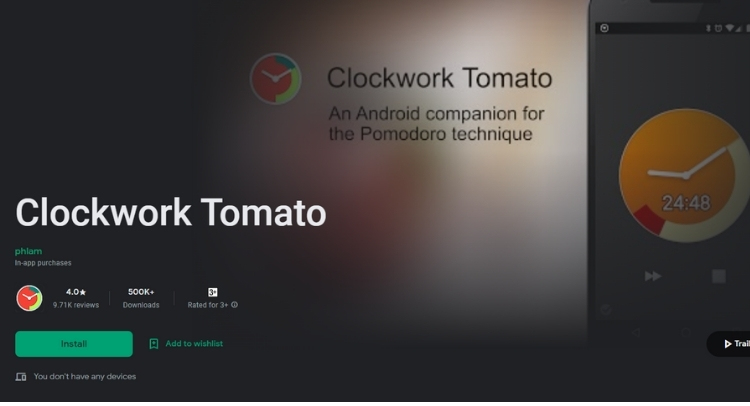 Clockwork Tomato is getting more popular day by day. It has a history of over 500 thousand downloads and a four-star google play rating.
It is a timer, a clock, and also an activity log all rolled into one. You get more than 50 options for customization. You can switch colors, themes, timers, sounds, styles, and more in this app.
Key Features:
Relaxing display and beautiful widget
In-app extension pack
Task lists
Control the timer through notifications
Get silent as well as notification alerts
Keep a recorded history of your timer.
Daily/weekly/monthly logs
50 options for customization
| | |
| --- | --- |
| Google Rating | 4 |
| Total Number of App Downloads | 500K+ |
7. Productivity Challenge Timer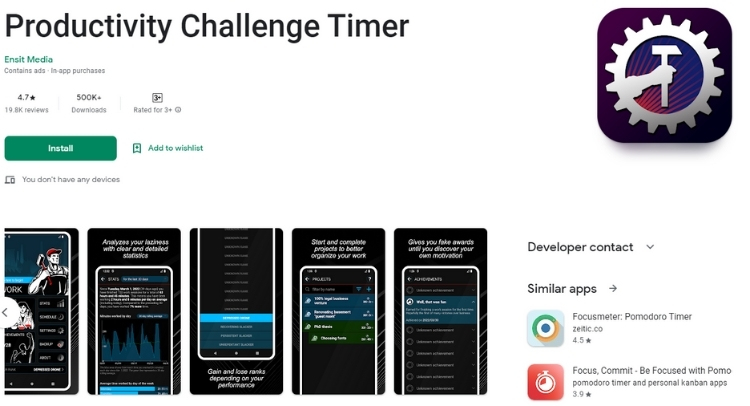 For some people, tasks can be completed more efficiently when they are presented as a challenge. The productivity challenge timer has features like ranks, badges, and achievements you can earn after completing the set tasks.
However, this app is definitely not a to-do list where you can track what you're supposed to do. Also, you can not pause your work sessions or finish them early.
Key Features:
Challenges you to work and study harder
earn/lose ranks as per your performance
Track the time you spent on your projects
Only supports the English language
Sessions can be set to as small as 10 minutes
It doesn't let you pause the session, so you don't lose your focus
Does Not recognize weekends, holidays, or parenting as an excuse and demotes you when work is not done.
| | |
| --- | --- |
| Google Rating | 4.7 |
| Total Number of App Downloads | 500K+ |
8. Engross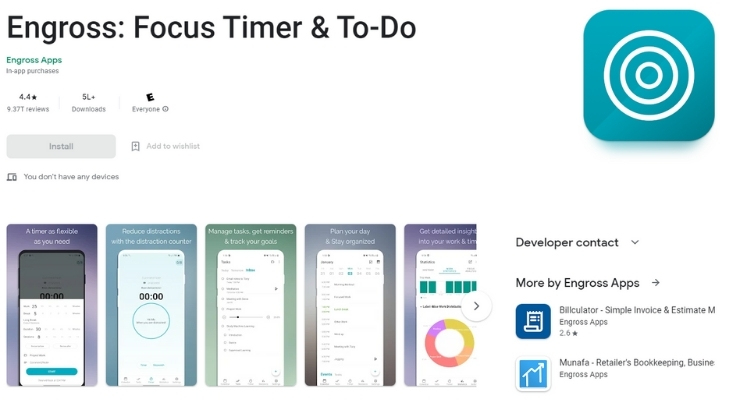 Engross combines a Pomodoro app with a to-do list and day planner. You will focus better, stay on the right track of work, plan your routines, stay organized, set targets, and thus keep ADHD at bay.
This app uses the "hit me in the head when you're distracted" technique in the session so you don't let your attention fly away. It also gives you a revision timer which you can set before or after your work slots.
Key Features:
Create a recurring to-do list for long-running or regulars tasks
An attached progress tracker for long tasks
Set reminders
Divide a task into several smaller sub-tasks
Set daily work targets and track the hours you worked each day.
Provides labels and tags to organize the work
Block all the distracting apps as you work with app whitelists.
Soothing sounds to increase your focus when working
Automatic cloud backup & sync
| | |
| --- | --- |
| Google Rating | 4.4 |
| Total Number of App Downloads | 5L+ |
9. Foca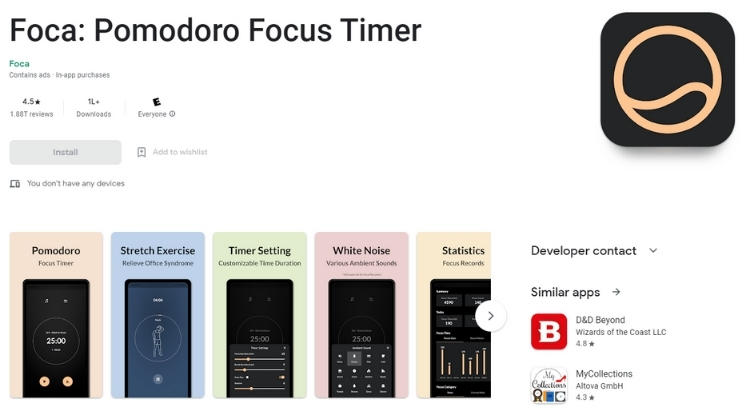 Most people who work at their desks are worried about their health. Foca will slightly solve your problem by combining Pomodoro techniques with some stretch exercises.
It ensures that you are productive and healthy when you work. This is one of the most excellent apps that also features soothing background music for better focus.
Key Features:
Customizable focus timer
Pause and resume Pomodoro
Auto-run mode
White noise – music to help you concentrate
Simple stretching exercises after a focus session
Exercises with voice and illustration guidance
Detailed statistics
Stretches of the neck, hands, shoulders, legs, and whole body
| | |
| --- | --- |
| Google Rating | 4.5 |
| Total Number of App Downloads | 1L+ |
10. Focusmeter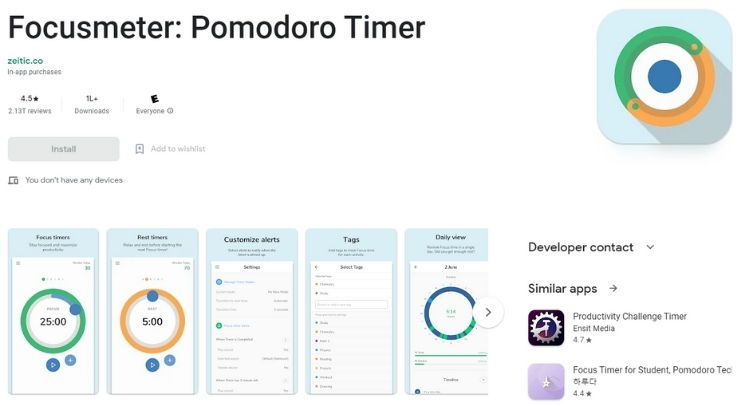 Focusmeter has over a hundred thousand downloads and a 4.5-star play store rating. It is a simple app with a clean and friendly interface.
This app supports sessions that go for as long as 5 hours. If you have connected your Google account, it also provides an automatic backup of the data. So, customize your timers and have a good Pomodoro session with the focus meter.
Key features:
Daily/weekly/monthly activity insights
Choose your focus and reset alerts.
Edit your timeline/activities
Add extra time
Repeated completed alerts
Track time in minutes, hours, and sessions
Runs in background
| | |
| --- | --- |
| Google Rating | 4.5 |
| Total Number of App Downloads | 1L+ |
Conclusion
Pomodoro timer apps are great if you want to stay focused and work hard. These apps don't let you go around and waste your time doing something utterly useless.
You can increase your productivity to a great extent with this Pomodoro technique if you are facing problems like procrastination, laziness, easy distraction, etc. So choose the apps that are best suited for you and let the magic happen.