Over the years, franchise business in India is on the rise. While franchising was earlier limited to a few Indian and foreign companies only, now there're as many as 90 best profitable franchise businesses in India.
And the number is expected to grow rapidly, according to industry sources.
Size of Franchise Market in India
According to industry sources, all franchise business in India is showing a Compounded Annual Growth Rate (CAGR) of nearly 35 percent. The annual turnover from franchise businesses across India stands at a whopping Rs.940 billion in mid-2021.
Sources claim that the franchise sector in India contributes about 1.8 percent of the Indian national Gross Domestic Product (GDP) and this figure is likely to cross the five percent mark soon.
The Covid-19 pandemic has also spurred the growth of franchising in India, according to industry reports. During the pandemic, there was a steady growth in franchising businesses such as community kitchens, mask printing services and sanitization services, with many franchisees opting for low-investment-high-returns businesses.
Therefore, if you're thinking of opening a business from some large chain and wish to invest as a franchisee, here're 90 best options to consider.
90 Best Franchise Businesses in India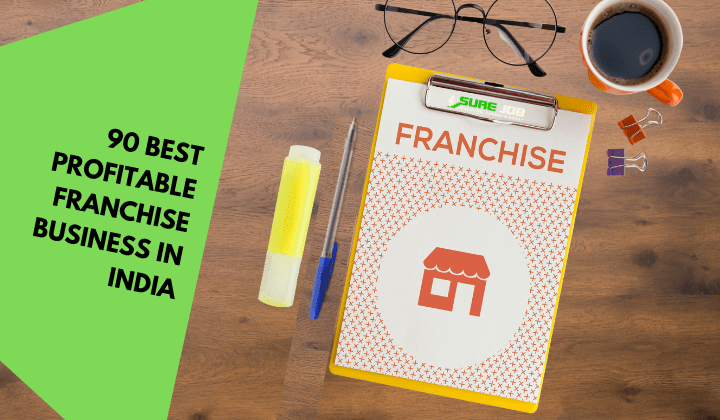 Here's my curated list of 90 best franchise businesses in India. You can select from any of these large chains to open an own franchise. I'm listing these businesses under various heads to make it easier to select.
Beauty and Wellness Salons
The beauty and wellness industry are growing at an unprecedented rate across India. Though about 60 percent of these businesses are concentrated in metros of India, there's also widespread proliferation across Tier-1, Tier-2 and Tier-3 cities of such businesses in the country. Therefore, if you're interested in taking a franchise in this sector, here're some businesses to consider.
Kaya Clinic
Lakme
VLCC
Shahnaz Hussain Group
Blossom Kochhar Group
Looks Unisex Salon
Affinity Salon
Jawed Habib
Food & Beverage Franchise
Surely you must have had food from any top foreign Quick Service Restaurants (QSRs) that operate across India. As a matter of fact, you too could open one such a QSR with a franchise from their brand owners. Here're some of the top food and beverage franchise chains you could consider.
Pizza Hut
Subway
Pind Balluchi
KFC
Kake di Hatti
McDonald's
Burger King
Xero Degrees
Bikanerwala
Big Yellow Door
Taxicab Pizza
Jollibees
Sbarro
Taco Bell
Fashion & Sportswear
And then we have lots of fashion and sportswear companies that also offer franchises to Indian investors. As you would know, an increasing number of Indians now prefer branded wear, regardless whether they're from India or abroad. Here's a list of some such top brands whose franchise stores you could open in India.
Kappa
United Colors of Benetton
Puma
Zara
Fabindia
Adidas
Reebok
Old Navy
Pull & Bear
NEXT
Mango
Aeropostale
Bata
Retail Jewelry Franchise
Indians are very fond of gold, ornaments and jewelry. Therefore, there's no shortage of jewelers across the country. At the same time, there're some top brands that are now offering you a franchise in this field too. And jewelry business is really profitable in India. If you're interested in this business as a franchisee, here's my list of some brands to consider.
Gitanjali Jewels
Kalyan Jewelers
Malabar Gold and Diamonds
Tanishq
Joy Alukkas
Healthcare and Diagnostic Franchise
Some decades ago, a health checkup would be done by your neighborhood family doctor or even at some specialized clinic. However, the healthcare business in India has grown from a largely unorganized one. Now you can also get franchise for any of the topmost healthcare services providers in India.
Apollo Diagnostics
Dr.Morepen
Apollo Pharmacy
Forever Wllness
Thyrocare
Sanjeevani Healthcare
NUSI Wockhardt
Lifecare Diagnostics
Dr. Lal's Pathlabs
Automobile Franchise
As more and more Indian households owns vehicles, we can see the demand for cars, scooters and motorcycles across the country witnessing a surge in sales. And a result, there're several superb opportunities to tie-up with any top automotive franchise chain in India and enter this business.
Cars24
Carwaale
Car Delkho
TVS Scooters
Bajaj Auto
Hero Motocorp
Suzuki Motors
Force Motors
Mahindra First Choice
3M Car Care
Motorz Spa
Express Carwash
International Franchise
If you're looking at tying up with some top foreign brands to open an international franchise in India, there're several options available too. However, these might require a lot of investments since you've to comply with their standards. Here're some international franchises to consider.
Amazon Fulfillment
7-11 Supermarkets
Sephora
Dunkin Donuts
Gold's Gym
Anytime Fitness
Arrow
Louis Philippe
Samsonite
Panasonic
Samsung
Haier
Westinghouse
Furniture and Home Décor
There're international and local companies that offer franchises for their business in India. These are some of the best brands internationally and have good sales in India as well. Taking these franchises would involve opening showroom.
IKEA
Godrej Interio
Interiors & More
Pepperfry
Nilkamal Furniture
Woodniture
Kurl On
Assorted Franchises
Then we also have a large number of assorted franchises available in India. You can tie-up with these Indian and foreign franchises too. Generally, such franchises would be available for metro cities. But you can also try to open an outlet in Tier-1, Tier-2 and Tier-3 cities, where the demand for such products and services is on the rise.
Aarey Parlor
Amul Parlor
Parle Boutique
Wow Momo
Domino's Pizza
Bangalore Iyengar Bakery
Travel Khana
TGI Friday
Applebee
Requirements to Open Franchise Business
While franchise businesses earn a lot of money because their brands are very popular, you also need to conform to their terms and conditions. For example, McDonald's will offer you a franchise to open a QSR only if you've premises that suits their global standards. And you've to furnish such premises with livery that's standard for McDonald's global operations. Staff will also be trained by their pro.
Similarly, opening a branded clothes boutique also involves having a proper space for the store, lighting and stocks according to the franchise agreement. Then you might also have to pay a royalty or franchise deposit to the franchise brand owner to open the business.
Licensing for Franchises
Regardless whether you're taking a franchise from an Indian company or a foreign one, there're lots of licenses involved. For example, you'll require close to 40 permits and licenses to open a Quick Service Restaurant in India from a foreign chain. And you've also to comply with local regulations which means keeping pork and beef away from the menu, though these may feature in the international fare of the restaurant.
In Conclusion
Opening a franchise business in India isn't very difficult. However, it does involve a lot of investments. That's because every franchisor wants their franchisee's premises to conform to their uniform standards across the country or even the world.