For any business- small or large- finding the right candidate for any job invariably proves an arduous task. You have two options: Advertise in a prominent newspaper or post the vacancy on a good website.
Placing a small, classified advertisement daily costs hundreds, if not thousands of Rupees. Additionally, print media ads are of limited duration: your advertisement is published only for a day or two, depending upon how much you pay.
Online posting of jobs has two distinct advantages. Firstly, they remain on the website for a longer period- ranging from a fortnight to a month. Secondly, you have innumerable choices for posting the job.
There are websites that charge you for your job advert and some that offer it absolutely free.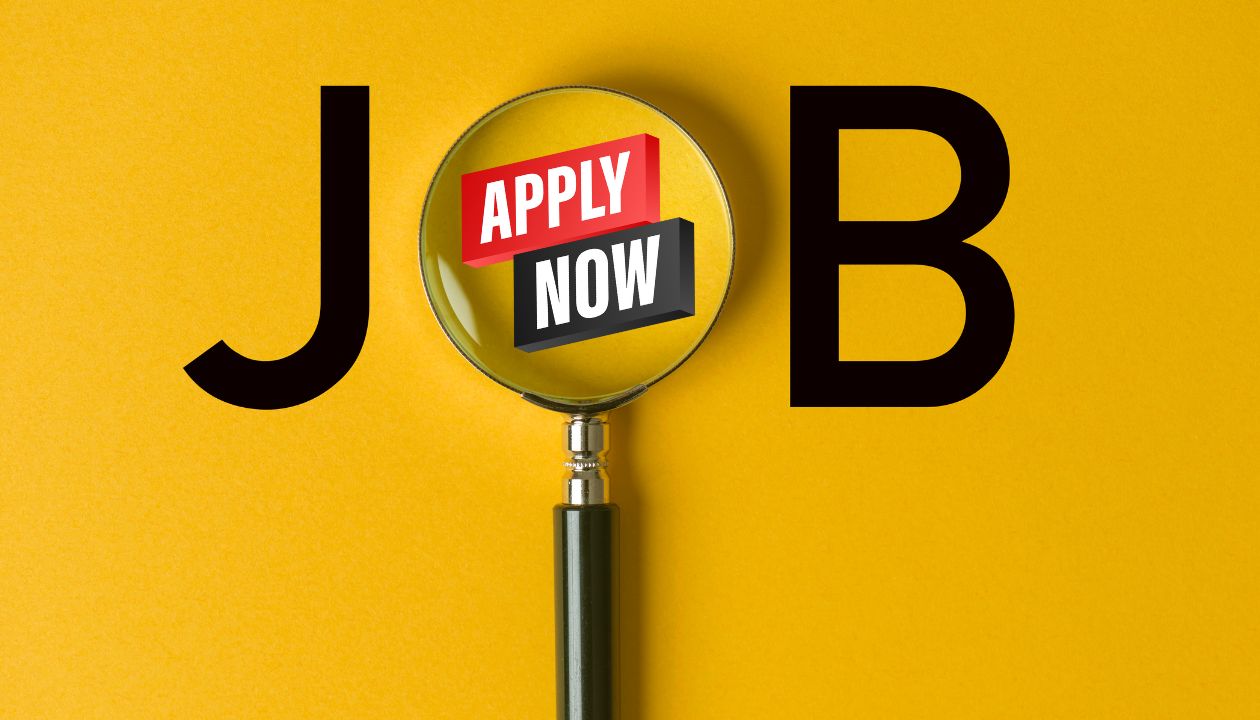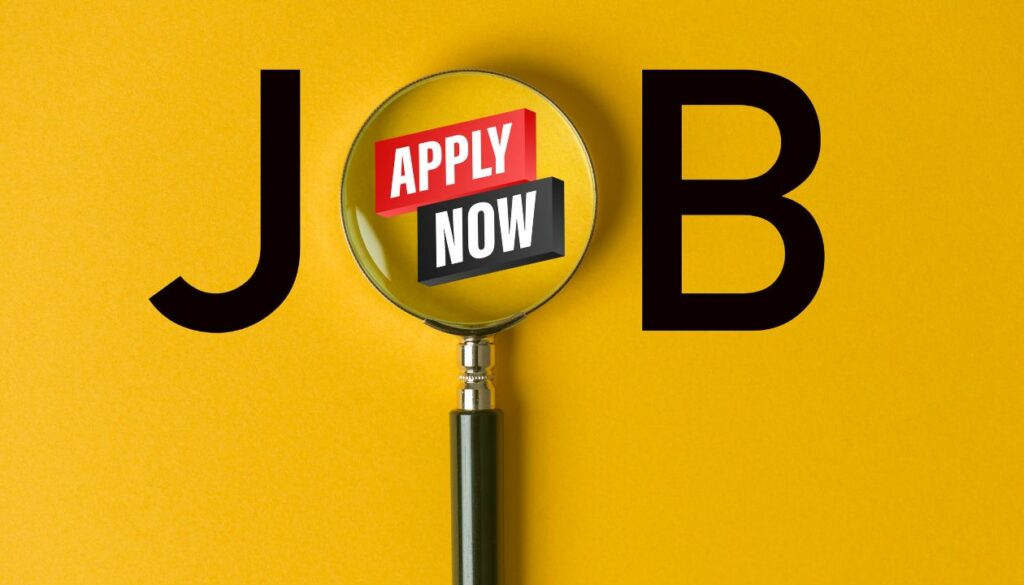 Benefits of Free Job Posting
Nobody disputes that paying a website to post your job advertisement has some inherent benefits.
By paying, you ensure the job goes online on some of the topmost recruitment websites of the world, which are viewed by thousands of job seekers.
However, these websites also offer almost similar benefits to posting on free job boards.
Free job posting allows you to advertise the same job on multiple websites. This increases the chances of more qualified candidates viewing your job posting.
Consequently, the number of applications you receive is higher, which results in short-listing, interviewing, and hiring from a vast talent pool.
Why Post Free?
Corporate giants, multinational companies, and government organizations have large advertising budgets. Hence, they can easily afford to pay for their job postings.
Startups, small businesses, and home-based enterprises obviously cannot afford to spend their precious funds on advertising vacancies. Hence, you can avail yourself of free job postings offered by over a dozen websites.
Although there are several job listing sites that allow job posting. But here, we list some of the topmost websites that offer free job posting for businesses and individuals.
Top 15 Free Job Posting Sites
1. National Career Service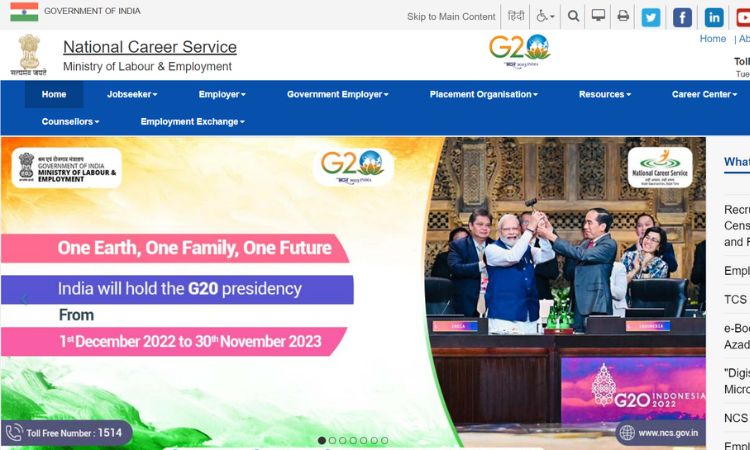 National Career Service is an online recruitment portal run by the Ministry of Labor and Employment, Government of India. As part of the Skills India and Make in India initiative, this portal offers free job postings in India for businesses small and large to individuals and families.
"The portal provides job matching services in a highly transparent and user-friendly manner," it states.
Additionally, career counseling content offered by NCS also e-delivers through multiple channels like career centers, mobile devices, the Skills India website, and other platforms.
NCS capable of meeting the varied demands and requirements of the youth for information on education, employment, and training and will soon be supported by a multilingual call center.
This makes this site one of the best job posting sites for employers. "The portal makes available information on local service providers available to household and other consumers for services like driving, plumbing, carpentry, etc.," it states.
2. Indeed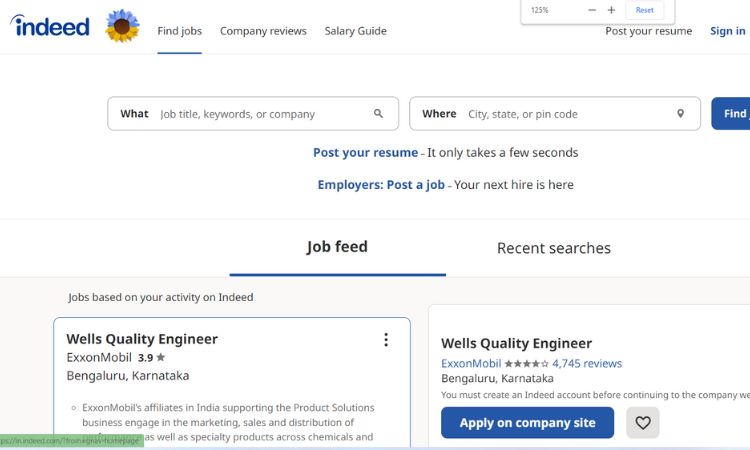 Indeed is a global recruitment portal that offers paid as well as free job postings. It is one of the best places to post jobs as it is an ideal recruitment portal for startups and small enterprises to post job adverts for free.
The only difference between paid and free listings is the manner in which your ad appears. Free job postings will appear at the bottom, while paid ads are promoted to appear on top of a search page.
However, this does not adversely impact your free job posting in any manner. This is because job seekers looking for multiple positions and apply to every single advertisement that suits their educational qualifications and skills.
Indeed is, therefore, ideal if you are looking at hiring staff quickly. Additionally, Indeed also operates with a smartphone-based app.
3. Glassdoor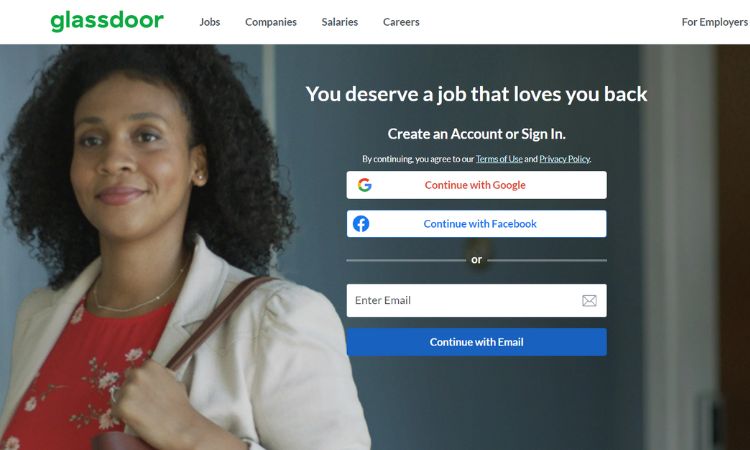 US-based Glassdoor also offers recruitment services in India. Further, it allows you to free job postings on its Indian portal.
Additionally, Glassdoor's portal carries a huge database of millions of company reviews, CEO approval ratings, salary reports, interview reviews and questions, benefits reviews, office photos, and more.
"For employers, Glassdoor offers effective recruiting and employer branding solutions via 'Glassdoor for Employers'.
We help thousands of clients and partners promote their employer brand to candidates researching them and advertising their jobs to ideal candidates who may not be aware of them.
What differentiates Glassdoor from other recruiting channels is the quality of job candidates we deliver and our influence on candidates' decisions as they research jobs and companies," states the website.
4. Aasaanjobs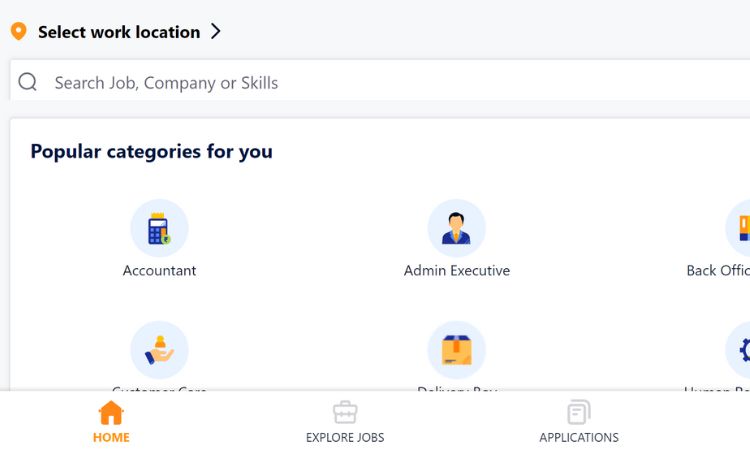 Aasaanjobs is gradually gaining ground in India as a favored website for searching and applying for jobs among fresher and professionals.
Aasaanjobs is also one of the free job posting sites for employers that allows the facility of a free job posting under specific categories.
Though many details about Aasaanjob's paid plans were unavailable through its website, there are links that indicate you can get free job postings, at least for a limited period.
Since Aasaanjob has India-wide coverage, it is perfect for searching for talent in various parts of this country.
5. Quickr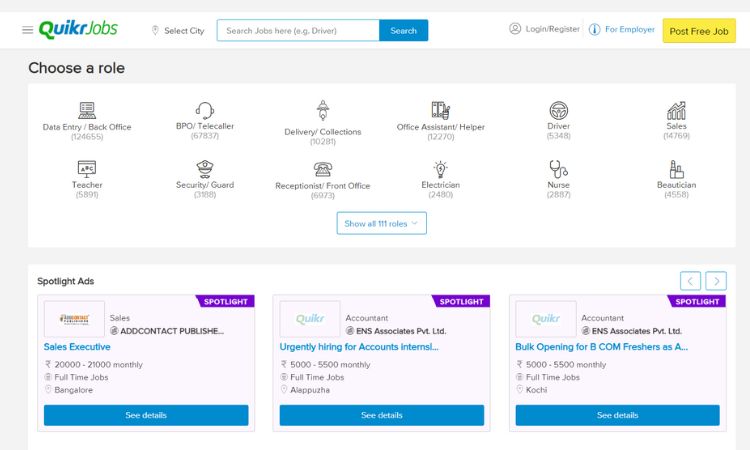 Quickr is actually a free classifieds website that offers myriad services such as buying and selling used stuff to recruitments.
However, the advantage of Quickr is individuals can do free job postings for common jobs such as handymen for home or workshop, domestic helpers, cooks, drivers, and many other professions.
You can also look for plumbers, electricians, carpenters, and other tradesmen through Quickr for short and long-term employment.
6. Bayt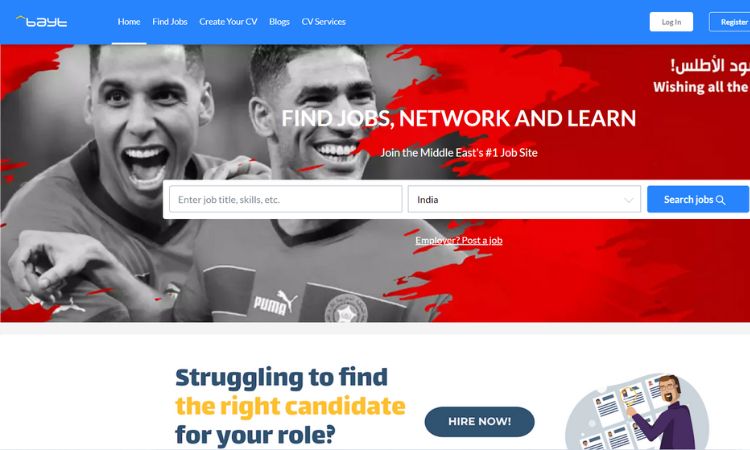 In the Arabic language, 'Bayt' means a house or home. Bayt calls itself the premier job posting website in the Middle East. It lists thousands of jobs in various countries of the Arabian Gulf region, Levant, North Africa, India, and the Indian subcontinent.
Bayt is popular among MNCs looking at hiring talent from India and elsewhere for jobs in the Middle East and North Africa. However, Bayt also lists jobs in India.
You can avail yourself of free job postings on Bayt by registering your company. Free job posting on Bayt helps attract talent from the Indian Diaspora and fresher in the Middle East who are seeking successful jobs in India.
7. WorkIndia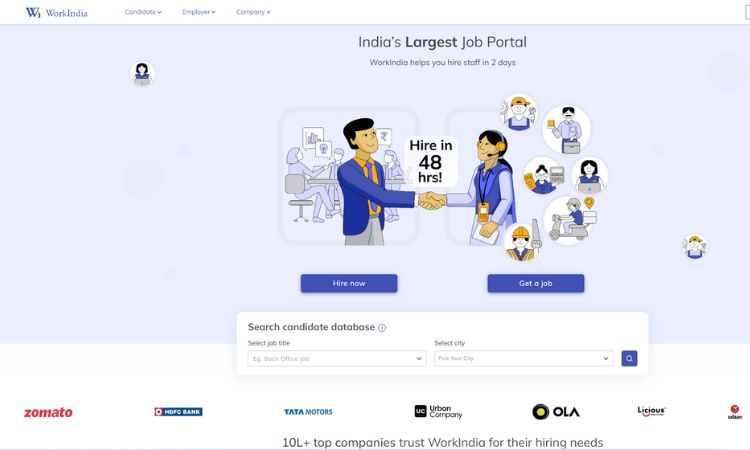 Free job posting on WorkIndia is very easy. You merely have to register as a member by submitting an online form. Once done, you have issued a username and password. Work India does not receive applications on your behalf.
Hence, you need to provide a postal address if you wish to receive applications by mail or an email ID. Filling in the online free job posting is very simple and can be done by anyone with basic computer skills.
8. Freshersworld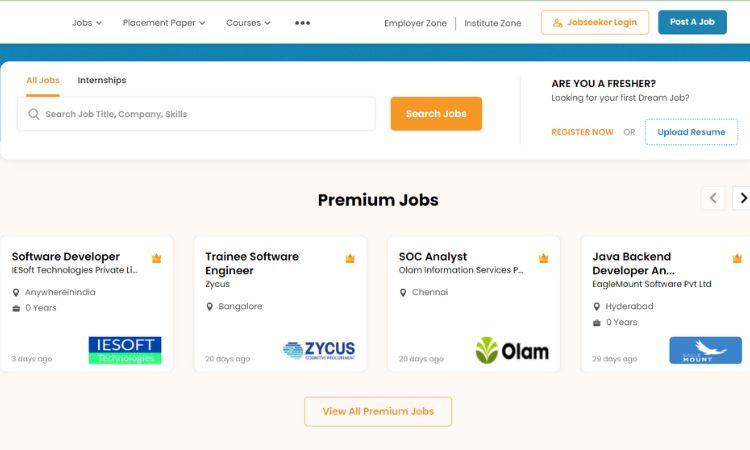 FreshersWorld is a favorite among fresh graduates, undergrads, and tradesmen who are looking for their maiden jobs. This is an ideal website for startups and small ventures looking for budding talent.
FresherWorld allows you free job posting in India after completing the required registration formalities.
Since this website primarily targets fresher applicants who have no experience or are interns, you cannot put a free job posting for highly experienced professionals here.
9. PlacementIndia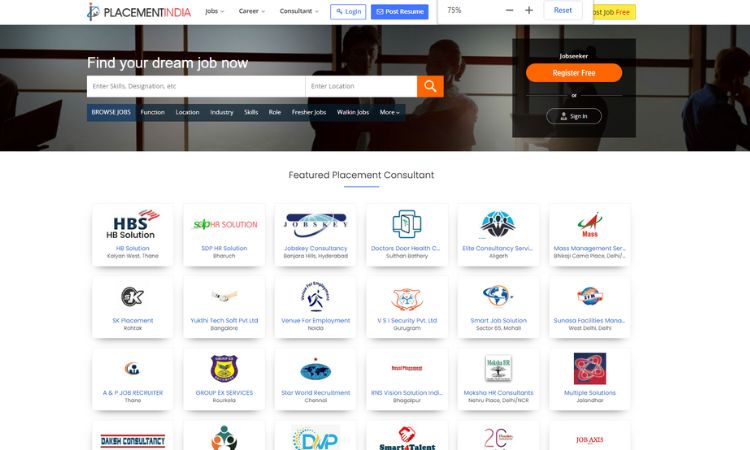 PlacementIndia has some of India's top companies and corporate houses among its list of clients. Placement India offers paid and free job posting services.
The only difference is, paid postings get promoted automatically on the website to appear at the top of the list. However, if you are not in haste to hire, you can definitely benefit from the free job listing facility provided by Placement India.
10. CareerAge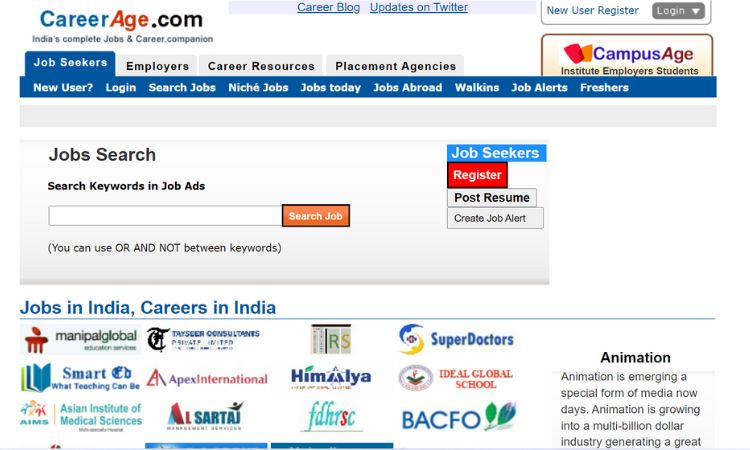 CareerAge lists jobs in various categories- from tradesmen to IT professionals and very experienced senior managers. You can consider free job posting at CareerAge if you are looking at hiring from any location in India.
CareerAge has helped thousands of youth from rural and semi-urban areas to find great careers in other parts of the country.
11. ClickIndia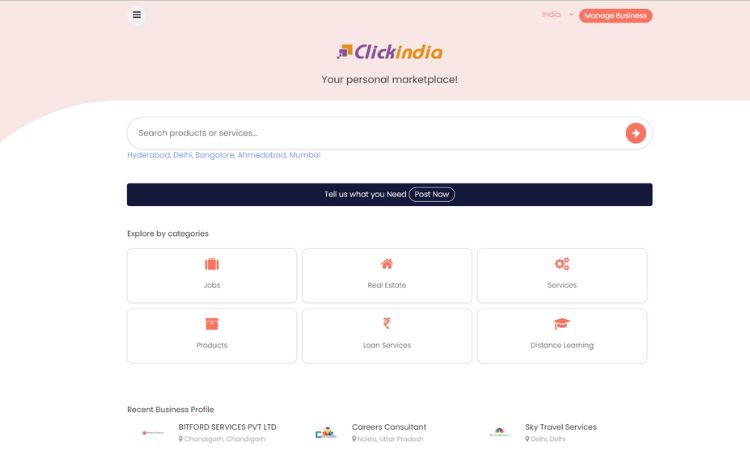 ClickIndia is among the larger free job posting website. This is also a great website for startups and small enterprises looking at hiring fresher or middle-level experienced staff.
Once again, registration is simple, and you need to provide a postal address or email ID to receive applications from job seekers through this website.
12. LinkedIn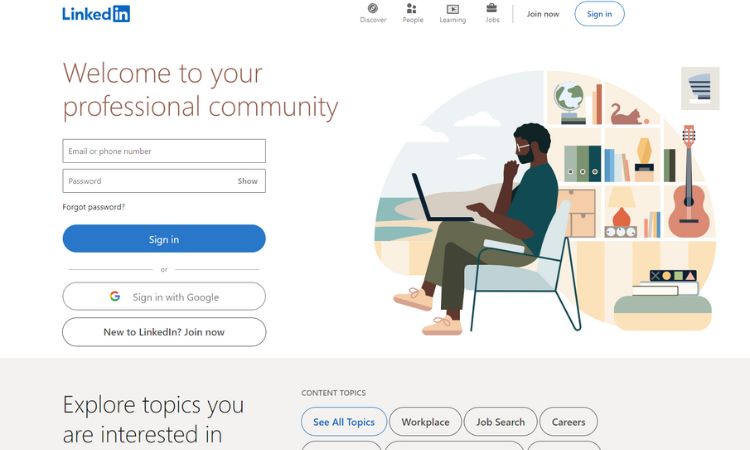 LinkedIn is not exactly a recruitment website. Instead, it allows professional and Business-to-Business networking. However, LinkedIn has nearly 35 million registered users in India.
While LinkedIn does not provide a recruitment portal where you can post jobs for free, there are two facilities you can utilize. If your company or you have a LinkedIn profile, you can form a user group and do free job postings.
This free job posting will be available to all members connected to your group. Secondly, you can utilize the status update feature on your LinkedIn profile for free job postings.
LinkedIn has a recruitment app that allows registered to apply for jobs through their smartphones.
13. PostJobsFree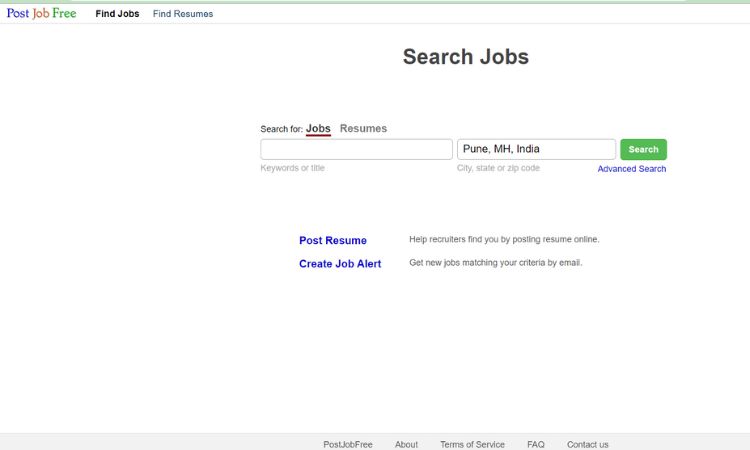 PostJobsFree is another recruitment portal where small enterprises can post their vacancies for free. You can post any type of job at PostJobsFree. Your free job posting is generally displayed for 21 to 28 days, depending upon the category.
In some sections, which are highly in demand for free job postings, you may have to repost your ad after a week to get maximum coverage since the previous ones will get pushed below in the automatic listings, which display fresh ads first.
14. Indiawalkins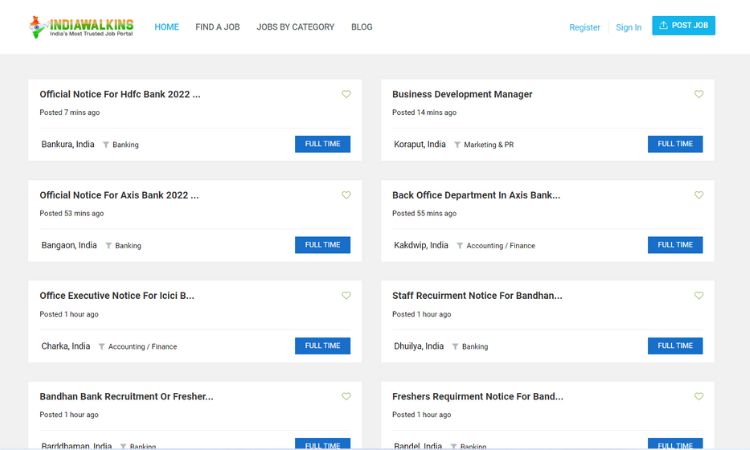 WalkinsIndia is a great website for companies of all sizes that have no time to screen scores of applications and invite job seekers for interviews. Indiawalkins allows free job listings on its website.
Generally, these jobs are for fresher who simply have to appear directly for the interview with their CVs.
You have to provide a detailed description of the job, educational qualifications and skills, and any other requirements. Additionally, you can add a Google Maps location of the venue where interviews will be conducted.
15. Craigslist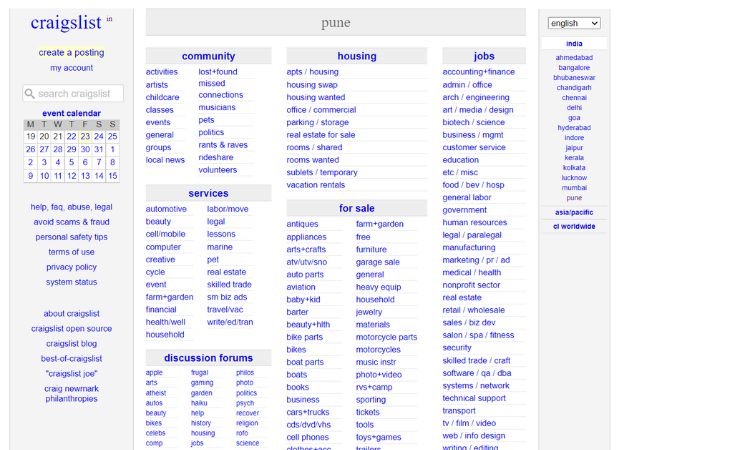 Craigslist is an American classified major that allows you to advertise almost everything. Since it is widely followed in India and abroad, it answers the question that normally arises in mind: how to post a job on Craiglist.
While Craigslist has a worldwide following, the number of free job postings it receives daily can cause your ad to get buried in a flurry of others.
Hence, we recommend you carefully use keywords and search words before drafting your free job posting on Craiglist.
Wrap Up
Since India has a vast pool of young talent, there are millions of job seekers- both experienced and fresher- looking for employment.
Hence, free job posting on multiple websites is advisable since it helps you reach out to a broader audience.
On the flip side, though, hiring through free job posting websites can often take longer than expected.
Since these websites witness a flurry of activity every minute, you may need to update your ad frequently to ensure it remains on top, at least for an hour daily.
Remember, it is a myth to believe that excellent candidates only patronize and apply through paid job posting sites.
Every job seeker looks for all available opportunities at the maximum number of locations in the country.
Hence, even a free job posting creates equal interest and attracts dozens of job seekers. The next time you wish to hire staff, try one of these free job posting websites listed.