Are you planning to buy a web hosting for your new website? Are you confused – which web hosting is the best for a beginner?
I have created hundreds of websites and used more than 30 web hosting companies in the last 10 years.
I started using Hostinger 2 years back for a few of my websites and here I will provide my honest review about Hostinger web hosting.
If I talk about this blog SureJob.in, I am using Managed WordPress web hosting from Kinsta. I am using the same web hosting for my other website MoneyConnexion.
But Kinsta is very expensive web hosting. I pay $200 monthly (around $2400 annually) for Kinsta. I receive more than 1.5 million traffic on these blogs. I can afford Kinsta web hosting because I make good money from SureJob and MoneyConnexion.
But for my other websites specially affiliate websites, business websites and low traffic blogs, I am using Hostinger and Bluehost. Hostinger and Bluehost have almost the same features and support but Bluehost is a little more expensive than Hostinger.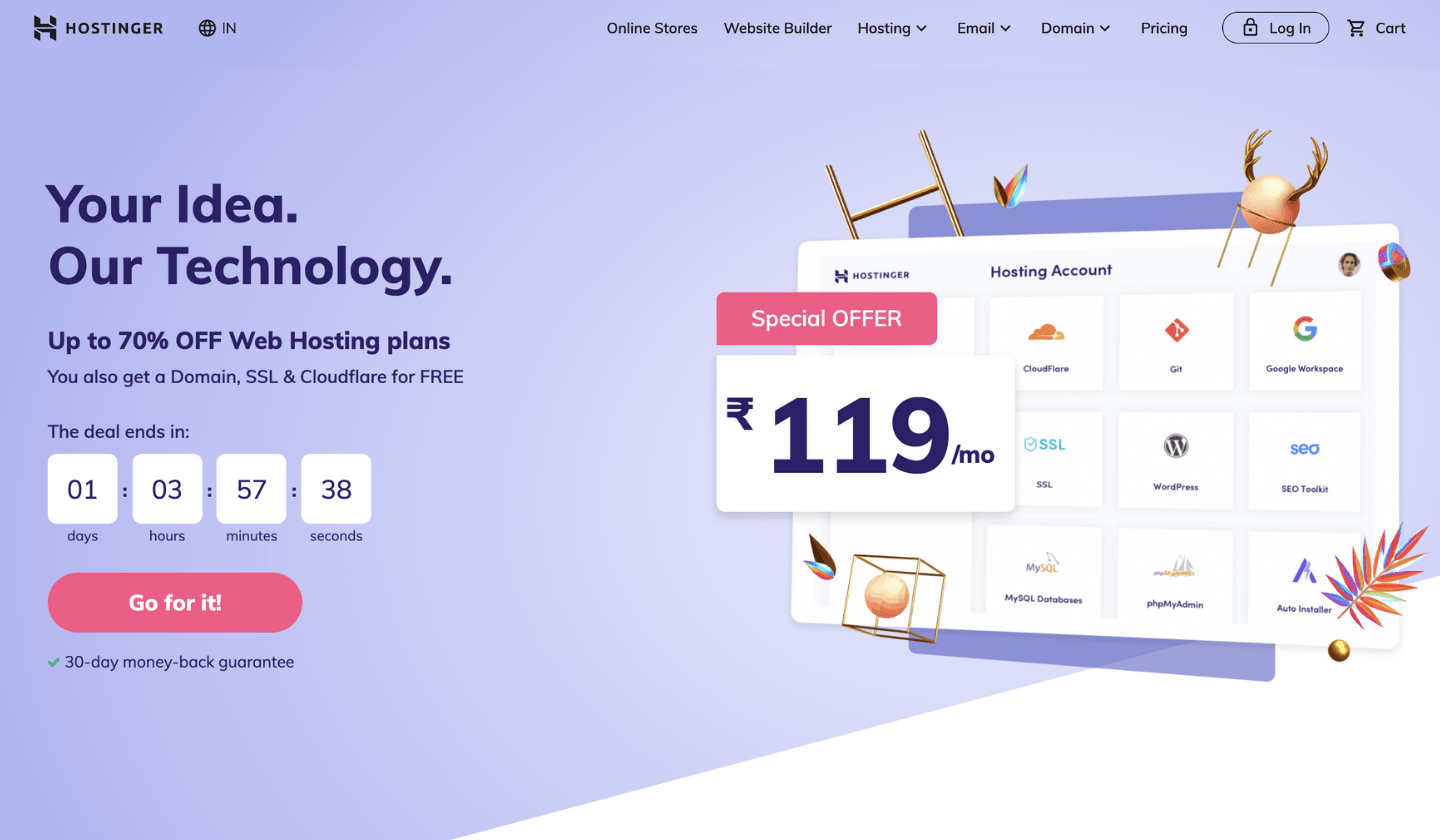 Price is one of the major factors you will look into if you are on a budget. When planning to purchase a low price hosting you might have a thought that whether or not I am compromising on features, add ons and services.
But to be fair on the price and services, Hostinger is affordable, value for money and reliable web hosting.

To be precise, Hostinger has 29 million users around the world and it functions in 178 countries. Isn't it amazing? If you are on a budget and you want a decent hosting for your website or blog then you must go with Hostinger as your preferred choice.
So let's talk about the pricing, features, pros and cons and other things in this Hostinger review.
Hostinger Review
Here I will be giving my unbiased review about Hostinger web hosting. I am sure, it will help you to decide whether to buy this web hosting or not.
Here I am providing some of the features Hostinger is providing in their hosting. You will get much better idea after reading these features.
1. Loading time/Pagespeed
When speaking about the speed of your website, the speed of the website pages hold a great importance. It can really impact your business functioning online. Hostinger claims to have a really fast response time.
Hostinger states that the response time on it is around 43 millisecond. You cannot take hostinger as the best hosting provider in the matter of loading time and speed but still it is value for money.
The price range is providing worth to the hosting and accordingly you will experience the page speed is very effective in this price range.
2. Bandwidth
It's another important factor, you need to consider while buying a web hosting. Bandwidth simply means the amount of data transferred from your hosting to the visitors.
More bandwidth means more data can be transferred from your server to the visitors. Typically bandwidth is measured in GBs. Hostinger provides you unlimited bandwidth in most of their hosting plans.
3. Uptime
When you are thinking of buying a hosting you always look for the uptime.Uptime is the measure of the uninterrupted time that a hosting system experiences. This is usually listed as percentage.
Usually a good hosting company delivers an average of 99.99% of uptime over a period of a year.Hostinger is not the best among its competitors on the ground of delivering uptime but it is also not the lowest.
It fairly delivers an uptime of more than 99% in some months and even 100 % in others.
So Hostinger doesn't have the best uptime rate but it has the decent average uptime which is best for managing websites, because even a downtime of 4-5 hours in a year is not going to make a huge difference on the website.
4. Money back guarantee
Hostinger is giving you free hosting for 30 days! Yes you read it right but there is a catch to it.Hostinger is giving you a 30 days money back guarantee.
Just like when you do not like a product you return it similarly if you do not like the hosting you can cancel it anytime and also will be getting money back for the same.
30 days are a standard set by most of the companies in the hosting industry. Best thing is you can try the hosting for a month and then make a decision to continue it or not
5. Easy to Use interface
The interface which you get when you buy hostinger.com hosting is extremely easy to use.Everything is labeled perfectly and in a simpler manner so that it becomes easy for you to manage the options available on the dashboard.
The dashboard is accordingly organised with a wide variety of options so whenever you are searching for something you will instantly see it. You can easily access the applications that are installed like WordPress .It is easier to check and change plans, to analyse usage, to check email settings etc.
6. Live support
Hostinger offers 24/7 live support to its users.And moreover they also don't even take a day off! That means 24/7 support all 365 days. If you get stuck somewhere and cannot proceed without help or guidance then the customer support will be there to help you through your struggles.
You can mail them or just ping them on chat and the response will be close to immediate. Whenever considering factors for choosing a good hosting company you should always choose a company with appropriate customer support.
Not only this but you should also keep in mind the reliability they give via their support. Hostinger in this matter in one of the decent companies among the competitors.
Hosting Web Hosting Plans
Hostinger has different plans for different needs. For beginners it has its basic plan named as "single shared hosting" which provides a complete package for beginners. Next web hosting is "Premium Shared Hosting".
It is the most preferred web hosting plan among other hosting plans in this section mostly because it is good for personal website. The last hosting in this segment is "business shared hosting". It is ideal for small businesses and perfectly optimised to handle its functioning.
Then there are 4 types of plans in WordPress hosting. Simple WordPress which is good for beginners, WordPress Starter being a perfect package for personal websites and the other one is Business WordPress.
WordPress Pro is another package made for small and medium business and is extensively curated for managing websites of medium size businesses.
The other two products available in the website builder are Basic and Unleashed. Basic is good for personal brands whereas Unleashed is a perfect match for businesses.
Free SSL Certificate and Domain
Hostinger knows exactly how to make it's hosting worth your penny. That is why it provides a free domain and SSL certificate with the hosting you purchase from Hostinger.
SSL certificates enable websites to convert from HTTP to HTTPS, which is supposingly more secure and reliable. An SSL certificate is a data file hosted in a website's origin server.
Getting a free domain and SSL certificate is really an additional benefit you get from such a good brand. Not being the no.1 in market but still managing users around the world and establishing a repo in the market.
Pricing
Honestly Hostinger's hosting is cheap or what we can say very affordable. At such nominal rates they are providing great value for money on all the variants of their hosting packages.
The detailed pricing for Hostingr's hosting packages are listed below :
1. Shared Hosting Plans
You will get 70% off in all shared hosting plans. You can get 10% extra discount by using the coupon code – PRITAMNAGRALE at the the time of checkout. You can refer the image below for shared hosting plans and features.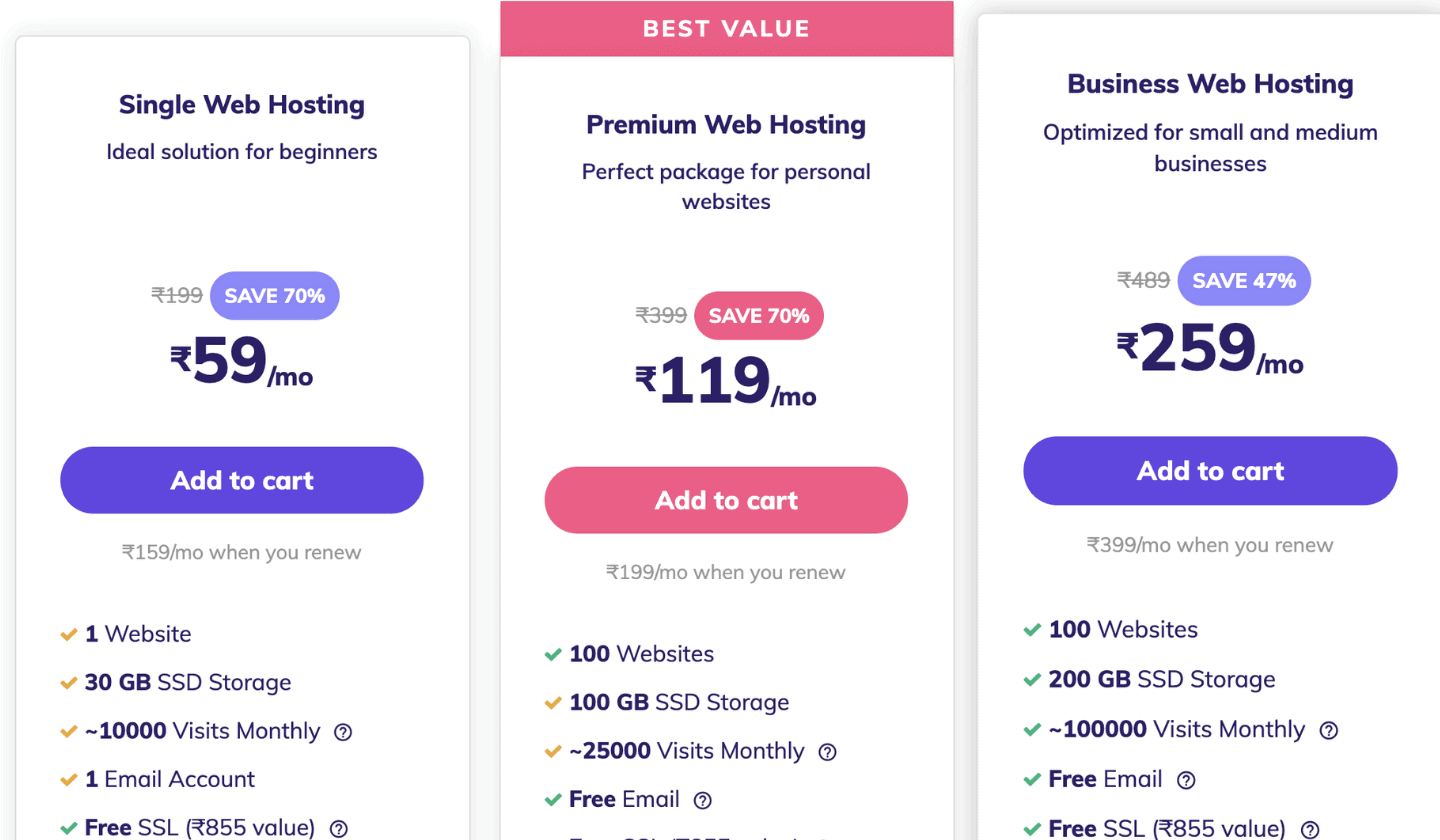 2. WordPress Hosting India
WordPress is the easiest way to make great websites. WordPress hostinger from Hostinger is quick and secure. You receive guaranteed 99.99% uptime. Find more features below.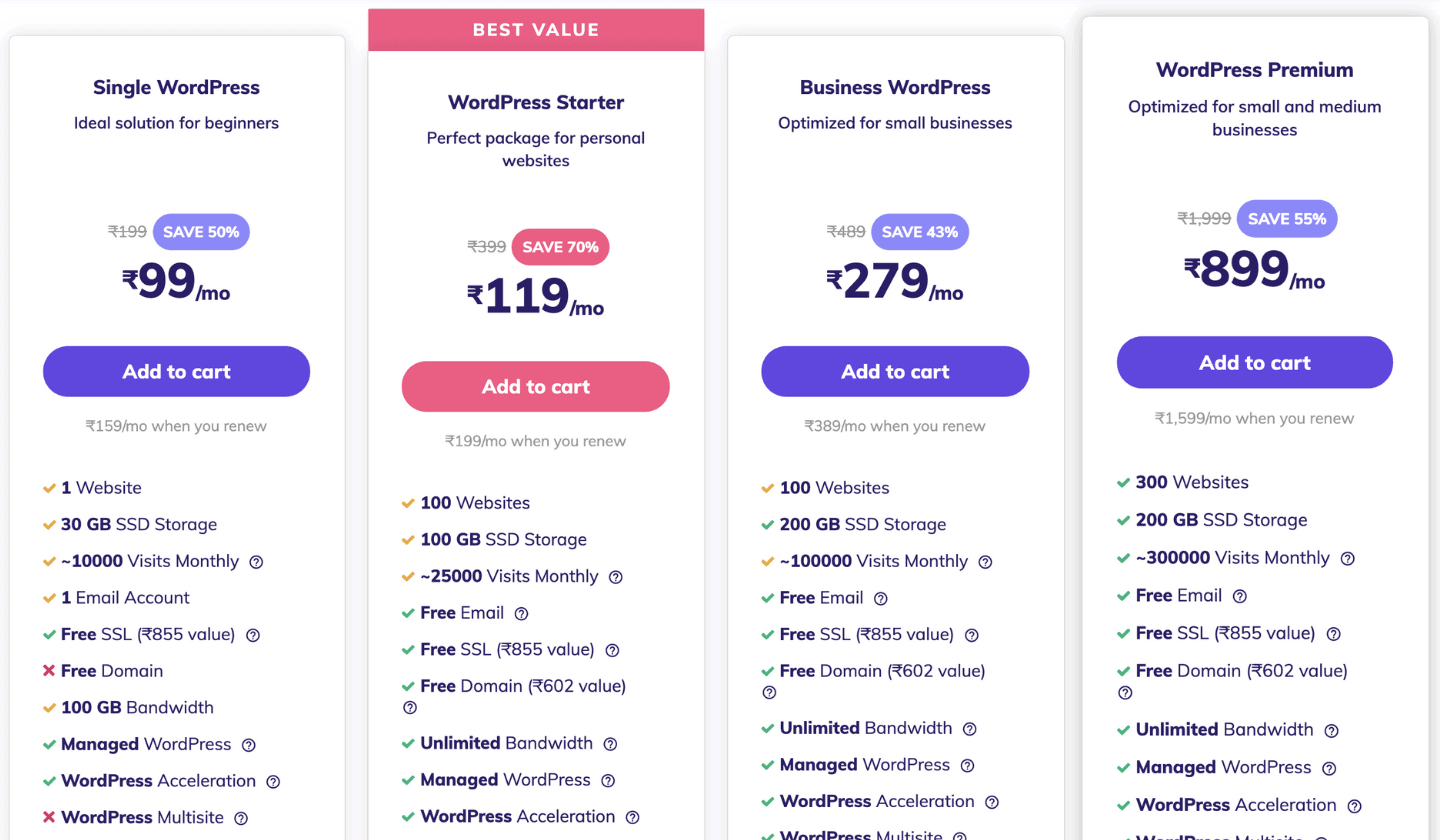 3. Cloud Hosting
Cloud hosting from Hostinger is fast, stronger and dedicated. You will get guaranteed 99.99% uptime. You can find more details in the image below. You will receive 3x more speed with cloud hosting.
One of the best thing about this is 24/7 dedicated support. You just focus on your projects and the team of pros at Hostinger will handle the server uptime and monitoring!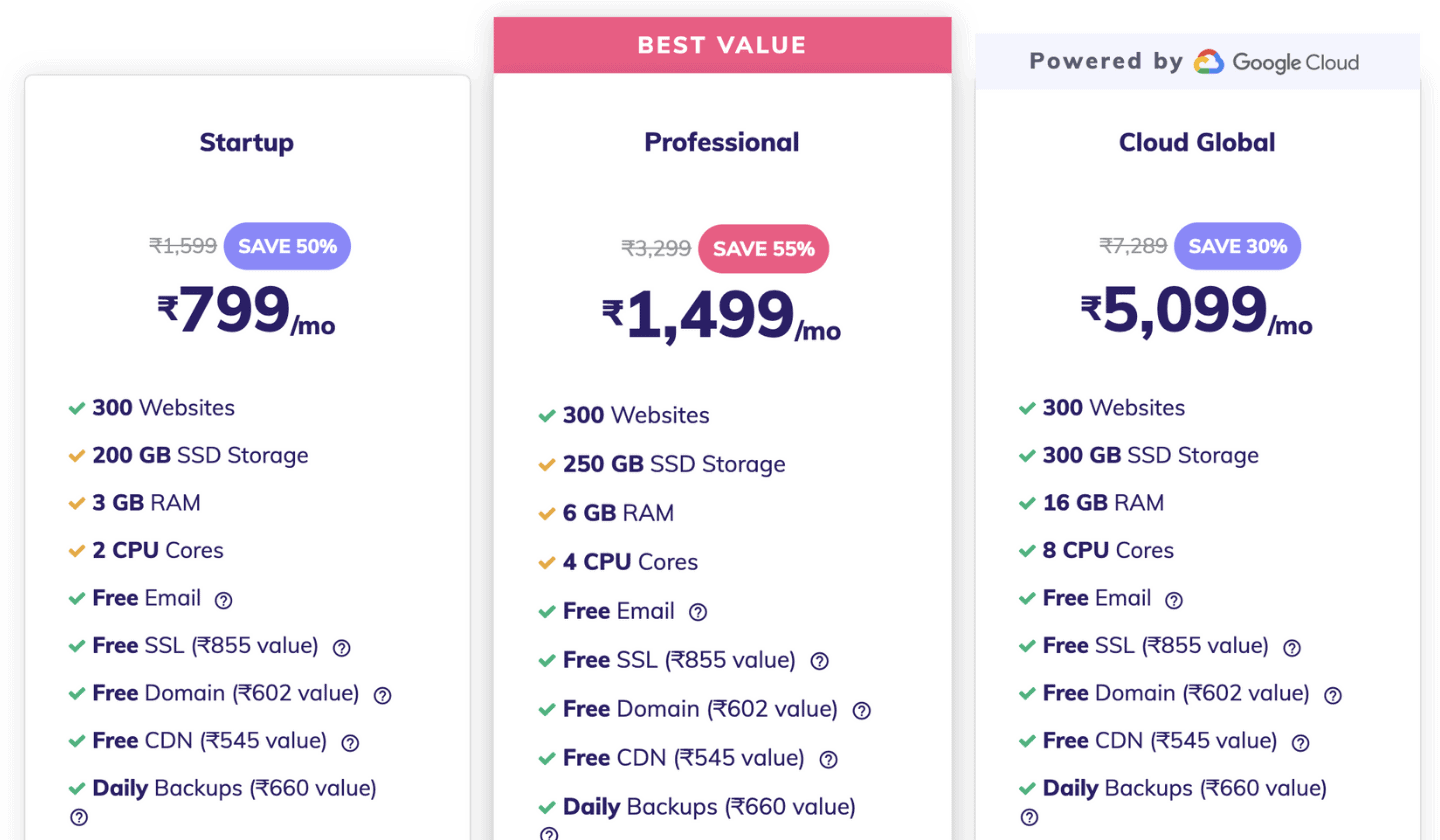 4. VPS Hosting
If you are looking for dedicated hosting but can't afford this then Hostinger VPS hosting is the best solution for you. Here you get full root access, IPv6 support, SSD disk drive, dedicated IP and unmatched support.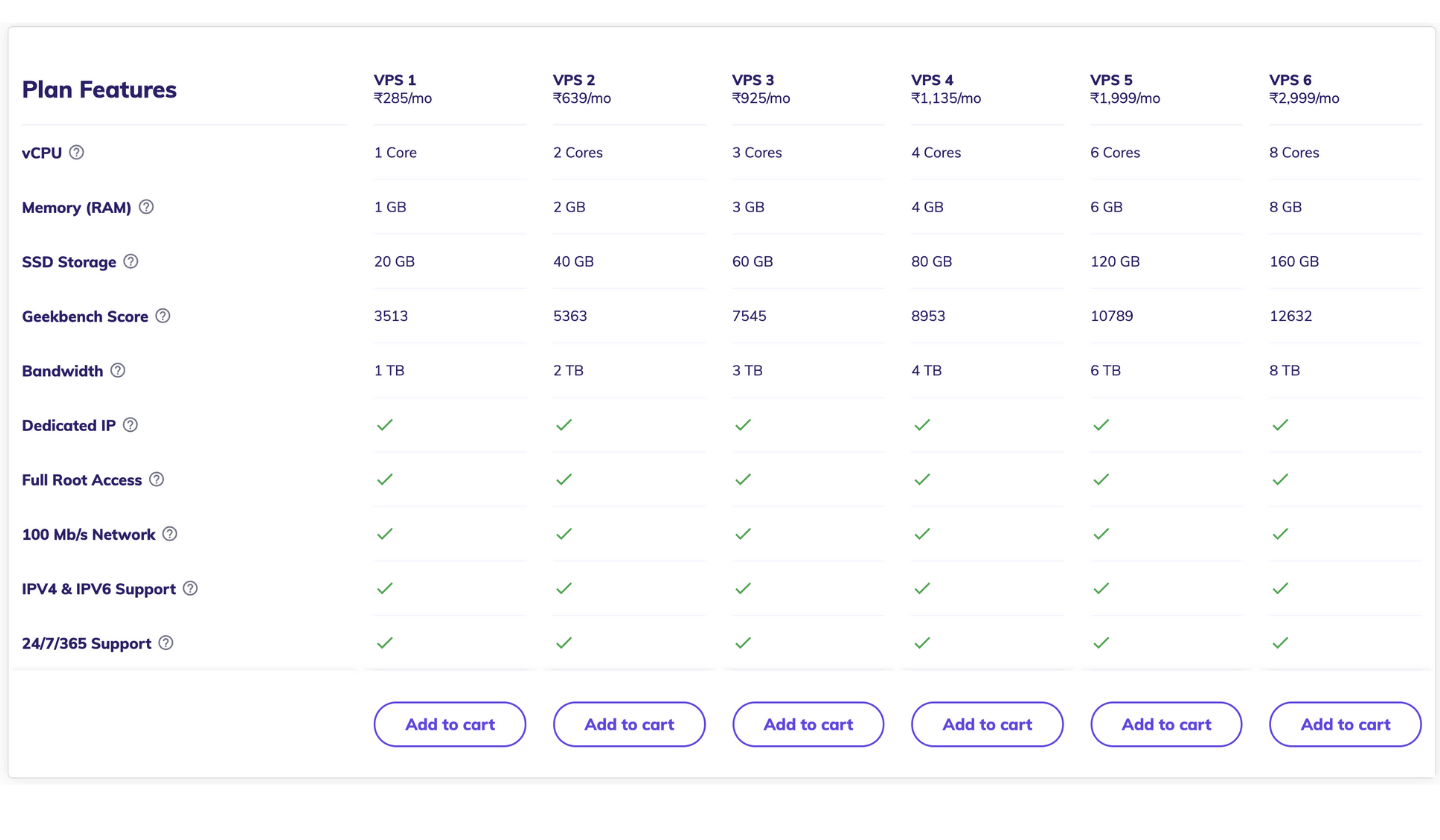 5. cPanel Hosting
If you need cPanel hosting to control all your hosting experience then you can refer the image below for the features.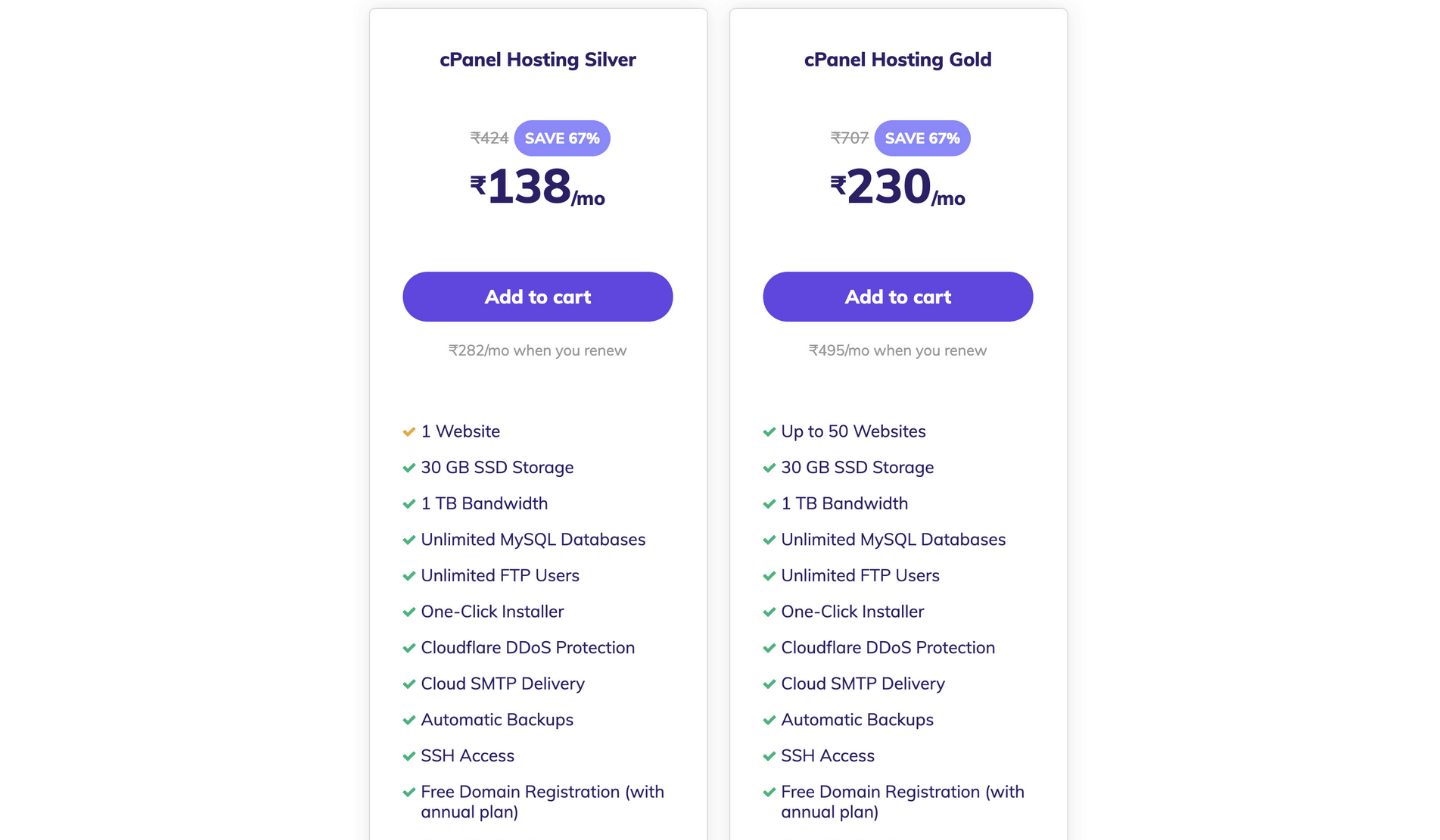 Looking at such pricing by hostinger one can definitely make a choice among the listed hosting plans as they are affordable yet very much useful for the websites.
Conclusion
After considering all the relevant factors the one question that will still grab your mind is whether I should buy the Hostinger hosting package or not? The answer to this question from our side would be Yes!You can.
Not only is hostinger providing great services and support but is also a reliable, effective and proven high performance hosting company. Therefore we definitely recommend you to buy hosting from hostinger.
The performance may vary in different packages and uptime can range from 99.00% to 99.99% but still it's worth it. I never experienced downtime with any of my websites hosted on Hostinger server. Buy the hosting package of your choice from hostinger and kickstart your dream blog or business website in no time.