Online Data Entry jobs are really great for people who want to work from home but are not very much qualified. Whether you are a housewife, a student, a retired person or just someone looking for extra income, then data entry is the best option for you.
You just need good typing speed (minimum 25 WPM), the ability to read basic English and a PC with an internet connection to start data entry jobs.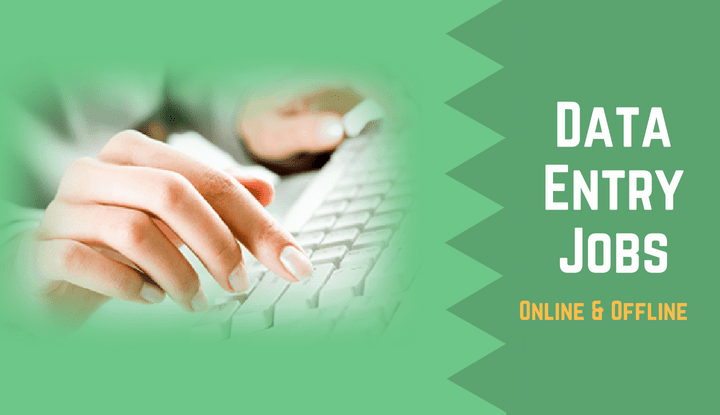 Data entry jobs are very diverse, and a data entry worker needs to specialize in one given domain.
After reading this article you will get to know different types of data entry jobs and remunerations depending upon the type of work.
25 Types of Online Data Entry Jobs
Let us see different kinds of online data entry jobs one by one. You can work on any data entry job depending upon your skills and time.
Regular Data Entry Jobs
The first category is regular data entry jobs which are very common and you need a typing speed of 20 to 30 WPM at least.
1. Plain Data Entry Jobs
Plain data entry job involves typing words into MS Word files. Here, apart from typing speed, you also need good reading and writing skills in English.
You have to read from a PDF document and write it into a Word document. You can get paid Rs 20 to Rs 50 per page in this type of data entry job.
We provide you with the sources & other tips to find these types of data entry jobs once you sign up.
2. Other Basic Typing Jobs
Other basic typing jobs can be working with Excel Spreadsheet. Here, you have to fill cells with data. You really do not need to know about formulas and other technical stuff.
The job is very simple and not technical at all. You can get paid Rs 100 to Rs 150 per hour, depending upon the speed and accuracy.
3. Word Processor or Typist
Here, the work is a bit more technical. You need to create letters, mailing labels, reports, etc. You must have good grammar skills as well as vocabulary.
You also have to work with technical stuff like creating charts, graphs and tables. Usually, you need training for this kind of data entry work.
4. Cleaning of Data
Also known as data cleansing or data scrubbing where you detect and remove (or correct) erroneous data from a table or a database.
It can be a Word File or an Excel spreadsheet.
For regular data entry jobs, you get paid according to your experience and accuracy.
Just check this post to find these types of data entry jobs.
Online Data Entry Jobs
Here are 2 Best online data entry jobs that you can do from home. Online form filling & paid surveys are 2 best jobs. You can subscribe to SureJob to get these types of jobs directly in your email.
5. Online Form Filling
Here, you will be given an online form and huge data separately. You have to enter the value from the database into each field in the online form very carefully.
You have to pay attention to this data entry work so that you don't fill up the wrong field with the wrong data.
6. Online Survey Job
You have to answer a few simple questionnaires and fill up the survey forms. You can fill up a survey form in 5 minutes to 15 minutes, depending upon the length of the questionnaires.
Companies need to know customers' feedback, so they ask you to fill out these forms. Sign up with the 20 best online survey sites here.
You can make good money with both form-filling & online survey data entry jobs. If you want more similar jobs, then you can check our most popular list of 14 online jobs.
Micro Jobs
Micro Jobs are relatively new compared to other forms of data entry jobs.
7. Captcha Entry Jobs
As you know Captchas are images containing texts, numbers or alphanumeric data used to fill in a field given below. You have to solve hundreds of Captchas every single day.
It is very simple. You can check top 10 Captcha entry sites here, which provide you with this opportunity.
8. Copy & Paste Jobs
Here, you copy data from one file and paste it into another. Basically, it will be a Word document or Excel spreadsheet.
You don't have to type much, but you have to read a lot, and hence knowledge of English is important.
9. Captioning
Captioning is more advanced because here you write headings and captions for a news headline or an image. This job is required by the media industry like the News channel.
Captioning jobs are very rare to find.
Micro Jobs like Captcha solving is not well paid. So don't take it if you want to be a serious data entry worker.
Data Formatting Jobs
Formatting jobs are also considered as data entry work but here you type less and format more.
10. Re Formatting and Correction
Normally formatting jobs include formatting a word document like aligning paragraphs, indentation, fonts etc.
You also have to format a long form which contains various fields like Name, Email ID, Address, Phone No etc.
Here typing work is less but you need to know every rule about formatting.
11. Formatting and Editing Job
Here you have to have good knowledge of English because you will not only correct spelling mistakes but also grammar.
You also need editing skills in which you have to reformat an entire document.
Formatting jobs are more about knowledge of English and grammar over typing skills.
Converting Files
Converting Files from one form to another is just like regular data entry jobs but with a difference. Here you have to convert an image or audio file into a Word document.
12. Image to Text Data Entry
You will be given an image which is a screenshot containing written paragraphs. You have to read from images and write it down on a Word document.
One thing you need to remember is the words are not simple English but difficult medical terminology that you haven't heard before.
13. Audio to Text
You will listen an audio and reproduce it into a text format. Audio to text data entry job is bit advance because you need really great listening skills hence not for everyone.
Moreover, your English must be really great so you can understand every single word.
For beginners, I recommend image to text data entry work. Here you earn more than regular data entry work.
Transcription Jobs
Transcription jobs are one of the most difficult form of data entry jobs.
14. Medical Transcriptionist
The most common transcription job is medical transcriptionist. Here you listen recorded audio files and write it down word by word in a word document.
Here you have to be familiar with advanced medical terminology. You also must have great listening and shorthand writing skills.
15. Medical Coding
Medical coding is bit different than transcription job. Medical coding is transformation of healthcare diagnosis, procedures, medical services into alphanumeric codes.
This type of job is very rare.
Medical Transcriptionist job is highly paid among all other forms of data entry jobs.
Misc Online Data Entry Jobs
Online data entry jobs are bunch of jobs that are dedicated to Internet.
16. Online Data Capturing Job
You have to capture data from various internet publications such as e-magazines and eBooks. Here you need good English skills.
17. Email Processing
This is one of the high paid data entry job. Here you process hundreds of emails daily to find out their content and make a list in an Excel spreadsheet.
You must be able to process thousands of email and categorize it. It is more than regular typing.
18. Updating Database
Here you update existing database and create new ones online. These database contains various fields like Name, Phone no, email ID, address etc for various industries.
Misc Online data entry jobs are for part time seeker.
Data Entry Keyer
Here you generally enter data into a software like CRM. Following are Data Entry Keyer jobs.
19. Catalog Data Entry Operator
Catalog Data entry operator read from database and fill into online or offline software. You enter various fields like product name, code no, expiry date, price etc.
20. Payroll Data Entry Operator
This is very common data entry keyer job. Here you enter the employee name, payment details, allowances etc.
21. Entering Data into Web Based System
In this data entry job, you enter data into a web based system from different kinds of product catalogues.
You have to read documents pertaining to legal departments or insurance claims and write it down into a word document or an excel spreadsheet.
You can also be asked to enter automobile registration number, owner's name, contact details etc.
Data Entry Keyer jobs are mainly offline rather online.
Data Entry Clerks
Data entry clerks are also quite similar to the Data Entry Keyer's job. Here are two examples of data entry clerk's job.
22. Hospitals
You enter details like patient notes, hospital records, accident reports etc into an Excel spreadsheet or particular software present on the LAN.
23. Municipal
Here you enter into municipal records details like birth records, legal documents, town records etc.
This type of data entry work is offline and full time from 9 to 5.
Writing Jobs
Writing jobs are not exactly similar to data entry work, but they are a kind of data entry job. But here, you don't type blindly.
24. Content Writing
You can write content for various sites and bloggers. You need to write an article of various lengths and submit it to the blogger or site owner.
25. Copywriting
Similarly, copywriting is about writing ads.
The difference between other data entry jobs and writing jobs is writing is more creative, and you need to have some experience in writing.
Extra Customized Data Entry Jobs
Finally, there are many customized data entry jobs where you have to work according to the training given by your hirer.
You will be trained for a particular type of work and asked to enter data likewise.
Such jobs are available offline, where you have to go out of home and work.
Hence, you can choose any one of the above-mentioned online data entry jobs and specialize in any of them.