PayPal is undoubtedly one of the most reliable payment systems. It has already captured the market in 200 countries and the hearts of 360 million active users. The company has been making easier, faster, and safer transactions for more than two decades now.
PayPal began its domestic operations in India in 2017. They made it very easy for Indians to shop online across different countries.
There are 2 types of accounts you can open with PayPal, an Individual account or a business account. 
Having an Individual account allows you to send payments and shop across the globe, whereas with a business account, you can send as well as receive payments worldwide.
So depending on your needs, you can either start an Individual account or a Business account. I will recommend creating a business account if you receive online payments.
Easy Steps to Create PayPal Account in India
I will show you how to create an Individual account and a business both.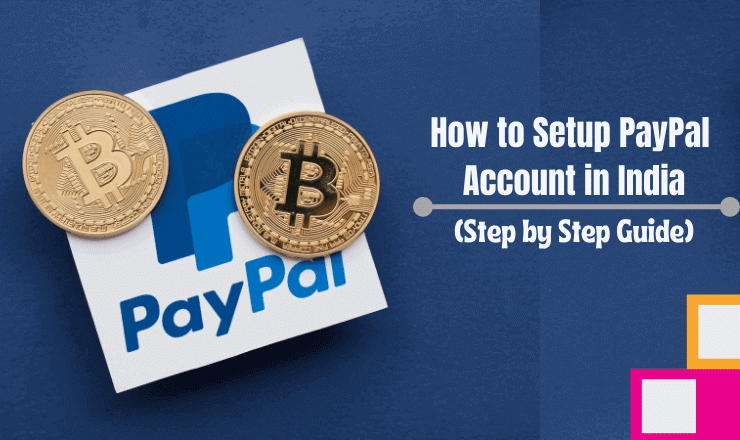 How to Create a PayPal Individual account
1. Visit the following website PayPal.com and click on sign up 
2. Choose an 'Individual Account'
3. Enter your phone number and verify with OTP (One time password)
4. Enter your Email and set a password
5. Fill in your name and address details.
6. Enter your credit/debit card details to link it with PayPal
7. Verify with the OTP sent to your registered Email ID and mobile number.
8. Click on the go to your account
9. Verify your mobile number and Email address by clicking on their respective tabs
10. Then, add your bank account to start making payments across countries.
If you sign up for an individual account, you can shop globally. Users have 180-day buyer protection or refund window where you have availed a full refund on your purchases.
PayPal covers your shipping cost in case you want to return your goods. It is a very safe experience as your financial details are not shared with anyone.
Steps to Setup PayPal Business account
1.  Visit the PayPal.com website and click on sign up.
2. Click on 'Business Account'.
3. Choose your preferred way to accept payments from the drop-down menu. Choose "On marketplaces or Freelancer platforms".
4. Select the amount of annual sales volume of your business. Most of the people can choose '0 to 250K USD' as they are just beginning with PayPal or their online businesses.
5. Click on "Next," enter your Email ID, and set a password for your PayPal account
6. After submitting your password you have to describe your business with options from the dropdown menu. You can choose from individual, sole trader, partnership, corporation, and government entity
7. Depending upon your chosen business, you have to fill in the details and provide information regarding your business.
E.g If you choose Business Types as 'Individual', you have to give your personal PAN details, choose a purpose code, and give keywords describing your business.
Choose CC statement name which is a name that appears on all of your customer's card statements. You can write your first name or your firm's name
8. Click on Submit. A box appears where you have to give more information regarding your business. Enter owner's name, contact, and address details. There is no option for choosing INR as the primary currency, so Indians need to choose the default USD.
9. Choose what you sell and how you would like to sell.
10. On the next page, click on start setup. You have almost created your account.
11. Scroll down to confirm your details. Click on confirm your Email address. Then click on edit. Enter your Email, and you will receive an activation mail by PayPal. A new page will appear. Enter your PayPal password to confirm your Email.
12. After you click on confirm, you are redirected to your PayPal account. Click on Pay & Get Paid. Choose "link a new account" under the bank account section. 
13. Enter your IFSC code, and account number; click on the link to your bank account.
14. You will receive two small deposits of less than 1.50 INR in your bank account within 3-5 days. After you receive the amount, log in to your PayPal account, select bank Account from your payments method, and the amount you received from PayPal.
15. To link a card, you need to scroll down and click on "link a new card."
16. Add your card details and confirm with the OTP sent on the registered mobile number.
Enjoy a fully confirmed PayPal account.
Conversion
PayPal is a great way to send and receive international payments using your email address. The money that you receive in your PayPal account will be transferred to your bank account with in 2 working days.
You can't use that money to send payment to anyone. If you want to send payment to someone, then add your credit card and send money through your credit card.