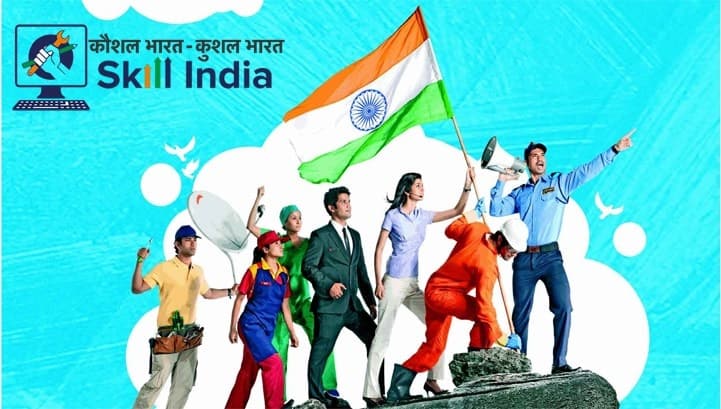 A comprehensive program to train and develop industrial, entrepreneurial skills among Indians was launched by Prime Minister Narendra Modi on July 15, 2015. The program is called 'Skill India.'
The move to tap potential of India is unprecedented in the country's history. Skill India is today a major project that involves every segment of the Indian society, local and foreign companies and governments.
Every ministry of the Government of India is involved in the massive Skill India program, billed as the world's largest initiative to train manpower in a single country or geographic location.
Skill India Mission
Skill India program will equip and train the nation's massive, enviable workforce with employable skills and knowledge. This will help them contribute substantially to India's industrialization and economic boom.
Over 400 million women and men in the country will be trained in various industrial and trade skills by the year 2022. Skill India program was launched on July 15, 2015 to enable Indian economy and industry to benefit from the country's young work force.
With these missions, Prime Minister Narendra Modi launched
This is the first time in India's history that a project that assures financial prosperity to all Indian citizens, eradicates poverty, reduces unemployment and helps develop Micro, Small, Medium Enterprises (MSMEs) is being implemented.
Skill India will help reduce dependence on urban and semi-urban jobs. It will provide ample work and business avenues in rural India too. It strives for gender equality for income in India.
The program involves public-private partnership. Several foreign countries including UK, US, Israel, Germany and France have signed up as Skill India partners to train Indians in specific skills.
Why Skill India
India is one of the youngest nations in the world. Over 62 percent of its population is aged between 15 and 59 years. Over 54 percent of the country's total populace is below 25 years.
It is estimated that average age of India's population by 2020 will range between one and 29 years. In comparison, the average age of population of US will be 40 years, Europe at 46 years and Japan, 47 years.
In the coming two decades, labor force of industrialized nations is forecast to decline by four percent. In sharp contrast, India will witness a boom of some 32 percent during this time span.
Skill India aims at tapping this vast potential of indigenous manpower. For over seven decades since India's independence, no such initiatives were taken to tap the potential of the country's workforce.
Features of Skill India
Train Indian citizens of all ages, especially youth, to get employment or launch own MSMEs.
Provide training, technical and financial support for various trades including leather crafters, blacksmiths, healthcare workers, fashion designers, Khadi and handloom artisans and others.
Skill India will also focus on core sectors including construction, gems and jewelry, banking and finance, transport and tourism and entrepreneurship.
Training provided to enrolled citizens will conform to international standards. To do so, India will partner with various countries and foreign educational institutes.
Trained citizens are expected to fulfill the demand for skilled manpower. Skill India also looks at training Indians for employment in industrialized countries of the world.
An internationally accepted standard of training Indian living in rural areas of the country is being undertaken under Skill India. This project is called Rural India Skill.
Courses offered under Skill India consider various factors such as age, geographical location, native language and financial status. It trains people in communications, troubleshooting, management, behavioral, entrepreneurial and social skills, among others.
Skills covered by Skill India
Agriculture: including floriculture, horticulture and all related branches.
Automotive: for all technologies related to motor vehicles, from concept and design to manufacture and maintenance.
Beauty and wellness: every skill required to provide body and beauty treatments to all sections of the Indian society.
Banking, Finance, Stocks and Insurance: development of skills to get employment in the financial sectors of India. These skills also promote entrepreneurship. This is a further boost to 'Pradhan Mantri Dhan Jan Yojana' for financial literacy and its related projects.
Capital goods: provides training on all aspect of design, development, manufacture and maintenance of capital goods such as machinery and equipment for home, office and industry.
Construction: for design to construction of all civil, industrial and military infrastructures such as buildings and complexes, bridges and subways among others.
Electronics: skills needed for designing, manufacture and maintenance of vital electronic equipment for home, office, industry and military.
Gem and jewelry: keeping in mind the huge domestic and international demand for Indian designed and made jewelry. Skills also include cutting, polishing and certification of gemstones.
Healthcare: primarily focused on providing healthcare at home and hospitals. Focus sectors and women and children, basic healthcare too.
Plumbing: for learning skills vital to providing sanitation and hygiene in all parts of India. These skills are required for ongoing 'Swacch Bharat' movement.
IT and ITES: courses will focus on further boosting the IT infrastructure of India, IT exports and IT enabled services, call center and related training. Extremely important skills for Smart Cities and e-government projects as well as move to cashless economy.
Leather: as leading exporter of leather and its products, these skills are being imparted at places known for its leather industries.
Media and entertainment: aimed at keeping the nation well informed with news. Skills in this sector also involve production of high quality media for educational purposes and entertainment.
Retailing: vital skills to sustain the boom of India's e-retailing and physical retail for goods made under 'Make In India'.
Rubber: with North East states coming under focus, rubber production is expected to boom. Skills involve everything from rubber tapping, synthetic rubber and production of high quality rubber products.
Security: skills vital to start your own security company or work in military, para-military forces and police. Security skill is key to defend the country against wanton acts of terrorism sponsored by hostile neighbors.
Telecom: India has a booming telecom sector with over half a dozen mobile services providers and two state-owned telecom companies. Skills needed to keep the telecom sector flourishing and boost connectivity with remote parts of India.
Advantages and incentives of Skill India
India's Ministry of Finance has launched the National Skills Certification and Monetary Rewards Scheme as part of Skill India. The objective of this scheme is to encourage skill development for youth by providing monetary rewards for successful completion of approved training programs.
Objectives, as mentioned on its website include:
Encourage standardization in the certification process and initiate a process of creating a registry of skills.
Increase productivity of the existing workforce and align the training and certification to the needs of the country.
Provide cash rewards for skill certification to boost employability and productivity of youth by incentivizing them for skill trainings
Reward candidates undergoing skill training by authorized institutions at an average monetary reward of Rs. 10,000 per student.
To benefit one million youth at an approximate total cost of Rs.10 billion.
NOTE: Indians who successfully complete Skill India courses can also avail of Mudra Bank loans under the Pradhan Mantri Mudra Yojana. Mudra Bank is the name of a scheme operated through designated banks operating in the cooperative, private and public sectors.
Entrepreneurship development by Skill India
A slew of courses aimed at imparting and honing skills for entrepreneurship are also available under Skill India. These include
Entrepreneur Development Program- General Category
Entrepreneur Development Program- Women
Gender Equality Opportunities
Counseling, Restraining and Redevelopment Schemes
Who can avail training courses under Skill India
All Skill India training courses are open to every citizen of this country, regardless of age, gender and location. Though primary focus is on youth, women and men within the working age range can also undergo training, subject to qualifications.
These qualifications include working knowledge of some industry and literacy. Skill India courses are available in various Indian languages, in a bid to deliver benefits to all ethnic groups of the country.
In addition, Skill India courses can also be availed by
Self Help Groups- General Category
Self Help Groups- Women
Economically challenged sections of the Indian society
Organizations battling child labor in India
Types of courses for groups
Courses available for groups and organizations include
Assessment of SHGs for starting MSMEs
Entrepreneurship and skill development for Skill India partners
Cluster development of communities, hamlets and villages, ethnic groups
MSME finance and budgeting
Enterprises for SHGs
Risk Management for SHGs
Training courses for Skill India trainers and educators
Trainers for Skill India and opportunities
Trainers in any sector covered by Skill India are welcomed by the Indian government. They can contact any of the Skill India related websites online and file applications. Trainers are selected purely on merit basis.
Remuneration paid varies according to the ministry and partner organizations conducting courses. Entrepreneurs are invited to tie-up with various ministries to offer training courses under Skill India.
Differences with earlier skills development initiatives
Every skill development initiative taken before 2015 was destined to fail since launch. They cannot be called truly nation-centric. Skill India involves people from grass-root level.
It does not limit teachings to Indian Technical Institute and other organizations. Skill India training courses are held everywhere- from posh star-rated hotels to open grounds in villages.
Earlier initiatives did not involve the common man as trainers. Skill India seeks active cooperation from skilled laypersons as trainers. Skill India is a multi- pronged attack on poverty, illiteracy, socio-economic discrimination, gender inequality.
It involves almost every ministry at state and Central government levels. Earlier initiatives were half-baked efforts to provide employment and not social uplift of entire Indian society.