Time to go
If you are able to choose the time of your appointment so do not be neither the first nor the last to go.
Indeed, the first person to be interviewed is often used as reference for people who spend after she and her rating is sometimes imperfect.
Similarly, the last person can undergo the fatigue of the recruitment team whilst having the burden to be immediately compared to all other candidates for each question answered.
Also avoid the late morning (hunger can make listening more difficult).
Outfit to wear on the day of the interview?
First, it is important to look clean and neat. Otherwise, just choose an outfit that suits the type of job applied for.
For girls (and for many reasons it seems unnecessary to detail here), try to avoid miniskirts and low-cut blouses a little.

If you are unsure, always opt for a classic unless required to apply for a job as a public entertainer! In any case, you should feel absolutely comfortable in the clothes you choose to wear.
Know how to dress for your interview
When preparing for an interview, dressing properly for an interview is very important.  The two main styles of dress that may be requested are Business and Business Casual.
* Business Attire
For either males or females, business attire demands that the candidate be dressed in a business suit.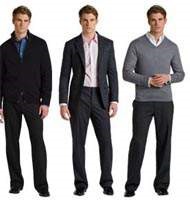 * Business Casual
Business casual usually means khaki pants and a button down shirt for males.  A tie is generally not necessary.  A short sleeve shirt with buttons at the top may also be acceptable.
For females, business casual can be nice slacks and a blouse or a skirt and a blouse.   It may also include a blazer or dress other than a suit.
Jeans are not acceptable as a form of business casual.