There're several instances when I've had to issue various kinds of letters and certificates to staff. Unless they require a letter or certificate that needs to address a person directly, I use the most common and general form 'To Whomsoever It May Concern.'
And usually, it meets the requirement of an employee that applies for to whomsoever it may concern letter or certificate.
Why's this common sentence so popular in India and other parts of the world? I'll explain briefly.
Significance of 'To Whomsoever It May Concern'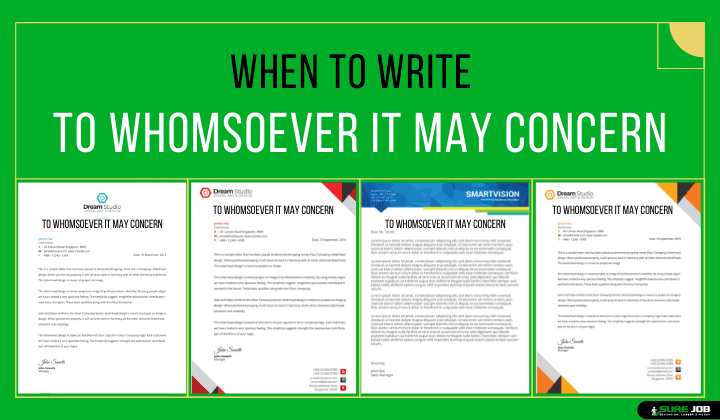 This sentence traces its origins to ancient England. Anyone from a domestic helper to a senior employee would need some evidence or proof of their service.
Also, they would need a brief description of their role with the employer as well as some certification about their service quality.
Furthermore, students applying for higher studies would also require such certificates as proof of their interest or excellence in a particular subject.
Generally, to whom it may concern letter issued on company letterhead and bearing a signature is proof of your employment, designation, quality of work, and sometimes, salary. It's also a reference letter of sorts.
Understanding 'To Whomsoever It May Concern'
In all these cases, the person issuing the letter or certificate would use the term 'To Whomsoever It May Concern.'
Because the sentence is very generic and can address anyone, it eliminates with the need to issue several letters that specifically address somebody by name.
Over centuries, this practice spread to British colonies too. Hence, you'll find the phrase 'To Whomsoever It May Concern' in almost every country, albeit with minor variants.
Now you might ask me, is this phrase still relevant in modern times? My answer is yes and no. There're strong reasons for this mixed response. Hence, I'll explain further.
When to Write 'To Whomsoever It May Concern'
There're no rules about when to write 'To Whom It May Concern' on any letter or certificate. Here're some common uses of letters and certificates where you'll have to use the term 'To Whomsoever It May Concern.'
Bona Fide Certificate: A Bona Fide Certificate is to certify that a student or employee is studying or working for an organization, with basic details such as class or designation and a number of years.
Loan Application Certificate: Banks and financial institutions sometimes require a certificate from the employer or educational institute while applying for a loan. It requires details such as salary and perks for employees. And details of the course for students.
Work Experience Certificate: Usually employers issue a work experience certificate to interns and workers upon completion of an internship or upon leaving or changing a job for any reason.
Lease Agreements: Nowadays, tenants require a certificate from their employer while renting a house. That's because it's compulsory for tenants and landlords to get police verification and clearance to ensure that no criminals or terrorists are renting the property.
Address Proof: A company that hires staff from other cities or states can issue the certificate to enable their employees open bank accounts or avail other services. However, this certificate is useful only if the employee will use the office address to receive correspondence from the bank. Reserve Bank of India's rules on Know Your Customer (KYC) make it compulsory for people to provide a permanent address proof along with a correspondence address proof.
Samples of 'To Whomsoever It May Concern'
Since the very term 'To Whomsoever It May Concern' is ambiguous and doesn't address any particular person or entity, there're no standard templates or to whom it may concern format you can use.
Suppose you have to issue a To Whomsoever It May Concern letter or certificate. Here's a sample of what 'To Whomsoever It May Concern' should contain.
The Name of the Student/ Employee in full. That includes first, middle and family names.
In the second line, state the designation of the employee. If it's a student, mention the class.
The third line should mention the starting date of employment or studies at the institute or organization.
Add a couple of lines of appreciation because they definitely help a student or employee for whatever they need the To Whomsoever It May Concern letter or certificate. Though you may have to terminate an employee, adding some kind of vague appreciation ensures you don't ruin their career.
Include best wishes to the certificate or letter holder for their future endeavours: it speaks well about your corporate etiquette.
Last and most important- include a disclaimer. Meaning, explicitly state that a To Whomsoever It May Concern letter or certificate has been given upon request of the student or employee. And that your organization bears no liability of any sort arising from the certificate or letter. This protects your reputation and can save some legal hassles.
Here's something extremely important. A To Whom It May Concern letter or certificate has to be signed by someone rather senior in the organization.
It could be the head of the HR or Administration department or even the CEO. The letter has to be signed by the principal or dean for students.
Alternatives to 'To Whomsoever It May Concern'
Honestly speaking, I've yet to come across better alternatives to 'To Whomsoever It May Concern.' However, you can use some of these examples instead of the traditional 'To Whomsoever It May Concern.'
To The Employer
To The Bank Manager
For Lease & Tenancy Agreements Only
Certificate of Work Experience
Certificate of Employment & Resignation
Best Wishes for Future Endeavours
Letter of Farewell
Clearance & Charge Handover Certificate
In some cases, an employee or student may ask for a letter addressing a specific person. If that's the case, get the person's full name with proper designation and organization as well as their postal address.
Never Falsify Information
Over the years, I've found that 'To Whomsoever It May Concern' works the best in India. However, you may wish to use other phrases and sentences.
I'll add that never falsify any information on a To Whomsoever It May Concern letter or certificate. It speaks ill about you personally and your organization.
As I mentioned earlier, you can commend a bad or poor employee positively yet vaguely.
Nowadays, several employers conduct Employee Background Screening (EBS) or Pre-Employment Checks. Hence, it's possible to detect any false claims immediately.
Banks and other lenders also have their own methods of checking whether a borrower is capable of repaying a loan or can default. One of them is credit scores. Therefore, ensure the information is accurate.
Closing Thoughts
Over the years, I've found that 'To Whomsoever It May Concern' works best. I follow the same guidelines I'm mentioning above. You can choose what you wish to write instead of 'To Whomsoever It May Concern,' depending upon your needs.