Higher education is desired by everyone. An excellent college and university degree somewhat assures a good career and resultant financial well-being for the future.
Despite inherent advantages of superior education, a growing number of students find themselves stonewalled due to lack of finances. Shortage of funds to pursue higher studies usually occurs due to economic stature of a student's family.
Relatively affluent families may lack spare income to pay exorbitant fees demanded by reputed colleges and universities. Educational loans are lifesavers for such students. Yet, a wrong move can land a family in financial doldrums and spell doom for a chosen career.
Understanding education loans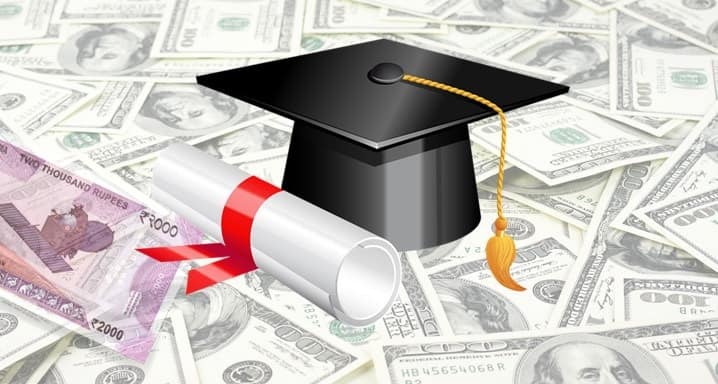 Educational loan is offered by banks and other established lenders. It covers annual fees payable, entrance and exam fees to the educational institute for duration of the course.
The loan includes expenses on books and study material. For studying abroad, an education loan may cover a student's living expenses such as hostel fees.
Banks offer an educational loan based upon academic record of a student. They verify if the student is brilliant and has an aptitude for the chosen study course. An education loan is exclusively for higher studies.
Diverting the loaned amount for any other purpose, however pressing or sacrosanct, is not allowed. Banks charge processing fees and other charges from loan applicants.
You can apply for education loan before getting admission to a college or university, to include as 'Proof of Funds'. Or you can apply for the loan after getting confirmed seat for your course at the college or university. Education loans are given to students seeking higher studies in select institutions only.
In India, education loans are available for studying in over 100 colleges, universities and institutes approved by University Grants Commission (UGC), All India Council for Technical Education (AICTE) and Indian Medical Council (IMC). You can check Vidya Lakshmi to find information & apply for the loan.
For studies abroad, job-oriented professional graduate and post-graduate courses like MCA, MBA, MS, courses conducted by CIMA – London, CPA – USA are eligible for education loan.
Refer:-
Amount of education loan
The sum of money you can borrow to fund education ranges between Rs.50,000 and Rs.1,000,000 for studies in India. For studies abroad, you can borrow up to a maximum of Rs.5,000,000. Amount disbursed varies per bank.
Educational loans come with a payment moratorium. Repayment is by Equated Monthly Instalments (EMIs) commences after the course is completed. Loans are of five to seven years duration, but can be extended at the bank's discretion.
Interest rates vary from 7.5 percent to 10 percent per annum. Some lenders credit the loan amount to the borrower's bank account. Others pay the educational institute directly, during span of the study.
Loans below Rs.400,000: No guarantor
Loans between Rs.400,000 and Rs.1,000,000: Guarantor/s required. Guarantors should have sound credit record.
Loans above Rs.10,00,000: Guarantor required. Borrowers are also required to furnish collaterals such as plot of land, house or jewellery or other items accepted by banks.
Terms and conditions to avail education loan, amounts given differ with banks. It is advisable to check with your preferred bank/ lender about their rules governing education loans.
Who should avail an education loan
A loan is money spent before earning. Education loan is no different. It is an amount of money borrowed by a student. Parents are co-borrowers or guarantors. The loan is repaid with an interest, which makes the repaid amount higher.
For example, you will pay EMI Rs. 21,370 on education loan of Rs.1,000,000 for a duration of five years with 10.25 percent interest and two percent service fees. Meaning, you will pay a total Rs.1,302,215 to lender. Bigger loans require tangible collaterals. Opting for education loan is thus advisable for'
Students whose parents can easily afford the EMI.
Parents who can offer 'tangible' collateral specified by the bank such as land or house that are not mortgaged to any other entity and gold, among others.
Students hopeful of earning monthly income in excess of EMI.
Staying within these parameters is vital. Students will usually experience waiting period from graduation to earning. Freshly employed graduates might not immediately earn incomes that can bear the education loan burden.
Reality check on education, loans
India's Vice President, Dr. Mohammad Hamid Ansari, in a recent speech lamented:
"Almost 59 per cent of students in higher education are enrolled in private institutions. While some of these maintain high standards, a majority are lucrative degree-granting portals where infrastructure is not adequate and admission procedure is not transparent."
Expressing concern over the lack of research and heavy financial burden on parents due to educational loans, the vice president had warned.
According to the finance ministry data, by December 2014, some 30 lakh students availed of educational loans totalling Rs.70,475 crore. Or about Rs.234,000 per student.
Beware of what you study
In recent years, mushrooming private colleges and universities is churning out more graduates in specialized fields. Traditional favourite streams of study- engineering, medicine and management studies continue to rule high despite low demand.
Indian Medical Council estimates over 200,000 qualified physicians countrywide are languishing sans employment. Medical colleges in India churn out some 50,000 doctors annually.
All India Council for Technical Education reports, 60 percent of the one million engineers who graduate every year, go unemployed. Of the nearly 350,000 Master of Business Administration degree holders from government and private universities, a measly seven to 10 percent find employment.
Those who get jobs find themselves getting paid poorly- about Rs.10,000 per month, a study conducted in 2016 by the Associated Chambers of Commerce and Industry of India, revealed.
Before rushing to take education loan from a bank, consider above facts. Courses mentioned are expensive and a wrong move can cause immense hardships to student and parents.
Problems faced by education loan
Every loan has intrinsic drawbacks. In the unfortunate event of being unable to service an education loan- meaning pay regular EMIs, you can face immense problems. These may prove detrimental to futures of family and student.
A poor credit score
Nowadays banks, lenders look at credit ratings of individuals before advancing a loan. Education loan dents your credit ratings by some degree. Your prospects of a future loan to buy office or home can be severely marred.
Heavy penal interest
A missed EMI also attracts interest. You may end up paying much higher in repayment to the lender than initially planned, adding to overall cost of education.
Financial hardships
Your parents may be forced to cough up stiff EMI amounts should you fail to get a job that buffers this monthly expense. While education loans are availed for a good purpose, they can soon become a bane.
Dropping out
The bank reserves the right to charge you interest for the full loan amount. Should you drop out of a college or university- lenders will levy service charges and other fees for cancelling the loan.
Abrogation of the loan
Several genuine reasons may force you to default on the loan. The bank reserves rights to cancel your loan and seek full and immediate repayment of the outstanding amount.
Inability to buy essential goods
Educational loan may force you to postpone or abandon plans to buy a bike or vehicle that could be essential to commute between home and college.
Bad rating of college/ university
Your education loan may go waste if the degree earned has no standing in employment market. As pointed out earlier, some universities are "mere degree granting portals."
Inability to change course
Education loans are given to study at specific universities. Options to change university or course, becomes restricted when studying on education loan.
Options to avoid education loans
Several available options can be exercised to avoid taking education loans.
Scholarship: Higher education colleges and universities offer full or partial scholarships to meritorious students. This helps you to study almost free. Apply for these before approaching a bank for education loan.
Government grants: Central and state governments of India offer several grants and schemes that waive fees or help students pay lesser.
Community schemes: Organizations of various ethnic communities provide scholarships and grants to students from their clan. These all-inclusive scholarships are a great way to avoid education loans.
Earn and learn: Earning and paying for your studies is an option offered by several educational institutes. They offer evening and night classes for such students.
Earning for EMIs
When taking education loan becomes imminent, you can help buffer the EMI burden by working. This enables you to settle a major chunk of the borrowed amount before completing the course.
Proper loan servicing results in great credit ratings.It also helps circumvent any financial hardships you may face later. Working also helps acquire soft skills vital to study or future profession.
The flip side however is, your job may take precedence over studies, leaving you little time to earn the coveted degree.
Physical and mental health
Studies indicate, education loans play havoc on student's physical and mental health for various reasons. EMIs also mean your family cuts expenses on certain things. This causes a cascade effect on students and their family.
The family comes under financial duress. Students are driven to score high at exams- either through genuine studies or stressful memorizing only to pass.