When you've got a disability, getting to and from your employer's workplace on a daily basis can be a real hardship.  The option of working from home, on the other hand, can be extremely attractive, providing a steady income along with convenience, privacy, and personal flexibility. The challenge? Finding work that can be done solely from your home office. Some options to consider:
Be a customer service rep. Phone-based customer service is an ideal fit for many individuals living with disabilities.  Usually all that's needed is a phone and a computer, and most required software is adaptable to individuals with disabilities.
The National Telecommuting Institute (NIT) is a reputable organization that focuses on finding and creating work-at-home jobs for people with disabilities.  They contract with private and governmental entities that need to fill either short-term or long-term positions.  The jobs are usually between 15 and 35 hours per week, and starting pay is around $9 per hour.  However, opportunities for advancement do exist, and supervisors have the potential to make substantially higher incomes.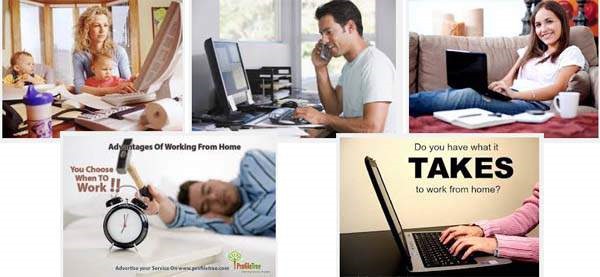 Create and maintain a high-demand website.  If you have the skills (or are willing to learn them) to create a website that provides information on a popular or high-interest niche market, you may be able to make money by offering "affiliate advertising" on your site. Offering space for "banner ads" is, in fact, a popular and possible way to generate a decent stream of revenue from home.  The business model: advertising programs such as Google Adsense provide web proprietors with ads that will easily integrate into their website, then the site owner receives payment every time a site visitor "clicks" on the ad.
If you've got both entrepreneurial and IT skills plus a good understanding of the Internet environment, think about building a web- based business (for yourself or clients) by creating websites that provide content, services, or resources that are in demand, then go after those advertisements!
Create a popular blog.  Another opportunity related to the Internet world is that of creating a blog.  If you're a good writer with a knack for engaging content, your writing may be able to earn you a steady stream of supplementary income.  Like websites, blogs that generate large amounts of page views can generate significant incomes through affiliate advertising programs.
Become an eBay and other online marketplace vendor.  If you're a creative person who makes quilts, candles, lamps, or other crafts, you may be able to sell your wares on eBay.  The ebay marketplace can expose your products to viewers across the world, and also provides a relatively safe and secure way to exchange products for money.  If you don't have a product already, it's also possible to locate merchants who will provide products in bulk at cheap prices.  Then, you can re-sell those products individually for a profit. However, when dealing in the virtual marketplace, it's extremely important to err on the side of caution and, when possible, thoroughly research all parties you're doing business with.
Provide virtual assistant services.  Using phone, fax, and e-mail, virtual assistants provide clients with contract administrative, organizational, and personal support that may include transcription, bill paying, correspondence, document filing, bookkeeping, and other services. These are provided "virtually" or at a distance – VAs rarely travel to a client's office, instead providing their service from their own home offices. Some potential clients for a VA business might include independent entrepreneurs, or solo/small businesses, such as lawyers, realtors, or computer consultants.
To find out more about the VA option, check out The International Association of Virtual Office Assistants (IAVOA) at www.ivaa.org.
Will Working From Home Work for You?
Is working from home a good choice for you? If you are self-managing, well-organized, and have good time-management skills, the answer may be a resounding "yes." But before you consider this option, it's probably a good idea to visit your local library and pick up a couple of books on self-employment to determine whether your temperament and circumstances suit the challenges of going independent.
Beside the options I have just mentioned above, you can also find number of other online job opportunities here and check which one is best suitable for you.
It may be possible not to earn full time income from a single option so you may start with 2 or multiple work from home jobs. As there won't be anyone to guide you in work from home option, you need to act smart and learn from each and every step you take.