Doing a job is a necessity in order to make money and live a wholesome life. There are millions of jobs and different people are doing them to fulfill their needs and future requirements.
However, more often than not, people doing these jobs aren't satisfied with the work they are doing. And many people are simply doing the work they do just to get the money.
This leads to utter dissatisfaction which later reflects in their personal life and snatches the satisfactory and happy life of millions of people.
Are you looking for a job that matches your passion? If yes, then you have come to the right place. Here, you will know about 5 jobs where you can follow your passion.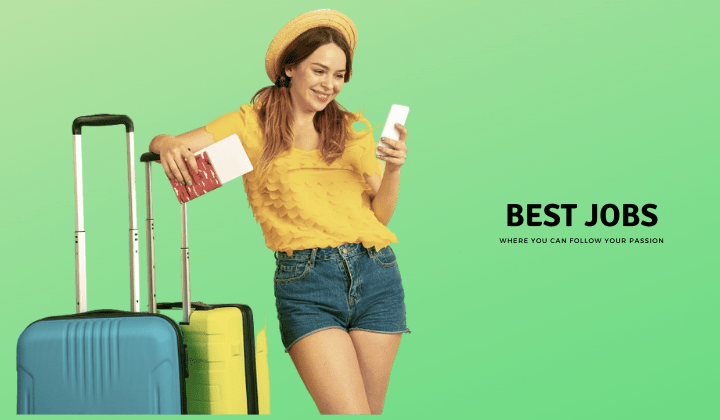 Why should you follow your passion and look for a job that fulfils it?
At present, the internet has helped create thousands of job opportunities that can help people follow their passion. Previously, there wasn't such a thing as a 'happy job'.
But since you are living in this era, you might as well prioritize your happiness and passion, and look for a job that provides you both. There are many job search sites that can help find your dream job that makes you happy.
Many of you must be thinking that a job that fulfils your passion won't help you earn much, but trust me, after reading this article, you will come across such jobs that fill your bank balance and make you happy at the same time.
5 Best Jobs Where You can Follow Your Passion
Different people have different passions, so in this article, we will talk about five general jobs that most people are passionate about.
1. Traveling
Without a doubt, most people love to travel. Traveling not only helps people find themselves but also increases their experience.
Travelling gives new meaning to life and the challenges in between help you as a person to tackle all the adversities. Some people travel to visit places while others travel to experience the food and culture.
There are many professions that allow you to travel countries and visit places. There are a few companies too that hire people to travel. By far, these professions allow you to travel and help you earn decent money at the same time.
Airlines: Airplanes daily travel between countries and that's how the cabin crew including a pilot, flight attendant, and other staff members get to travel every day and visit new places and meet amazing people on the go.
Journalist: As a journalist, people get to travel to new places and cover different stories circulating around different communities.
YouTuber/Blogger: As a travel Youtuber, you can travel to new places and entertain your audience. You can make good money from YouTube. There are many brands that sponsor trips like Expedia, Couchsurfing, the official tourism department, and many more. You can even start a blog where you can posts tips, ideas and images of the places where you travel.
2. Social media influencer
Everyone loves to be famous and entertain people or provide them valuable information. Social media influencer is a generalized term for people who are big on social media and have an audience.
Influencers upload content on various niches like travel, fashion, lifestyle, and so on. The interested people follow them and that's why they are called influencers.
Social media influencers get brand deals and sponsorships that help them collaborate with brands and make decent money. If creating content interests you, then you should try becoming a social media influencer.
3. Freelancer
Freelancers are people who aren't affiliated with some brand and take projects from multiple clients to earn a living. Freelancing is one of the hottest career choices for individuals as it gives them the freedom to choose when they work and where they work.
Freelancing is an amazing option for people who want to get more exposure and be their own boss. Freelancers could be-
Writers: you can write content for various brands and agencies at the same time to earn more money and later you can even open an agency that provides writing facilities to brands.
Graphic designer: if you are a graphic designer and know how to design logos, graphics, carousels, magazine covers, etc., then it is a perfect option for you. All you need is a designing device like an iPad and lots of creativity.
4. Photographer
Most young people these days want to be a photographer. Some photographers are self-taught while others take special training to learn the basics and advance of photography.
As a photographer, you will also get to visit many places and give you free time to enjoy life and other things as well. Therefore, becoming a photographer also fulfills other passions in your life too.
If you want to be a photographer, the first thing you need is a high-quality camera. It is indeed an expensive profession but it pays off well once you start selling your pictures to big brands and magazines too.
There are many companies that hire professional photographers and you can open your photography agency too. With the popularization of pictures on platforms like Facebook, Instagram, Unsplash, Pixlr, etc., more photographers are being discovered.
To become a photographer, you have to learn all the basics and after that, you can either freelance or join a company.
5. Open your own business
This is the era of small businesses. During the pandemic, many people lost their jobs and many of them decided to pursue their passion by opening a business of their dreams, be it a restaurant or a handmade gifts agency.
Opening a business can be equally risky but can give good returns too. You can also hire other people and give them the opportunity to stand on their feet again.
If doing a job doesn't interest you, then you should consider giving life to the startup idea inside your head. At present, there are many free options for businesses on social media and you can utilize.
Conclusion
In this article, we discussed the most common jobs that can help you find your passion. These jobs are well-paying and make life more fulfilling than ever. Finding a passion-fulfilling job is not a very daunting task if you know exactly what you want to do.
As an individual, you can have a different passion than the one mentioned here. Here, only five main professions were discussed.
Therefore, if you have some other passions, then simply follow them before getting stuck with a job that only gives you money but not mental peace.