Graphic design is a form of communication that includes visual content. The visual content can include anything in the form of pictures, typography, illustration, icons, and so on.
With the evolution of technology, graphic design has become more popular than ever. Design is everywhere. From the customized t-shirts that you wear to the packaging of your favorite snacks, graphic design manifests pretty much everything.
The Internet has become a new ecosystem for graphic designers, and every day, millions of people share content that includes graphic design in one form or the other.
In this article, we will look at various career opportunities, scope, and platforms exclusively for graphic designers.
Types of graphic design jobs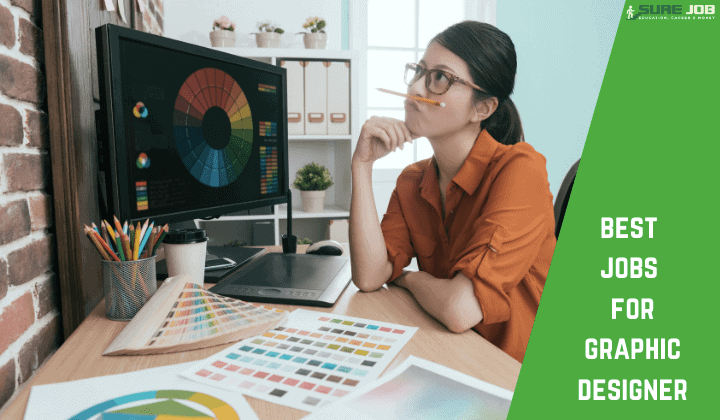 1. UI designer
It is also called a User Interface Designer. The job of a UI designer is to make sure the proper functioning of machines and software.
Have you ever thought about how a website transition takes place, or how smoothly you transit from one screen to another? Well, the UI designers do that.
It is an intricate job and requires deep expertise. To know more, read this.
2. UX designer
User Experience Designers take care of the interaction between humans and websites, apps, etc.
It utilizes principles of marketing, psychology, technology, and obviously designing. The designer spends a huge amount of time in research. On one end, it focuses on the visual subtleties, on the other hand, it takes care of accessibility by its users.
To know more, check this out.
3. Multimedia Designer
Multimedia designers deal with illustrations, videos, sound, and pictures. They derive inspiration from nature and surroundings to make an appealing artwork.
They have to learn how to use different software and combine it with their creativity to create awesome videos, posters, sketches, animations, etc.
4. Web Designer
Web designing includes website designing. A web designer has a sound knowledge of the web and knows how to make a website appear beautiful and functional altogether.
The sole duty of a web designer is to provide a better user experience as well as to give a professional and thematic touch to a website.
Web designers not only focus on the visuals but also on the content, theme colors, page continuity, font of the website.
5. Logo Designer
A logo is a brand in a nutshell. It represents the essence of a brand and creates an impression among its customers. A successful logo is more than just a symbol; it helps the customers recognize a brand/
Companies invest a lot of money in logo designing. Not every graphic designer can make a logo because it needs dense creativity and proper use of positive and negative space.
Can you recall the logo of Nike or Apple? I am sure that your mind formed an image of both the logos. This is why logo designing is very crucial and taken seriously by all brands.
6. Brand Identity Designer
Brand identity can come in different forms like merchandise and brochures. Brand Identity designers prepare all the visual elements and make them in a way that represents the brand. They design things like stationery, brochures, advertisements, posters, etc.
Companies hire brand identity designers to convey the company's motto in the form of visual products.
You probably have received pens, journals, or calendars of a particular organization. All of them come under brand identity designing.
7. Creative Director
In the entertainment field, a creative directive is someone responsible for directing a team that produces billboards, artworks, ads, etc.
The team consists of copywriters, photographers, and graphic designers. The creative director has ample experience and a creative mind. They can manage and mentor the team at the same time.
8. Photo Editor
A picture can tell a thousand stories, you know that. Editing a picture is an intricate process and it is meant to enhance an image's appeal. There are several software and applications that allow picture editing. For example, Adobe Photoshop, GIMP, Canva, and Picsart.
Photo editing is an everyday chore for a graphic designer. E-commerce companies, websites, magazines, newspapers, etc., require photo editing on a daily basis.
If you don't know photo editing yet, you can learn it online. Enroll in different courses and get familiar with photo editing.
9. Social media designer
Online presence is all about creating content. It helps a brand to enhance its image and an individual to improve personal branding.
The role of a social media graphics designer is to make relatable content and captivating posts that entertain most of the audience.
Nowadays, social media is about experimenting and creating individual benchmarks. This is where the role of a social media graphic designer gets more important.
10. Layout designer
Layout designers create the templates/ format for things like magazines, flyers, booklets, leaflets, posters, etc. Their job is to select the color, gradient, quality, typeface, and images in a way that mollifies the eyes of a user.
It also involves a lot of thinking and planning to fit all the elements so that the users understand it easily.
11. Packaging Graphic Designer
Believe it or not, packaging affects the sales of a product. This is why McDonald's and Starbucks have huge annual sales.
Be it an established company, or a startup, everyone focuses on the packaging to any observable extent.
With the rise in competition, brands are experimenting a lot with their packaging. This is the reason why package designers are in demand.
12. 3D graphic designer
3D graphic designers exclusively work in three-dimensional designing software. The designs they make are more realistic and lively. To create a better impression on the audience, companies prefer 3D designs, especially for advertisement campaigns.
13. Product designer
Product design is a type of 3D design. Here, the designer designs a product according to the specifications the company provides.
For example, designing notebooks, cosmetics, crockery, etc.
Product designing utilizes in-depth knowledge in designing and knowledge of that product.
14. Book Cover Design
You must have heard this line- 'don't judge a book by its cover.' The truth is people judge a book by its cover. This is the reason why most authors always look for a graphic designer who can design a captivating book cover.
Everyone wants their book to become a bestseller, and an awesome book cover can make it true (if the content is just as good, obviously.)
15. Mobile App Designer
Every day, people and brands from all over the world upload thousands of apps on the Playstore. In an app, user experience matters the most, and an application designer can improve it manifold by incorporating elements of design to it.
They know how to make suitable icons, user interface, font, colors, etc. to make a better app.
16. Environmental Graphic Designer
Environmental graphic design takes graphic design to a new level. It involves the proper use of creativity, vectors, and theme to enhance the appearance of different places. In an institution, say an airport, for example, environmental graphic design can help in wayfinding, getting familiar with different cultures, and much more.
Effective environmental graphic design helps connect people and make them familiar with a place.
It is also used to enhance the user experience in places like theme parks, tourist sites, auditoriums, and other public places.
17. Customized T-shirt Designer
Online customized T-shirt selling has become quite popular. People make lots of money by just selling minimal design T-shirts. A T-shirt designer has the required skillset and unmatched creativity. A great customized tee is all about pun and a message, and a tee designer knows how to do it.
Oftentimes, companies and organizations hire graphic designers to design a unique T-shirt for them.
18. Advertising Graphic Designer
Advertisements need to be extremely creative, or else brands lose. Therefore, brands always hire experienced and excessively creative designers that have creativity at the tips of their fingers.
The main aim of advertising is an increment in sales. Therefore, it has to be captivating.
Have you ever noticed the advertising campaigns of Burger King or 'privacy? That's iPhone' campaign by Apple? If not. Then you need to see it and know it for yourself.
19. Flash Designer
Flash is a program by Adobe that is used for creating animated websites and games. It is done with the help of raster and vector graphics. The specialty of vector graphics is that they can be scaled without distortion.
However, by the end of 2020, Adobe Flash will stop getting updates. Softwares like HTML5, WebGL, and WebAssembly will replace the program.
To know more about it, click here.
20. Vehicle Wrap Graphic Design
A vehicle wrap is the most efficient way of advertising. Big companies have their customized vehicle wraps and ship their products on them. The role of a vehicle wrap designer is to design a creative wrap that represents a brand. food/ beverage/ oil companies use this form of advertisement commonly.
21. Animation Designer/Motion Graphic Designer
Animation and motion graphics are used in videos, presentations, animated text, etc. it gives motion and life to the design, and therefore, it is used more commonly in this age of social media.
Even if you aren't a motion graphic designer, you can create such designs on Canva. If you want an in-depth knowledge of motion graphics, you need to have knowledge of software like Cinema 4D, Final Cut Pro, Adobe Photoshop, and Adobe Illustrator, etc.
How can you become a graphic designer?
The best way to learn graphic design is by pursuing a degree in fine arts or designing field. However, most graphic designers are self-taught. They developed an interest in graphic design and chiseled their skills on their way. You can utilize free sources on the internet Youtube or books to learn more about graphic design.
If you want to go a step further a become a professional graphic designer, you should invest some money in online courses. Skilled graphic designers from all over the world make these courses and some of them might help you on your way.
Have knowledge of different software
Graphic design is all about using various software to make the perfect illustration. If you want to know how people make amazing graphics, you should learn to operate software like Adobe Photoshop, Adobe Illustrator, GIMP, etc.
If you know how to use them, you are closer to becoming a graphic designer than you think.
Pursue a degree in fine arts or design
Most students that have a knack for designing pursue a degree in graphic designing or a similar degree in fine arts.
What is the use of such a degree? It helps you to learn the basics of design, principles, and elements of design. You can apply these nuances in your projects and become a better designer.
However, keep in mind that to become a functional graphic designer, you must have knowledge of the software mentioned above.
Complete an online course in graphic design
If you don't want to invest a huge chunk of money and still want to become a graphic designer, try completing some online courses in graphic design. These courses will give you a deeper insight, and they are more affordable than the degrees.
Check out the Best online graphic designing courses
Showcase your designs
In graphic designing, your graphics speak for you, just like art speaks for the artist. Therefore, you must have a strong portfolio. A portfolio is a collection of your completed projects. If you don't know how to create a strong portfolio, check this out.
There are myriad platforms where graphic designers from all over the world exhibit their designs and draw attention as well as money.
Some of the best platforms for you as a graphic designer are discussed below. If you haven't made an account already, make it now and let the world know about you. This will help you in finding your dream job and you can make more money than ever.
Instagram
There is no doubt that Instagram is one of the most used social media platforms. You can easily share your designs and get feedback from people. You can get big projects here too. All you have to do is post actively and use pepper hashtags.
Once you grow enough followers, clients will approach you.
I suggest you make a youtube channel and post your designing videos there too. This will create a better impact on your audience, and you will make more money.
LinkedIn
LinkedIn is the best social media platform to find gigs and jobs. On LinkedIn, you can engage with your connections and upload your portfolio. You can post your best design with a witty caption. The key to finding any job/gig on social media is all about iterating with potential clients. This is best done by posting your content regularly.
Behance
Behance is an online-portfolio platform exclusively for designers. Adobe acquired Behance in 2012. Here, you can showcase your finished design, upload behind the scenes videos, etc.
Designers from all over the world use Behance to portray their talents.
You can also find jobs that perfectly match your interests on Behance.
Check Behance to find out more.
Pinterest
Pinterest is more than just a platform for aesthetic lovers. The best thing about Pinterest is its reach. Every month, 320 million people use it. Therefore, uploading your designs on Pinterest can be beneficial for you. If you have a website, then it is the icing on the cake. You can increase your website reach by using Pinterest.
Dribbble
Dribbble is another platform for digital designers. Here, designers promote their work and exhibit their portfolios.
Check out dribble to make an account and find out more.
Graphic designing job
Finding a job is not easy, but it is not impossible if you have the right approach to it. Graphic designers are either in-house employees or freelancers. The essence of finding any job depends on how appealing your portfolio is. Therefore, pay attention to your portfolio and make it stand out.
I suggest you make a website and get active on the social platforms listed above.
If you are looking for new projects, try out these freelancing websites.
Upwork is one of the most trusted freelancing platforms. Designers from all over the world use Upwork to find a job/project.
You can pitch for designing gigs and make anywhere between $10- 50 per hour. It depends on how experienced you are, and your specialization.
Fiverr is another freelancing platform where people can find good work for less money. There are no entry fees. You can start from $5 per hour, and, with time, you will earn more.
In Guru, you can find the logo and other designing gigs. You can set an hourly rate anywhere between $5-$25 per hour in the beginning. The employer tracks your progress over time with a software called TimeTracker.
Toptal is a great platform for designers. You can make anywhere between $20-$200 per hour. For selection, however, you have to pass an online interview.
At people per hour, you can find lots of freelancing designing gigs. You can make $10-$25 per hour in the beginning.
On freelancer.com, you can expect myriad designing gigs, you can bid for projects that you find interesting.
Here, you can make between $7- $20 per hour if you're a beginner.
99designs is exclusively for designers. Here, you can share your artwork and clients can find you. You can make $25 per hour here. However, graphic designers often prefer other platforms to make money.
Apart from these platforms, you can also find work on Behance, and Dribbble. I have described them above in detail.
Graphic designing expected salary
According to Glassdoor, the expected salary for a graphic designer ranges from $44,000 to $55,000 per year. In the beginning, you have to struggle, but your hard work will pay off ultimately. A graphic designer makes more money than most occupations. However, this is an ever-changing field. You have to accept the changes and keep on learning new software.
If you have chosen graphic design as a career, uncountable opportunities await you already. Work hard and let your portfolio do that talking.
To know more about the statistics, check out this website.
Conclusion
Graphic design has a huge scope. There are lots of opportunities in this field, and it will continue to grow as long as humanity exists.
If you have a knack for designing, you should try pursuing Graphic Designing as a full-time career. If you are already into graphic design, it is even better.
The pay scale of a graphic designer is lucrative for freelancers and in-house designers as well. After reading the article, you are now aware of the scope and opportunities in this field.
Unleash the creativity inside you and let the graphic designer inside you come out with flying colors.
Also read- Top 21 English Speaking Courses