In most situations, people do not even think about the fact that there are different types of resume formats that can be utilized. It is common that one style is used for every single application and this is actually not a good idea. The most popular style is chronological. We will talk about it below but this is just the one that enjoys the highest popularity. It does not mean that it is the best one that you can use in all circumstances. You need to at least know about the best of all different types of resume formats.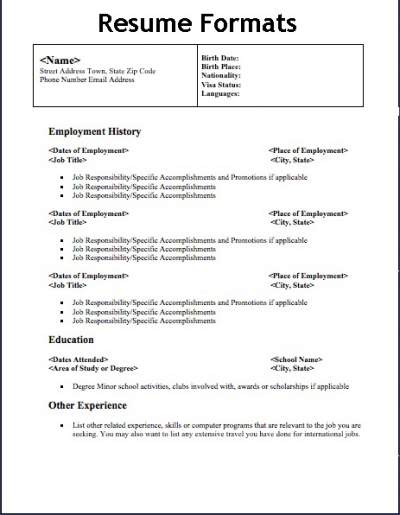 Chronological Resume Format
This is the preferred one out of all different types of resume formats and it is perfect for those that have been in the same field for a long time. Never use it in the event that you worked in a completely different field and you want to try something new.
The Chronological format is not good for you in the event that:
The recent experience is not linked with the job that you're applying for.
You want to land an entry level position and you lack work history.
There are history gaps present between jobs.
The resume shows that you worked at most jobs for less than one year.
Functional Formatted Type
This is one of the most overlooked of all different types of resume formats. It is centered on accomplishments, skills and experience. The main focus is not on jobs. It is the perfect choice if the Chronological type is not a good one in your case. Use it when:
You want to re-enter the market when past experience is not strong or a long absence was seen.
You are gunning for entry level positions and there is a lack of experience.
The work history has many positions but there is no professional growth.
Hybrid Resume Format
We have noticed that this is the one type that is constantly gaining in popularity. Out of the different types of resume formats, this one allows the most flexibility. It is a combination of the Functional and Chronological styles. Everything basically starts with a functional skill set description, highlights key qualifications and words that the employers want to see and continues with the employment history, analyzed chronologically.
You should consider using the Hybrid style if:
You want to change careers. You highlight skills and then you show how experience might be relevant.
You are not successful with the Chronological format.
You want a position where you think you can easily perform needed tasks but the past experience is not strong.
Even if the Chronological style is the most popular of all different types of resume formats, you might want to use the Hybrid one so that a better focus is put on skills and knowledge. This can help you out a lot but is a disadvantage in the event that you meet an employer that only wants the Chronological style. Make sure that you do research to see what resume format is better suited in your case.