Nowadays, everyone is making investments, most of which are primarily in the stock market. Since 2020, the covid-19 has significantly impacted the world's economy.
Many people earn money through intraday trading and long-term investing in different stocks. And to make investing in the Indian stock market easy, trading apps play an essential role.
Why Investing in Stock Market?
Investing in the stock market has become very popular in India. Today Indian share market is dominated by retail investors. According to an SBI report, The number of individual investors in the market has increased by a whopping 142 lakh in FY23.
There are a few reasons why we should invest in the stock market:
Investing and trading in the stock market help to manage our finances.
Investors and traders can get higher returns from their investments.
The investments are future-oriented.
The investments help us to teach where we should utilize our money.
So if you are ready to invest your money in the stock market for higher returns, I will share with you some of the best trading apps in India to help you make your investing easy.
15 Best Trading Apps in India for 2023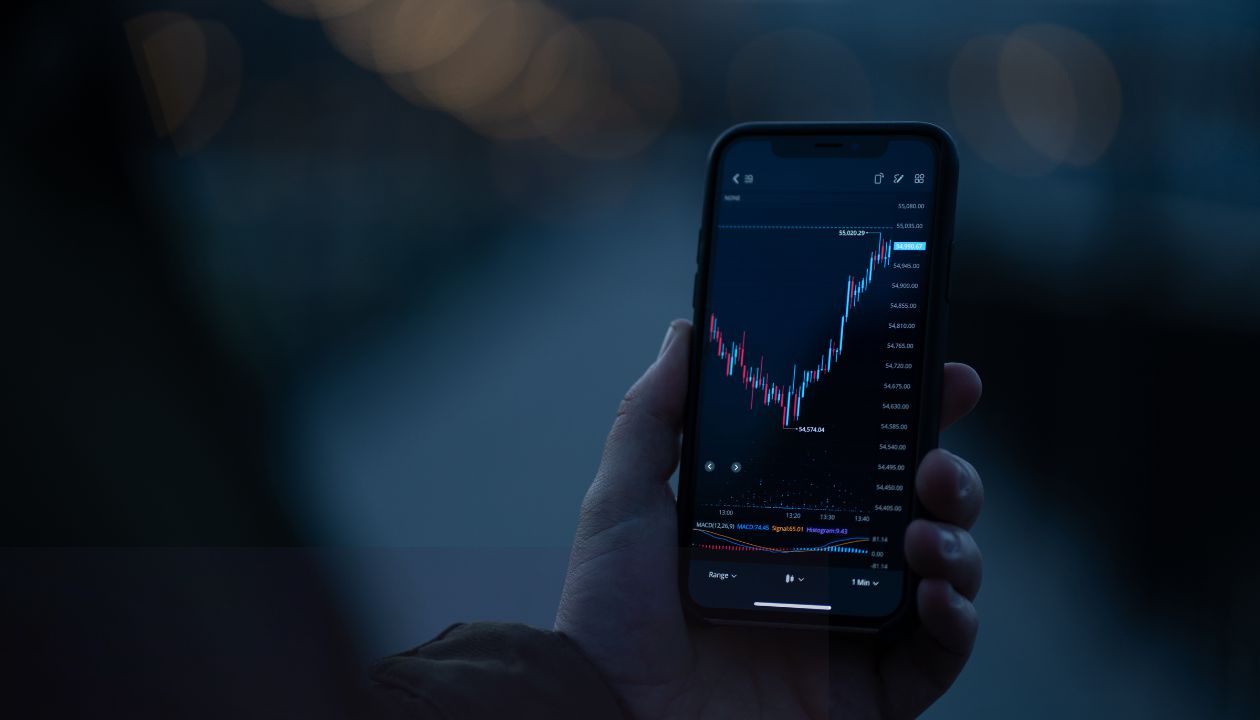 These are the best trading apps provided by top stock brokers in India. You can start day trading or purchase share for long-term investment. These online trading apps are beneficial, even for beginners. You can download these trading apps on your android or iOS mobile.
1. Kite by Zerodha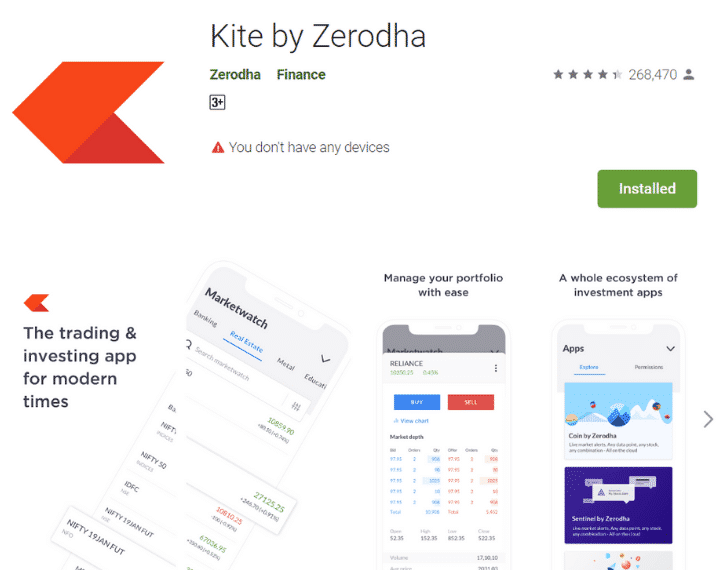 The Zerodha has introduced Kite for the web and mobile phones. This is the best trading app used by millions of Indians for stock market trading. The app charges zero brokerage for making investments but charges flat Rs. 20 for F&O (future and options) trading.
The app has a 4.3 Google rating, and this app provides a clean & intuitive User Interface. The app runs a super-fast and super-light backend for all investments and trading.
Features
Zerodha's kite uses a Biometric fingerprint or Face ID to log in.

You can find a Universal overview screen for all instruments.
You will get push notifications for Order updates.
You can access TradingView charts and ChartIQ on both the web and the app.
Multi-exit on positions
2. 5 Paisa App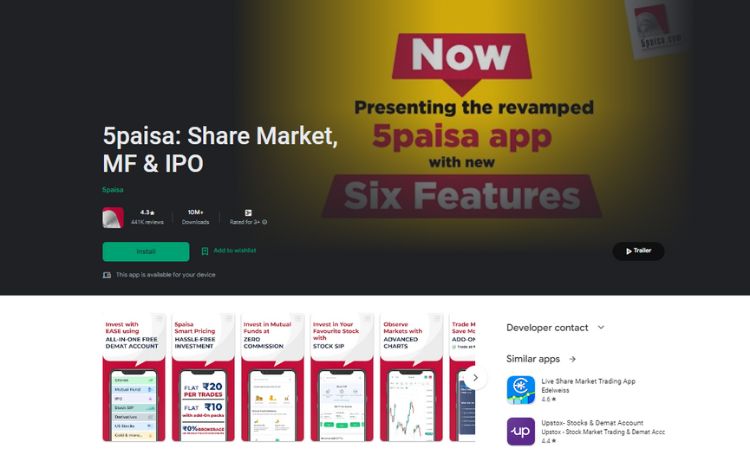 The 5 Paisa app has 7 million users and is the best stock market trading app. It is free and easy to use. Both beginners and traders can use this app effectively.
The app gives live updates from NSE, BSE, and MCX markets and provides advanced charting tools.
The app provides learning videos and has a zero-brokerage policy, but it takes Rs. 20 across any trading segment- Cash, F&O (future and options), Currency, and Commodities. Three lacs people rated this app 4.3 on the Google Play store. You can open a Demat account in 5 Paisa itself.
Features
The app allows you to trade in Equity, Derivatives, Commodity, and Currency segments.
You get higher exposure on this app for intraday trading.
You can track NSE, BSE, & MCX stock prices live and quickly transfer and receive the funds on the trading app.
It does provide charting, research reports, single-click investment orders, a watchlist on stocks, and an alert system in the app itself.
It has a unique feature to build a customized portfolio known as Robo Investment Advisor.
In 5 Paisa, you can invest in Mutual funds and buy digital gold, insurance, and personal loans within the app.
3. Upstox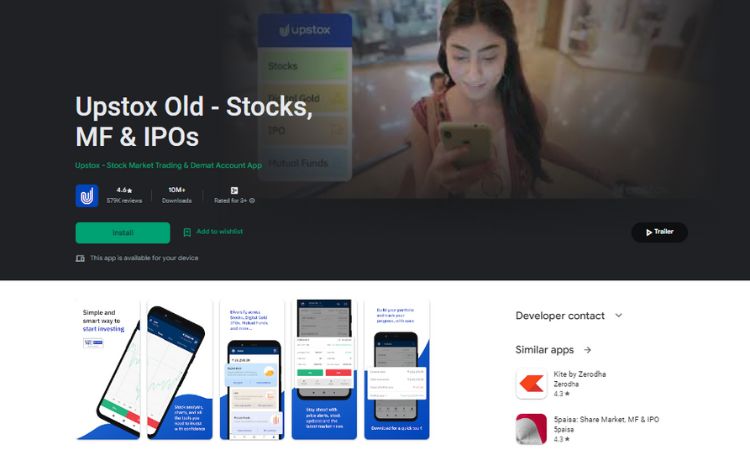 Upstox is one of the best trading platforms, as this trading app aims to make financial investments easy for everyone. This app uses advanced technological tools for making investments quickly.
The app is rated 4.7 by five lacs people on the Google Play store and has become the most significant trading and investment app.
In this app, one can invest in stocks, mutual funds, gold, IPOs, and F&O.
Features:
You can invest in stocks. It is easy, fast, and secure, and there is zero investment brokerage. You can access the charts, new financial data, etc.
Get live updates about the stock prices of the NSE, BSE, and MCX.
The Upstox app provides more than 2000 Mutual Fund schemes, and you do not need to pay a commission.
You can invest in intra-day and F&O trading by opening a free Demat account. The brokerage would be Rs. 20 per trade.
One can view OHCL (Open High Close Low) data on Upstox, and it also gives access to pre & post-trade analytics where the investor will get drawing tools, 100+ charts, and 250+ indicators with ChartIQ & Trading View.
On Upstox, investors can also invest in IPOs and buy the stocks at their original prices.
Upstox uses different payment methods to pay and receive the funds, such as Smart Transfer, GPay, BHIM, or Net- banking.
Also read: 10 Best Investment Options in India
4. Edelweiss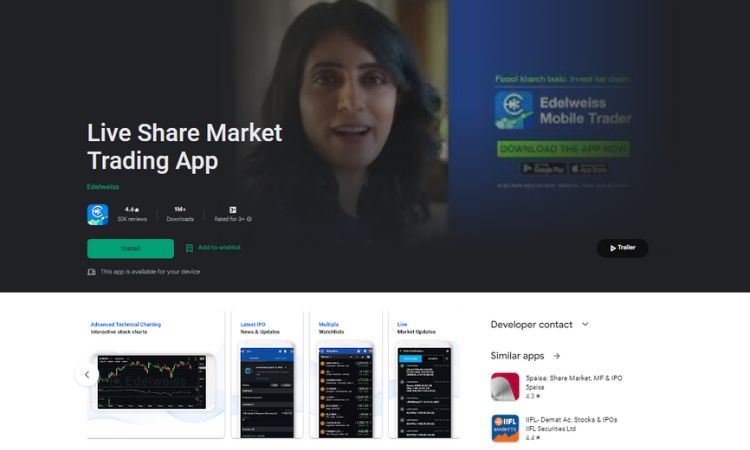 Edelweiss App is an Indian stock market app, and it is the most secure share market and investment app in India.
An investor can daily watch the news related to equity, stock derivatives, and a detailed option chain. The Edelweiss will track the trades and manage the portfolio of investors.
The process to get registered for starting the investment is very easy. The app is rated 4.4 on google. The Non-Power of Attorney (POA) account holders can now sell the stocks instantly on the Edelweiss.
Features
Investors can set alerts for their stocks to never miss the targeted price.
Also, the investor will get information from the top gainers and losers, most active stocks 52 week high & low stocks & sector performance.
Investors will get to know the prices of Sensex, Nifty, SGX Nifty, USD & many more related to trading.
One-click access to Indian stock Markets, Trade, and Stock Screener.
Investors will also get tick-by-tick charts that will help them make the right decision on the move with the BSE NSE India stock market watch.
Also, an investor will view historic charts of Future Index & Commodity for up to 10 years.
5. INDmoney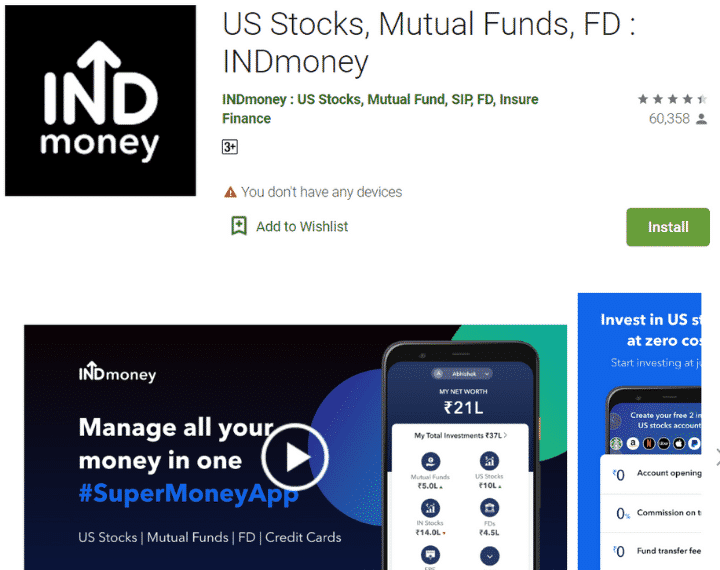 INDmoney app invests in Us Stocks, Mutual Funds, and Fixed Deposits (FD). Investors can invest in any variant without paying any commissions on it.
The app has 4.4 ratings on google; it helps track investments, loans, expenses, saving accounts, PFs, and EPFs. The app keeps and earns money for an investor.
An investor will also get INDmoney's reward by investing in US stocks and crypto and managing the investor's and their family's financial accounts. The app is 100% safe, secure & private.
Features
One can invest in US stocks by opening free ac within 2 minutes without paying brokerage charges.
The investors will get the best USD-INR exchange rate; one can also buy the MNC company's shares like FB, Google, Tesla, Netflix, Amazon, etc.
Investors can invest in more than 1200 Us Exchange Traded Funds (ETFs), and it gives daily and weekly portfolio analyses and recommendations on the US market.
Investors who invest in Mutual Funds can auto-import from other investing apps like Zerodha, ETmoney, Paytm, etc.
Investors who switch their mutual funds into INDmoney get 1.5 % higher returns.
One can book their Fixed Deposits (FDs) in INDmoney and earn high returns.
Investors investing in Indian stocks can track their portfolio from top brokers like Zerodha, Upstox, HDFC, etc.
6. HDFC securities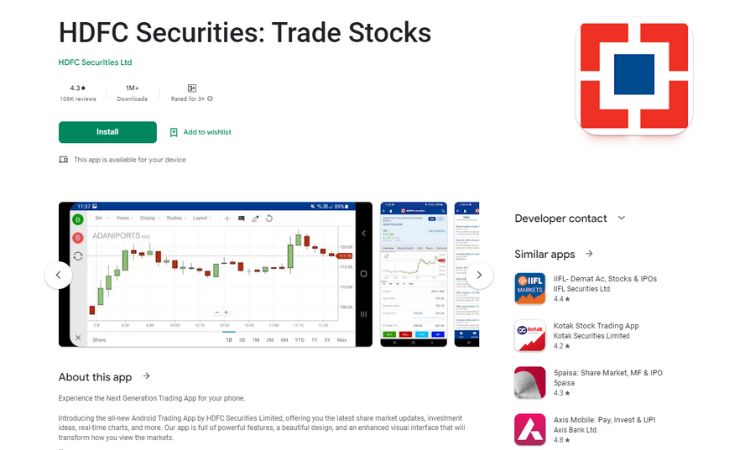 HDFC securities is a middle entity providing financial services and is committed as a distributor of financial products and services like Corporate FDs and Bonds, Insurance, MF, NPS, etc. HDFC Securities provides a powerful platform for an investor to keep the market on pace.
This app is easier to use, navigate, invest ideas, real-time charts, and so on. The app will guide you and redefine your experience in investing. The app is rated 4.0 on google.
Features
An investor can invest in Equity & Derivatives.
The investor will get notifications on key market events.
An investor can track and trade with multiple watchlists Intraday real-time charting.
Investors will get instant access to trending investing ideas.
One can tap and find their next investment opportunity.
The HDFC Securities Mobile Trading App branch is near the investors' residence.
The app introduces Smart Order Routing (SOR), which helps investors resist the best market price presented on NSE/BSE.
The investors will be able to view their rights in their profiles. And they can apply for derivative/ Mutual Fund benefits on the app.
7. ETMoney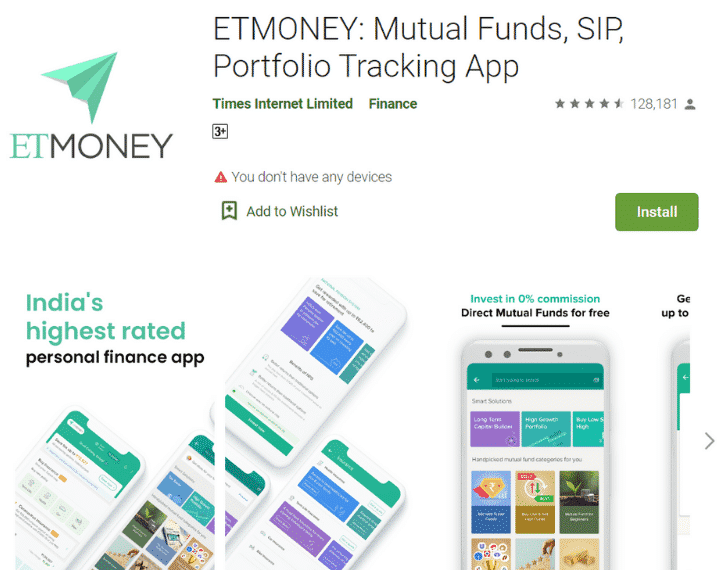 ETMoney is one of India's best apps for Mutual Fund Investment in Direct Mutual Funds, and one will get other personal Finance Management needs at ETMONEY.
In ETMoney, an investor can invest, track and manage their mutual fund investments in zero-commission Direct Mutual Funds.
In ETMoney, an investor will earn the guaranteed interest rate from Fixed Deposits (FDs) and get an assured pension for retirement via investing in NPS (National Pension System).
With ETMoney, one can secure their family, too, by investing in Term Life Insurance & Health or Medical Insurance Policy.
The app is rated 4.5 on google.
Features:
One can save the tax by investing in ELSS mutual funds, which start from Rs. 500 per month.
The app does accept all the UPI payment methods like- Google Pay, PhonePe, BHIM UPI, and Paytm & enables one-tap payments through NPCI instructions and Net banking for mutual fund investments via SIP/Lumpsum.
One can easily switch their Lump Sum or SIP mutual funds from other apps like Paytm Money, Groww, Scripbox, myCAMS, and Karvy of track Zerodha Coin.
Investors will get a chance to invest in different mutual funds like equity mutual funds, ELSS mutual funds, small-cap, large-cap mutual funds, balanced funds, gold mutual funds, etc.
Investors can invest in top mutual fund schemes via SIPs/Lumpsum of AMCs like SBI Mutual Fund, Nippon India Mutual Fund, ICICI Prudential Mutual Fund, HDFC Mutual Fund, Kotak Mutual Fund, etc.
8. Small case-Invest/SIP in Stock Portfolios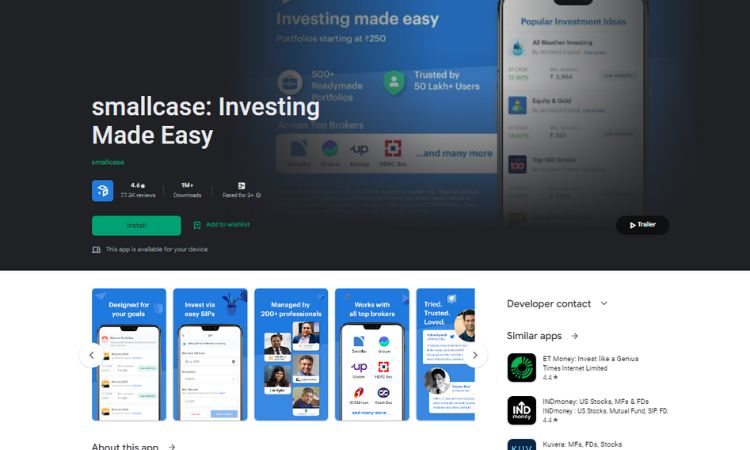 The small case app has modern investment products that help build low-cost, long-term, diversified portfolios. The small case is a managed professional portfolio or basket of stocks/ETFs reflecting a strategy, idea, or theme.
The small case is rated 4.6 out of five on Google Play Store. It works like a mutual fund investing app; it enables starting a Systematic Investment Plan (SIP) in the stock market.
This app offers over 100 readymade stock investment portfolios, all created and managed by SEBI- registered professionals.
Features:
The app is trusted by more than 25 lakhs investors and is available on ten-plus platforms.
Investors can start SIPs in the stock market, similar to mutual funds.
The investors who invest in readymade stock portfolios are based on the risk appetite created and managed by SEBI-registered experts.
The small case diversifies the portfolios for a new investor so that the investor can put all their balls into the different baskets of the stock.
The investor can withdraw their money anytime without paying exit charges.
9. IIFL Securities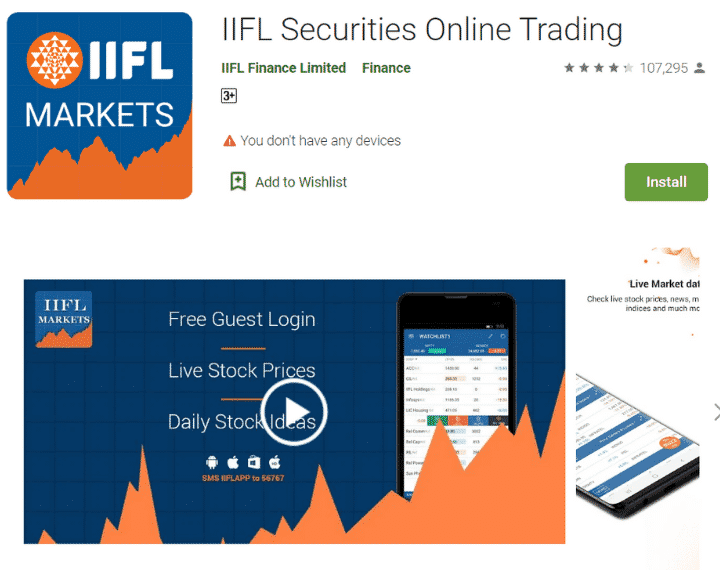 IIFL Securities is India's highest-rated and most downloaded Best share market app. On the google play store, it is rated 4.0 out of 5.
It is the best app for trading in India to know the live market prices and stock markets news, awarded as the best mobile trading app for the stock market by Zee Business awards.
The mutual fund investor can also easily become an app user for investing in all mutual fund schemes like Equity, Debt, Balanced, and Hybrid funds.
Features:
The app gives investors well-researched and correct tips about stock analysis; the information help in making better decisions while trading.
The app is simplified, putting all the details about any script in an interactive ecosystem.
An investor will get access to the full-fledged financial market, including NSE, Nifty, Sensex, BSE 100, Bank Nifty, and BSE MID CAP, along with Commodity and Currency Markets.
One will get detailed information about every company news and their historical price charts, research, key ratios, and shareholding pattern.
There is a derivatives section for trading in Option and Futures.
The app also preapproved the personal loan based on the investor's credit history, financial planning, and goal-based investments.
With a single tap, it buzzes to give the latest developments and updates on live markets.
An option chain for equity, Index, and Currency gives essential details of Futures and Options- Price alerts; it also helps set a price alert for F&O scripts across equity, currency, and commodity segments.
It became easy to trade with IIFL Securities and is one of the Best Online Trading apps.
10. StockEdge- Share Market App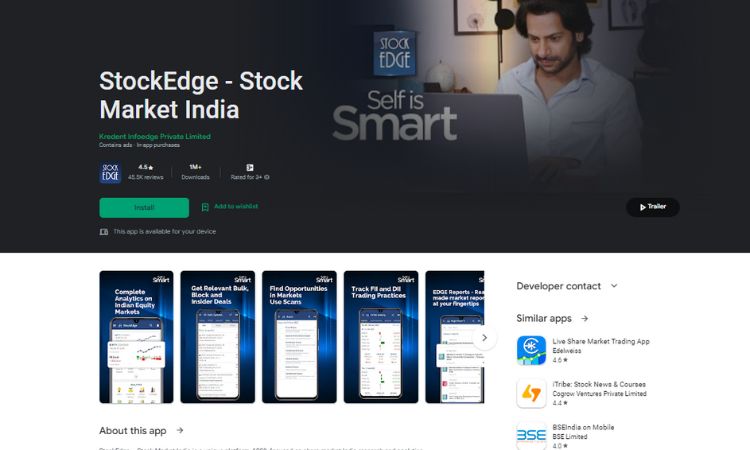 The StockEdge Share Market App is the most trusted Share Market Analysis App for Indian Investors and Short-Term Traders. It also does Stock Market Research and Analytics.
This app rated 4.5 out of five on the Google Play Store, and over 2 million public has downloaded the app.
StockEdge motivates investors and traders with technical and fundamental tools based on updated stock market research backed by a dedicated stock research team. The simplicity of the StockEdge app makes it the best stock market app.
The intuition of the StockEdge is to entitle the trading with stock market knowledge. The app provides the tools to grab opportunities in the share market through simple visualizations.
Features:
Investors will get daily stock market updates like news of Nifty, NSE data, BSE Sensex, Corporate actions, Foreign Investment Institute (FII)/ Domestic Investment Institute (DII) Cash, and derivative statistics.
The StockEdge has technical indicators like RSI, Relative Strength, and Relative Performance scans to scan the daily trades, be it the intraday, positional Swing, Options, and Futures Trades.
The StockEdge has readymade themes like stocks based on trending business models. The best models are used to filter the best high-delivery stocks; this makes the StockEdge a trusted and premium investing app.
In StockEdge, an investor can discover various intraday trading strategies using Bullish and Bearish stocks.
StockEdge shows the investors the company filings, which guide the investors, including recent Mergers, Acquisitions, Stock Splits, Buyback, and more.
StockEdge keeps a tab on the latest activities of institutional investors and family trading houses with detailed information on their shareholdings, announcements, and deals.
An investor can rebuild their Mutual Fund portfolio using features like mutual fund themes, AUM Analysis, and Classes.
The investor can browse the Large-Cap, Mid-Cap, and Small-cap Funds under the Equity Option. Here, Debt and Hybrid Funds are also available.
11. Angel One by Angel Broking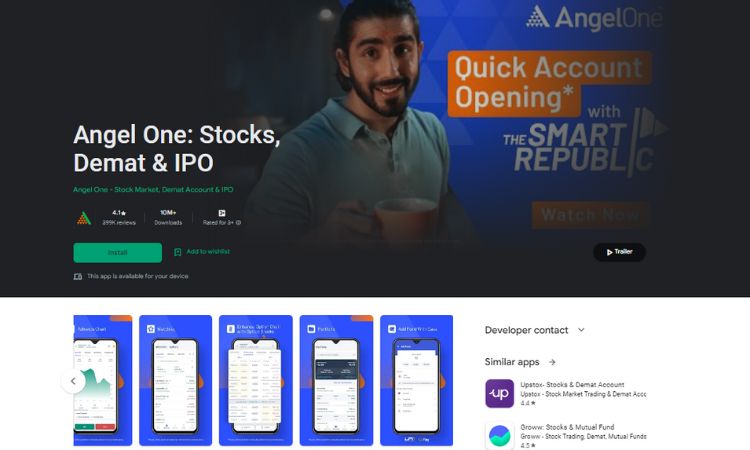 Angel One is the app for the share market and Demat account, and it is an app by Angel Broking; the app charges zero brokerage on delivery trade for a lifetime, and it charges only Rs.20 for F&O and intraday.
The app is rated 4.2 out of 5 on the Google play store. This app aims to make the trading experience perfect and convenient. In Angel One Mobile Trading App, one can buy, sell and trade on the go. Beginners and traders can use the app, which is suitable for both.
Features:
The app has the SmartAPI, where investors can build their innovative trading platform at zero cost, execute orders in real-time, stream live market data over WebSocket, and more.
The app has Sensibull, in which one can invest with simple option strategies which come with limited losses. The investors conveniently get real-time trade recommendations from the SEBI registered experts to connect.
In Angel, one can invest international stocks and ETFs via vested. This app allows Indian and NRI investors to easily invest in US Stocks and ETFs.
12. Motilal Investor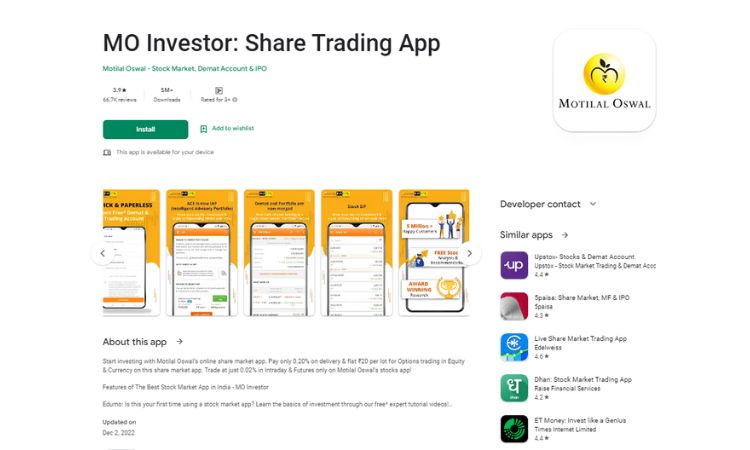 The Motilal Investor allows an investor to explore the stock market in the simplest way possible. An investor can invest in more than 5000 equities in just one click.
The app is easy to use and provides the FREE DEMAT and trading app, which offers the investors a reward for investing their ideas, to begin with, their stock journey. Investors can complete their KYC online and start trading and investing in the stock market.
Motilal Oswal has been India's most Trusted trading and investing app for more than 30 years. Experts develop the app to help individuals trade, ideally in the stock market.
Features:
It is easy to buy& sell stocks on the app.
It helps in monitoring the real-time stock.
It gives the price alerts of the stock.
An investor can trade with a single click.
Investors will get access to get financial advisors for free.
In Motilal Oswal, one can invest in Mutual Funds and SIP with one click.
In Motilal, Oswal investors will get a wide range of investment choices like Equity, Derivatives, IPO, Mutual Funds, Insurance, and Fixed deposits.
13. Sharekhan Trading App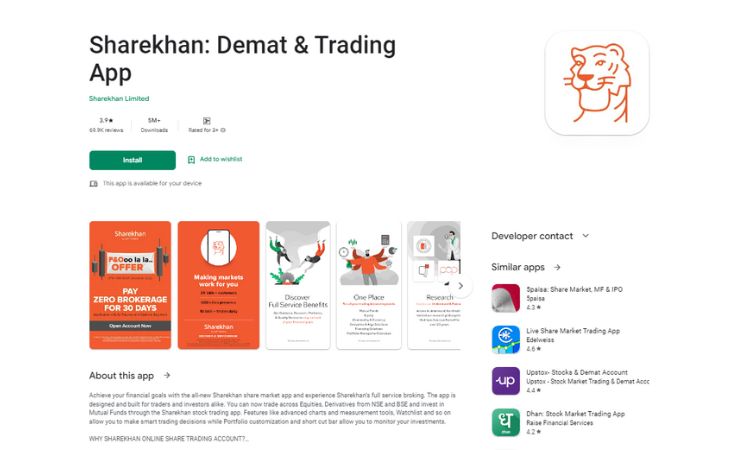 The app provides broking services to investors who want to invest in the share market. Investors can trade in Equities, Derivatives from NSE and BSE, and mutual funds through the Sharekhan app.
Sharekhan also provides advanced charts, tools to measure the stock's performance, watchlists, etc.; these tools help the investor make the right and firm decisions in trading the stocks. The Sharekhan app is rated 3.9 out of five on the google play store.
Features:
Sharekhan has advanced charts and measurement tools to track performance.
The app is a "Best Performing Retail Member" at NSE Market Achievers Awards 2018.
With Sharekhan, over 2 million customers are associated all over India (as of July 2020)
It has more than 20 years of experience in broking houses and provides easy online trading.
The app has a strong backup from the BNP Paribas Group.
It is a very efficient and user-friendly trading and investment app.
14. Groww App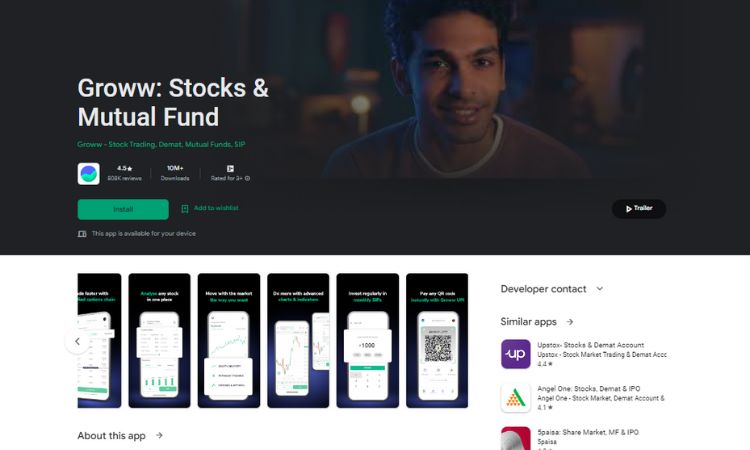 In the Groww app, millions of investors joined to trade in the stock market. This app is simple; it is also simple to open a Demat account and trade in BSE and NSE listed stocks in the share market at a low brokerage on the stock orders.
In the Groww app, one can do fast, easy, and secure investing in mutual funds, stocks, IPO, and trading. The process of opening an account is 100% paperless.
The investor can invest in any stock without giving any commissions. The app charges zero commission and is rated 4.6 out of 5 on Google Play Store.
Features:
An investor can do their KYC within the app.
The app provides intelligent filter options to investors to get the top mutual funds listed under various categories based on metrics.
The app has the mutual fund SIP calculator, which estimates the overall returns on the investment over the period.
The app has designed line and candlestick charts to show the share price movements and check the companies' historical performance.
The app provides learning videos to beginners.
The app does provide 128-bit SSL encryption for their transaction, and the third party can't hack the investor's data.
15. Paytm Money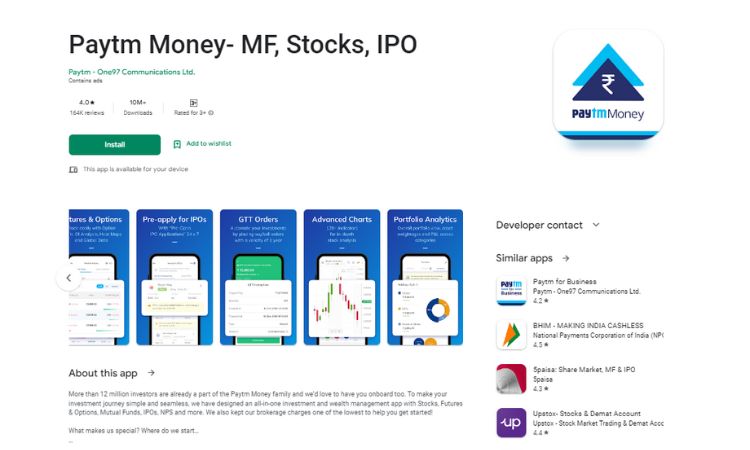 Paytm money does invest in the stock market, mutual funds, and Initial Public Offerings (IPOs). The app is rated 4.0 out of 5 on the Google play store. One can open a Demat account and buy & Sell stocks on NSE and BSE. Also, the investor can invest in National Pension System (NPS).
The app has multiple investment options in different investment products like; equity space; one can invest in Large-cap, Midcap, and Small Cap stock.
Investors can set the benchmark for their investments with the help of indices like Nifty 50 and Sensex and broader indices such as Nifty 100 and Nifty 500.
Features:
In Paytm money, an investor can trade with competitive pricing at zero brokerage on delivery trading with intraday the app charges as low as rs.10.
The investors can trade with futures & Options at rs.10
The KYC process is completed digitally, and the whole process is 100% paperless and can complete within minutes.
An investor will get the market information.
When investors assess their risk profile, it becomes easy to diversify. An investor can also balance investments within extensive, penny, and blue-chip stocks.
One can customize their watchlist.
Conclusion
These are the best trading apps in India, rated very highly by millions of people on the Google Play Store and iOS app store. You don't need to download all these apps on your mobile to invest in the stock market.
Just check every trading app and download a few of them. Try investing with them and see which app works best for you. I am sure you will make some good money with these trading apps.