Today's stock market has expanded significantly in a fast-paced world with many money-making ways. People have discovered the foundation, and unlike in previous decades, it is increasing like a banyan tree. People are eager to invest money because of the fantastic returns it provides.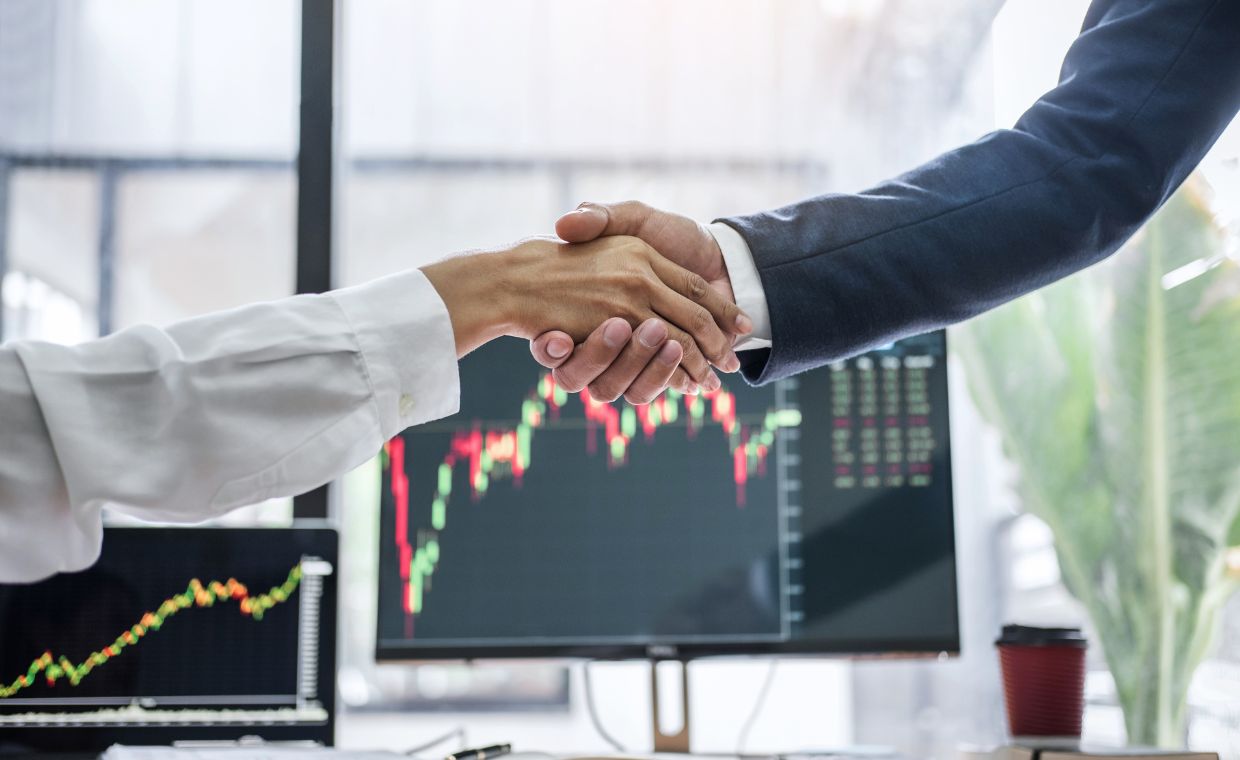 Who is a Discount Broker?
Budget brokers are discount brokers. Their low-cost brokerage trading services are what they are most known for. They use a different pricing strategy than traditional percentage-based brokerage and charge customers a flat brokerage fee for online trading in several market areas.
However, since they don't hold your hand, you can only survive with the discount broker if you have prior experience. They give you the bare minimum infrastructure necessary to stay in the market.
No matter the trade size, they typically charge you a flat price of around 20 rupees. At the same time, the full-service broker charges a flat fee, often 0.3 per cent of the trade size.
According to reports, Zerodha is the top discount broker in India, with an 18% market share by itself. Upstox, Groww, Angel One, and 5Paisa come after it.
By this point, you must know why a discount broker is the best option if you already know the bits of the stock market.
In this article, we've compiled a list of the top 10 discount brokerage firms in India for 2023, with information on their competitive brokerage fees, secure mobile apps, and user-friendly websites.
Top 10 Discount Brokers in India
1. Zerodha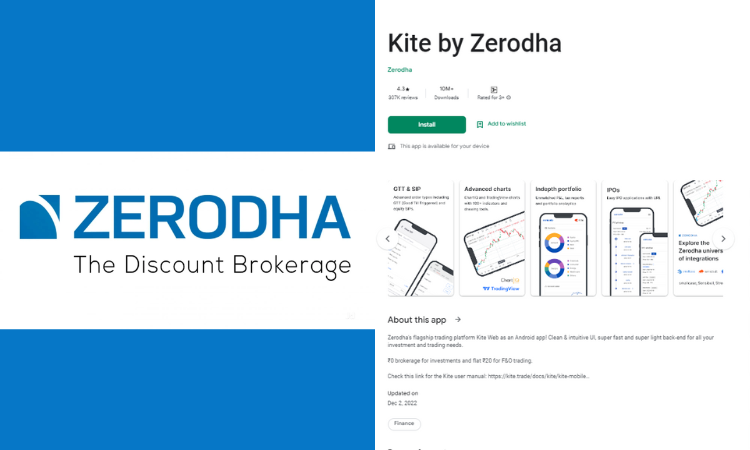 Founded in – 2010
Founder – Nitin Kamath
Total number of clients – 1.5 Million
Trading Platforms: Kite 3.0, Kite Mobile, Pi, Console, Coin, Sentinel
Zerodha ranks at the top of the list of discount brokers in India. Customers may easily open a Zerodha account online, invest in shares without brokerage costs, and start trading currencies, commodities, and F&O for Rs 20 per transaction. Its all-in-one Kite platform has excellent charting, a simple user interface, and security.
They introduced this idea to India, and there has been no turning back since then.
Pros:
There is no delivery brokerage.
Customer service
Proprietary trading platforms
User-friendly and innovative trading platform
Cons:
No research report is available
Cannot invest in IPO through Zerodha
2. Upstox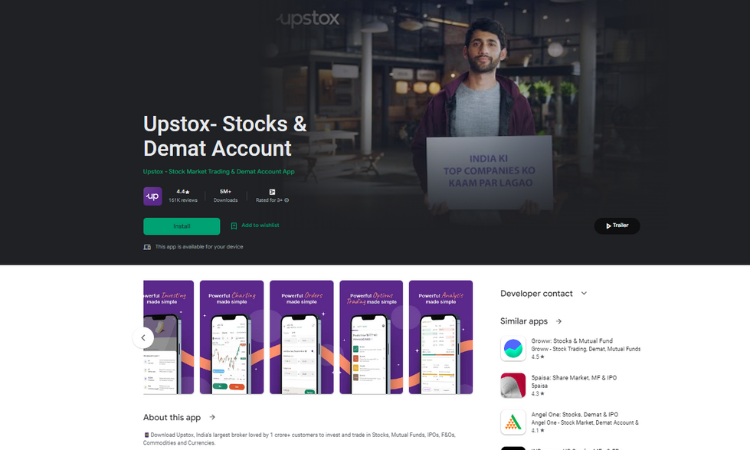 Founded in – 2009
Founder – Ravi Kumar
Total number of clients – 10 Million plus
Discount broker Upstox is expanding quickly. It provides no brokerage, substantial margins, and a safe trading environment. It was formerly known as RKSV. In 2015, it was changed to Upstox.
After Zerodha, Upstox has the second-highest number of active NSE clients.
Fees for Upstox Demat and Trading accounts:
Account opening fees – Rs 300
Annual Maintenance charges: Rs 150
Pros:
Free delivery trading
Best trading platforms
Preferential brokerage
Provide a means for opening an account online
Cons:
No direct trading in IPOs, FPOs, or NCDs
3. 5Paisa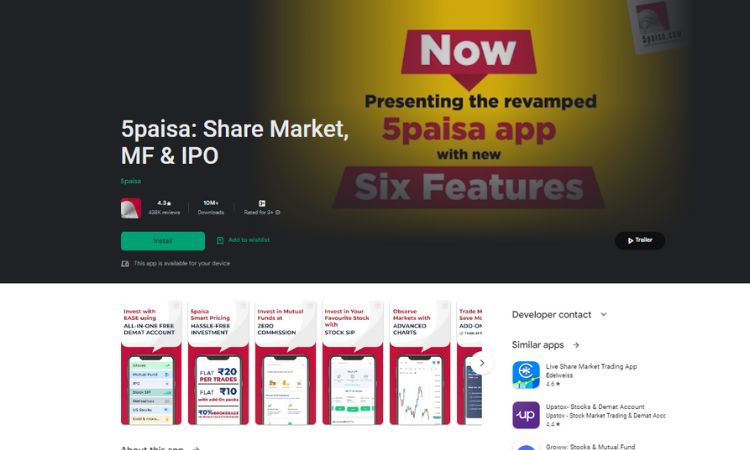 Founded in – 2007
Founder – Prakash Gagdani
Total number of clients – 1.2 Million
Trading Platform: mobile app, trader terminal, and investor terminal web platform
India Infoline, a significant financial institution, supports it (IIFL). It provides steadiness. 5Paisa offers personal loans, mutual funds, term, health, car insurance, and stock trading.
You can save tons of money if you trade with them frequently because they only impose a flat fee of Rs. 10 for every exchange. You can purchase and sell using them on the BSE, NSE, MCX, and MCX-SX exchanges. They open accounts quickly and without using paper.
Opening a 5Paisa Demat and Trading account costs:
Account opening fees (Rs 650 Waived)
Monthly maintenance fees of Rs. 45 annually
Pros:
A negligible flat-rate brokerage of Rs. 10 per trade
100% paperless
Lower maintenance charges
Invest in stocks, mutual funds, and insurance using the same account.
Flexible multiple brokerage programmes.
Cons:
No3-in-1 account
Exchange transaction fees are high
Trading over the phone with them costs Rs. 100 every call.
4. Angle one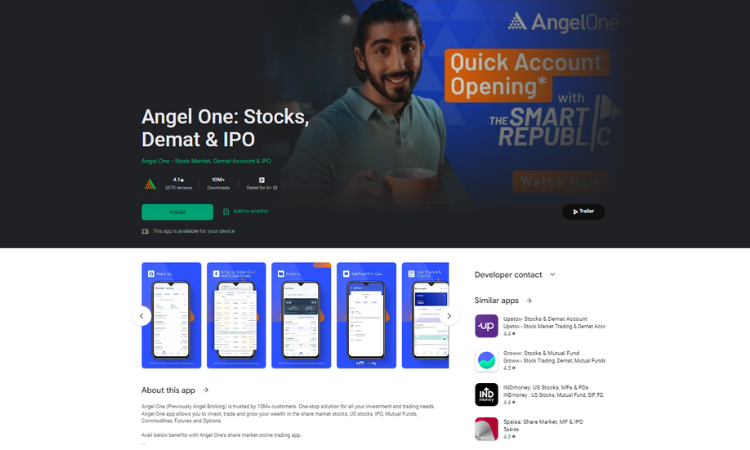 Founded in – 1987
Founder – Vinay Agrawal
Total number of clients – 4.12 Million
Angel One is a well-known name in the brokerage industry, with more than 4 million happy customers and over 30 years of experience. Over 1800 Indian cities have these. The BSE, NSE, NCDEX, and MCX offer trading services in equity, futures & options, commodities, and foreign currency.
Although it charges its clients a 10% brokerage fee and has served as a full-service broker for more than 20 years, they have shifted from percentage brokerage to flat fees to compete with its rivals, such as Zerodha, 5 Paisa, and Upstox.
Angel Broking account opening fees:
Account opening fee: 0 rupees (Currently Waived)
Maintenance Fee every year: Rs. 240 (Rs 20 Per Month)
Pros:
Personalized services
Market guidance and expert research reports
It offers swift account opening
No Brokerage on Long-term Trades
Cons:
Call and trade fees are additional.
5. Groww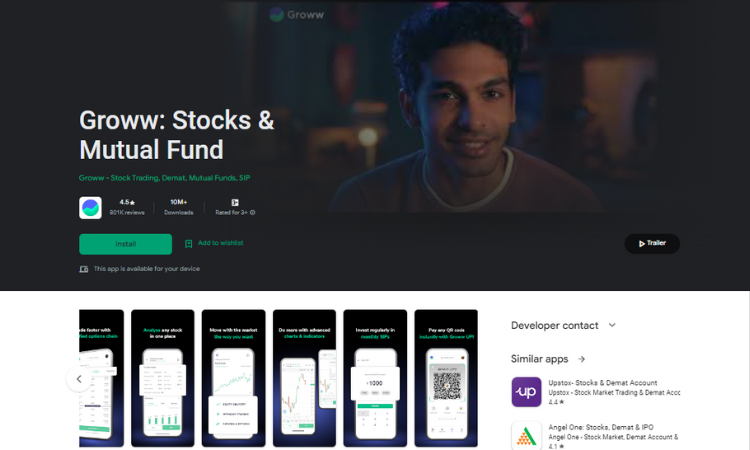 Founded in – 2016
Founder – Lalit Keshre
Total number of clients – 1.5 crore
It belongs to Nextbillion Technology Private Limited, a stockbroker registered with SEBI and participating in the NSE and BSE. A Bangalore-based startup created it. It began as a platform for individuals to invest directly in mutual funds.
The Groww App was developed to build a simple-to-use app for trading from any location in India. This resulted in the app's design philosophy: "Investing should be as easy as online shopping."
Groww account opening charges:
Account Opening Charges: Rs 0
Annual Maintenance Charges: Rs 0
Pros:
The interface is easy to use
One platform to invest in stocks, mutual funds, and gold altogether.
Cons:
Since it is a more recent entry, the trading platform has not yet been tested for reliability during busy trading days.
6. Paytm Money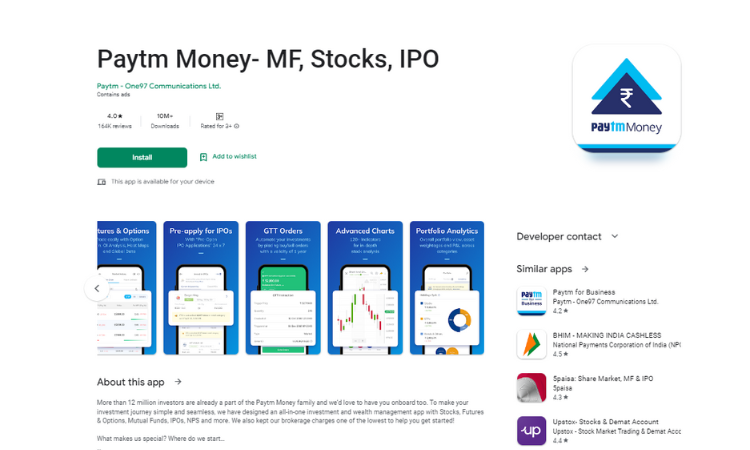 Founded in – 2017
Founder – Varun Sridhar
Total number of clients – 6.6 Million
As a result of demonetisation, the online payment system grew in popularity and began to provide banking services and mutual funds, SIP, and pension products.
Due to the lockdown imposed by the COVID-19 outbreak, the work-from-home strategy had to be adopted. More inexperienced investors have started to flood the stock markets due to the rise in disposable income and the forced reduction in leisure spending brought on by the pandemic.
Paytm money account opening fees:
Rs. 200 – One-time Digital KYC Fee for Account Opening
Pros:
Big Brand
Multiple investment options in one platform.
Swift account opening
Cons:
₹1 per day as platform charges
7. Trade smart online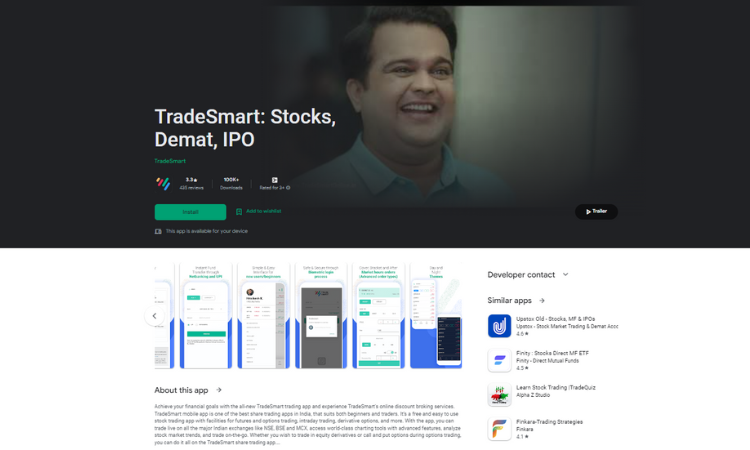 Founded in – 2013
Founder – Vikas Singhania
Total number of clients – 100,000 plus
Trade Smart is an excellent option because it provides inexpensive brokerages, solid margins, and a speedy trading interface. It is a part of the reputed broker VNS Finance & Capital Limited, which has been around for more than 25 years in India.
Charges for Trade Smart's online brokers:
Delivery costs 15 rupees for each trade (Power plan), or 0.07% (value plan)
Rs. 15 per trade (Power plan) or 0.007% for intraday trading (Value Plan)
Charges for starting a Trade Smart Online Demat and Trading account:
Account opening fees: 400 rupees
Maintenance fees yearly: Rs. 300 (Second year onwards)
Pros:
Plans with Low Brokerage,
Higher trading margin,
There are no additional software charges,
Cons:
No direct investment in an IPO,
Call and trade for 20 Rupees for each successful transaction (plus brokerage)
8. SAS Online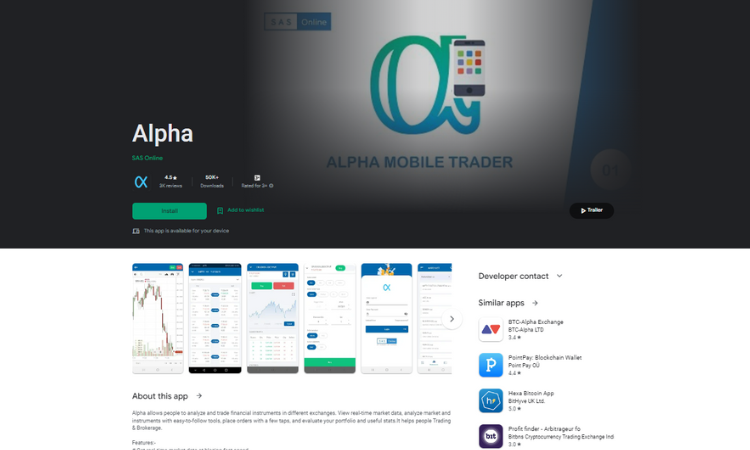 Founded in – 1995
Founder – Shrey Jain
Total number of clients – 50k plus
As one of India's early adopters of the discount broking model, SAS Online has grown to become the country's leading deep discount brokerage firm with more than 50,000 clients, a daily revenue of Rs. 14 million, and more than a lakh recurring orders.
It is possible to trade stocks (delivery), intraday, equity F&O, currency F&O, and commodity futures.
SAS Online Brokerage Fees:
A brokerage fee of Rs. 9 for every trade made on the stock market.
For intraday trade, there is a commission of 0.01% or Rs 9, whichever is less. For delivery trades, you must pay 0.1% of the trade amount or Rs 9, whichever is less.
Pros:
The available margin for shares
For all categories, it costs Rs. 9 per trade.
Unlimited Monthly Plans
Cons:
Call and trade fees of Rs. 20 per completed order are further assessed.
9. Tradejini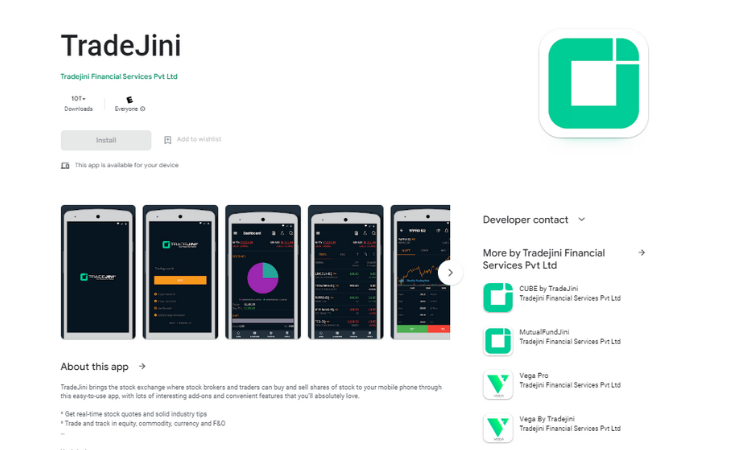 Founded in – 2012
Founder – J Kishor Kumar
Total number of clients – 26000 plus
It is a discount broker with headquarters in Bengaluru. Its maximum fee is Rs. 20 per executed order. Two business owners who had a combined total of more than 60 years of expertise in stock broking and stock investing founded it.
You can trade on the NSE, BSE, MCX, and MSEI using the brokerage. Debt instruments, mutual funds, and ETFs are more options for trading and investing outside equity and derivatives.
Starting from nothing, it has expanded its operations, going from a 5-person team to over 60 today, with daily revenue of more than 1,000 crores and a presence in more than 1,000 places throughout India and overseas.
Pros:
Allows the purchase of bonds, mutual funds, and ETFs
Flash platform for financial and market news
Cons:
A Courier account opening form is required.
10. Samco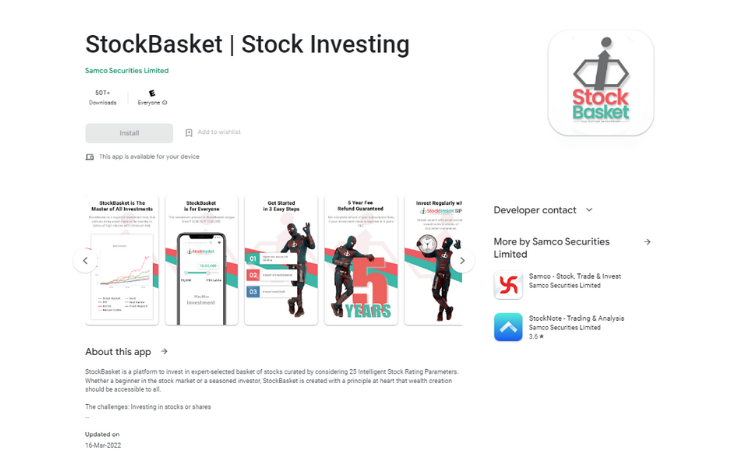 Founded in – 2015
Founder – Jimeet Modi
Total number of clients – 2,00,000 plus
It has received the 2019 Best Equity Broking House award.
Online bargain stock broker Samco has won awards and is renowned for its clutter-free investment platforms. Their goal is to help retail investors succeed in building wealth by giving them access to cutting-edge financial technology.
Samco introduced the Indian Trading League, the country's first trading and investing competition, in May 2015. (ITL).
At Samco, their goal is to give individual investors access to sophisticated financial technology that can help them build wealth cheaply. They currently provide some of the most distinctive margin products to help our customers spend their capital as effectively as possible.
Opening fees for SAMCO Demat and Trading accounts:
Charges for opening an account: Rs. 0
Rs. 400 yearly maintenance fees (Demat account)
Pros:
Creating a free trading and demat account,
Good margin goods are readily available for traders,
Rs 20 per deal for flat-rate brokerage
Instant paperless account opening using AADHAAR.
Cons:
No known online IPO or FPO application
Investment in mutual funds is not possible.
Lacks branches to provide offline local assistance
Conclusion:
Choosing the best discount broker can be challenging if you have no idea or less about the specifics, but here we are for your rescue.
Choosing the best broker might enhance your trading abilities.
This article includes all the information you need about India's top discount brokers, boosting your understanding and empowering you to make wise choices.