How to start a SIP or Systematic Investment Plan is a question most middle-income investors would be asking. Maybe you're one of them too. Quite understandable. Mutual Funds are an excellent investment option.
And the message is being drummed by Association of Mutual Funds of India (AMFI) and other entities almost everywhere- on radio and TV, advertisements in train coaches and buses and giant roadside hoardings.
Should you be eying SIP Mutual Funds as an option for any reason, here's a step-by-step guide on how to start a SIP investment.
Before we proceed, let's begin by understanding what SIPs are all about.
What is SIP?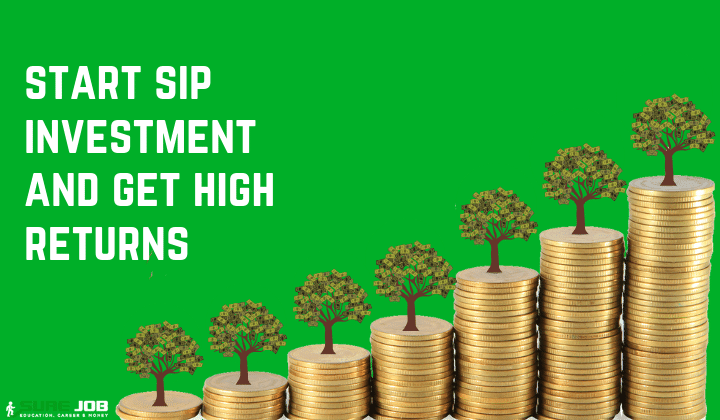 The full form of SIP in India is Systematic Investment Plan. In some countries, it also means Secured Investment Plans or Small Investment Plans. Regardless of the full form, SIP invariably is an easy method of investing in Mutual Funds.
It works on a principle that's somewhat similar to a bank Recurring Deposit account.
Meaning, you'll invest small amounts of money every month on a SIP Investment plan. For the money, you'll get a certain amount of units of the SIP Mutual Fund you've chosen.
As you go on adding money, the number of SIP Mutual Fund units in your investment portfolio keeps increasing.
Now you might wonder, isn't it better to opt for a Recurring Deposit rather than a SIP Investment? Yes and no. Why? Here's the answers.
Recurring Deposit v/s SIP
A SIP Investment and Recurring Deposit have only one thing in common: investing a fixed amount of money at regular intervals. And you'll get a fixed rate of interest depending upon the bank.
However, that's where the similarity stops.
A Recurring Deposit is available directly from various banks and cooperative credit societies.
A SIP Investment plan is available from an Asset Management Company either directly or through a broker. You can start a SIP Investment online or offline too.
There are various trading apps that can help you to start a SIP investment. You can download some of the best trading apps here.
For one, a SIP Investment plan doesn't fetch any interest. Instead, the price or Net Asset Value (NAV) of Mutual Fund units might rise.
Higher the NAV per unit, greater your earnings. There're no fixed values or percentage of returns that a SIP Investment may fetch.
It can sometimes be in the range of 12 percent and 22 percent, depending upon the Mutual Fund, its performance, and other factors.
A Recurring Deposit guarantees a specific percentage of interest as returns on investment. The maximum interest on a Recurring Deposit is around eight percent, depending on the bank, age of investor and duration.
As we can see, a SIP offers very attractive returns. Hence, let's examine how to start a SIP investment.
How to Start SIP Investment
Investing in a SIP for the highest returns isn't as easy as walking to a bank and depositing money. There are several steps you'll have to follow.
Define Your Objectives
Defining your objectives for investing in SIPs is the most important step. Because that will help you decide the type of SIP Mutual Fund, contribution amount and duration of the SIP Investment plans. Most common objectives for investing in SIP are:
Higher education for children.
Marriage of children or sisters.
Buying a house.
Wealth building.
You can have more than one financial objectives to start a SIP investment. In fact, that's what most people do. They identify more than one goals before investing in a SIP.
Sounds confusing? Don't worry. Use this online Goal Calculator to find out how much money you'd love to get from your SIP investments.
Arrive at a Figure
Meaning, decide how much money you wish to invest in one or more SIPs. Here's something important to remember. A SIP Investment plans also bring discipline to our spending and saving money. Contributing to a SIP is a monthly commitment.
You can get away with skipping the monthly amount and nobody would do anything. At worst, you'll get a gentle reminder from the SIP Mutual Fund provider, saying you've missed an installment.
However, skipping or missing an installment can defeat the entire purpose of a SIP. The number of Mutual Fund units in your portfolio won't increase causing you to miss out on rising value and profits.
It will also delay your run towards that dream figure necessary to fulfill the objectives. Therefore, it is very important to arrive at a realistic figure about how much money you can invest in a SIP without missing an installment.
Know your Risk Appetite
Risk appetite? Yes. In simplest terms, it means how much risk can you take with your SIP investment Plans?
Under rules of Securities & Exchanges Board of India (SEBI), every AMC has to display something known as Riskometer besides their Mutual Fund. Usually, taking a greater risk can fetch higher returns. But it can also cause you to lose your precious investment on a SIP due to various factors.
A low-risk Mutual Funds means your investment would be fairly safe, regardless of external factors. However, low risk also means lower returns on investment.
You can understand more about the SEBI Riskometer from here. Study it well because you'll have to decide what is your risk appetite.
Additionally, you can decide your risk appetite by finding how fast you want to fulfill your financial goals with a SIP Investment plan.
Link Aadhar & Permanent Account Number
Once you've taken the above three steps, the next one is to link your Aadhar card and Permanent Account Number (PAN). This is compulsory if you're going to invest in SIPs online. This is a very easy process. Click here to link your Aadhar and PAN.
To invest in a SIP, you'll have to complete the Electronic Know Your Customer (EKYC) formalities. This is easier when your Aadhar and PAN are linked.
You'll require the mobile number you've provided while applying for Aadhar card. That's because the Unique Identity Development Authority of India (UIDAI) will send you a One Time Password on that mobile number to complete the Aadhar-PAN linking.
There's nothing to worry if you don't have the mobile number given at the time of registering for Aadhar: visit your nearest Aadhar enrollment center.
You'll have to submit a completed form mentioning your new mobile number. You'll have to undergo biometric verification to update your telephone number on UIDAI records. Usually, this takes a week to 10 days.
SIP Investment without Aadhar & PAN
You can invest in SIPs without an Aadhar and PAN number too. However, this will entail visiting the offices of the AMC or your bank. Here you'll have to submit self-attested copies of identity and address proof.
The list of documents that a bank or AMC accepts as identity proof can vary. However, commonly accepted documents include:
Valid Indian passport
Valid driving license
Ration card
Postal Savings Bank passbook with photo stamped and signed by the postmaster
Voter ID card
Any other identity and address proof issued by the Central or state government.
However, it's worth noting that certain restrictions may apply when you're investing on a SIP without Aadhar and PAN.
Furthermore, the facility of online investment in SIP would be unavailable. That's because you'll be unable to complete a process called Electronic Know Your Customer or EKYC.
Understand Types of Mutual Funds
Before rushing to invest in a SIP, you'll also have to understand the various types of best SIP Mutual Funds available in India. Broadly, these are the categories of Mutual Funds you'll come across.
1. Equity Funds: Mutual Funds that mostly invest in stocks traded on the Bombay Stock Exchange and National Stock Exchange.
These will be subdivided as Large Cap or Blue Chip, Mid Cap, Small Cap, Multi-Cap and Equity Linked Savings Schemes (tax savers) and Thematic among others. These Mutual Funds rank Moderately-High on the Riskometer.
They are highly prone to ups and downs of the stock market. However, Equity Funds are most popular since they provide a way to indirectly invest in the stock market, Returns from Equity Funds are usually higher than other categories.
2. Debt Funds: These Mutual Funds typically invest in the money market and debt instruments. Debt funds rank Low to Medium on the Riskometer.
Any changes in Reserve Bank of India's Repurchase Rate (Repo Rate) can affect the performance of these funds. These funds provide relatively lower profits compared over Equity Funds.
Hybrid Funds: As the word suggests, Hybrid Funds are a blend of Equity and Debt investments. They are usually ranked as Moderate risk funds since they can easily counter any downturns in the stocks market and interest rates.
3. Liquid Funds: Liquid Fund invests only in the money markets, including derivatives and debt instruments among others. They are the safest bet and rank as Low risk on the Riskometer. A single unit of a Liquid Fund will cost Rs.1,000 and more.
Having Liquid Fund is as good as holding cash: you can redeem them and get money within 24 hours usually.
4. Fund of Funds: Generally, Fund of Funds or FOFs are for investing in foreign stock markets. An AMC will invest in various foreign Mutual Funds to create a FOF.
These types of Mutual Funds allow you to invest legitimately in foreign stock markets indirectly. In India, we have FOFs that invest in the US, China, Japan, Brazil, and other countries.
Fixed Maturity Plans or FMPs are a popular genre of Mutual Funds that allow you to invest for a specific period ranging between three and five years. These aren't meant for SIPs usually.
Finding Best Mutual Funds for SIP
Now we come to the trickiest part: identifying the Best Mutual Fund for SIP that'll give you the highest returns for your SIP investment. It can prove as arduous as finding a needle in the haystack.
Why do I call it tricky? There are 44 Asset Management Companies (AMCs) or Mutual Fund houses operating in India. Together, they offer hundreds of Mutual Funds under various categories. And more Mutual Funds appear on the horizon every month in the form of New Fund Offers (NFOs).
Given this scenario, it can prove very difficult for any Do-It-Yourself (DIY) investor to select the Best Mutual Funds for SIP.
However, there're several ways to know where to put your money, provided you've taken the first three steps with near astuteness.
Ways to Find Best SIP Investment Plan Options
Considering you're a DIY investor, here're some excellent ways to identify best Mutual Funds for SIPs.
Read newspaper reviews about best Mutual Funds for SIP Investment. Remember, this list can change frequently. Therefore, read the latest review before investing.
Look for CRISIL star-rated funds. CRISIL, an independent risk and rating company provides rankings for all Mutual Funds in India. This rating depends upon various factors such as performance since inception of the Mutual Funds and quality of assets, among others.
A five-star rated Mutual Fund is usually the best. However, that doesn't necessarily imply that Mutual Funds without CRISIL rankings should be avoided.
Find the Mutual Fund portfolio. All AMCs have to disclose where they're investing money taken from Mutual Fund and SIP customers.
You can easily find this information on the website of an AMC. You can also ask an AMC to disclose the holdings of a Mutual Fund.
Take a little time to learn a bit about the Mutual Fund Manager A Funds Manager manages several Mutual Funds.
Hence, you can gauge the performance of a Mutual Fund based upon how others managed by the Funds Manager are faring.
A Funds Manager plays a key role in ensuring you get the best returns. This information is available on the website of every AMC, besides details of Mutual Funds.
Ask your financial advisor. If you have a financial advisor, you can get some vital inputs about best Mutual Funds for investing as SIPs.
However, the flip side here is that a financial advisor might promote one from the AMC or organization they work.
Once you've done sufficient research, draw a list of Mutual Funds you believe would fetch you highest returns when you invest in a SIP.
Know Investment Plans
Usually, Mutual Funds and their SIPs are available as four variants.
1. Direct Plan-Growth: You don't get a dividend. Instead, the AMC gives you more units of the Mutual Fund worth the dividend amount.
An AMC usually charges a little more money per unit of a Direct Plan-Growth SIP or lump sum purchase. That's because you're eliminating any third parties and brokers.
This is the best way to invest in a SIP. Direct Plan-Growth uses the power of compounding to give you the highest returns.
2. Direct Plan- Dividend: As the term suggests, you can get a dividend as and when the Fund Manager announces one. The dividend goes directly to your bank account or arrives on your doorstep as cheque or demand draft.
3. Regular Plan-Growth: Don't be fooled by the lower rates that AMCs offer for Regular Plan SIPs and lump-sum purchases. A Regular Plan involves a broker. Hence, part of your earnings also goes to the broker.
4. Regular Plan- Dividend: Similar to Regular Plan-Growth where part of the dividend goes to the broker from whom you're investing in a SIP.
It's worth remembering that you don't need a Dematerialized Account (Demat) and trading account to invest in SIPs. If you use a Demat and Trading account for SIPs, there are all chances you'll land with a Regular Plan rather than the profitable Direct Plan.
Requirements for Investing in SIP
To start a SIP investment plan, you'll require the following documents.
Scanned copy or picture of canceled cheque or latest bank statement with proof of name, account number and Indian Financial System Code (IFSC).
EKYC: which is done when you link Aadhar and PAN as explained earlier.
Smartphone with a mobile number linked to Aadhar and bank account.
Valid email ID.
Aadhar, PAN or other proof of identity and address for offline investments.
Physical cheque to pay for offline investments.
Any other physical document required by an AMC, brokerage or bank.
Starting a SIP Investment
As I mention earlier, you've various options to start a SIP investment plan. One is online, which is easy and simple and can be done from the comfort of your home. You can also start a SIPfrom anywhere using a smartphone.
The other is an offline process. Here you'll have to personally visit the offices of an AMC or broker to invest in a SIP plans.
Online SIP
This is the simplest way to start a SIP investment plan. The processes may differ slightly according to every AMC. However, this difference isn't really very significant.
Visit the AMC website.
You'll be asked whether you're an Indian resident or live in USA and Canada. Only residents of India can invest in a SIP. Click the appropriate button.
The next step is to provide your Permanent Account Number. The AMC will conduct a quick check if you're EKYC compliant. Meaning, you've linked your Aadhar and PAN through the Income Tax Department link I've given above.
At this point, some AMCs will send a One Time Password (OTP) and email to verify that your contact details match with those on Aadhar for EKYC purposes.
If you're EKYC compliant, a form will appear where you've to fill in personal details such as full name, address, date of birth, income and source of income.
You can check your EKYC status with any of the KYC Registration Agencies.
Next, the AMC will ask you to nominate an heir who can receive the money in the event of your death.
Later, you've to select the scheme for which you wish to start a SIP.
Indicate the plan option as Direct Growth.
Select the number of years you wish to continue the SIP or its end date. If you're unsure, simply choose 'Perpetual SIP' or the highest possible number of years.
Fill in the amount of monthly installment. Most SIPs offer minimum investment of Rs.500 and Rs.1,000.
Choose the start date of the SIP investment plan. Usually, this date will be 10 to 21 days later. Choose a date convenient for you.
Fill up your bank details including IFSC code, bank name, and branch, account number and type.
Review your SIP application.
Accept terms and conditions.
Submit.
Some AMCs will send you OTP to confirm the transaction.
Upon confirmation, you'll be automatically directed to the net banking page of your bank.
Or, you'll get a message confirming that your SIP is registered and the Unique Reference Number.
The Unique Reference Number (URN) is extremely important for every SIP.
Login to your net banking account and select 'Add Billers'
In this section, select 'Mutual Funds'.
In the drop menu, select the AMC name.
Below, fill in the URN exactly as it appears on your email or on the confirmation page of the AMC.
Fill in the installment amount and click confirm.
Your bank will send you an OTP to confirm the biller.
Upon keying in this OTP, you're all set.
Your bank will send an SMS and email confirming the addition of the AMC as the biller.
The entire process takes about 10 minutes if you've all the details ready. Upon completion of these formalities, you'll have to ensure there's sufficient balance in your account for the bank to debit and pay to the AMC for processing your SIP.
Usually, both AMC and your bank will send an SMS and email reminding you of an upcoming SIP installment. In case your bank balance is low, you can always top it up before the due date to ensure your SIP is processed.
Offline SIP
The process for an offline SIP isn't all that complicated. It only involves a visit to the AMC offices and your bank. At the AMC or broker's office, you'll have to fill up forms and submit proof of identity and address.
You'll have to hand over a post-dated cheque worth the first SIP installment, drawn in favor of the AMC.
You'll be given a URN number and receipt by the AMC. Take this to your bank. Fill up the forms to give standing instructions to your bank to pay the installment every month to the biller, by providing the URN you got from the AMC.
SIP Through Apps
Nowadays, you can also start a SIP Investment plan from a mobile phone app. You can use myCAMS, KFinKart or other apps such as Digibank and Paytm among others.
The process is similar to starting a SIP Investment plan online.
SIP Through Banks
Nowadays, some banks also offer facilities to start a SIP Investment plans through their website.
Login to your net banking account and select the Investment or Mutual Funds feature. However, your bank might not be offering SIPs from each of the 44 AMCs.
SIP Through Demat & Trading Account
If you hold a Demat & Trading account with an AMC or bank, it's possible to start SIP investment plans too. Go to the Mutual Funds option and open a SIP there within a few minutes.
Keeping Track of your SIP
Generally, all AMCs in India use any of these two KYC Registration Agencies: Computer Age Management Systems (CAMS) or Karvy KRA.
CAMS has an app known as myCAMS that is available from Google Play for Android smartphones.
Karvy KRA has an app by the name KFinKart that you can download from Google Play for Android smartphones.
Depending upon which KRA your Mutual Fund house uses, it's easy to check Net Asset Value of your SIP investment plan and also perform some transactions.
However, you may have to wait a while for downloading the app since the AMC will create a folder only while processing your SIP. You can find out the list of AMCs these KRAs serve by visiting their respective websites.
Become CKYC Compliant
Under SEBI rules that went into force a few years ago, all SIP and Mutual Fund investors have to complete something known as Central KYC.
An AMC can ask you to complete CKYC formalities and will send you the necessary forms. You'll have to visit the AMC office or a KRA office to complete CKYC.
This cannot be done online since In-Person Verification (IPV) of your credentials is necessary. This means, the staff at the AMC or KRA will check original Aadhar and PAN cards or other address proof.
They'll also take your picture for CKYC and specimen signatures. CKYC is essential. Without CKYC, you would be unable to invest more than Rs.50,000 in a SIP.
Diversify Your Portfolio
To get the best out of SIPs and ride through upswings and downturns of the stock markets, it's best to diversify your portfolio. There are several opinions about how a SIP portfolio should be created. However, here's one formula I found fairly reasonable.
Equity Funds: 50 percent
Hybrid Funds:20 percent
Debt Funds: 10 percent
Liquid Funds: 10 percent
Foreign FOFs: 10 percent
I'll repeat, there are several opinions on the composition of an ideal SIP investment portfolio that will fetch you best returns.
Usually, every AMC will allot you an advisor. Services of such advisors are free of cost. In fact, you can get some amazing inputs on investments in future SIPs from these advisors. The only flip side: they'll always recommend Mutual Fund SIPs from their AMC.
Step Up Installments
If your SIP Investment plan is performing well, it's always better to step up your investments, if possible. You can buy more units of the same Mutual Fund in your portfolio or increase the installment amount.
Wrap Up
Before I conclude, I'll emphasize that a SIP investment plan is a long-term commitment. Hence, maintaining financial discipline is very necessary. At the same time, never get too attached to a SIP merely because you are impressed with some feature.
If a SIP proves to be loss-making, it's always better to redeem the units at a time when you won't lose much. Invest the balance on another SIP plans. Usually, AMCs provide the facility to switch over to another scheme it offers.
Also, check Total Expense Ratio (TER) and Portfolio Disclosures that AMCs send you by email. TER means the total expense an AMC is spending on managing the particular Mutual Fund. Though the amount is negligible, it does impact returns.
Also, reading the portfolio gives you a clear picture of where your money is invested. You can exit or switch a SIP if a particular Mutual Fund has invested in some scam-hit company and prevent loss of your investment.