Cryptocurrency is one of the fastest-growing financial markets in India. It is mainly a virtual currency which works as a medium of exchange.
Cryptocurrency is a type of digital currency with cryptographic protocols that make transactions secure and are difficult to fake.  The main feature of cryptocurrency is that any central authority does not control it.
Public and private keys for the transfer of cryptocurrency in India. Bitcoin was the first cryptocurrency in India. Litecoin, Ethereum, Zcash, Dash, Ripple, Monero, NEO are the other which are used.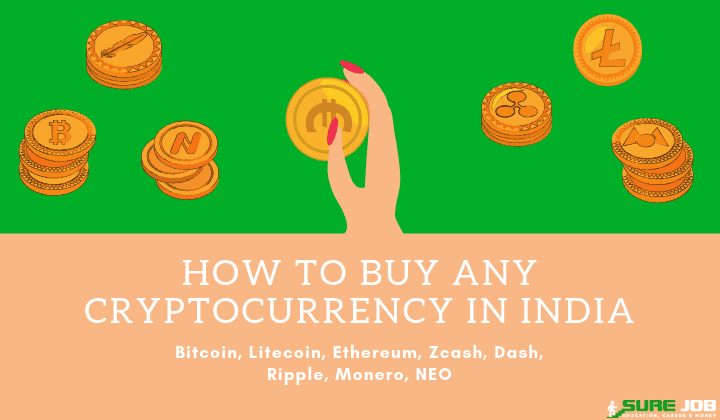 In April 2018 Reserve Bank of India (RBI) has banned in India. RBI banned banks and e-wallets from dealing with any cryptocurrency trading in India.
Reasons for the ban are:-
Degrading of Market integrity
The rise in money laundering
Endanger to consumer protection
Adverse impact on capital control
Types of Cryptocurrency
Litecoin was launched in 2011 and referred to as "silver to bitcoin's gold." Charlie Lee created it. Litecoin is based on an open source global payment network.
2. Ethereum
Ethereum was launched in 2015 that enables smart contracts and distributed applications and run without any interference of any third party.
Zcash is launched in 2016 and is an open- source cryptocurrency trading in India. It offers shielded transactions which allow the content to be encrypted by using an advanced cryptographic technique.
Dash is known as Darkcoin and was launched in January 2014. It works on a decentralized master code network that makes transactions untraceable. Evan Duffield developed dash.
Ripple launched in 2012. In February rippled did a market of $12.69 billion and per token value of $0.308.
Advantages of Cryptocurrency
Quick and easy payments
The facility of faster settlement
Private and secured
Facilitate e-commerce trade
Decentralized and free from third party interference
Free from the risk of identity theft
Disadvantages of cryptocurrency
It can be challenging to understand
Uncertainty and volatility
Still not accepted by all
No way to reserve the payment
Losing wallet
Problem of scaling
Are you planning to buy bitcoin in India? If you are willing to do this, you should use local bitcoins which is a P2p market. Few things that you must know before going to buy Bitcoins in India are:
Bitcoin is legal in India but not regulated by RBI
Unocoin is a legal website to buy and sell bitcoin
To purchase Bitcoin, you have to add funds in your Unocoin account. This can be done with the help of various methods like NEFT/ RTGS/ IMPS. After that click on the Indian Rupee and click on deposit.
You can not buy many of the cryptocurrency in India directly. So firstly you have to buy bitcoins and then you will exchange them with some other cryptocurrency. You can buy bitcoin from
Zebpay
Unocoin
Coinsecure
List of exchange where you can buy cryptocurrency in India:
Bitcoin from Zebpay
Ethereum from Ethexindia
Ripple from BTCxIndia
Other from coindelta and Koinex
Banking transactions close the door on cryptocurrency exchanges in India on 6 July. Koinex and WazirX launched the peer-to-peer platforms to exit and facilitate cryptocurrencies by using India Rupees.
Ways to buy Bitcoin in India
This is the most popular exchanges in India which allow users to purchase Bitcoin via NEFT, RTGS, and IMPS. Unocoin charges a trading fee of 7%.
Bitcoin is mostly used as a cryptocurrency in India. Steps for Indians to purchase their first Bitcoin are given below:-
Sign up for an account on the Unocoin Site
You will get a verification mail, click on the link provided for the verification
Now login to your new Unocoin account
A further step to complete the KYC.
Add your bank details
You may only add one bank account and give the features which are mandatory to maintain the account.
Click on next
Below are the documents which are required
Pan card copy
Passport size photo
Address proof
Aadhar card with showing the full picture
This is the second great option which is specialized in debit and credit card. Coinmama is based in Israel but also serves in various countries including India.
It charges a 5% fee on purchasing. Coinmama also sells seven more cryptocurrencies including Ripple, Litecoin and Ethereum.
It allows users to sell and buy cryptocurrency in India on the multi-party p2p model. The users also receive money directly in the bank account.
The process to buy Bitcoin from Instashift is quite simple.
Find the buy option on the first page of the website and enter the number of coins you want to purchase.
Do the mobile verification to place the order
Look for the matching seller when the order is placed
When the matched seller is identified a timer will run under which the buyer has to transfer the amount in seller account.
When the transaction is completed the buyer has to select the option- I have paid, and the seller confirms the payment.
Crypto is then transferred to the buyer's account. If confirmation is delayed or not received buyer can raise the dispute for exchange.
Above mentioned points will help you to buy the cryptocurrency in India after the ban.