With the world fast turning into one big digital platform, buying and selling of cryptocurrencies or virtual money is now the new buzzword to make money quickly.
Encouraged by the success of Bitcoins – the first digital currency that hit the big time globally – hundreds more have sprouted in no time at all.
Armed with trendy names like Dash, Verge, Primecoin, Litecash and Ethereum, these bits of digital currency have succeeded in developing cult status among the tech-savvy in many countries, including India.
In this article, we will show you the different ways to buy Ethereum in India – one of the more popular varieties of cryptocurrency after Bitcoins – in India.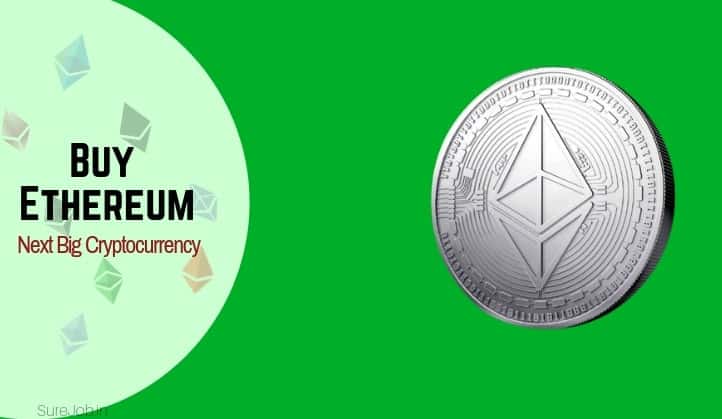 But first it's important to understand this particular type of digital currency in detail.
What is Ethereum?
In simple terms, Ethereum can be defined as an open software platform. It is based on blockchain technology and allows developers to create and execute decentralized applications.
Is it the same as Bitcoins?
In a way, yes, since both are distributed publicly distributed on the blockchain network. However there are subtle technical differences that exist between these two popular forms of cryptocurrency.
The biggest difference between the two however lies in their use of blockchain technology.
While Bitcoins which is essentially a peer-to-peer electronic cash system uses blockchain to track the ownership of Bitcoins, the Ethereum blockchain is more focused on operating the programming code of decentralized applications.
Secondly in the case of Bitcoins, miners have to actually mine for Bitcoins, while with the latter they get rewarded with Ether.
How it Works?
Broadly speaking, Ether is a crypto token which drives the Ethereum network. It is widely used by application developers as a tradable cryptocurrency to pay the costs, in terms of transaction fees for using the Ethereum network.
While Bitcoins are being used to replace traditional payment methods like PayPal and online banking, Ethereum on the other hand was created to leverage blockchain technology to replace internet third parties.
By this, we mean brick-and-mortar companies that store data, transfer mortgages and keep track of complex financial instruments.
How to buy Ethereum in India
Driven by the frequent surges in the prices of popular cryptocurrencies like Bitcoins and Ethereum, Indian investors have shown a growing interest in buying and trading these virtual currencies over the last few years.
On the flipside however, cryptocurrencies continue to be a legal grey area in India and are officially not considered legal tender by the RBI. However local crypto-enthusiasts are hopeful all this will change in the near future.
Bearing that in mind we have listed below 9 places where you can still buy and sell Ethereum from India.
1. BuyUCoin
BuyUCoin is an Indian digital currency exchange that enables users to buy, sell, store and trade over 30 different types of popular cryptocurrencies, tokens and altcoins like Ethereum, Bitcoins, Neo and Ripple among several others.
The company accepts Indian currency for all transactions. Users have to first sign-up and register on the BuyUCoin website online and go through a verification process prior to being allowed to buy and sell Ethereum & other cryptocurrencies.
2. Koinex
One of the more advanced digital assets exchange, Koinex India using cutting edge technology like a proprietary trading engine, wallet and platform architecture to enable the buying and selling of Ethereum, Bitcoin, Litecoin, Ripple and Bitcoin Cash.
With its Open Book Exchange approach, Koinex allows users to make trading decisions based purely on market depth. However, users have to gone through an extensive verification process which involves scanning their government-issued IDs.
Ether Rush enables its registered Indian users buy Ether in three specific quantities (1 ETH, 0.50 ETH & 0.25 ETH). But first users have to secure an e-wallet, register on the Ether Rush website and place their order.
The ether gets deposited into their wallet account within 6 days of making the payment.
For added safety the company also offers an optional Escrow service where your money will be kept safely until the Ether is transferred to your wallet.
Said to be India's first marketplace for Ethereum tokens, EthexIndia was officially launched in March 2016. The company offers users an ETH / INR order book, which allows them to buy and sell ETH, or Ether, the native token of Ethereum blockchain.
Buying Ether allows the buyer to pay for – gas – or the fuel used to drive the computing power on the Ethereum network.
However as of January this year, the company is not accepting any more payments or ETH until further notice – as per a notice posted on their website.
5. Changelly
Changelly is a popular global cryptocurrency exchange that allows users to seamlessly convert over 100 altcoins at the best prevailing market price or simply buy them using a credit/debit card.
Consequently, you can convert your Bitcoins into Ether or vice-versa.
This exchange which has been active since 2015, currently boasts of over 2 mn active users worldwide and claims to process over 15,000 transaction per week, with a monthly turnover of approx. 60,000 BTC.
The biggest advantage perhaps is that users don't have to go through the usual KYC hassles on this site or make new accounts on exchange websites either. The site charges users a flat 0.5% fee for using this convenience.
6. Shapeshift
Created in August 2014, this web and API platform was launched with the express objective of providing instant Bitcoin and Altcoin conversion in tandem with the highest possible consumer protection and efficiency.
Using a simple user interface this site enables you to choose the altcoins or blockchain tokens you want to exchange, input your receiving address and make the payment. Once done, the altcoins you want in exchange are sent to your designated e-wallet to complete the transaction.
The advantage here is that Shapeshift does not hold customer deposits, reducing the risk of your funds suffering from custodial risk. It also offers competitive exchange rates which are updated in real time, with no fees on top.
Another leading global currency exchange which has recently added Ethereum to its bouquet of digital currency which can be bought, sold or traded using it. This site is also known for its fairly reasonable fees and special offers for high volume traders and market makers.
This online platform also features protection against DDoS attacks and offers full data encryption which is in sync with PCI DSS standards. Popular payment options include; MasterCard, Visa, Electronic Fund Transfer (using SWIFT, SEPA) and cryptocurrency.
In Conclusion
While Bitcoin may still be ruling the roost among crypto-currency enthusiasts in India, Ethereum is not very far behind.
In fact according to Jana's Mobile Majority report released earlier this year, Ethereum (34.4%) topped Bitcoin (29.9%) as the most searched cryptocurrency in India over a five-month period.
In research conducted between October 2017 and February 2018, Ethereum searches were double that of Bitcoins, during the last week of February this year. Clearly the increasing interest in cryptocurrencies and Ethereum in India is here to stay.