Millions of people across India invest in the stock market. Indeed, stock trading- meaning buying and selling shares of companies- is since long one of the most favorite ways of people to get rich quickly. Understandably, some strike it big while others are not as fortunate.
One such a personality who has made it really big on Indian stock markets is Rakesh Jhunjhunwala. At the age of 57, he is ranked as the 53rd wealthiest person in India. Rakesh Jhunjhunwala's portfolio and personal assets are estimated at whopping US$ 2.5 billion.
Who is Rakesh Jhunjhunwala?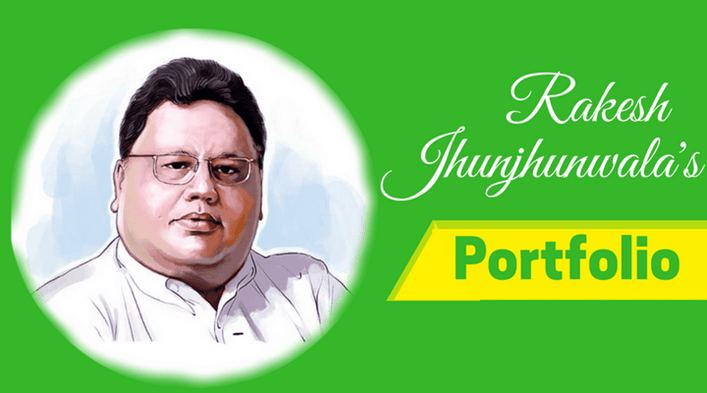 Rakesh Radheshyam Jhunjhunwala is an Indian businessman and trader. He also holds qualification as Chartered Accountant. Rakesh Jhunjhunwala is a partner in the reputable asset management firm, RaRe Enterprises. The name 'RaRe' finds its origin to Rakesh and Rekha, his wife.
Additionally, Rakesh Jhunjhunwala is also the Chairman of Hungama Digital Media Entertainment and Aptech Limited. Furthermore, he is a member of Board of Directors of several top Indian companies including Geojit BNP Paribas Financial Services Ltd, Provogue India Ltd, Mid-Day Multimedia Ltd, Prime Focus Ltd, Viceroy Hotels Ltd, Bilcare Ltd, Nagarjuna Construction Co Ltd, Praj Industries Ltd, Concorde Biotech Ltd, Top Securities Ltd, Innovasyth Technologies (India) Ltd, among others.
Born into a Marwari family on July 5, 1950, Rakesh Jhunjhunwala graduated in commerce from Mumbai's Sydenham College.
Rakesh Jhunjhunwala often features in Indian newspapers and magazines. He is often described as an investment wizard with Midas touch.
Net Worth of Rakesh Jhunjhunwala
Rakesh Jhunjhunwala's RaRe Enterprises has rather humble beginnings. He invested a modest Rs.5,000 in stocks, almost three decades ago. His inspiration to invest on the stock markets came from his father, an officer at the Income Tax Department.
In November 2017, there are various estimates of Rakesh Jhunjhunwala's net worth. India's premier business daily, Financial Express pegs his net worth at about US$ 2.4 billion. Forbes also states his wealth at US$ 2.4 billion. A few independent observers however estimate he is worth US$ 3 billion or more, but these reports cannot be verified.
Rakesh Jhunjhunwala's Portfolio 2022
Obviously, everyone would be interested in what makes Rakesh Jhunjhunwala so rich. India Today magazine calls him as ' The pin-up boy of the current bull run' of India's stock markets. The popular financial daily from Mumbai, Economic Times calls him 'The Pied Piper of Indian Bourses.'
Various Companies
Between 1986 and 1989, Rakesh Jhunjhunwala made large investments in blue-chip companies including Tata Power. The share price of Tata Power rose to nearly Rs 1,200 each.
This surge in the stock price made Rakesh Jhunjhunwala's assets double- from nearly Rs. 2 million to Rs. 5.5 million. At the time, the stock market index stood at 150 points only.
Sesa Goa
However, his first major investment was in an iron ore mining company, Sesa Goa, now called Vedanta Ltd. Rakesh Jhunjhunwala bought whopping 400,000 shares of this company, which was in financial doldrums due to depression in iron ore prices.
He bought some 250,000 shares at an average price of Rs. 65 each. Later, he bought an additional 100,000 plus shares of Sesa Goa at an average price of Rs.150. The gamble in Sesa Goa stocks indeed paid rich dividends to Rakesh Jhunjhunwala.
Prices of these shares rose to Rs.2,200 each. Additionally, he traded some more stocks too. This trading would result in Rakesh Jhunjhunwala's portfolio and net worth jump to a whopping Rs. 25 million.
Praj Industries Ltd
Another major company in Rakesh Jhunjhunwala's portfolio is Praj Industries Ltd, an Indian major in the Ethanol plant sector. He invested in Praj Industries when the index stood at 5,500, in January 2004.
However, since the index has shot through the roof to stand at nearly 12,000 points. Rakesh Jhunjhunwala sold some of the stock in this company with an appreciation of 250 percent.
More about Rakesh Jhunjhunwala's portfolio
According to latest reports, Rakesh Jhunjhunwala's portfolio includes 27 top stocks. Seven of these stocks saw an increase in their price of more than 100 percent. Some of these stocks witnessed a rise of between 100 and 300 percent. They include:
Geojit BNP Paribas Financial Services Ltd: Stocks of this company shot up by 292 percent in the last one year or the end of the second quarter (Q2) of the financial year 2020-2021. Rakesh Jhunjhunwala holds 7.57 percent of the stocks (18,037,500 equity shares) of this company.
Prakash Industries Ltd: Witnessed a surge of 217 percent in share prices by September 30, 2021. Rakesh Jhunjhunwala's portfolio includes 1.53 percent holding (3,12,500 shares).
Edelweiss Finance: Stock prices increased by 195 percent by April-June quarter of 2021. Rakesh Jhunjhunwala holds 1.61 percent of Edelweiss Finance's stocks.
Dewan Housing Finance Corporation Ltd: Shot up by 144.32 percent during Q2 of fiscal year 2020-2021. Rakesh Jhunjhunwala's portfolio includes 3.19 percent shares of DHFL.
Escorts Ltd: Rakesh Jhunjhunwala holds 9.16 percent stocks of this large tractor and mobile cranes manufacturer of India. Share prices of Escorts Ltd increased by 142.91 percent up to September 2017.
VIP Industries Ltd: Here, Rakesh Jhunjhunwala's portfolio includes some 3.69 percent of the company's stocks. Share prices of VIP Industries Ltd grew by 124.51 percent by the end of Q2 of the financial year.
Delta Corp Ltd: In this Indian real estate, gaming and hospitality major, Rakesh Jhunjhunwala holds a 8.43 percent stock. Prices of Delta Corp Ltd's stocks shot up by 106.82 percent.
Additional investments
Rakesh Jhunjhunwala and his RaRe Enterprises reduced their shareholding in five companies during the second quarter of financial year, which ended on September 30, 2020. They include Viceroy Hotels, Aurobindo Pharma, Bilcare, JPAssociates, and TV18 Broadcast.
Other companies in Rakesh Jhunjhunwala's portfolio are:
ION Exchange India Ltd: where he holds 3.94 percent stock.
Anant Raj Group: Some 3.22 percent shares are held by Rakesh Jhunjhunwala.
NCC Telecom Ltd: He holds about 8.12 percent stocks.
Lupin Labs Ltd: Rakesh Jhunjhunwala's portfolio includes 1.89 percent stocks of this Indian pharmaceuticals major.
Federal Bank Ltd: During Q2 of the current financial year, Rakesh Jhunjhunwala reduced his stockholding in this bank from 2.15 percent to 1.82 percent.
Orient Cement Ltd: Where he holds some 1.22 percent of the company's stocks.
Fortis Healthcare Ltd: This company was added to Rakesh Jhunjhunwala's portfolio during the =fiscal year 2017-2018. He now holds 1.54 percent stocks of this company.
Refer: Invest in stocks with the best stock market trading apps in India.
Rakesh Jhunjhunwala's House
In January 2017, Rakesh Jhunjhunwala's wife Rekha, signed an agreement with HSBC Bank to buy the entire building called Ridgeway Apartments. Four years earlier bought six apartments in this sea-facing building located in Mumbai's upscale residential area, Malabar Hill at a price of Rs.17.6 million.
Rakesh Jhunjhunwala and his wife also live in this building. The deal with HSBC Bank is reported to be worth Rs.19.8 million.
The couple intend to raze this building to ground. Later, they will build a grand bungalow. Rakesh Jhunjhunwala's house will most likely be one of the landmarks of Mumbai, when complete. Of course, such a palatial house is befitting tribute to a man who has struck it rich in his own right and is a self-made billionaire.
Rakesh Jhunjhunwala's Tips
Understandably, ever investor- small and large- would love to get tips on investments from Rakesh Jhunjhunwala. Here are some great words from this investor and businessman:
"Buy companies which have strong managements and good corporate governance. Always look at opportunities with tremendous growth potential."
"Retail is one of the best sectors. It offers most opportunity. I recommend looking at companies which have a high chance to scale up."
"Markets are like women- always commanding, mysterious, unpredictable and volatile."
"Look for a viable business. Invest in a business, not a company."
"Hold on to a stock only if it will give returns and do not become emotionally attached to it."
"Be paranoid of success. Never take it for granted. Remember, success can be temporary and transient."
"Follow your instinct backed by research. Instinct is important because no amount of analysis should prevail in the face of common sense."
"Returns take time. Give your investments time to mature. Be patient for the world to discover your gems."
"The first thing which investors should look at is 'opportunity'. Without opportunity, there can be no economic activity and without economic activity, there can be no profitability."
"Investors should look at companies which have the potential to become large caps. What you need for that, you need scalability."
Lessons from Rakesh Jhunjhunwala
As we have seen, Rakesh Jhunjhunwala did not inherit a fortune from his family. Rather, he began his career as a Chartered Accountant and went on to become the 53rd wealthiest man in India. Rakesh Jhunjhunwala was a middle-class investor, who struck it big by merely following his business instinct backed by proper research.
Indeed, Rakesh Jhunjhunwala serves as an inspiration for millions of Indians who want to become rich. However, he cautions that getting rich is not an overnight business. It takes years of patience, research and common sense.