From a field that did not even exist a couple of decades ago to being touted as one of the hottest career choices of this decade "Data Scientist" is the new career buzzword of the young generation today.
As per a report released by Talent Supply Index (TGI) earlier this year, India is witnessing a 400% rise in the demand for data science professionals across industry verticals, while the supply has grown by a mere 19% only.
With such impressive numbers backing its growth potential, Data Science is turning out to be a lucrative option for most IT-savvy youngsters seeking a rewarding career.
In this article, we will look at how you can become a data scientist yourself and what makes this emerging field such a hot career choice in the Indian context.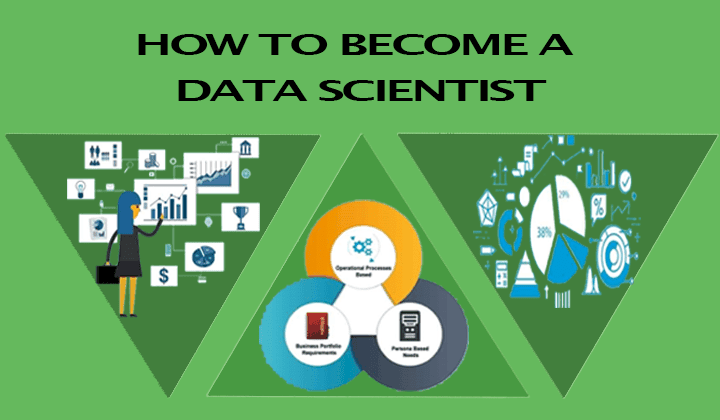 But more on that later, first let's try and understand what exactly is Data Science?
What is Data Science?
As the name suggests, data science is a science which has data at its very core.
Data Scientists are experts at collating, examining and analyzing the effects of data on different businesses.
For doing this, they leverage a host of tools including technology, machine learning and different complex mathematical and statistical principles.
They also build unique algorithms to help them understand the accumulated data more effectively and look for patterns which could help businesses take smarter business decisions.
A case in point here is Netflix – the popular video streaming service, which uses the services of data scientists extensively to analyze viewership patterns constantly to make better movie recommendations to its users.
Why is it such a hot career option right now?
Data is everywhere today. From the personal information we fill out to open a bank account to the pictures we upload ever so frequently on popular photo-sharing sites – it's all data.
And in this technology-driven age, information is power.
Which is why tech-savvy companies and organisations are concentrating all their resources to mine insights from all this data – to help them examine their progress, build better solutions and make smarter decisions.
Already some well-known corporate majors have begun dedicating a sizeable budget and teams for R&D in India.
Companies like Boeing and Societe Generale are already reportedly investing in startup accelerators (for new-age technologies), while others like Panasonic, MasterCard and Air Asia have opted to set up innovation centres here.
This, in turn, has created a huge demand for trained data science professionals against a very limited supply.
According to a recent study conducted by Edvancer & AIM, next to the US, India has the highest number of data analyst openings currently, numbering a whopping 78,000 positions that are practically finding no takers due to a lack of adequate supply.
This is almost 57% jump in the open job requirements, compared to the same time last year.
And that's not all. The study further reveals that the number of new analytics jobs advertised per month increased by almost 76% from April 2018 to April 2019.
So it comes as no real surprise why Data Science is already being hailed as – one of the hottest jobs of the 21st century, which is making its all-pervasive presence felt everywhere.
How to become a Data Scientist in India?
To become a successful data scientist you need to have broad skills in different areas. These include Computer Science, Mathematics, Statistics and coding/hacking.
In addition this you will also need substantial knowledge in some field of business or science and an understanding of new-age disruptive technologies like Artificial Intelligence (AI) and Machine Learning.
So in a nutshell, a UG/PG degree in related fields like Statistics, Economics, Engineering, Mathematics or Computer Science can give you a head-start in your journey towards becoming a data scientist.
Thus, to build a career as a Data Scientist, degrees in Mathematics, Statistics, Economics, Engineering, Computer Science, etc. can help form a good base.
You could begin by checking out some of the relevant courses being offered by some of the top institutes listed below.
IIT – Mumbai (Five-year PG degree in Mathematics)
IIT – Kanpur (UG courses in Mathematics and Scientific Computing)
Indian Institute of Science Education and Research – (BS/MS program in Science).
Indian Statistical Institute – (B.Math – Hons, B.Stat-Hons).
Delhi University – (UG/PG courses in Math, Statistics, Economics & Computer Science (among others).
P Jain School of Global Management – (Certificate Program in Big Data and Analytics (BDAP)
Great Lakes Institute of Management (Chennai) – (PG Program in Business Analytics).
Aegis School of Business (Mumbai) – (PG Program in Business Analytics & Big Data).
Skills Needed to Become a Data Scientist.
In addition to academic expertise in the subjects above, becoming a successful data scientist also requires an aspirant to have broad-based skills in specific areas which include;
Excellent understanding of various programming languages like Python, Java, C/C++ and Perl.
Knowledge of software used extensively in data analytics like Hadoop, Tableau, R and SAS.
Ability to resolve problems quickly and engage in critical reasoning.
You should be able to execute fast mathematical calculations and be adept in the use of statistical tools.
You also need to have some familiarity in the use of SQL Database techniques and be good at data visualization.
Career Opportunities in Data Science?
As a multi-functional domain, data science has different types of roles available within the domain. Some of the more prominent ones include;
Data Scientist
The primary role is that of a data scientist, who is an expert in reading and analyzing data patterns which can help businesses save millions by making smarter decisions. The role involves the use of statistical and mathematical models to analyze data and to find the right solutions.
Data Analyst
A data analyst is an expert at working with huge amounts of data related to the working of different types of businesses. They use various statistical tools to mine this data for important information (costs, traffic, buying trends, sales revenues), based on which companies take key decisions to grow their business.
Business Intelligence Specialist (BIS)
A BIS is a person trained to work with statistical tools (SQL) who conducts the actual market research of all kinds of data before generating the reports to examine the business trends. The reports are then shared with the senior management of the company who update the data models accordingly.
Data Engineer
This role is well suited for a software engineer since it's more focused on the coding aspects and executing the suggestions and solutions made by data scientists with regard to the non-analytical part of big data.
Database Administrators
Also referred to as Data Managers, they are responsible for structuring data and ensuring the efficient management of unstructured data by reviewing and maintaining it periodically. They also build the infrastructure and database systems used in the process.
In Conclusion
With an increasing number of companies recognizing the importance of data analysis in deciding the future of their business, there has been a steady rise in the demand for skilled data professionals adept at new-age concepts like Data Science, Big Data, AI and Machine Learning.
It is this sky-rocketing demand which has catapulted this niche domain to the very top of the most-sought-after jobs list in India.
For a young IT professional looking to fast-track his/her career with an eye on the future, acquiring the skills needed to become a data scientist could hold the key to a challenging and rewarding career.