The world is getting digitized quickly, and India is not far behind. Most of the country's small and big businesses have changed their marketing in recent years. So that is the reason Digital Marketing jobs are so much in demand.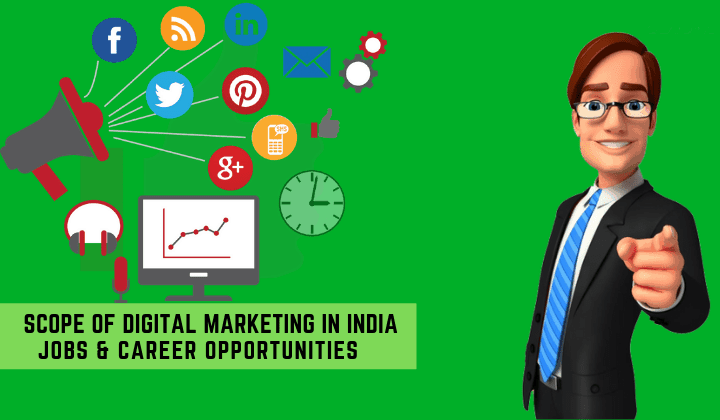 Earlier, most of companies' marketing budgets were allocated to traditional platforms like newspapers, TV, Radio, SMS, etc. But now, more companies are going online and exploring the scope of digital marketing jobs.
Every company wants to exploit the power of digital marketing and reach the maximum number of people.
So they are spending more on running digital marketing campaigns than ever before. They have a separate in-house digital marketing department in their company.
I don't need to convince you any further what digital marketing jobs are going to offer you in the future.
15 Best Digital Marketing Jobs & Career Options
There is excellent career scope in digital marketing in India. Starting salary in digital marketing is Rs 15000 in India and can go up from 5 Lacs to 10 Lacs. There is no direct entry to digital marketing jobs. You need to join a digital marketing course in order to make a career in digital marketing.
1. SEO Related Jobs
SEO (Search Engine Optimization) related jobs are one of the most common Digital Marketing career opportunities you can find.
Once you've completed a course in Digital Marketing from a reputed institute, you can join as an intern for the time being. But later, with some experience, you can graduate as an SEO executive very easily.
Although the SEO job profile is very vast to cut it short your main job will be getting genuine high-quality backlinks from the authority websites.
As you gain knowledge and develop your expertise by learning various aspects of SEO, you are most likely to get promoted to a Senior SEO Executive level in the company.
An SEO expert's starting salary will be around Rs 12,000 – Rs 15,000/month. However, after an experience of 2 years or more, you can easily earn up to Rs 40,000/- to Rs 50,000/- per month.
2. Social Media Jobs
If you love working with various social media platforms like Facebook, Twitter, YouTube, and Instagram then you can become a social media expert instead becoming an SEO expert.
After the internship, you can join a company as a Social Media Marketer. Your main role will be running paid ads on various social media platforms.
For example, running ads on Facebook will require a lot of marketing skills because of the addition of new features every day.
As a Social Media Manager, you will mainly deal with the content.
Salary can be between Rs 12,500 and Rs 50,000 per month, depending on your experience.
3. SEM/PPC Jobs
SEM or search engine marketing targets Search Engines like Google and Bing. To be realistic, 99% of the time, marketers will be dealing with Google.
In SEM, you are going to promote a website by ranking it high on Google Search Result Page with the help of a paid campaign known as Google Adwords.
In Google Adwords, your main task will be creating powerful ads and running the ad campaign successfully within the allotted budget.
It requires a lot of experience working with Google Adwords. Your campaigns must produce results within the budget. It needs a lot of research to choose keywords that are very targeted but, at the same time, are very low in CPC.
PPC jobs are also quite similar to Adwords, but here you will be running Pay Per Click ads on Facebook, YouTube, and other platforms.
S
4. Digital Marketing Manager
Digital Marketing Managers are responsible for overseeing projects, creating deadlines and managing budgets. You will manage a whole campaign from content to SEO as a digital marketer.
You will coordinate with various departments in your company like the SEO team, Social Media Marketing team, Content Marketing Team, Email Marketers, etc.
A Digital Marketing Manager will be reporting directly to the Marketing Management of the company. So you will be operating at a much higher level.
Before you become a Digital Marketing Manager, you need at least 5 to 6 years of experience in the industry.
The average salary of a Digital marketing manager could be well over Rs 24 lacs per annum.
5. Blogger
One of the significant aspects of having a digital marketing career in India is that you don't necessarily have to find a 9 to 5 job. You can always start on your own from the comfort of your home.
Blogging is one way!
If you have a passion for something, then you can combine that passion with Digital Marketing. You can create a blog by purchasing a domain and hosting, updating it regularly with articles and videos, doing some SEO, and that's it.
Digital Marketing will help you to market your blog to people with the help of SEO. On the one hand, you will create great content, and on the other, you will build backlinks to get more traffic.
With blogging, you can earn Rs 10,000/- a month and also Rs 10 Lacs a month, depending upon your blog.
Blogging has got a great future ahead!
6. Content Writer
To be honest, only 1 out of 10 succeed as a blogger, but 9 out of 10 can definitely become a content writer. Any digital marketing campaign needs good content. Effective content marketing is not possible without content.
Hence, content writers are in a great scope of digital marketing jobs.
You should be able to write quality content on any given topic. Your job is relatively simple and requires writing skills only. You don't have to worry about the marketing part.
Content writers are paid for each word they write. In India, content writers are paid Rs 0.25 to Rs 0.50 on average for per word. Exceptional writers can get paid even Rs 1 to Rs 2 per word.
7. Copywriter
Although copywriting is not related to digital marketing jobs as such when it comes to content marketing, copywriters play an essential role.
Copywriting is a bit more nuanced than content writing. Here you will be asked to write for a landing page or the sales page of a website.
As a copywriter, your responsibility is to convert readers into customers by convincing them through the words you write.
Instead of getting paid for each work, you get paid for each sales page you create.
8. Freelancer
I think the best aspect of Digital Marketing jobs is Freelancing jobs. A Digital Marketing career in India makes it possible for you to work as a Freelancer.
You don't work for anybody!
You don't have a boss!
You don't commute!
You choose your own Time!
A freelancer can be anything a writer, an SEO guy, or a marketer.
Suppose a new restaurant just opened in your city, and the owner wants to promote it online through digital marketing. Then he is more likely to hire a freelancer like you than an agency because Freelancers are much cheaper.
You can create their Facebook page or a blog and build some backlinks to get customers.
You can also take projects from clients on Freelancing sites like Upwork or Fiverr, finish them on time, and get paid directly from them.
Freelancers must market themselves through social media sites like Facebook or LinkedIn to get more clients.
9. Content Marketer
The content writers are already writing content and you just have to promote it online through various means.
As a content marketer, your responsibility will be managing blogs, ebook publications, sales page copywriting, guest blogging, drip marketing campaigns, video marketing, social media, etc.
You have to think out of the box to help reach content to the maximum number of people online. For example, you may have to go to an influencer and convince him/her to promote your content on Social Media platforms.
Various innovative strategies have to be implemented here.
Content marketer's salaries can be between Rs 300,000 to Rs 12,000,00 per annum.
10. Email the Marketer
In this career, you must use email communication tools to reach customers. Email marketing is much more targeted than other forms of marketing. Here you build a relationship directly with customers.
Hence, you have to be very responsible with customers and not use the same old techniques like bombarding them with sales letters five times a day in their inboxes.
Your distribution techniques, like broadcasting sales letters to thousands of subscribers, must be engaging to customers at a personal level.
Always follow up with another email. You have to make the best use of Forms and Pop-ups to get more subscribers. Email Marketers can earn as much as Content Marketers.
11. Digital Marketing Agency
If you are not looking for a job and want to be more than a Freelancer, then you can start a Digital Marketing Agency.
It will be a small company where you will give services like SEO, Social Media Marketing, Paid Marketing, and Brand Management to your clients.
First, you will create your own website mentioning all the services you offer and then promote it online. And that is how you will get new clients. It will not be a training institute but more like a consulting firm.
12. Online Business
If you already have a business and want to take it online, digital marketing can help you do that.
After you have completed a course in Digital Marketing, you can implement that knowledge to grow your business.
Suppose you are an Amazon Seller and want to increase your customer base. Then you can create a website, upload good content, do some SEO to rank high on Google, and reach out to new customers online daily.
Instead of paying for ads in major newspapers or going for a consultancy, you can generate leads on your own through digital marketing.
It will help you to reach customers in smaller cities across India.
13. Web Analytics Jobs
There are some other lesser-known digital marketing jobs. One of them is a Web Analytics job where you analyze the performance of websites.
Things like
Traffic Analysis like organic, referral, direct, social media, etc
Demographics like country, age, income group, gender, etc.
Views and Visitors
Bounce Rate
Platform Being Used like Laptop or Mobile
Google Analytics is the tool that you will be working with most of the time.
Your salary will depend upon your experience.
14. Conversion Rate Optimizer
The conversion Rate Optimizer or CRO's role is to increase the conversion rate by getting more people to visit a site and buy its products.
A CRO will use tools like Crazyegg.com to get insights into how people respond to landing pages and optimize them further to get better conversion rates.
You will work with people like Inbound Marketing Team, SEM, Social Media Marketer, Email Marketer, etc to get maximum results.
CROs are paid way more than a Web Analytics guy.
15. Growth Hacker
Last but not least digital marketing career in India is Growth Hacker. You will use innovative and low-cost strategies to grow your business.
You will identify the most efficient ways to grow business across the marketing funnel and product development.
Growth hackers are well-experienced people with a lot of experience in the industry. Their salary can be up to Rs 24 lacs per annum.
So these were 15-odd digital marketing jobs for people from all walks of life. You can choose any one of them, whichever suits you the best.