Any student wanting to learn digital marketing would obviously look for the best training institute. That's reasonable. Because you're paying for the course and would love to acquire all the necessary skills to launch career as digital marketer.
Since digital marketing ranks among the fastest growing industries of India, it's but obvious that countless training institutes will offer innumerable courses.
So, how does one select the best digital marketing training institute? This is a question that you would definitely be asking.
Understandably, there's no guidelines on how to select the best digital marketing training institute. So how do you select one?
Enter DMatic Digital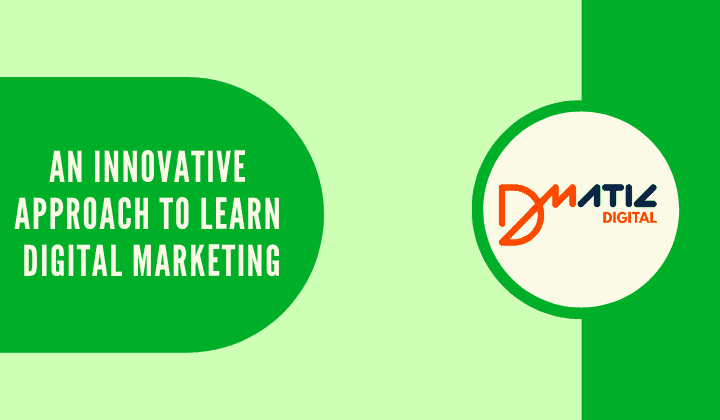 By any standards, DMatic Digital is the best digital marketing training institute in India. And there's very strong reasons why I say this.
Personal Coaching by India's Topmost Blogger
DMatic Digital is brainchild of Pritam Nagrale, who ranks among the topmost and wealthiest bloggers and digital marketers of India. He runs very successful blogs like MoneyConnexion, SureJob and many others.
Together, these blogs record over two & half million hits a month from audiences around the world and primarily from USA.
Pritam Nagrale is the Lead Trainer at DMatic Digital. He learned digital marketing on his own at a time when there weren't any courses available in India.
After several trials and errors on digital marketing processes on his three blogs, Pritam Nagrale has developed a unique technique. And you can learn this unique technique through DMatic Digital training courses only.
Faculty Par Excellence
Every faculty member that conducts digital marketing training at DMatic Digital has around 10 years of experience. Every faculty members are top names in digital marketing industry of India.
They effectively utilize digital marketing resources during their daily work. While training, they bring to life their expertise and experience both during classroom coaching and on-hands practice on various digital marketing courses.
Furthermore, every student at DMatic Digital gets personal attention from these faculty members, which allows you to resolve questions and doubts on the spot.
They train students in simple, easy to understand language even while tutoring on complex and technical topics.
They are bilingual and hence can answer your doubts in English and Hindi. This eliminates language barriers and makes learning digital marketing a highly enjoyable experience at DMatic Digital.
Innovative Approach to Learning
World's all top digital marketers admit that starting a blog is the best way to learn digital marketing.
DMatic uses the same innovative approach in their training.
Before they start digital marketing modules, they teach you blogging. They provide you a full featured self hosted blog (yourname.com and not yourname.wordpress.com) that cost around 10000 (DMatic pays for that).
Thus, every student becomes proud owner of a website while motivating them to learn digital marketing.
Faculty at DMatic Digital helps students at every phase- from designing the website to adding plugins and widgets. Students are then taught how to create different content for their personal or professional blog.
Thus, they can create a blog based upon their passion and hobbies or a professional one related to their work.
While learning content creation, DMatic Digital also trains them on proper use of keywords and other resources that would help their personal website to gain rankings on Google and other search engines
Additionally, students also learn blog monetization. Meaning, they learn how to use Google AdSense and other resources and skills necessary for affiliate marketing. Hence they can earn while they learn too.
DMatic Digital owns various highly successful websites that record over two million hits per month. Students of DMatic Digital training course get to learn various innovative techniques that founder Pritam Nagrale has himself perfected over these years.
So even before you start digital marketing modules, you learn things like-
how to design very beautiful websites without knowing a single code.
how to write high quality content for your blog and digital marketing.
Rs.100,000 Worth Free Tools
This is a feature that no other digital marketing training institute in India offers. You get Rs.100,000 worth free tools, including the free full-featured website domain name, hosting and other essentials for keeps.
The good news is, these are your gifts from DMatic Digital upon graduation from the course.
These tools are resources vital for digital marketing processes including Search Engine Optimization (SEO), Social Media Marketing, keyword research and target audience identification, graphic designing, topic finder and video creation and editing.
These free tools are very useful to promote your own website that you got as student from DMatic Digital or new ones you may create later. They help you to develop your skills further.
Should you wish to work as digital marketing freelancer or launch own startup to offer digital marketing services, you needn't invest on these tools. And if you're joining a company, you don't have to wait for them to provide you these tools: you can begin right away.
100% Scholarships
Deserving students are eligible to get up to 100% scholarship from DMatic Digital. These scholarships are available as fee waiver.
DMatic Digital encourages students to avail of these wonderful scholarships that can even get you the course for free through fee waiver. There are various reasons why DMatic Digital provides scholarships.
The reasons: DMatic Digital founder Pritam Nagrale has a vision for Digital India. He firmly believes, deserving candidates should get best opportunities to become part of Digital India and acquire skills that can help the Indian industry and economy.
Hence, these scholarships serve as encouragement to aspiring digital marketers. And deserving candidates can get up to 100 percent fee waiver too, if they meet standards set by DMatic Digital.
Courses from Rs.9,990 Only
Courses starting from Rs.9,990 only are available from DMatic Digita, which is one of the reasons it's the best digital marketing training institute.
Since DMatic Digital's digital marketing training courses are affordable, you can select any specific course you wish to learn.
This system is particularly useful if you wish to specialize in one or two digital marketing courses and develop excellent expertise in these fields only.
Over 12 International Certifications
You can get at least 12 international certifications from topmost IT companies of the world including Google, Facebook, YouTube and Hubspot among others, upon completing a digital marketing course at DMatic Digital.
Their faculty members train you on processes and skills necessary to crack exams for these international certifications. And of course, a certificate from DMatic Digital too.
Since digital marketing is a profession that's growing worldwide, you can utilize these international certifications to get jobs abroad as well.
And if you're looking at employment in India, these 15 plus international certificates will help you find choicest job opportunities at leading Indian corporations and Multinational Companies (MNCs) here.
Widest Range of Career Choices
A digital marketing course from DMatic Digital gives you the widest possible choices of skills and career options.
The company offers placement assistance upon successful completion of the digital marketing course that assists you in finding high paying jobs with some of the top employers.
There is another better career choice for those who wants to work for himself or want to make extra income.
Yes, I am talking about blogging.
As founder of DMatic himself is a topmost blogger, you can expect to learn the best strategies to become a pro-blogger and make some cool money online.
At the same time, faculty members also train you on how to pitch skills for work.
Furthermore, you'll also learn ropes of starting your own startup for offering digital marketing services to small to large businesses.
And working as freelancer for international projects through various crowdsourcing platforms.  This essential training isn't provided by any other digital marketing training institute in India.
In-House Internships
All successful graduates from DMatic Digital's digital marketing training courses are given an equal opportunity to compete for paid internships within the organization. And brilliant interns can also get a job at DMatic Digital. This is a rare service in India.
During paid internship, students work on various in-house projects. Either you will be provided to work with most successful blogs or the real projects of their clients.
While all digital marketing courses are same, Pritam Nagrale has his own bagful of tweaks that increase efficiency of these courses.
You get to learn these special skills and use on your website or for benefit of your client.  Thus, you become a better digital marketing professional.
Five-Years Support for Students
Consider a situation where you're working as digital marketer full-time or freelance or running own startup. And you encounter a situation or problem that you can't solve.
DMatic Digital doesn't leave you alone in such situations: you can call up any faculty member and request help to solve your issues.
DMatic Digital offers this free support for every student for as long as five years from date of graduating from their digital marketing course. And if you need to learn a new digital marketing skill, DMatic Digital also offers them free or at discounted rates.
Real World Projects
As student, DMatic Digital doesn't ask you to work on third party real-world projects like most others. Instead, you'll be working on real-world projects that are owned, operated and executed by DMatic Digital.
These real world projects include the various websites owned by DMatic Digital, the company's corporate website as well as websites the company's service division develops and maintains for external clients.
When you work on real-world projects, the experience you gain is far too superior than on third-party projects or fictitious ones. Also, case studies you'll do during digital marketing training course at DMatic Digital are on websites where you'll be working hands-on alongside faculty members.
Closing Thoughts
There're several more reasons why DMatic Digital is the best digital marketing training institute in India. These include weekend courses especially suitable for working persons and college students, flexible class timings for on-hands training, over 150 hours of classroom training and another 150 hours of practical learning.
Every faculty member at DMatic Digital is a veteran in their own fields of specialization and have evolved innovative techniques that meet industry requirements. Given these facts, it's natural to conclude that DMatic Digital is the best digital marketing training institute.