There are 2 things that can prove that freelance jobs opportunities in India is better than any other career options.
First is average freelancer make more money than an average salaried person & second India still has only 15 millions freelancers as compared to 53 millions in USA.
So there is a great potential for a freelancer in India because there is high demand for freelancers but number of freelancers are less.
It does not mean this is not a great opportunity for other countries. Freelancers has great demand all over the world.
There are dozens of freelance sites on internet where you can find good earning opportunities.
Not all are good but there are few exceptional ones. They have been there for a while now. You can get any job depending upon your skill set.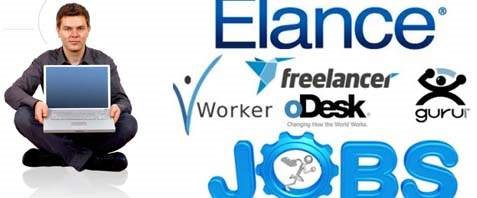 These freelancing job sites provide you myriads of jobs covering almost every area or industry. However, there are certain jobs which are very popular if you want to do as a freelancer.
Top 20 Freelance Jobs Opportunities
You need to remember 2 things here –
These 20 are not the only freelance jobs opportunities. There are hundreds of others which you can do as a freelancers.
There is no freelancer without any skills. There is no freelancers which has got that skills by birth.
If you don't have any of the skills then learn it. It does not take much time. Just check the popular job opportunities below to find what to do in a particular job & how to learn that skill.
So here are they one by one.
1. Website Development
Web development is the work of developing a website for the internet. It has a number of affairs involved in it like developing the static single page of plain-text or like web-based internet applications, social networking and electronic businesses.
It includes web content development; web server and network security configurations, e-commerce development etc.
Its better you take the training from a training institute for website development so that you can be confident of working as a freelance web developer.
2. Web Designing & Web Programming
Web designing involves different skills and disciplines that are performed by web developers for production of various advanced websites and maintaining them.
The areas of web designing include web graphic design; authoring, user experience designing; search engine optimization, interface design etc.
The term web design is normally used to describe the design process relating to the client side design of a website and it is a part of web development.
So if you want to enter into this then you should have knowledge of HTML5, PHP, Database, WordPress, CSS etc. So get it done from a reputed institute or learn from internet.
3. Article Writing & Translation
Article writing is one of the top freelance jobs that is easy if you have a firm grip on few things like the language you are writing in, the grammar, sentence construction.
You are given a particular topic to write on. First and most important thing is to understand what is being required from your article.
Then you can have the necessary information from the concerned websites and write it following the guidelines given.
Translation is rather, a very simple task. Things that are important to be taken care of, while translating is the meaning, construction of sentence and the grammatical factors.
Article writing is not a hard task & anyone can start this. If a client ask for a content on a particular topic then you can search on internet related to that topic & rewrite the same thing in your words by writing your own reviews.
4. Data Entry
Data entry naturally encompasses a number of occupations. These include sectors like electronic data processing, word processing, typing, transcribing, coding and clerical jobs.
The ways of performing data entry jobs varies with the data entry operators who work for micro labor outfits using crowd sourcing techniques and the traditional data entry companies which are generally business process outsourcing firms.
5. Mobile app developers
In last 1-2 years, demands for mobile app developers has increased significantly. Now, even a small company wants to develop their own apps for smartphone users.
Mobile application development, just like web development is the function of developing application software that is applicable to Android or iOS Smartphone.
6. Design & Multimedia
Multimedia is a content that is a combination of different content forms like text, still image, video, animation, audio etc.
Multimedia has a vast usage in all sectors of today's world including industry, health, administration, engineering, IT, education, and journalism.
So multimedia and designing has also become a top freelance job that is being accepted by the job seekers of related fields. It has diversified applications in all sectors.
7. SEO Experts
Search engine optimization (SEO) is the process of brining a website on the first page of a search engine with a desired keyword when a user search for  that keyword.
Its one of the hottest freelance jobs in internet because companies pay you heavy amount monthly for your work. You need to maintain the rank on search engine.
There are number of things you need to do like on-page SEO, link building, site analysis, keyword research etc.
This is simple if you have experience or trained from a reputed SEO training center like this.
8. Marketing & Sales
Now-a-days, the sectors of marketing & sales have stretched their realms to the world of freelancing widely. The marketing strategies of many reputed companies and their sales jobs are done by the freelancers, often, by the online services.
Most of SMEs (small & medium enterprises) does not have big budget so they hire freelancers for all their sales & marketing needs.
9. Finance & Management
Just like jobs in the Marketing & Sales departments, which were earlier considered to be a full-time and outside job only, finance & management has also got new recognitions with freelancing.
Whether it is a crucial task of the finance department of a firm or management of a new project, the freelancers handle it all tactfully.
10. Engineering and Architecture
Both Engineering and Architecture has deep relations with technologies and internet. So, freelancing in these sectors also got wide considerations.
The Architects and Engineers are appreciating it very much to work from home for multiple companies, besides working full time.
11. Project Management
Well, in today's world of advanced technologies and fast internet facilities handling a project over the internet is not too difficult. While the freelancers get access all the necessary details, they can inspect them and take wise decisions too, for a project.
12. Legal
Legal works are also included now in the area of freelancing with the advancement of technologies.
13. Software Developers
Software developing is a part of web developing. There are plenty of new software being designed for computers, tablets, mobiles and other devices for various purposes.
Continuous up-gradations and maintenance of those are need, for which freelancers are appointed.
14. Virtual Assistants
A virtual assistant is generally a self-employed person who provides administrative, creative or technical assistance to clients from home.
Generally, they are employed for matters like tax, insurance or such things. They are well-acknowledged for their productive work.
15. Networking & Information Systems
Functions like managing networks like electricity, water supply, telecommunications falls into the category of Networking. Information System is something that assists to get information on various matters like networking.
16. Administrative Support
This is also a well-known freelance job that supports various administrative affairs sitting in home.
17. Customer Service
Customer service related to a product like an electronic gadget or a home appliance or a car is one of the top freelance jobs one can do.
18. Business Card Designs
This is a profession that is ideal for freelancing. It involves making the business card according to the customer's choice and requirements and supplying.
19. Logo Design for Clothing
Fashionable clothes, needless to say, have high demands, whatever be the target market. Putting the logo of the brand in the cloth is a business that is good to run from home.
20. Office & Admin
Just like a virtual assistant or a project management done from home or like administrative support, freelancing or doing part time job for office and admin is an effective job gaining popularity among job seekers now.
So these are some of the hot jobs for freelancers. You should read this article if you are looking to start a career in this without making any mistake.