Long commutes between home and office reduce productivity. This is true whether you run a business or work for someone. Commutes are tiring and often boring.
In Mumbai, India for example, people spend as much as four to five hours commuting by trains and local buses. On average, an American wastes nearly 42 hours of useful time and 19 gallons of gasoline, waiting in traffic.
In other countries, the situation is worse. In Israel, a geographically small country, commuting time is more than 50 minutes one way. These potential man-hours can be saved to boost your productivity.
And with some cool stuff, easily available in the market, you can boost productivity and increase profits to become richer.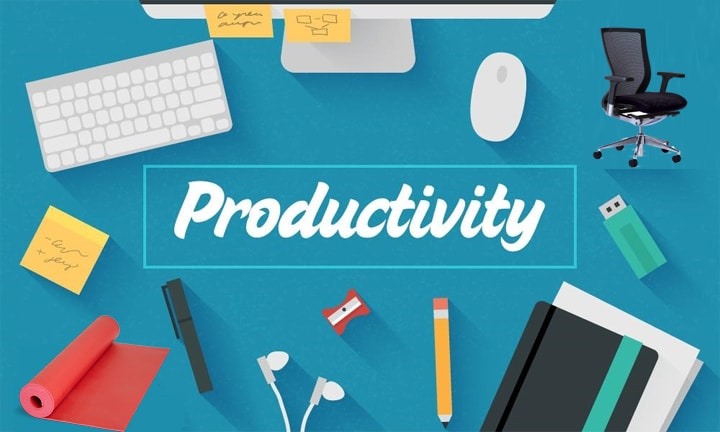 Folding wall desk:
A folding wall desk is excellent for people who work from home. The desk comes with two or three shelves and compartments. It features a collapsible desk, where you can place a laptop or compact PC.
This wall desk can be folded up whenever required. Folding wall desks look aesthetic and can be installed in your bedroom or living room. These desks are available in various sizes and colors to suit your needs and decor.
They are easily available online. You can pay them up-front or in easy instalments. With a very basic toolkit, they can be installed yourself. A folding wall desk is ideal if you have space constraints, which is common in large cities.
Ergonomic chairs:
Spinal problems develop during middle age, when a person is within the 30-40 years age group. Carrying backpacks in crowded trains and buses, walking with them causes invisible stress and strain on spine.
The spine is central to your Central Nervous System. Any damage can cause chronic bank pains as you get older. Regardless of where you work- home or office- an ergonomic chair can save your spine from unnecessary trauma.
Ergonomic chairs provide the much needed support for your lumbar and lower spine. A very wide variety of ergonomic chairs are available online to suit your personal needs and budget. You can adjust the height and tilt to suit your physique and comfort.
Sofa-cum-bed:
A sofa-cum-bed may sound funny as office equipment. Yet, it is becoming increasingly vital when operating from limited space, either from home or office.
A sofa-cum-bed allows you to seat visitors to your premises. You can also use it for power naps or relaxing during lunch short breaks.
A wide assortment of sofa-cum-beds is available online. They are easily foldable. All sofa-cum-beds come with attractive livery that adds style and color to your home office.
They are economical compared to expensive sofas and lightweight for better portability. It is well known that relaxing during work helps boost your productivity.
Power inverters:
Electricity plays mischief during monsoons and other seasons. Erratic power supply is dangerous to you computer and business.
Sudden surges and drop in voltage can seriously or irreparably damage your expensive equipment, whether at home or office. Investing in good quality power inverter is your best bet to maintain unlimited power.
It prevents losses of expensive equipment. Uninterrupted power supply is vital to retain an edge over competitors and complete your office work on schedule.
Inverters do not consume large amounts of electricity. They simply recharge silently when regular electric supply is available. Once power fails, they come on automatically.
They help protect your data and work from being lost due to sudden computer failures. You continue to enjoy illumination and air conditioning and ventilation of your premises with power inverters.
All-In-One PC:
Nowadays space is premium, whether it is office or your home. Computers are essential tools whether you are working for someone or have your own business.
All-in-one PCs are the latest trend in increasing your productivity while saving space. Laptops come with several inherent limitations. This includes smaller screen size, limited memory, few USB ports and cramped keyboard.
These can be avoided by buying an all-in-one PC. Such PCs can be folded away and kept when not in use or easily carried elsewhere when the need arises. You can get very high powered all-in-one PCs from very renowned manufacturers at competitive rates.
They do not require any installation skills. Such PCs are especially useful for high volume work, creations and editing, maintaining records and other regular business duties.
Software suites plus external hard drive:
Computing is essential for every work. Thanks to developments in IT, a wide array of software that helps increase your productivity can be downloaded from the Internet.
A lot of such software suites are free from Google, Microsoft and Apple, to name a few. They are very reasonably priced. Subscriptions are annual or one-off.
The only flip side is, these office suites are intensive on your computer memory. Downloading and upgrading software can sometimes slow down your computer.
You can buy an external hard disk and store such office suites. The external drive can be carried anywhere with you. They also ensure you have access to your data 24x7x365, regardless of your location.
Mini-bar/ mini-fridge:
Business associates, colleagues, customers will visit your office. Naturally, they will expect to be treated to a soft drink or a chilled glass of water.
You may also wish to host a small meeting with liquor for your visitors. Playing host demands you are well stocked with juice, chilled drinks and water.
Refrigeration technology and interior designers have joined hands to create aesthetic looking mini-bars and mini-fridges. They are designed to fit into any small office.
Exteriors are created to blend well with any decor. Choose the one that best suits your pockets and needs from a wide collection offered online. Online stores offer free delivery and installation.
Document shredders:
Industrial espionage is dirty. It can strike you in any form, regardless of whether you work for someone or own a business. Despite heavy reliance on computers, documents continue to remain backbone of any business.
Errant employees or sheer carelessness can cause a sensitive document to land with your competitor. To prevent business records from falling into wrong hands, you need to destroy them properly.
Burning them is not a good solution: You can get fined for pollution and littering. Document shredders are ideal for this work. Based on volume of paper documents discarded daily, you can opt for a new or second hand document shredder.
Exercise machine/ Yoga equipment:
Work stress is the biggest enemy of productivity. Research indicates, stressed women and men tend to be lesser productive when compared with those who are relatively relaxed.
Large corporations across the world are waking up to benefits of Yoga, meditation and even light exercises that can be performed while working.
Many large companies have designated rest and relaxation zones for employees. You might not have sufficient area to set up a relaxation area. But having a small exercise machine or stuff required for Yoga is worth considering.
A good selection of such stuff is available online. They do not consume space. Relieving stress is a known productivity booster.
Excellent climate control:
Weather is also a productivity killer. Climatic extremes, gloomy weather are known to affect moods. Sufficient psychiatric studies exist to conclusively prove that moods swings along with weather.
This can be prevented by installing excellent climatic control systems at your office. Climate control is not necessarily air conditioning. It also involves heating and dehumidifying a place.
Depending upon your location, you will require an excellent climate control system installed at the premises. Human body is generally tolerant to temperatures around 21 degrees Celsius.
More stuff will help better:
You will also need a few more things to boost productivity for your home office . These include a good quality mobile phone that doubles up as WiFi router, a wireless Internet router and great Internet connection.
Landline phones with answering machines ensure you do not miss any important calls. A landline phone also gives legitimacy of sorts to your premises.
Depending upon the nature of your business, you may need Point Of Sale machine or biometrics reader.