Days when residential apartments, office buildings and shopping centers were built for basic functionality are now over.
Instead, people now go for swanky interiors, whether it's within a building, office or home. And creating those wonderful interiors where we all love to dwell or work is created by interior designers.
This fact amply proves that interior design courses as well as skilled professionals are in great demand in India nowadays.
Career in Interior Design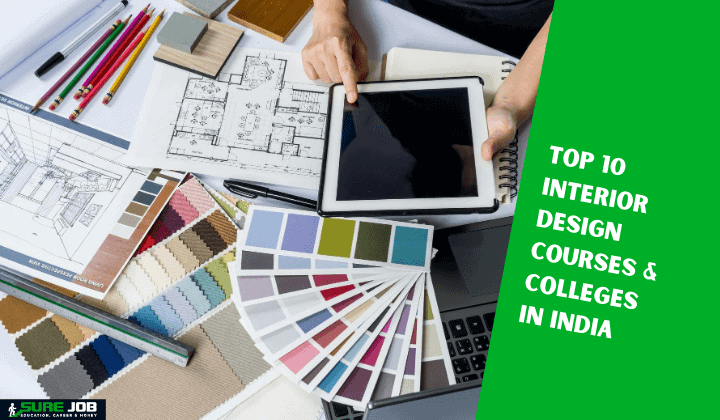 The demand for interior designers however is limited to those holding superb qualifications in the field. This means, you should hold a degree from any of the top 10 interior designing colleges in India.
There's a reason for this.
A well-qualified, creative interior designer can earn anything between Rs.400,000 to Rs.2 million per year. That's because interior designers need to know a lot of skills.
The most important skill is creativity followed by high level of emotional intelligence. These two skills help you become a superb interior designer.
And you'll require lots of patience, eye for detail and researching skills to comprehend global interior design trends.
Therefore, if you wish to make a successful career with interior design courses, consider joining any of these best colleges.
Top 10 Interior Design Courses & Colleges in India
This list is based purely on merit. There're countless other institutions that offer interior design courses. However, the ones I mention rank among the best.
Sir JJ School of Arts (Mumbai)
Bachelor of Fine Arts- Interior Decoration is a four-year course the highly respected Sir JJ School of Arts in Mumbai offers.
This school was established by one of the founding fathers of the city of Mumbai (erstwhile Bombay), Sir Jamshedjee Jeejeebhoy, the first Baronet of India.
Entrance to the BFA- Interior Decoration course is strictly by merit. And getting a seat isn't easy as one may believe.
That's because graduates of Sir JJ School of Arts are in high demand in India and abroad. In fact, most students get high-paying internships or jobs during graduation.
National Institute of Design (Various Locations)
The first campus of National Institute of Design opened in Ahmedabad in 1961, as part of the Indian government's policy to provide designing services to Micro, Small & Medium Enterprises (MSMEs).
The NIDs rank among the foremost design schools of India. All NIDs in India function under the Ministry of Commerce & Industry. All campuses of NID offer Bachelor of Design- Furniture & Interior Design, a four-year course.
You'll have to pass the tough NID- Design Aptitude Test (NID-DAT), an entrance exam to gain entry to the Bachelor of Design course.
NID currently has campuses in Ahmedabad, Gandhinagar, Bangalore, Vijayawada, Jorhat, Kurukshetra and Bhopal. There're plans to open more campuses in other parts of the country in the near future.
SNDT Women's University (Mumbai)
Exclusively for female students, the famous SNDT Women's University in Mumbai offers a three-year Bachelor of Vocation in Interior Design course.
Every year, SNDT Women's University offers only 30 seats for interior design courses. Hence, entry is purely on merit as well as first-come-first-served basis. The course is open to women who score at least 50 percent marks in their Higher Secondary School (HSC) exam or its equivalent.
Bachelor of Vocation in Interior Design, is also open for women holding a Diploma in Interior Design from any reputed university in India.
Women holding National Skills Qualifications Framework (NSQF) certification in interior design can also join this fulltime degree program.
School of Design- NMIMS (Various Locations)
The School of Design at Narsee Monjee Institute of Management Studies (NMIMS) ranks among the topmost educational institutions in its genre.
They have a futuristic Bachelor of Design (Humanizing Technology), a four-year residential course from its six campuses. This is an exclusive course in India and hence, the demand of seats is extremely high.
To qualify for this program, you'll have to pass the NMIMS National Test for Programs After Twelfth (NMIMS-NPAT).
Students that've completed HSC or its equivalent with minimum 60 percent marks or corresponding scores are eligible to apply for the NMIMS-NPAT exam and seek entry to the Bachelor of Design course.
They have campuses in Mumbai, Shirpur, Bangalore, Hyderabad, Indore and Navi Mumbai. The course will soon be offered at their upcoming campuses in Dhule and Chandigarh.
George Institute of Interior Design (Kolkata)
George Institute of Interior Design comes from one of the oldest educational foundations of India, George Telegraph Training Institute which was established in 1920.
GIID is the latest venture from this foundation. In the field of interior design, GIID offers four distinct interior design courses that're generally open for all students.
GIID has the four-month Certificate Course in Expert Professional Interior Design, a one-year Diploma in Professional Interior Design, the two-year Advanced Diploma in Professional Interior Design and the three-year Bachelor of Vocation in Interior Design.
There're no specific criteria to register for these courses.
Anyone with a Secondary School Certificate qualifies for the Certificate and Diploma courses while HSC is necessary for admissions to Advanced Diploma and Bachelor degrees.
University of Madras
University of Madras offers the three-year Bachelor of Science in Interior Design & Décor course from its Chennai campus. Entry to this graduate course is on first-come-first-served basis.
However, students need to score at least 60 percent marks in their HSC exams or their equivalent to qualify.
The university also has Master of Science in Interior Design and Décor for students that wish to take their interior designing career further.
Both the courses include training on traditional as well as modern interior designs. The university has state-of-the-art equipment for students of its BSc- Interior Design & Décor course.
ZICA (Indore)
Zee Institute of Creative Arts is based in Indore. It is operated by India's leading TV network, Zee Group. Though ZICA began with creative courses for animation and graphics, they now have two fantastic interior design courses for every student that wishes to learn the field.
The two-year Professional Development Program in Interior Designing is a course that teaches you everything about interior décor, designing systems and trends using the latest training methods.
The one-year Professional Program in Interior Design is suitable for students that wish to start with entry level jobs in the field.
To qualify, you need to have completed SSC or its equivalent. There're no entrance exams. ZICA claims it ranks among the foremost institute of its kind in Central India.
Government Girls Polytechnic (Lucknow)
One more course exclusively for female students is available at the Government Girls Polytechnic in Lucknow, the capital of Uttar Pradesh.
This college was built in 1963 as part of a joint venture between the Indian government and World Bank group to provide engineering diploma education to female students.
GGP-Lucknow has two interior design courses. One is a three-year Diploma of Interior Decoration & Design course as well as a three-year Diploma of Architectural Assistantship for women that wish to make a career in interior design.
You'll have to clear the All India Council for Technical Education (AICTE) entrance test to qualify for a seat at this polytechnic.
Goa College of Architecture
Bachelor of Architecture & Interior Design courses of three-year duration are available from the Goa College of Architecture, which functions under the University of Goa and AICTE, New Delhi.
Entry for these courses is by clearing the AICTE entrance exams with high scores. Prospective students also require score of 60 percent and above in their HSC exams or equivalent.
GCA students participate in various local and national projects for restoration of interiors and exteriors of monuments and historic buildings.
The college has a relatively smaller campus. Number of seats are limited to only 50 students per year, according to various sources.
Sardar Vallabbhai Patel Institute of Technology (Valsad)
SVIT located in the city of Valsad that lies between Mumbai and Surat offers Bachelor degrees in Architecture. Students also learn interior design and its various techniques as part of the curriculum.
These interior design courses are provided by the University of Gujarat as part of its program to bring professional courses to students in Tier-II and Tier-III cities of the state.
Bachelor of Architecture course spans for four years and is open to students with at least 60 percent marks in HSC exams or their equivalent.
This is a relatively new educational institute that operates under public-private partnership. There're only 80 seats on offer every year, according to SVIT website.
Online Interior Design Courses
Nowadays, there're several online interior design courses available from Indian and foreign educational institutes as well as e-learning portals.
While I reserve my comment on these courses, you could take a look at their curriculum, fee structure, placements and other parameters before deciding to enroll for a course.
In Conclusion
Thanks to the widespread use of interior designing, most architecture courses nowadays also focus heavily on interior design. That's because everyone wants beautiful looking homes and offices, shopping centers and industrial installations.
After completion of interior design courses from a top college you too can join the designing industry and enhance career with own creativity & skills.