Medical line is quite tough compared to engineering. The MBBS course is 5 years long compared to BE which is 4 years only.
After completing MBBS you have many options for furthering your career.
In this article we give you best possible career paths that you can choose after MBBS.
You can be sure of one thing that there is no dearth of jobs once you have completed your MBBS.
If you can't find a job then you can start something of your own with a limited investment.
You don't have to worry about bread and butter because MBBS graduates have already worked their ass off.
So here are 10 opportunities MBBS aspirants can latch onto.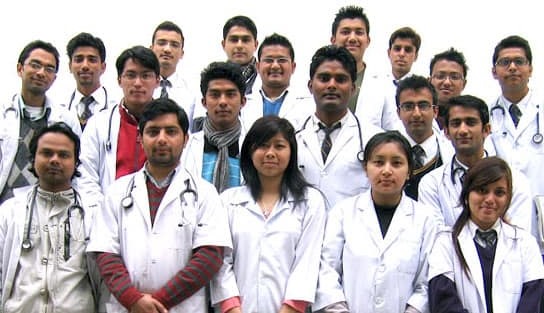 Post Graduation/Specialty
The first option would be continuing your education. I know those of you want to make some money wouldn't like this idea.
However in the long run this could be a great thing.
Post graduation offers you three choices.
Specialty in MD or MS for at least 2 years
Post Graduate Diploma for 2 years
Diploma of National Board or DNB for 3 years
These 3 choices are very much preferred after you have completed your MBBS and want to continue your education.
Challenges You Face while Going For a Specialty
The main challenge you might face while going for a specialty is there are few postgraduate seats available in the country.
Even if you are from a top medical medical college, it becomes simply impossible for a MBBS graduate to get a seat under merit quota.
It is very normal that students take a break of two years for preparing the entrance exams.
There are two kinds of entrance exams you can go for. One is at national level for colleges like AIIMS, JIPMER etc and other one is for colleges in your states.
Getting a seat at national level is very difficult compared to the colleges in your state.
Clinical Practice
Perhaps I should have mentioned this in the very beginning of the article.
If you don't want to continue with your education and want to make money then clinical practice is the best way to start.
You can use your five years of MBBS experience and start a clinic. You clinical practice can be in government sector as well as private sector.
In government sector you can work as a regular doctor fulltime and also part time on contract basis.
Similarly you can also join private or corporate sector and work as a DMO or duty medical officer.
If you don't want to join either of these two sectors then you can run your own clinic.
Hospital Management or Administration
Hospital management or Administration is growing rapidly in India.
Corporate culture in medical services is growing and hospitals need efficient managers and administrators.
There are few government as well as private institutions in India that are offering this course.
Hospital management course is for 2 years. You can go for MBA or MHA. Here you learn about administration which is quite different from your medical profession.
Moreover the course is also open for life science students like pharmacy, B.Sc. nursing, etc.
Researcher and PhD Program
To be honest this is the least preferred option by MBBS graduates.
There are some great institutes in India like ICMR (Indian Council of Medical Research), CCMB (Center of cellular and molecular biology) etc.
Research can be categorized into science research, cross sectional research and clinical trials.
For joining these research centers you have to pass their respective entrance exams. For example in ICMR you have to clear NET or national eligibility test.
There are other institutes like NIMHANS which offers various courses in mental health.
Medical Transcription
Although no one wants to become medical transcriptionist after completing MBBS but still this is an option.
Here you are transcribing medical records dictated by doctors in an audio format into a written text.
They are basically medical records that include reports, history and other details.
A MBBS graduate has sound knowledge of medical vocabulary hence he/she can easily become a transcriptionist.
You also need good listening and language skills. You can easily find a job.
Combined Medical Service (CMS) and Civil Services
If you don't want to start a clinic or continue post graduation then you can go for other medical entrance exams which are very popular.
If you want a job in public sector then you can go for Combined Medical Service or CMS conducted by UPSC.
You become a doctor for governmental organizations like Railways, Municipal Corporations etc.
Final year students can also give this exam. You can also go for civil services but it would be nothing to do with your 5 years of MBBS.
Medical Professor or a Lecturer
If you want an easy job then a medical professor or a lecturer would be the best choice. As you know there are hundreds of medical colleges coming up each year.
They need competent professors and lecturers who can teach medicine to students who have just enrolled.
So you would be teaching same thing what you learnt in last 5 and half years.
It is easier to find a medical job like professor or lecturer if you are an MBBS graduate.
Overseas Opportunities
Finally you can look for overseas opportunities. Not just for a job but also for pursuing your education.
There are really good PhD programs in US that can change your career.
You can also stay there and continue your profession if you don't like coming back.
The big difference is the money that you make. Overseas you are paid better as compared to India. Therefore many professionals want to stay there.
Salary
How much money can you make after you have completed your MBBS?
Well the answer depends upon how much experience and knowledge you have.
If you just want to run a clinic then monthly Rs 100,000/- to Rs 500,000/- would be enough.
If you are a professor then you get a stipend. Similarly for government sector you make Rs 50,000/- to Rs 100,000/- a month.
However if you are a surgeon then you make much more.
So all depends upon how much hard work you put in.