How to choose a career? This question comes in everybody's mind either a parent of a school kid or an unemployed graduate or a student of a higher secondary school or an unhappy employee who wants to switch the career.
When you start searching the best career options, you will find maximum details about the conventional type of careers such as engineer, lawyer etc or information about competitive exams such as IIT, AIPMT, SSC, Banking preparation etc.
And people think that these are the only career one can choose to get a stable future.
Lots of information regarding these conventional careers have shrunk the thinking level about the other career options. And those who are not able to get these careers or who are not interested in these, then also they have to pursue one of these careers.
Not all students are good at studies; still, we force them to opt studies related career. In this article, we will focus on how we can explore different career options and how to pursue it if you are not good at studies.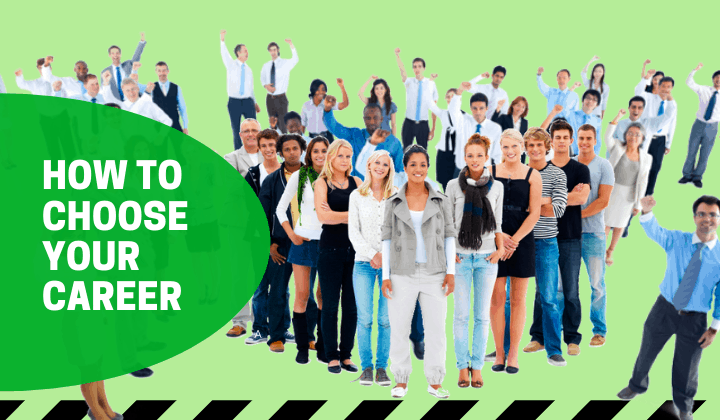 Problem is lack of knowledge
Many people do not choose another career options because either they do not know about the other options, or they do not know the details. So they feel insecure to opt specific creative and attractive career options other than studies.
Everybody wants to follow their heart but due to lack of courage and support or we can say due to lack of knowledge about a particular career we get afraid to choose it as a lifetime career.
Why don't we plan our career?
When we want to go on a tour, we start making a plan at least five to six months before. When it comes to career planning, we start following the masses.
While choosing a career most of us never make a plan for ourselves, we give importance to certain things such as what others are doing, how much money they are making with this career, what people will say if I will not do the same, what will be my status in society etc.
Sometimes we choose a career what our parents tell us to do based on their experience. Parents always want best for us, so we become agree with them.
But what if you realise later that you do not want to this job because you are not happy or you have interest in another field. What if that you are not satisfied with the job, at that time it will affect your parents as well.
That is why, we must follow our heart that what we want to become in life, what are our interests, what kind of life we want. We have to answer these questions and then decide an option.
If you will not have any plan or future visibility about a particular career, how will you convince your parents? So plan each and every stage of your career. This will give you clarity about your future security.
We follow the masses
Many students are doing Engineering, becoming a doctor, doing MBA or MS, going for higher studies every year.
These career options are excellent. But these career options are also chosen by many who really do not want to get into it and who are forcefully opted this as a career to follow the masses.
This has created a stereotype mindset in society. Engineers and doctors are respected in the community, so everybody starts following this whether they really like to do it or not.
This choice should be made by those who are genuinely interested in it and by those who like to study. And if you are not interested in a particular career do not choose it.
You choose a career for a lifetime not for just one or two years. It's like marrying a particular job.
And if you are not happy with a specific occupation and still choosing it, you will be unhappy throughout your life and at the same time making your parents miserable.
Learn from examples
Whenever you read stories of the most successful people in the world, you will find the most common thing between them is they become successful when they did not care about the mindset of society.
They chose the career in which they were really interested, and with their hard work and effort, they created history.
For example: PT Usha chose to become an athlete she did not care about society and also did not get afraid of career security at the same time.
Another famous example is Sudha Chandran. She is a renowned dancer and also has a stable career. At very young age Albert Einstein quitted school to follow his own interest and later what he did is known to everybody.
Turning passion into career gives complete happiness and success to anybody. Because you work with all your heart not forcefully.
Which career is stable and secure?
Everybody has a different perspective about a secure career option. You cannot judge that those who are Doctors or Engineers are stable in their life and there is no problem in their career.
You also cannot say that a dancer or a painter or a sportsperson has nothing to do in their life and they do not have future.
So do not get worried. Working hard in any field with all heart into it will always give a stable and secure future. Be professional in every area you choose.
Less competitive career option
Tell me one career option where the competition is less. Today, you may find one or two from your interested jobs list, but after a few years, it might become the most competitive job.
Competition is everywhere and in every field. So if we step back due to competition and failure, we will have to spend a forceful and bogus life.
The ratio of failure is high in every career options. This we have to understand that whatever field we choose if we do not work hard or smart one day we will have to face failure.
And nowhere in this world is a creative person dying out of hunger.
There are many examples available where people have excelled in their field and got a stable future other than study field.
They also failed in their path many times, but they never compromised on their interest and hard work.
When is the best time to plan our career?
The best time to choose a career is after your 10th board exam. Because at that time you know your interest well and you know which subject you are good at, or you are good at studies or not.
You can search career options after 12th board also. Because till this time you are a grown-up teen and can think deeply on a certain point.
You can also take help of some knowledgeable person or of your family member and can discuss your field of interest. They will help you in choosing a right career path.
Many people also switch to different career options while they are pursuing one. They do this when they realise that whatever they did till now was not their field of interest. So they start following their interest.
12 points to keep in mind while making a career choice
Choose a career you are passionate about. You should enjoy what you do in life. Better career choice will help you grow faster in your work.
While choosing your interest as a career, think that, can you spend your whole life doing this job happily?
Never make a decision in a hurry. Be honest with yourself, be knowledgeable regarding your choice of career then take a decision.
While following our interest and making it a career, research about it's every detail and career opportunities. Explore what this career has to offer you.
Search the successful people in that field on the internet and read about them.
Follow your Ideal person in that field, get inspiration from them.
Learn from your competitors also read their failure stories (why they failed).
Discuss with some knowledgeable people or take help of a professional career counsellor.
Give yourself some time to settle with this career. Don't get panic in initial stages.
Never repeat the mistakes of your competitors. Learn from their mistakes.
Everything demands skills. Try to achieve all the skills and education required for this.
Success in anything demands hard work so never compromise on this.
Note: Following a successful person also gives strength to follow your dream and stick on your path. So you can choose a successful person of the same field as an ideal for yourself.
How to approach for a career choice
Suppose you want to become an actor or model: you must explore these options
Can you do professional courses for this or not
What are the skills required for this
Which institutes are offering this course
Duration of course
Fees structure
Career opportunities associated with this option
Salary
I am sure that most of the parents will not agree if you will tell them that you want to follow your interest and make it as a career and that option is not related to studies. They might get panicked at that time.
So do not go directly to them. Prepare your homework first. Homework means to explore your interest first and study its details.
You can use these points mentioned above while preparing a plan for a career. Make a solid plan then approach your parents.
At first, you have to satisfy yourself that what you want to do in life and then only your parents will be satisfied and happy with your decision.
There is nothing wrong if you do not want a study related career. But make sure that you are well prepared with other options of your choice, and also you are really interested in opting it as a career.
Make your parents proud of your decision.
To conclude I would say the only point here is do not stick with two – three most followed or most known options available such as engineer, doctor or lawyer. Explore the other career options and pursue your interest with hard work..
'Do not become a sheep and do not follow the herd, but become a lion and walk alone.'