So you passed your 10th standard. Now, what next after the 10th? Which course is best after 10th
As a student or parent, you must be tense about higher education courses after passing the 10th class. Nowadays, there are the best courses available for girls and boys in various parts of the country.
Whether you want to pursue a diploma course, a professional course, a technical course, or you want to become a doctor or engineer after 10th, there is a list of best courses available after 10th.
Best Courses after 10th Standard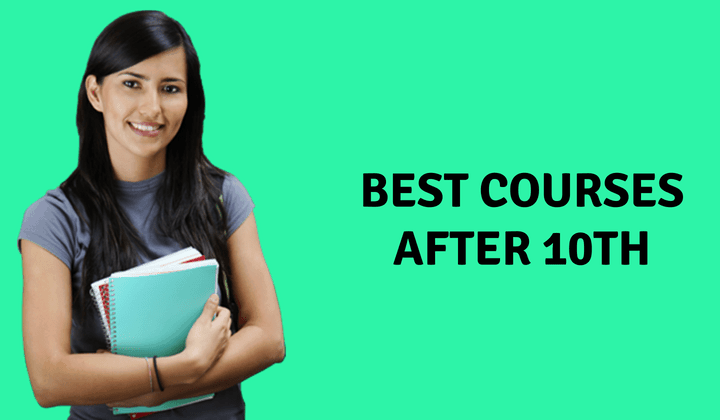 The list I am providing here is based on various facts. Firstly, I am assuming the costs involved in any best course after 10th standard. Secondly, I am including those courses in the list which are available throughout India.
So even if you are located in a village or semi-urban area, it would be effortless for you to find the best course near to your place.
1. Industrial Training Institute Courses
I rank vocational courses available from ITI (Industrial Training Institutes) as the best choice after the 10th standard. ITI courses are recognized by every organization. Also, ITI carries some of the best courses for girls and boys after 10th class that will help you to find good jobs.
ITI courses will offer you a diploma certificate. Here are the best ITI courses you can join after the 10th.
Mechanical Draftsman

Dental Lab Technician
Civil Draftsman
Automobile Mechanical Technician
Laboratory Technician.

Airline Steward/ Stewardess.

Hospitality Staff
Photography
Caregiver
Legal/ Para-Legal Assistant
Chemical Plant Operator

Automobile Electrical Technician

Horticulture
Dairy Management
Body & Beauty Care
Nutrition Assistant
Fireman and Disaster Relief

Denture Maker

Food Technician
Agricultural Farm Management

Event Management

Facilities Management (old-age homes, hospitals etc)
Baking & Confectioning
Medical Technician
Desktop Publishing
Corporate Housekeeping
Fashion Designing

Quantity Surveyor

IT and Electronics Maintenance

Welding Technician
Air Conditioning & Refrigeration Technician
Data Entry Operator
Floriculture & Commercial Landscaping
Food Processing
Logistics Assistant
Communications Equipment Technician
These are just some of the best courses after 10th available from ITI. The good news is that ITI courses are available for girls and boys of any age. In fact, a lot of new and latest courses are now offered by ITI, thanks to the Skill India program of the Indian government.
You can use Skill India courses from ITI at very economical fees. They are designed to help you make a career in India and abroad.
2. Diploma in Engineering
Diploma in Engineering from any reputed polytechnic is also one of the best options after 10th. You can make a good career even if you don't go for degree in engineering. A diploma in the engineering field is available in the following branches.
Chemical Engineering
Mechanical Engineering
Civil Engineering
Metallurgical Engineering

Electrical Engineering
Before you hurry to join a course of diploma in engineering, please consider these points. Out of the 1 to 2 millon engineers that graduate every year, about 60% have hard time to find a good job. Only about 5% of engineers have the required skills. That is the primary reason why I have not mentioned diploma in engineering as the number#1 option for courses after the 10th class.
However, if you are able to crack admission to a very reputed polytechnic college, studying Diploma in Engineering course is ideal. Diploma from non-reputed polytechnics are not worth your money, and effort.
3. Medical Courses After 10th standard
Understandably, you can not become a doctor in india after 10th. But if you are really passionate in making a career in the medical field, try some of these best medical courses available after 10th standard.
Diploma in Rural Healthcare
Certificate of Nursing Assistance
Diploma in Nursing Assistance
Diploma in Paramedic Nursing
Pathology Lab Technician

Diploma in Hospital Assistance
Since India is glorifying itself as a superior destination for medical tourism, there are various new hospitals and healthcare facilities that are spreading across the country. These best courses in the medical field after 10th class can help you make a career in this field.
4. Travel & Tourism
India's travel industry is growling. According to WTTC (World Travel & Tourism Council), India has one of the fastest-growing travel sectors of the world. Therefore, this is one of the hot career option you can try after completing your 10th.
Diploma in Food & Beverage Management
Diploma in Food Technology
Diploma in Food & Beverage Production
Diploma in Restaurant & Hotel Management
Diploma in Front Office & Reception Management
Diploma in Nutrition
Diploma in Catering and Catering Technology
Diploma in Hospitality Management

Diploma in Hotel Stores Management
5. IT / Computer Technology / Digital Marketing
And yes, you can also go for the best course after in IT and computer technology after passing your 10th. These courses are the certificate courses. and this can help you to secure an entry level job in IT. With more experience, you can apply for higher courses such as Diploma.
Digital marketing is also one of the hottest industry today. You can become a social media or SEO executive, you can learn Google Ads or Google Analytics and become a PPC expert aur data analytics.
Certificate in Search Engine Optimization
Certificate in digital marketing
Diploma in Hardware Maintenance

Certificate Course in SEM or SMM

Diploma Computer Technician
Certificate in Social Media Management
6. Indian Armed Forces
If you desire to serve our country, joining Indian Armed Forces will be a great choice. They offer a couple of good courses where you enroll as a soldier. These are very honorable careers.
Soldier (General Duty)
Soldier (Tradesman)
Regardless of which course you opt after 10th, it is mandatory to serve the Indian Armed Forces upon the completion of your training. The duration of service will vary according to serveral rules and regulations in the Armed Force.
All courses of the Indian Armed Forces include the training of arms and weapons. The Tradesman course teaches various skills to soldiers that are required in peacetime, disasters, and wars.
Final Thoughts
As you can see, there are various great courses after completing your 10th to fit your passion and needs. Most of these courses impart vocational skills. Hence, you can also start a small home-based business with these skills.
Millions of students nowadays opt for vocational courses after the 10th standard because of various reasons. Most of the reasons like a lack of money for further studies or a loss of interest in general studies. If you are one among these students, you don't need to worry about. The courses I have mentioned in this post will help you make a respectable career after 10th.