Chennai is a rapidly growing city with booming auto industry. Not just the auto industry, but Chennai has also become a hub for FMCG companies.
The city is growing and allows young students to work and study. You can find various part time jobs in Chennai irrespective of the industry.
You can find both blue-collar and white-collar part time jobs in Chennai. Another best option is online jobs, which are becoming popular in Chennai.
Students can live and study in this city. The only problem is the weather because it is too hot and humid. However, you should not be discouraged because the weather is not too pleasant there.
Part Time Jobs in Chennai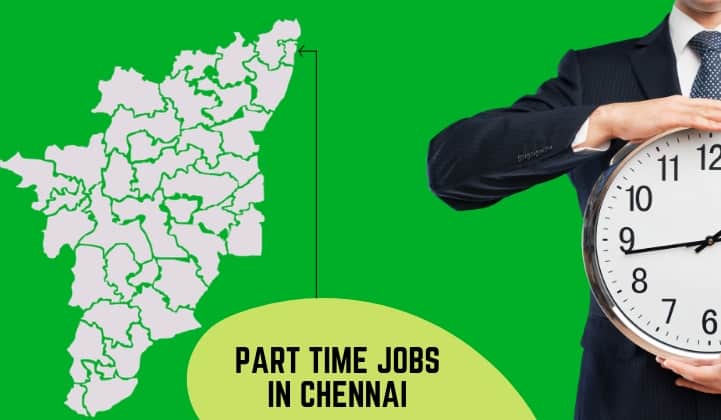 Here are some of the best part time jobs in Chennai for students, females & housewives, and anyone who wants to make some extra income working 3 to 4 hours. You can start all these jobs without investment.
1. Food Delivery Boy
Chennai has several restaurants, food joints, and beverages retail outlets like McDonald's, Domino's, Subway, Biryani by Kilo, etc.
These outlets need someone to deliver food items to the customers. Nowadays, people prefer to eat at home by ordering food items instead of visiting restaurants.
The reason is simple they want to save money and time. No one wants to get stuck in the traffic.
So the demand for food delivery staff is very high. Most of these outlets provide their vehicle, so you do not have to buy your motorcycle.
Another best option is Swiggy and Zomato because they always need delivery boys all over India. You can apply from their websites.
If you work part-time in the evening from 5 pm to 9 pm for 2 hours to 4 hours, you can easily make Rs 6000 to Rs 10,000 a month.
They will pay you only Rs 4000 to Rs 6000, but the rest of the money comes from the tip you receive from the customers. Customers are willing to throw some change.
2. Part Time Cooking Jobs in Chennai
By the way, the first three part-time jobs on the list are connected. The first one is food delivery boy, the second is cooking jobs, and the next is retail jobs.
Chennai city is full of food trucks. To prepare so much food daily, the owners of these food trucks need good cooks.
If you are good at cooking or are pursuing your degree in hotel management, you can apply for this part-time job in Chennai.
You do not have to cook personally, but you can supervise other cooks standing by the stove and cooking in the heat.
You can easily earn Rs 6000 to Rs 10,000 a month if you are willing to work 4 hours to 6 hours.
3. Retail Jobs like KFC and Mc Donald's
If you do not like a delivery boy or cooking job, you can look for counter jobs at various retail outlets like KFC or Mc Donald's.
Retail jobs are nothing new. However, in Chennai, there is no shortage of counter jobs like flipping a burger or serving food, etc.
If you like working at counters, you can easily make Rs 6000 to Rs 9000 per month.
However, you have to work for over 6 hours a day, and it can be not easy if you are still pursuing college.
But on the bright side, the money is good. If you think you can handle the pressure and put in extra effort, retail jobs are good for you.
You can directly approach McDonald's, KFC, or other food joints in your area or food court and see the vacancy for such jobs.
4. Tutoring Jobs
If you are not into food and want to look for a white-collar job, you can start giving tuition classes to students.
You can start teaching kids, high school students, and even college students for English, math, and physics.
It is very simple. If you know these subjects very well, you can start a 5 to 6 students class from your home. Later on, you can increase the numbers and take students into different batches.
Another best option is online tutoring. Online education is in very high demand. There are many online tutoring jobs you can apply for here.
These companies pay you an excellent salary because you are teaching many students from the comfort of your home.
You can do this on a part-time basis. You can teach students in the evening after 4 pm up to 8 pm in the night.
5. YouTube
Today, YouTube is the top way of making some good income by creating and uploading videos on YouTube. You need to start a YouTube channel and upload videos regularly.
Today it's much easier to make money on YouTube. Initially, it may take some time to generate to see any income from YouTube, but once you have enough subscribers for your channel, it will be a regular source of income.
There are many top YouTubers in India who are making anywhere between 5 lacs to 50 lacs per month from YouTube.
So earning Rs.10,000 to Rs.20,000 is not that difficult.
Read: A complete guide to make money on YouTube
6. Animation and Graphic Design Jobs
You can easily find animation and graphic designing jobs. If you are into designing, small companies are interested in hiring designers for the assistant post.
You do not have to be experienced. You just need to do the basic stuff to assist an experienced guy in designing or animating something.
Chennai has many studios where films are edited. The city is the center of the southern film industry.
You can find many job openings in this field. You can work for 4 to 5 hours in the evening and make some extra money.
How much you make depends upon the kind of company you are working with.
7. DTP Jobs
DTP jobs are also about designing however here, you have to design color posters, magazine covers, billboards, or other kinds of banners.
You do not have to be an experienced designer, but you can help or assist someone.
The job is readily available; however, to find one, you have to regularly check the newspaper for the ads or ask in your area if a shop needs a DTP operator.
You must know to work with Adobe Photoshop. You have to be aware of all the features, and if you can't design on your own, you can assist someone at least.
You can easily earn up to Rs 4000 to Rs 5000 in a month for working 4 to 5 hours daily.
8. Healthcare Jobs
Chennai has so many hospitals. The city has a well-developed healthcare industry.
Thousands of people come daily to Chennai for treatment. You can easily find a part-time job in this industry.
The jobs will depend upon your qualification. Nursing jobs, lab technician jobs, primary care providers, etc.
If you are learning medicine and health science, you can look for a job in the healthcare industry.
However you have to look for a part-time job which can be difficult. If you can get a job on a part-time basis, you can make some good money.
9. Online Survey Jobs
If you are going to college and want to earn extra cash but can't do it because you are too busy with your studies, you can work on online survey jobs.
The online survey is the best way to make part-time money without wasting time. You don't have to commute outside and can easily earn Rs 4000 to Rs 8000 monthly without much effort.
You have to answer a few questions and fill out the company's forms. Usually, it takes 2 minutes to 15 minutes to complete a survey depending upon the number of questionnaires.
The better the survey you complete, the more money you make.
10. Affiliate Marketing
With the help of a website or a blog, you can start selling products and merchandise online working part time.
You do not have to create or manufacture any product; you have to sell products on others' behalf. Merchants pay you a commission for each sale you make.
You can become an affiliate of popular sites like Amazon, Flipkart, and similar companies. You can also promote digital products from sites like Clickbank, ShareASale, etc.
Here you will make more money than blogging. However, the only thing you need to keep in mind is selling online is not that easy.
You need some experience in this line before you make money. So this part time job is not for everyone.
11. Online writing jobs
This is also one of the most demanding jobs on the internet. If you have a good writing skills, there are various content writing jobs available where you can get paid anywhere $10 to $20 for each content you generate.
You don't need to worry if you don't have the writing skill because you can learn it with a few days' practice.
12. Micro Job
This is also an excellent & simple online job option for high school and college students, and with the help of this job, they can earn more money than their pocket money, such as Rs 8000 to Rs 10,000.
13. Blogging
Blogging is an excellent way of making money today. I have been blogging for the last 10 years and making an excellent income with this.
You can start blogging part-time and make at least Rs.10,000 to Rs.20,000 every month when your blog gets some decent traffic.
Read: How to Create a Blog and Make Money
14. Earn money on Facebook
Facebook is the most popular site in the social media world. There are good opportunities available on Facebook if you know how to make money with it.
I have done some research, and based on that research, I have written a post on 10 ways to earn money from Facebook.
15. Freelancing
Above all, freelancing is a better part-time option for those who want to earn money independently.
In this particular part time or full time job, people have to use their skills from home or any other company for the benefit of other companies. This purpose makes lots of money for you.
Final thoughts
These all are the unique Top 15 Part-Time Jobs Opportunity in Chennai. You can quickly get the benefits of these jobs if you have internet and a phone connection.
That helps you connect with your clients and get an order for work. Then submit the work as per the requirement and get cash easily just sitting at your home with similarly having another task.