This digital era is a boon for the creative people. In earlier years, creative people, those who can dance, sing, mimic or cook, named their activity as their hobby but in this developed technological days creative people are converting their hobby into their business on various platforms.
Youtube is an evergreen platform and last year, it was used by over 2 billion users worldwide. It is the most popular social network worldwide.
The simplicity of youtube has attracted many creators to use this platform to show their creativity to the world. It provides easy uploading and editing of videos, live interaction with people and many more features which are very easy to use.
By statistics it is shown that everyday people watch 1 billion hours of videos on youtube. No doubt youtube is a growing business opportunity.
Today I will show you some of most subscribed YouTube channels from top Indian YouTubers. Some of these YouTubers are very famous & top 10 highest paid YouTubers.
I started my own YouTube channel 'Pritam Nagrale' after getting inspiration from some of these top YouTubers and within 8 months I am getting close to 100,000 subscribers. I am even making good income from my YouTube channel.
Read: How to Make Money from YouTube
Most Subscribed YouTube Channels from Top YouTubers
Here are some of the top, famous and most subscribed YouTubers of India.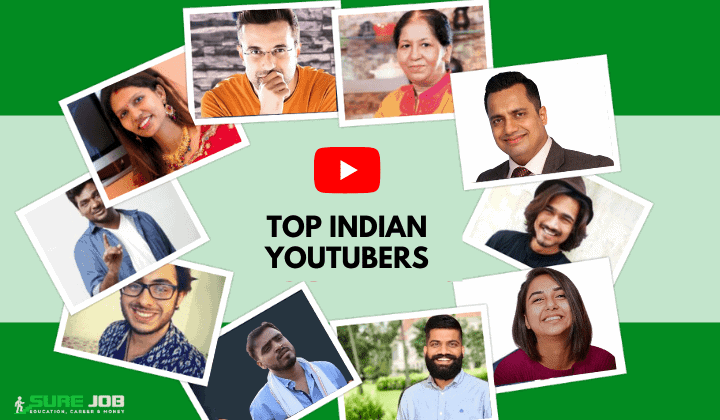 1. BHUVAN BAM (BB ki Vines)
Bhuvan Bam is a very famous YouTuber in India with 16.8 Million subscribers currently. His channel name BB ki Vines is the first Indian youtube channel to cross 10 million subscribers.
Based in Delhi he is an actor, song writer, singer, comedian and content creator.
His youtube channel revolves around the role of an urban teenager and his playful conversation with his family and friends. All the characters in his videos are played by Bhuvan himself.
Bhuvan Bam has also won various awards for his videos and content, like "Most popular channel on Youtube" award, Global Entertainer of the year award and more.
2) Ashish Chanchalani
Ashish Chanchalani is a fastest growing youtube sensation, a comedian famously known for his youtube channel Ashish Chanchalani Vines which has 17.2 million subscribers.
On his channel he uploads comic videos and a family's day to day conversation in funny way. He plays all the character by himself.
He also involves some of his friends to play certain character. His videos manage to remain in the trending list just after few hours of upload and get millions views within a day.
He is also being vocal about social issues like politics and education system of India, he spread these messages in funny and humorous ways.
3) Amit Bhadana
Amit Bandana is one among the famous YouTubers in India with 18.9 million subscribers on his channel name Amit Bhadana itself.
Amit Bandana started making vines back in 2016 and he is the most popular viner in recent times and became famous among people with his unique dialogues and presenting style.
He mostly uses unique funny punches and rhyming in his videos which makes him different from other YouTuber.
He writes his own script and also does the editing of videos by himself. His dialogues are so unique and famous that they are often used by his followers in their daily life.
4. Vivek Bindra
One of topmost YouTubers who has built his multi-million dollar empire BadaBusiness.com with the help of his YouTube channel. He is one of the top 10 YouTuber with 12 million subscribers.
He is one of the most effective motivational speakers and creates videos on entrepreneurship. Millions of people learn entrepreneurship lessons from his video. He sells various course through his YouTube channel that can help people to grow their business.
He is awarded as 'Think Tank of Corporate Asia' by World Leadership Federation, Dubai, Best Corporate Trainer in India by Maruti Suzuki Consecutively for Two Years in row and many others.
5) Ajey Nagar (Carry Minati and Carry is live)
Ajay Nagar is Delhi based Indian comedian, gamer, rapper and youtube personality. He runs two youtube channel which are by the name 'Carry Minati' and 'Carry is live'.
Both the channels are equally successful. His channel Carry Minati is the most popular roasting channel on youtube with 10.4 million subscribers.
His second channel is a gaming channel where he plays latest mobile games like pubg online. This channel has separate young fan base with 4.03 million subscribers.
Ajey Nagar started uploading videos on youtube at very young age, when he was only 10 years old. Still he is the one of the youngest YouTubers in India who has large fan following. He has also uploaded some rap songs written by him.
6. Gaurav Chaudhary (Technical Guruji)
Gaurav Chaudhary is an Indian YouTuber based in Dubai, runs a channel named technical guruji. His channel has 15.6 M subscribers.
His videos contain technical information about latest gadgets, hiking method, product reviews and much more. He presents all technical information in Hindi language and uses simple terms to make it understandable for everyone.
This is the reason why people connect with him and rely on his reviews and advices.
He also answers the questions of his viewers on various technical subjects related to computers, smart phones, internet and variety of other stuffs.
As per a report of November 2018, he was the first tech youtuber in India to accure more than 10 million subscribers. He gets collaborated with many gadgets company during their product launch.
In 2017, he introduced he another youtube channel by his name itself, which features videos of her life experiences and his travel experiences. This channel is equally successful and has 3.19 million subscribers
7. Sandeep Maheshwari
Sandeep Maheshwari runs his youtube channel by his own name which has 14.2 million subscribers.
He is a motivational speaker and has motivated around billions of young students and people who was directionless and motiveless through his seminars and youtube channel.
In his early age he was like many of us. Sandeep Maheshwari failed many times in his life and career, he struggled and moved forward everytime in search of success.
Learning from his own life experience, in his videos he talks about the right approaches to deal with the problems of life. He also gives guidance related to career to the young generation and motivates the depressed one through his videos.
8. Nisha Madhulika
Nisha Madhulika is an Indian chef. She runs a cooking channel on youtube by her name itself on which she has 8.39 million subscribers. Till date she has uploaded more than 15,000 varieties of recipes which is a record in itself.
None of the cooking channel has gained this much of popularity in India. In 2017 she won the award of 'top youtube cooking content creator'.
Nisha Madhulika's recipes are pure vegetarian. The most unique thing about her channel is her recipes are easy to make and her sweetest voice makes it more attractive.
9. Prajakta Koli (MostlySane)
Prajakta Koli is Mumbai based youtuber. She is amongst the few female comedian cum youtuber who has earned tremendous respect and huge fan following. She is known for her youtube channel Mostltsane which has 5.09 million subscribers.
On her youtube channel she uploads funny videos. Her videos are mostly comical takes on day to day life situations in family and with friends.
On her youtube channel he has also collaborated with mainstream bollywood actors like Kareena Kapoor, Saif Ali Khan, Ajay Devgn, Kajol, Alia Bhatt and more.
In 2020 she has worked for youtube originals series 'Creators for change' which also includes her discussion about education of girls with Michelle Obama.
She has won many awards for her creative contents. The famous ones include youtube sensation award in 2018, Woman of worth by Outlook business, most stylish digital icon in 2019 and recently cool list by Grazia.
Through her creativity she is gaining everyone's love and she is definitely the upcoming youtube sensation.
10. Sanam Puri and Partners (SANAM)
Based in Mumbai Sanam puri and partners are Indian pop rock band formed in 2010. They run a youtube channel name SANAM which has 7.07 million subscribers.
Their youtube channel preferred as India's biggest and most successful music band on any digital platform, generated billions of views collectively.
On his youtube channel Sanam puri revives the evergreen old songs into his own versions. His soothing voice and nice melody music connects with the audience very well. He also sings his own singles.
Some of the most popular songs in his voice are Gulabi ankhein, pehla nasha, ek ladki ko dekha to aisa laga and more. These songs have generated millions of views on his youtube channel.
This Band has awarded 'best music content creator' in 2017.
11. Shruti Arjun Anand (Shruti Arjun Anand)
When it comes to fashion, youtube has many content creators but the most famous YouTuber in India one among them is Shruti arjun Anand. She runs her youtube channel by the name of herself. She has 6.72 million subscribers on her channel.
She primarily provides makeup, beauty and fashion tips and makeup tutorials in her videos. She has collaborated with many brands and magazines.
On the same channel she uploads her travel blogs sometimes and she has also uploaded some of the comedy and funny videos depicting various life situations. She manages to get millions of views on her most of the videos within few days of upload.
Now her whole family has involved in creating various content and they have 7 more channels, which are equally successful.
12. Nisha Madhulika
Nisha Madhulika is an Indian chef. She runs a cooking channel on youtube by her name itself on which she has 8.9 million subscribers. Till date she has uploaded more than 15,000 varieties of recipes which is a record in itself.
None of the cooking channel has gained this much of popularity in India. In 2017 she won the award of 'top youtube cooking content creator'.
Nisha Madhulika's recipes are pure vegetarian. The most unique thing about her channel is her recipes are easy to make and her sweetest voice makes it more attractive.
13. Zakir Khan
Zakir Khan describes himself as a typical guy who lives in your neighbourhood. He is not only a top YouTuber in India but also known as an entertainer who has held shows in India and abroad. He has acted in popular series 'Chacha Vidhayak Hain Humare' on Amazon Prime Video.
Zakir Khan entertains people with his YouTube videos that deal with various situations in life and their lighter side. He has got more than 5 million subscribers to date. He claims to have experienced every sad and happy thing that typical Indians undergo in their life.
14. Kabita Singh (Kabita's Kitchen)
Kabita's Kitchen takes Indian cuisine to a whole new dimension. This popular YouTube channel is the brainchild of a top Indian YouTuber, Kabita Singh.
She teaches viewers how to make amazing dishes for daily meals to elaborate parties, festivals and other occasions. Kabita's Kitchen has more than 7 million subscribers in India and abroad.
Other than Indian cuisine from various parts of the country, Kabita also posts tutorials on cooking exotic dishes. Her stated objective is to make cooking pleasurable and easy for all.
More Indian YouTubers
Several other Indian YouTubers have made it big by posting on the free video sharing platform. However, these YouTubers in India operate their own brand or business.
Their YouTube videos form part of the brand and business promotion.
Famous Indian movie stars, singers, spiritual leaders, cricket players and management experts also run their own YouTube channels for specific purposes related to their field.
Conclusion
There are various other fields and many other YouTubers who are successful and running their own youtube channel as their own brand and business.
As of now this list of top 10 YouTubers in India are sufficient to inspire anyone to show their extraordinary skill on this free video sharing platform.
It's never too late to start a new thing. But always remember becoming a youtube celebrity is not easy. In your field you need to have skills, creativity, fine ideas and your hard work with consistency will pave the way. You can subscribe to these most subscribed YouTube channels from top YouTubers so that you will keep on learning on getting motivated.