Commerce – the evergreen field used to have only a couple of options to pursue. With the change in times, one can find that there are numerous choices available for student to study further.
For starters, students opt for B.Com or BBM or BBA soon after completing their class 12 in commerce stream. You can read our article career options in Commerce to know various career choices in commerce.
This article mainly talks about the various courses available for students who has completed B.Com.
You can choose between B.Com and B.Com (Hons) soon after completing your class 12th. B.Com (Hons) is not available in all the colleges, but only a few.
Also, the level in B.Com (Hons) is higher than in B.Com with the subjects being more detailed, therefore choose wisely. So, soon after completing B.Com, here are some options for post graduate studies.
1. MBA – yes, the well known and most commonly pursued course is MBA. In most universities and institutions, admission for MBA is preceded by an entrance test, group discussion and interview. This course will bring across many managerial jobs.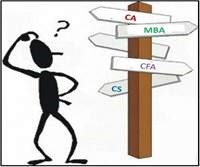 2. CA – One of the other options is Chartered Accountancy, which is a very good course that is defines one's career. As a chartered accountant, one can start off on their own or join any chartered accountancy firm to kick start their career.
3. CS – Company secretary, is yet another option available for students of B.Com. On completion of this course, one can find their way into any corporate company in the role of a company secretary.
4. Financial management – one can choose to pursue a course in financial management. This course gives students an edge in their careers as financial analysts, investment bankers or even corporate finance.
5. Cost accounting – there's a fine line between Cost accountancy and Chartered Accounting, since the subjects covered in both the topics are the same. A cost accountant will help in estimating the costing for the financial year and prepare budget, whereas a chartered accountant will be entrusted with auditing.
So, here are the most sought after