History bears witness to success of women in various fields: As military commanders, rulers, entrepreneurs and industry captains. Yet their contribution in various sectors goes largely unnoticed or remains confined to women's lib circles.
Out-of-box thinking, grit, innovation and a lot more was displayed by women who made it to topmost echelons of industries. They overcame adversities to get and stay there.
Adversities faced by women continue
"Still Missing," screams headlines on CNNMoney. The analysis talks about dearth of women entrepreneurs in today's business world. The CNNMoney analysis on gender equality worldwide grimly states: "Only 14.2 percent of the top five leadership positions at the companies in the S&P 500 are held by women".
Out of 500 companies, there are only 24 female CEOs, it adds. A study by World Bank states: "Achieving equality in economic opportunities for women and men could spur $28 trillion in world GDP growth by 2025 – about the equivalent of the size of the Chinese and US economies combined.
Gender equality in business and corporate world remains a pipe dream, fears International Monetary Union. The International Labour Organization has encouraging news: Studies conducted worldwide indicates growth in entrepreneurship among women.
Inspiration from the world's most successful woman
It is impossible to write about successful women without mentioning Oprah Winfrey, the world's most popular TV show host. Oprah, who ranks among wealthiest women on this planet said: "The greatest discovery of all time is, a person can change his future by merely altering his attitude."
She reminds people worldwide that failure is stepping stone for success. Oprah's advice for people desiring to get rich: "Surround yourself only with people who are going to take you higher."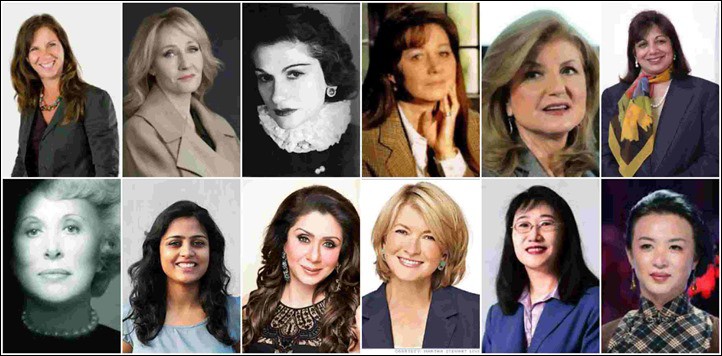 1) Work for your dreams
"I never dreamed about success, I worked for it." – Estee Lauder
Daughter of Hungarian migrants to the US, Josephine Esther Mentzer carved a business empire from business skills acquired at her family's hardware store and by selling her cosmetics from a chemist uncle's lab.
Fondly called Estee Lauder, she launched an eponymous company in 1947, which today holds 107 labels of topmost fragrances and 25 cosmetic brands including Clinique and Aramis.
2) Think outside the box
"In order to be irreplaceable, one must be different."- Coco Chanel
Born Gabrielle Bonheur Chanel, this little girl was put in an orphanage by dad after her mother passed away. Nobody expected her to become a global figure. Nuns at the orphanage taught her to sew.
She worked as singer in various bars in France where she earned the nickname 'Coco', derived from the derogatory 'coccote' (mistress). With stitching skills, she opened a tailoring shop in Paris in 1910, making suits and other dresses for women.
Chanel's success came from popularity of a dress designed from an old jersey. Further success came in 1920 when she launched her first fragrance, Chanel No-5. Today, Chanel is a global leader in haute couture and fragrances.
3) Astute decisions are important
"I made every decision on what was good for the company. And that pretty much ruined my marriage and my health."- Sandra Lerner, Cisco.
Cofounder of IT giant Cisco, Sandra Lerner was born on a farm in California. She graduated first from a state university in social sciences and later studied econometrics. Sandra later studied for Master's degree in statistics and computer science at Stanford University.
She is credited with designing the world's first router that connected incompatible computers at Stanford University, along with her ex-husband Len Bosack. The two founded Cisco Systems, hailed at world leader in networking.
Sandra is also reputed as philanthropist, having bought and restored Chawton House, where legendary female author Jane Austen lived. In 2014, she was honoured by United Nations with the Technology Pioneer award on Women Entrepreneurship Day.
4) An undying passion and zest for life
"Our passion is and always should be to make life better." – Martha Stewart, Living Omimedia.
Born in American middle-class family as Martha Helen Kostyra, she began taking assignments as babysitter at age of 10. She worked as model for cigarette companies and other advertisers including Chanel to fund her studies.
Her career planning as stockbroker encountered severe doldrums that ended in felony charges and conviction for insider trading. Undeterred by adversity, Martha launched Living Omnimedia, a successful TV, print media and merchandising venture, along with her husband. She is also a successful writer and TV personality.
5) Relentless pursuit of dreams
"Just decide who you are going to be and pursue your dreams against all odds."- Vandana Luthra, Founder, VLCC
Born in New Delhi, India, Vandana graduated from a polytechnic for women. Later, she went to acquire skills in beauty, fitness and nutrition from various institutes in Europe. Inspired to bring superior quality skincare and beauty products to India, Vandana launched VLCC in 1989.
VLCC Wellness Centres offer unique DNA-based weight loss therapies. The company now has international presence with over 175 VLCC products retailing online and at major stores in India and abroad.
She has also written two books on health and wellness. She won several international accolades including Asian Business Leaders Forum Trailblazers award in 2012 and ranks 26th on Forbes list of 50 top businesswomen in Asia-Pacific region. VLCC's success serves as examples to those looking at health and fitness as a career plan.
6) Walk away from tradition
"Every story, each poem that a person shares, each voice that speaks against menstrual taboo, inspires me."- Aditi Gupta, Founder, Menstrupedia
The anguish of menstruation was a taboo for most girls attaining puberty and rural women in India. Inspired by her own experiences as student, Aditi set out to vanquish the age-old myths about this natural yet frowned upon period of growth in female life by founding Menstrupedia.
Today, Menstrupedia provides literature and online resources to women who were earlier reluctant to discuss menstruation and related issues. The unique project also educates pre- puberty schoolgirls about menstruation and ways to tackle mental or health problems caused by hormonal changes.
Her literature is now used by education boards of seven Indian states to educate female students. She featured on the Forbes U-30 list of innovators.
7) Intelligence over mere hard work
"We think mistakenly that success is the result of the amount of time we put in at work, instead of the quality of time."- Arianna Huffington, Founder, Huffington Post
Ariadne-Ana Stasinpolou, a Greek-American is better known as Arianna Huffington. She is cofounder of The Huffington Post, an online news aggregator and with liberal political views.
Arianna performed various jobs before becoming a writer. She is perhaps the most popular journalist in the world, thanks to success of The Huffington Post.
Launched in 2005, The Huffington Post ranks among top 200 websites of the world. Over a million comments from readers worldwide appear on The Huffington that has won the prestigious Pulitzer in the national reporting for senior military category.
8) Wasting time is unaffordable luxury
"I always have this imagination, something I want to use. I do not understand the idea of leisure time". Cher Wang, co-Founder, HTC
Cher Wang is answer to anyone that wrongly believes women lag in technology. Cher, a graduate in economics, is co-founder of HTC, a top-of-the-line brand of Android based smart phones.
She ranks among the most powerful women in Asia and is avid philanthropist. Currently chairwoman at HTC, the company she founded in 1997, Wang proved that women can successfully foray into technology based domains.
Today, one of every six smart phone sold worldwide is from HTC.
9) Sense of patriotism
"I can live all over the world but I am Chinese."- Jin Xing, The Jin Xing Show
The story of Jin Xing cannot fail to inspire awe among any readers. Born male in Shenyang, China, Jin Xing enrolled in People's Liberation Army and underwent gruelling, almost subhuman treatment while training.
Jin Xing was a colonel with PLA and today ranks as China's topmost TV talk show hostess. She breaks across boundaries when speaking about gender reassignment surgery and other traditionally sensitive issues in China.
She is sometimes called 'Oprah Winfrey of China' for her show which attracts over a million viewers every week. Jin Xing has lived a very colourful life, working as from ballerina and colonel, entrepreneur to TV host.
10) Enjoy the journey to fullest
"Entrepreneurship is a journey that is very exciting, adventurous and exhilarating."- Kiran Mazumdar-Shaw, Founder, Biocon India
Kiran Mazumdar-Shaw is Founder and Chairman of Biocon Ltd, an Indian biotech firm based in Bengaluru. She dreamt of becoming a physician but failure to get scholarship to pursue forced her to abandon the dream.
Her father, a brew master at United Breweries encouraged Kiran to follow his profession. She studied malting and brewing at a university in Australia. Chance encounter with Leslie Auchinloss, Founder. Biocon Technologies, Ireland played a pivotal role in Kiran's life.
Upon return from a study tour in Ireland, she launched Biocon Ltd with in a rented garage with Rs. 10,000 capital. Grit and skill saw Biocon emerge from an industrial enzymes producer to a pharma giant.
11) Seeking innate but hidden talent
"It is important to believe that we all have magic inside us."- JK Rowling
Who else is more qualified to talk of magic than JK Rowling? The British writer and entrepreneur Joanne Rowling is better known by her pen name under which the legendary Harry Potter series is published.
The idea of Harry Potter and his magical world was conceived by Rowling during a 1990 train journey from Manchester to London, which was during the darkest period of her life.
Multiple, consecutive tragedies had forced Rowling to eke existence on state-run poverty and hunger alleviation schemes.
Her first novel, Harry Potter and the Philosopher's Stone changed that. She owns rights for the Harry Potter brand that was born of paper and pen.
12)
Create your own future
"The future isn't a place we are going to go. It's a place that you get to create."- Nancy Duarte
Nancy Duarte is CEO of the largest design firm in Silicon Valley, Duarte Design. An innovative company, Duarte Design provides a wide selection of presentations to almost every industry.
Nancy Duarte, an author who has penned three books, has developed communication skills that facilitate industry leaders to improve quality of presentations at events.
She was honored by various international organizations for her achievements.