In any interview, you can almost always count on the question: "Do you have any Questions?"
Even if you have thoroughly researched the company and the position, and have a clear understanding of the expectations of the role, an answer of "No, I have all of the information I need," is a bad choice (and usually a lie, if you still want the job).
On the other hand, several insightful questions can highlight your critical thinking skills and personal values in a way that can seal an offer letter or even turn around a mediocre interview.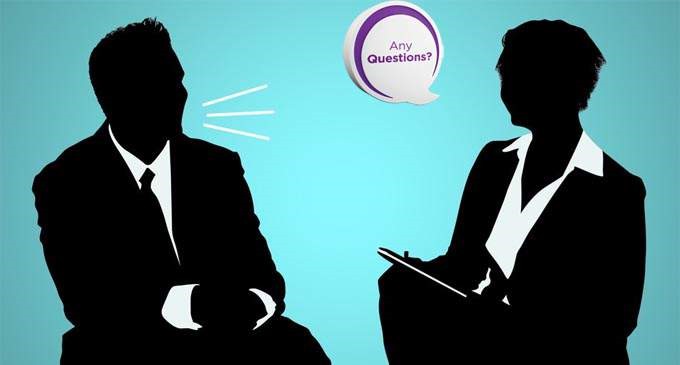 The generic tips and sample questions below will help you get started in creating your list of great questions. Some may not apply to all jobs or employers, but these topics are likely to generate valuable information and leave a good impression.
None of this will be helpful, however, if you do not research the company beforehand (it is surprising how many people skip this step).
The only thing less impressive than asking no questions in an interview is asking questions that are clearly answered on a posted job description or company website.
Ask a question early in the interview. Many people are nervous in interviews because they feel scrutinized and judged. Remember that you are also, in a sense, interviewing the company to make sure they are a fit for you.
Asking a question early on can show and build your confidence so you are more at ease throughout the interview. If the interview environment is more casual, small-talk type questions are appropriate and can help break the ice:
Would you like a copy of my most updated resume?
I have some questions – would you prefer I ask them now or wait until later in the interview?
How long have you been with the company?
Ask about the workplace culture and values. It is important that these aspects of the company align with your values and expectations. A question like this will also show that you value the job beyond performing tasks and earning a paycheck:
I saw your stated values (or mission statement) on your company website. What are some ways you see employees showing these values in their work?
How would you describe the daily work environment?
Do employees tend to socialize outside of work or do they see each other purely as colleagues?
How does the workplace handle the issue of (diversity, work/life balance, gender equality, any other issue that is important to you)?
Ask about the future vision for the company. This will give you a sense of whether it is heading in the same direction as your career. It also will show that you are goal-oriented and interested in the greater purpose of your work:
How do you see this company growing or changing in the next few years?
What are some of the company's key goals for this year? How does this role fit in to the larger company goals?
Ask about potential challenges. This will show that you are realistic about challenges in the workplace and that you want to understand every aspect of the job you are applying for. You might also identify a red flag that could keep you from making a bad decision:
Who filled this role previously? Why are they no longer in this role?
What are some challenges that are commonly faced in this role?
How does this role fit in to the larger organizational structure?
When faced with challenges, how are employees supported?
Ask about the interviewer's personal experience with the company. This will give you a more human perspective on what it is like to work there, and will show your ability to connect with and care about coworkers' experiences. If they have already given some of their background, it's a good idea to reference something they said previously:
What brought you to this company?
You said you've been here for (x) years; what do you value most about working for this company?
What was your background before coming to this company?
Ask about professional development and growth opportunities. This will give you a clear idea of the company's philosophy on employee development and retention. It will also demonstrate your willingness to learn and grow within the company rather than search for opportunities elsewhere:
Are there any professional development programs or resources that you utilize?
How long do employees typically stay at one level in the company?
How much opportunity is there for growth and promotion in the company?
What other companies or community organizations do you partner with?
Don't be afraid to ask about compensation or logistical details, but don't be presumptuous. Interviewers will understand that you are looking out for your own needs, especially when these questions are coupled with other, more thoughtful questions:
If I am hired, when would I be expected to start?
How soon after starting would I be eligible for (any benefit that is particularly important to you)?
The most important part of preparing your questions for an interview is deciding what is most important to you in a workplace.
Select questions that not only show your interest and commitment to the work, but also will make sure you get the information you need about the things you value most.
Your resumé and your answers during the interview give the interviewer a good sense of whether you are qualified to meet the job's demands.
Asking questions gives you the opportunity to highlight your less tangible assets to a company: the commitment, thoughtfulness and values that will drive your success.